12 Luxury Dining Tables for Under £2,000
If the kitchen is the heart of the home then its only right that we think of the dining room as the soul. It's where we nourish ourselves both physically and intellectually, through delicious food and great conversation. Of course, no dining area is complete without a stylish dining table to feast upon, which is why we've pulled together the 12 best luxury dining tables in the Chaplins Winter Sale, all for under £2,000.
Round Dining Table by Gubi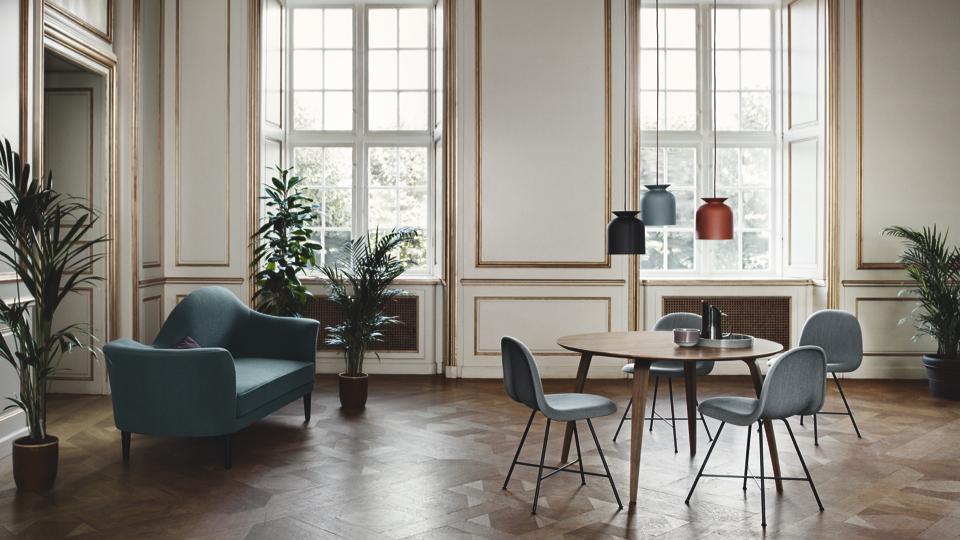 From the sleek contours of the gently rounded legs to the perfectly sanded top, this contemporary dining table offers a stylish expression of modern wood furniture, perfect for warming up winter interiors. The classic craftsmanship and perfect proportions paves the way for an intimate dining experience and is available in Black Stained Ash, Oak (pictured) or Walnut.
For those who need something slightly larger, the Gubi Rectangular Dining Table offers the same timeless design with a little more leg room.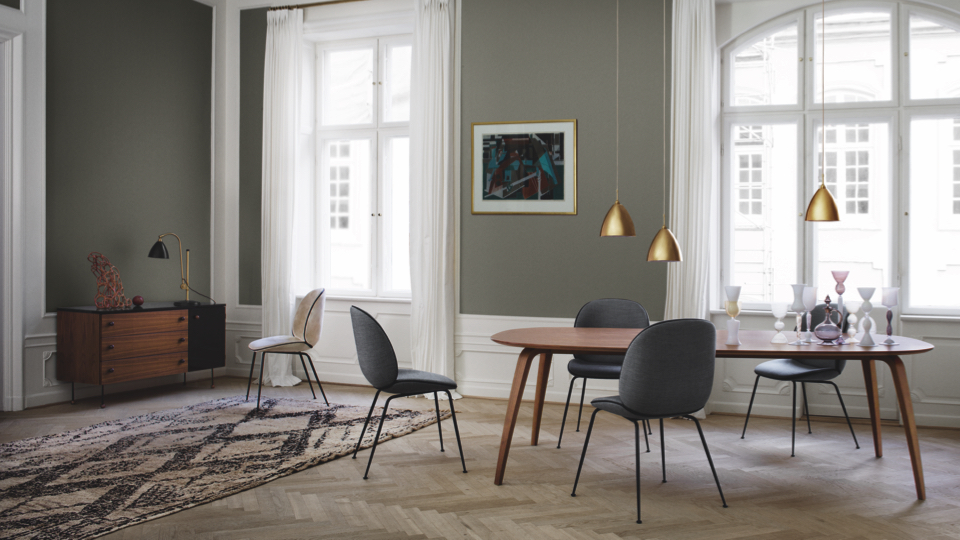 Sarineen Tulip Round Dining Table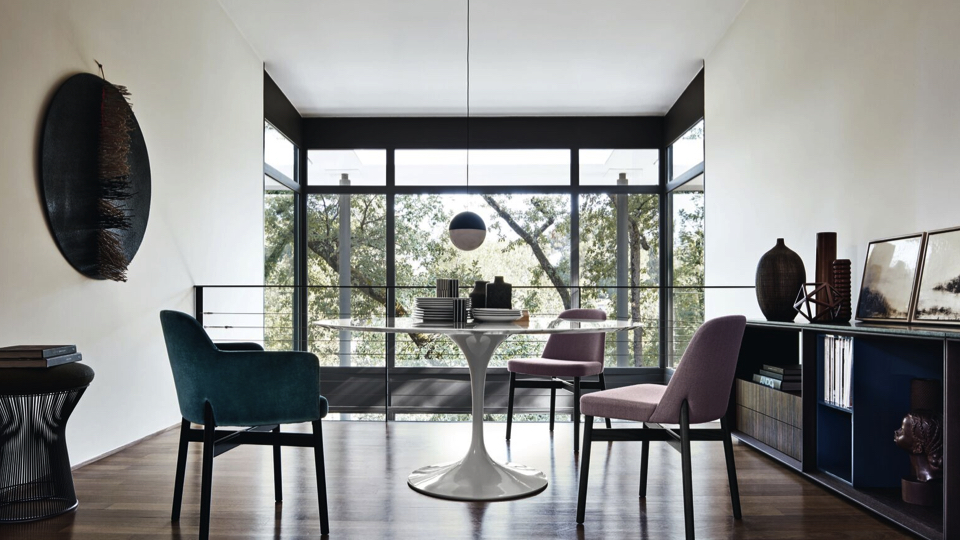 No shortlist of contemporary dining tables could be complete without mention of Eero Saarinen's Tulip Round Dining Table. Its iconic silhouette constitutes one of the most recognizable examples of modern furniture, a timeless dining table that refuses to be confined to a single era or moment. Manufactured by American design powerhouse, Knoll, the Tulip Round Dining Table is a seasonal steal and eligible for Quickship Delivery.
Cruz Extendable Dining Table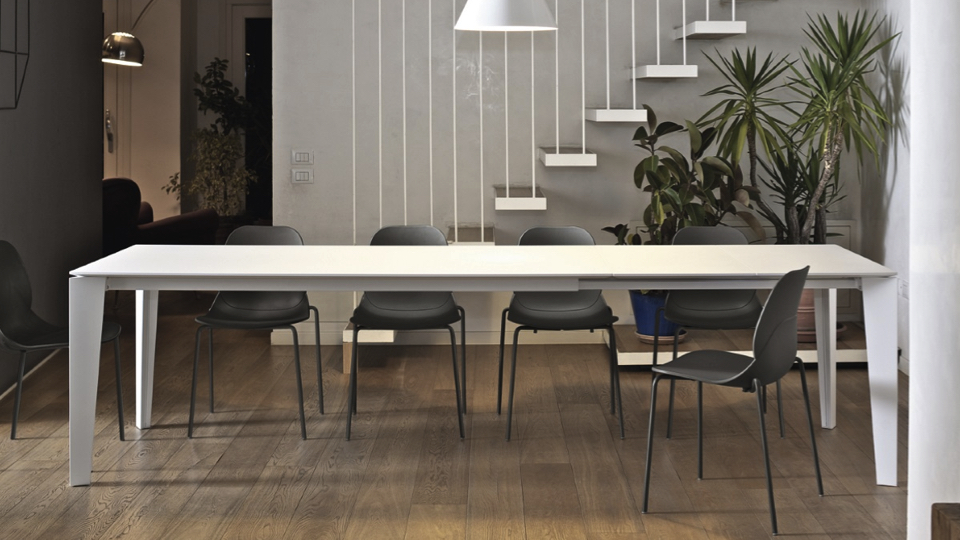 This winter, why not make time for a long lunch with the Cruz Extendable Dining Table by Bontempi Casa. Its elegant form is easily expanded to accommodate more guests, simply tug gently on either end and watch it glide apart. Available in a variety of neutral and hard-wearing finishes, this modern dining table offers the perfect platform for a family get together.
Skorpio Dining Table by Cattelan Italia
The Skorpio Dining Table is where the finesse of the sculptor and the vision of the designer coalesce, revealing a luxury dining table guaranteed to add architectural vigour to any dining situation. Its scintillating steel base is offset by a sheet of pure Italian glass, cultivating a new standard for industrial-chic interior design.
Bryant Extendable Dining Table by Porada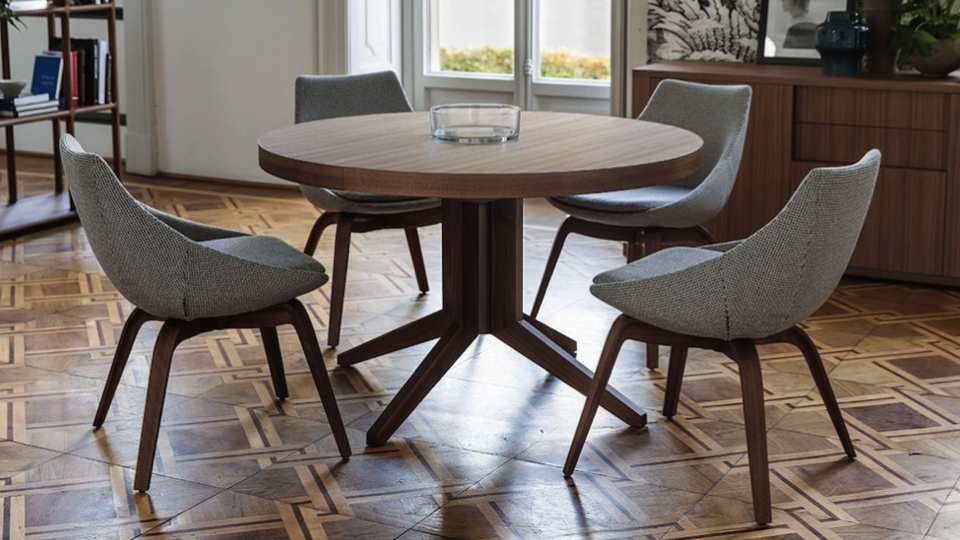 The Bryant Extendable Dining Table is born from the love of Italian wood furniture and brought to you by the masters of Canellatta walnut, Porada.  However, don't be fooled by its petite proportions, concealed within its heart is a central leaf that permits for the easy extension of the table from 120cm to 160 cm. All smooth grains and splayed legs, this luxury dining table is a stunning addition to classic and contemporary interiors alike.
Table Series Super Eliptical Dining Table by Fritz Hansen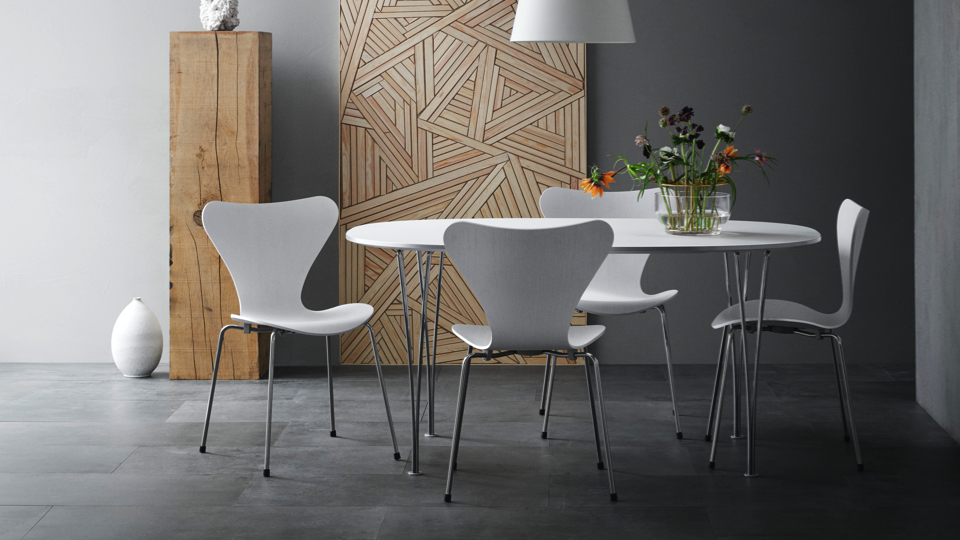 The Super-Elliptical Dining Table is the culmination of a collaboration between Scandinavian design royalty — Piet Hein, Arne Jacobsen and Bruno Mathsson. It's lithe legs and smooth laminate top make this stylish dining table a firm favourite for modern interiors, gifting the easy grace of Scandinavian styling to homes all over the globe.
2.0 Dining Table in Marble by Gubi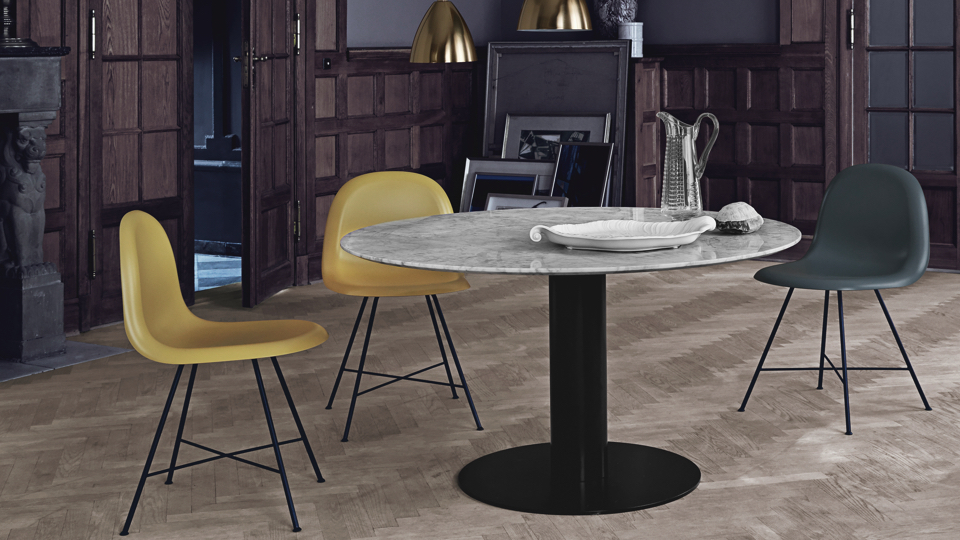 The 2.0 Dining Table is another gift from Danish design house, Gubi. Its elliptical shape reveals an obsession with circular forms, designed to bring loved ones closer together through the intimate act of sharing a meal. The show-stopping top is available in three precious finishes — Verde Guatemala, Bianco Carrara and Nero Marquina marble.
Vilna Dining Table by Ligne Roset
Some go to France to fall in love, others to drink buckets of red wine and feast on the finest fromage. Designers go for the style. This contemporary dining table is the result of the exceptionally gifted design duo Pagnon and Pelhaitre, manufactured for French furniture brand, Ligne Roset. A perfect example of the power of French furnishings, this understated dining table pairs a luxurious wooden top of either walnut or oak with an industrial base to create a delightful dining experience.
Analog Dining Table by Fritz Hansen
The Analog Dining Table's curious form is part of Jaime Hayon's ongoing battle with convention. Neither a square, nor a circle, or an oval – this modern dining table takes the best of all three classic shapes and brings them together in a new, organic form. There is no hierarchy, just a beautiful platform for conversations which is a perfect match for modern relationships with family members, friends and colleagues.
Hula Hoop Round Dining Table by Bonaldo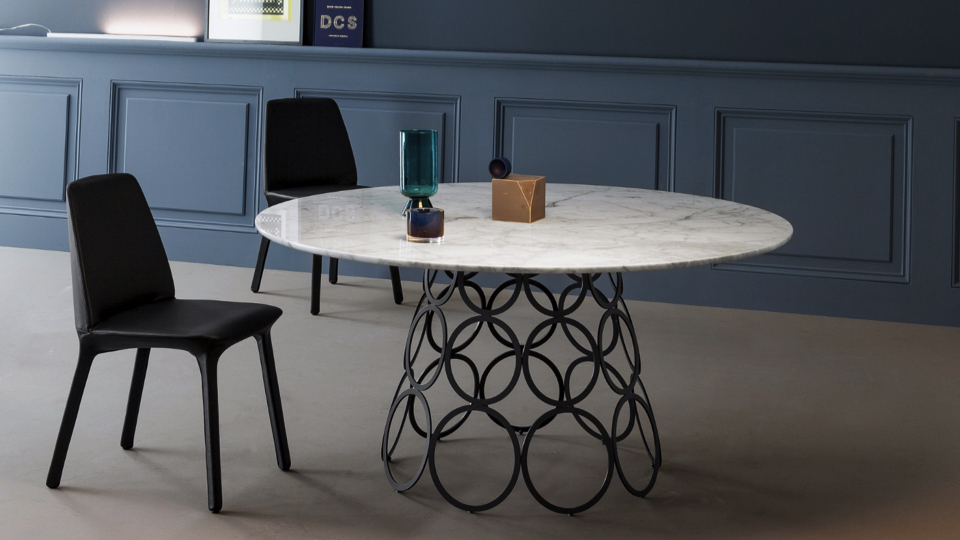 Alessandro Bussana's Hula Hoop Dining Table recalls the playful innocence of youth while outlining a new physiognomy for the contemporary dining table. First presented at Salone del Milano 2016 by the award-winning Italian brand, Bonaldo, this exciting design unites a series of metallic rings to form a unique and eye-catching base that evolves depending on your perspective. Paired with a glass or marble top, this luxury dining table is the perfect choice for entertaining this season.
Genio Extendable Dining Table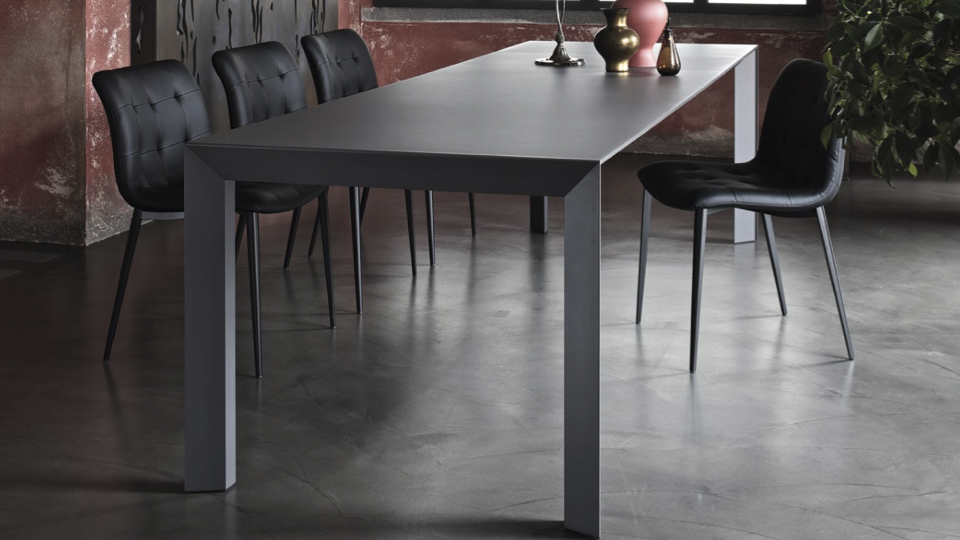 Clean, contemporary lines and an effortless extension system characterise this stylish modern dining table by Bontempi Casa. Available in an array of super hard-wearing finishes, this extendable dining table is ideal for modern families who crave both style and practicality.