70's Panorama apartment by Vehap Shehi Architecte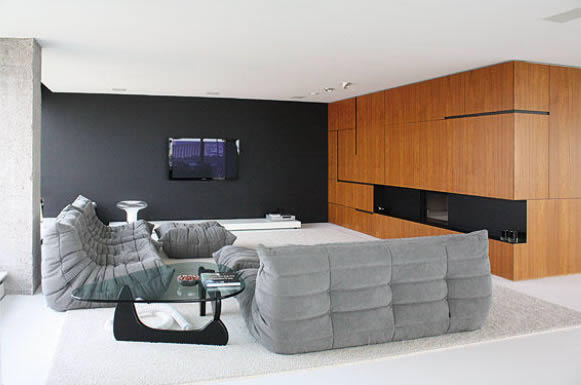 Ligne Roset Togo Sofa Group | Vitra Noguchi Coffee Table | Artemide Lesbo Table Lamp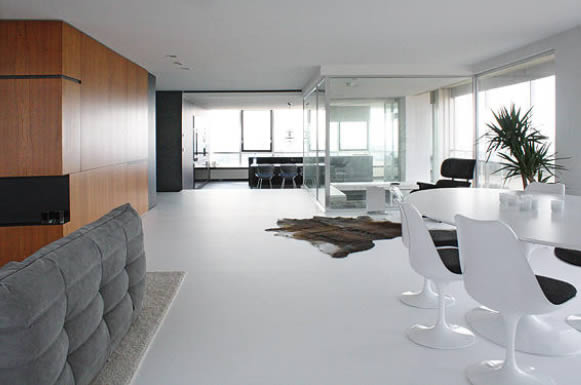 Vitra Eames Lounge Chair | Knoll Saarinen Tulip Armless Chair | Knoll Saarinen Tulip Table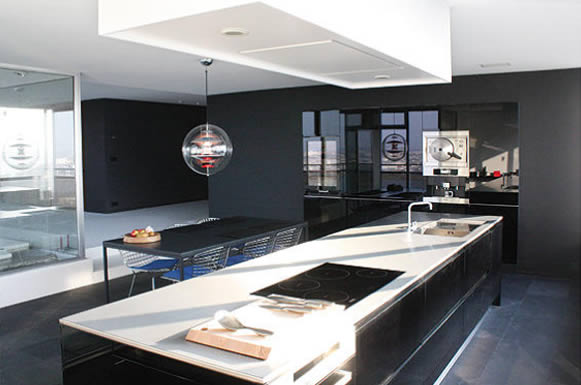 Knoll Harry Bertoia Side Chair | Verpan VP Glode Pendant Light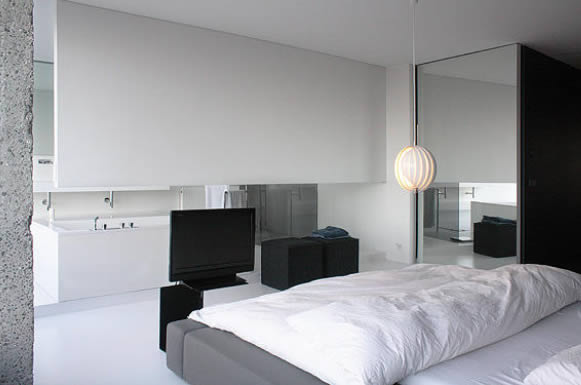 Verpan Moon Pendant Light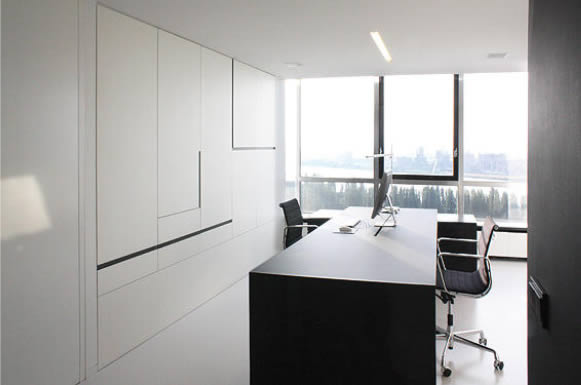 Vitra Aluminium Group EA 117 Office Chair
On this project, the architect Vehap Shehi says:
"The apartment is located in a building housing built in the '70s on the outskirts of the city of Antwerp in Belgium.
The first step was to demolish most of the walls to reconstruct the structure of the apartment. The spaces are cleared, "simple" fluids while each having their own identity and spatiality.
The set was composed around the ducts located in the middle of the apartment. The technical areas were placed at the center of the apartment to free up all the peripheral areas and have a great release. The patio pace junction between the kitchen area and lounge.
The goal was not to create a large single volume, but spaces that communicate with each other and who discover by browsing the apartment.
To vacate the apartment of unnecessary details, the furniture were built in the thickness of the walls. I had the opportunity to draw all the woodwork including the office, which helped push the idea after integration of furniture.
A particular job and great attention was paid to the study of details of joinery, such as a graphic work with a third dimension.
The challenge was to preserve the identity of the building (early 70) without falling into a style "kitsch" while adding some contemporary view.
The walls, once gray, once white, are used to create preliminary plans and backgrounds. A kind of staging an invitation to browse spaces.
The colours are deliberately absent in order to leave as much room as possible source material for expression (wood, concrete, natural stone).  In this spirit the choice fell on a polyurethane floor white for most soils. "
For further information Click Here.