A Dramatic Residence fit for Mr Bond. Skyfall Apartment by Studio Omerta
Studio Omerta have completed the renovation of a two bedroom apartment they call "Skyfall". Located in the center of Athens, Greece, it has views of the Acropolis.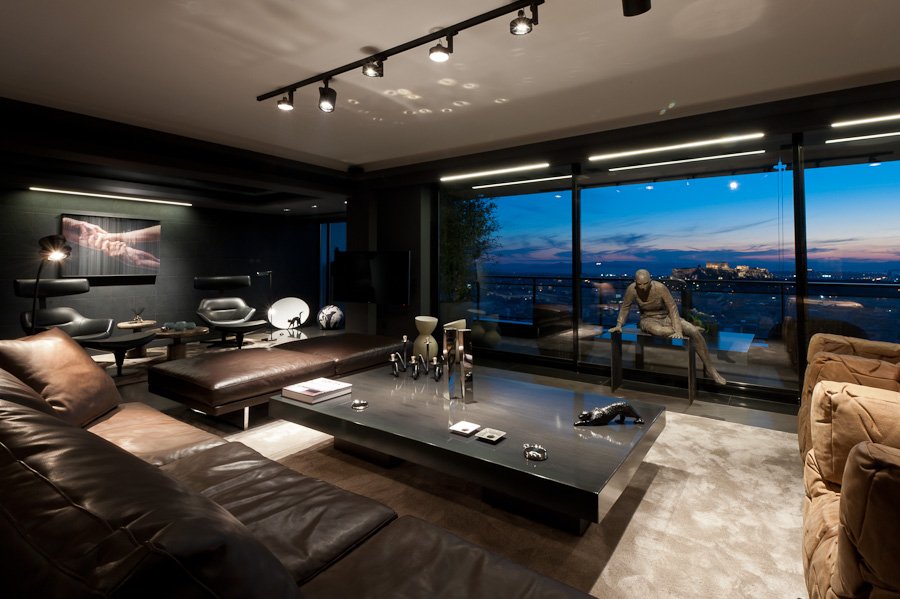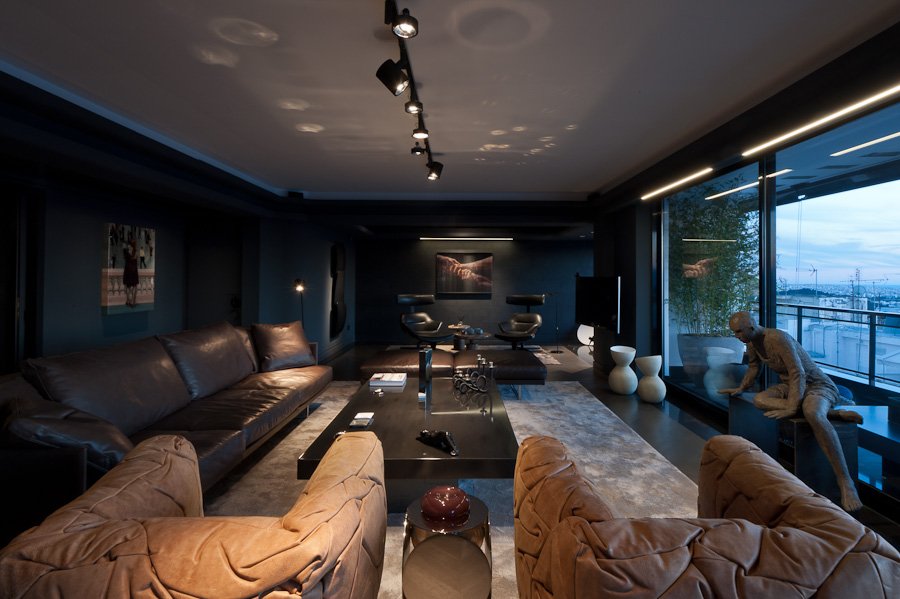 Sofa: Cassina 185-189 Toot Sofa by Pierro Lissoni
Armchairs: edra Sponge Chair by Peter Traag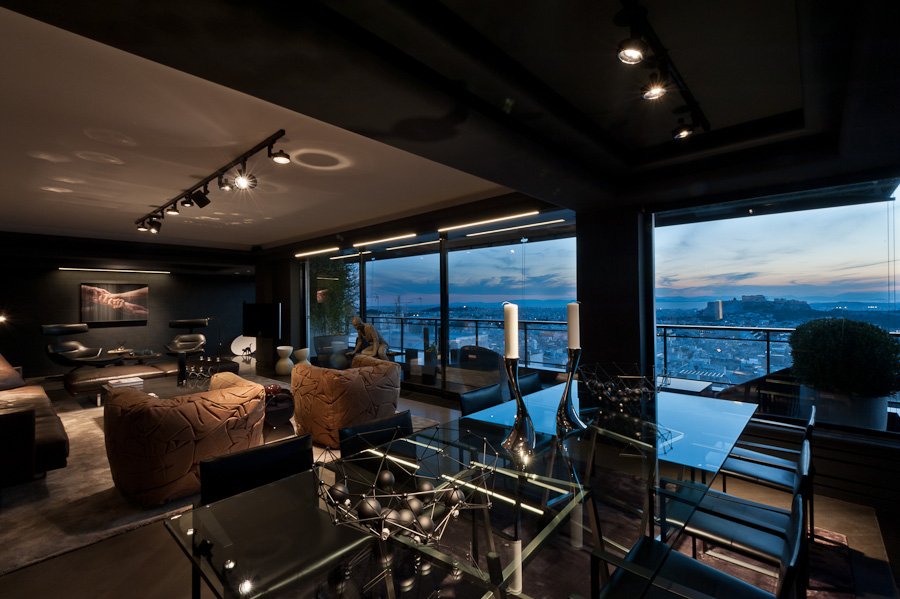 Dining Table: TECNO Détabilisation Dining Table by François Morellet and Fréderic Morellet
Chairs: Cassina 184 Eve Chair by Pierro Lissoni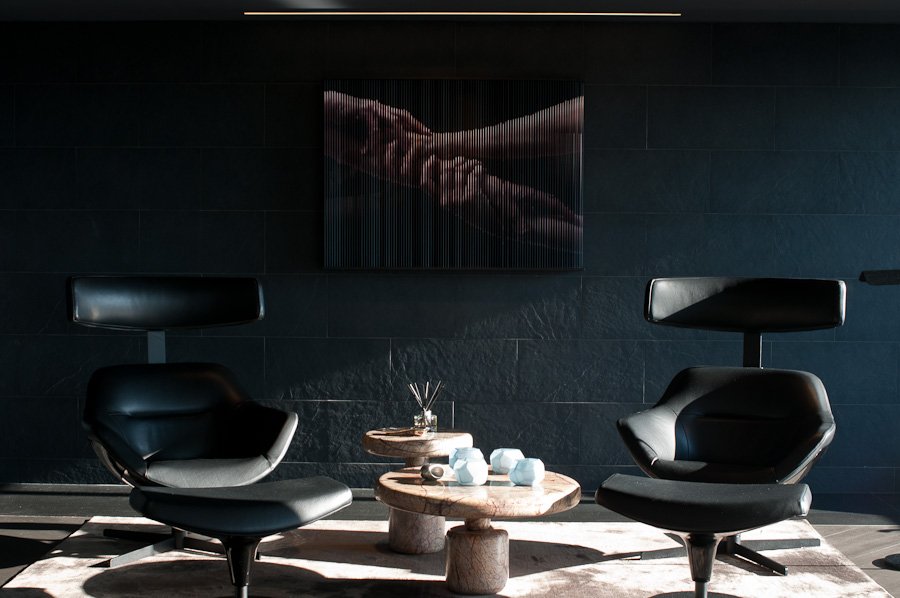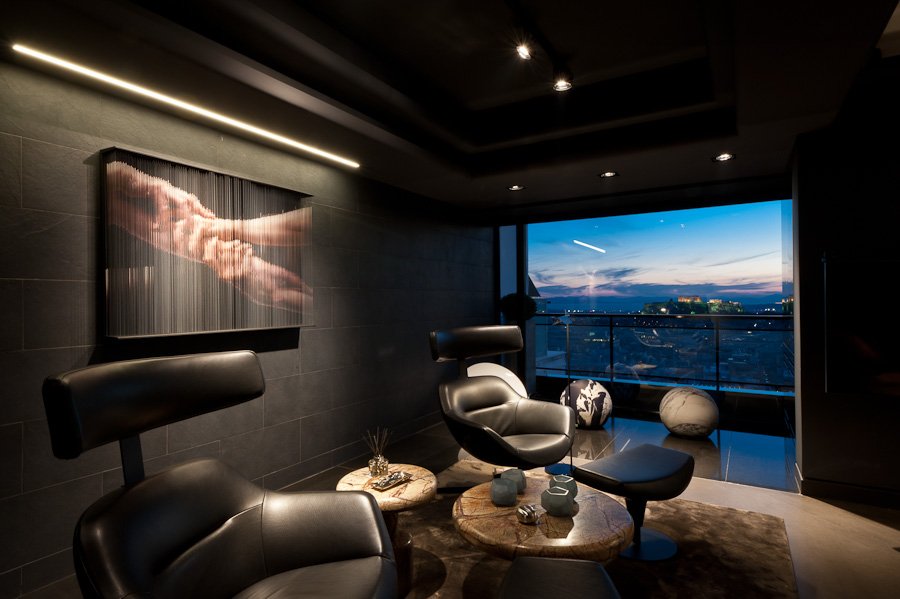 Lounge Chairs: Cassina 277 Auckland Lounge Chair by Jean Marie Massaud
Occasional Tables: Tom Dixon Rock Table
Round Footstools: Cerruti Baleri Tattoo Footstool by Maurizio Galante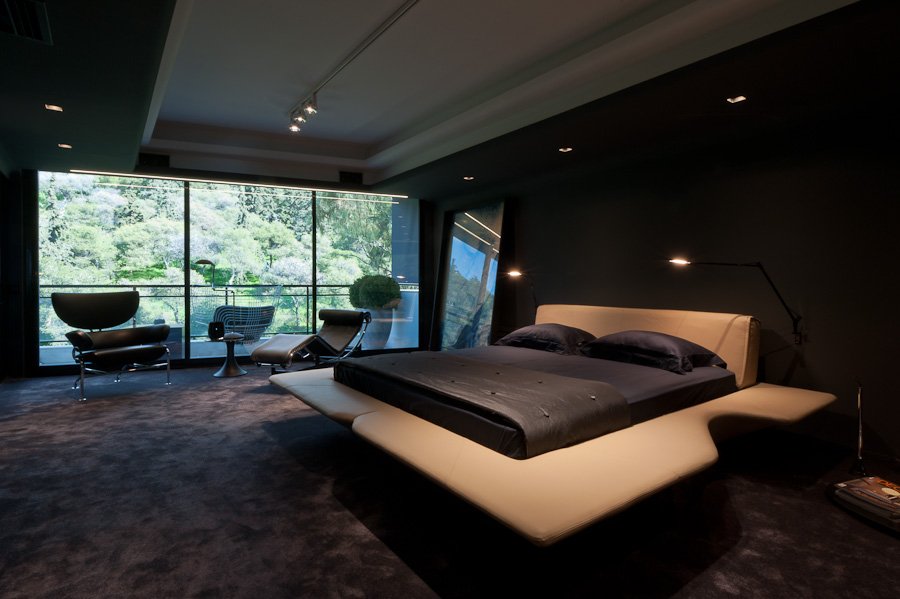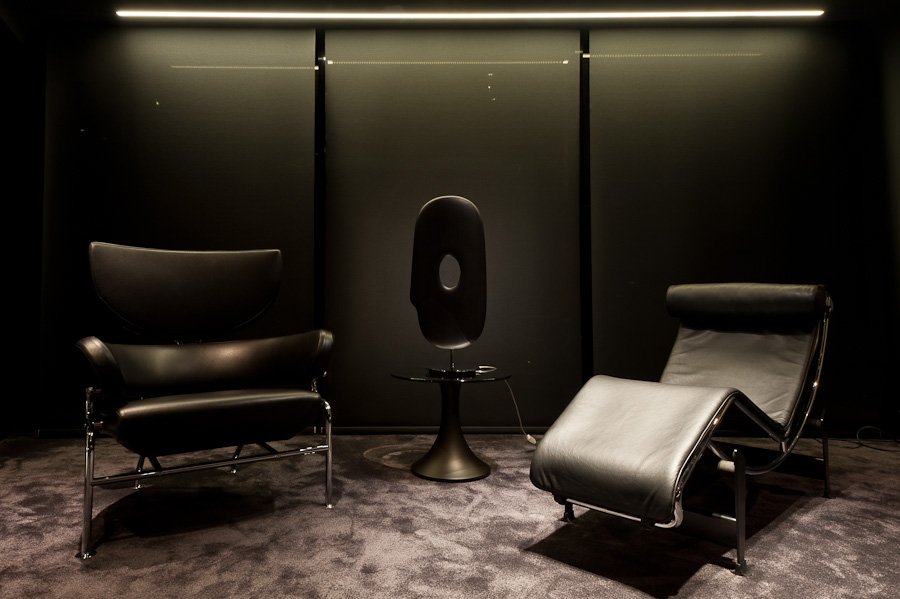 Armchair: Cassina 836 Tre Pezzi Armchair by Franco Albini
Chaise Longues: Cassina LC4 Chaise longues by Le Corbusier, Pierre Jeanneret, Charlotte Perriand
Table Lamp: moooi mask Table Lamp by Stefano Giovannoni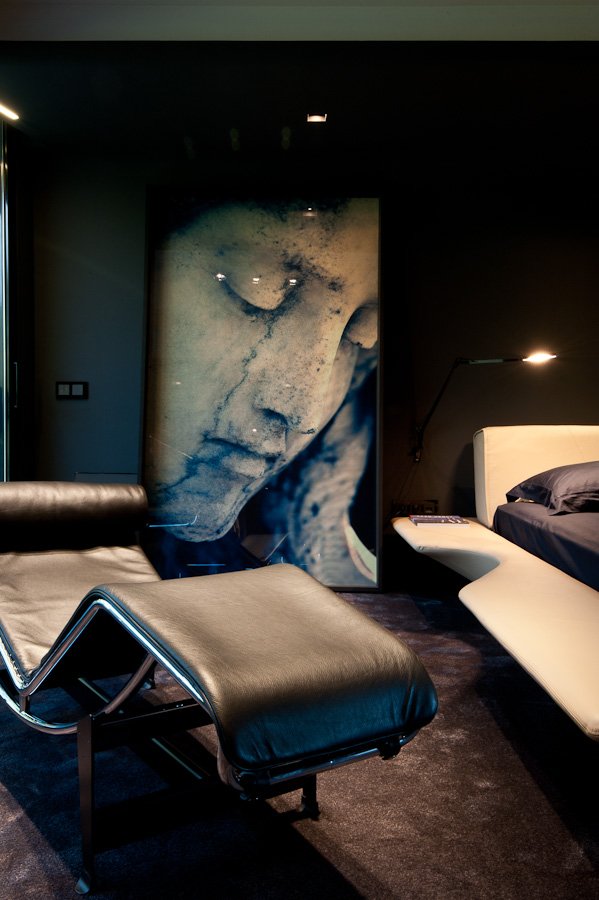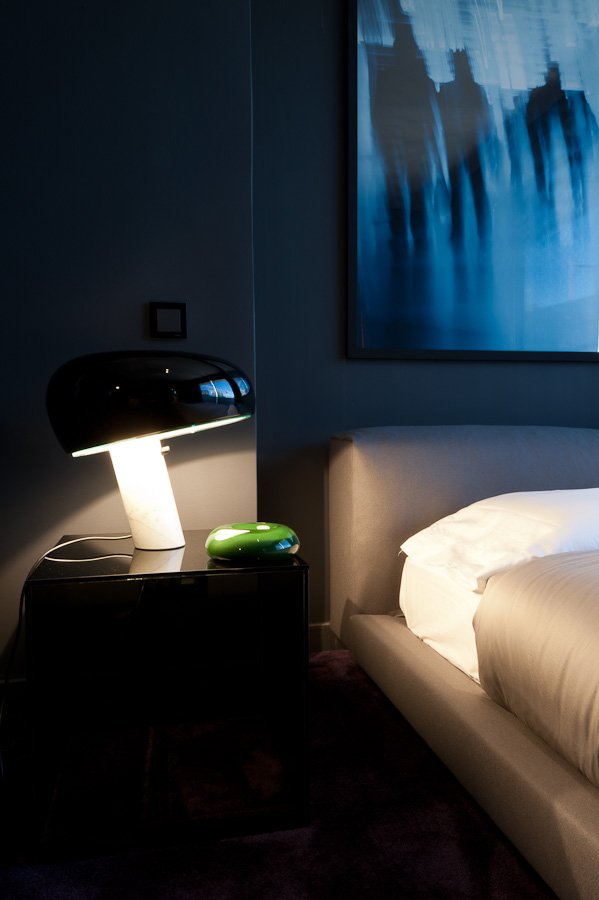 Wall Lamp:  Flos KELVIN LED Wall Light by Antonio Citterio
Table Lamp: Flos SNOOPY Table Lamp by Achille and Pier Giacomo Castiglioni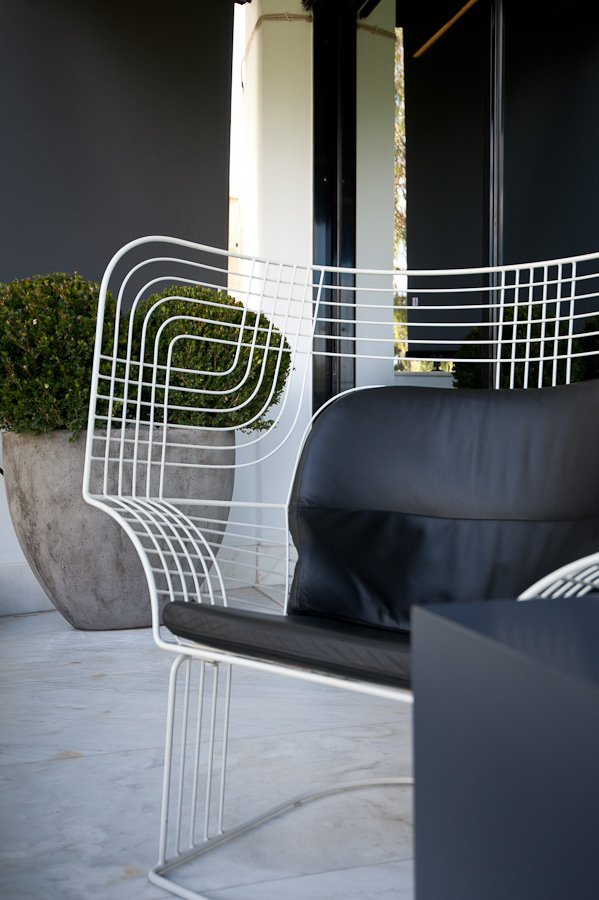 Outdoor Chair: Tom Dixon Link Easy Chair
Description from the designers:
The latest interior design project by Studio Omerta is the renovation of a two bedroom apartment in the centre of Athens. Being situated on the 9th floor, the space enjoys the most spectacular views of the Acropolis from the living room and to the rear of the building, the bedrooms overlook the tiny church of St. George on the peak of Mt. Lykabettos.

Throughout the space, the signature colour palette of Omerta, black, grey and white was used on the surfaces which creates an ideal backdrop to the carefully selected furniture from the cream of European designers the likes of Le Corbusier + Franco Albini and Piero Lissoni. The artwork within the space represents a variety of styles within the contemporary genre, most of which concentrate on the human element.

The generous dimensions of the living room features leather covered seating units and a glass topped metal dining table, all placed on the luxuriant pile of the pale rug, adding further texture and warmth to the space. At sunset, the room adopts a dramatic, mysterious ambience enhanced by the reflections and shadows created by the subtle illumination of the intrinsically positioned lighting elements.

Access to the bedroom is lit by a futuristic circular lighting installation, reminiscent of Kubrick's Space Odyssey which continues into the Master bedroom, an impressive space of reflective surfaces, a leather chaise longue and ample space from which to enjoy the unique Lykabettos view.

The sum total of this renovation represents an example of the possibilities of a traditional Athenian apartment when placed in the hands of a visionary design practice in order to assist the space to evolve into the highest level of urban contemporary aesthetics.
For further information Click Here.
via: CONTEMPORIST