CHAPLINS introduce our very own beautifully made bespoke Oak Furniture range – The Hamilton Table Collection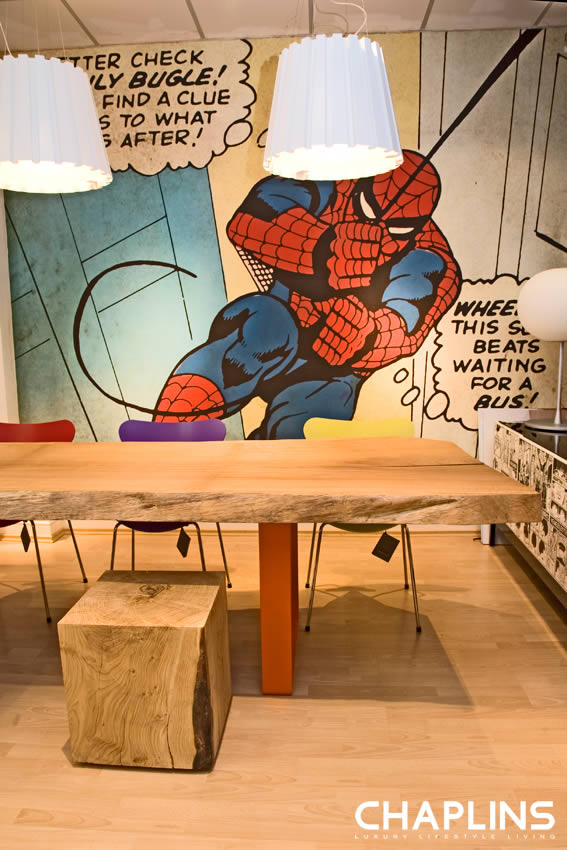 About our Hamilton Tables
Our bespoke Hamilton Tables are built around sourcing exceptional timber and finding the best use we can for that timber. No tables are produced as stock pieces, each table is made for our client from boards which are unique with the top of each table often being made from a single slab cut from a large tree. We take on commissions for small pieces such as coffee tables through to large tables which to date have measured up to 5 meters long and comfortably seat 20 people.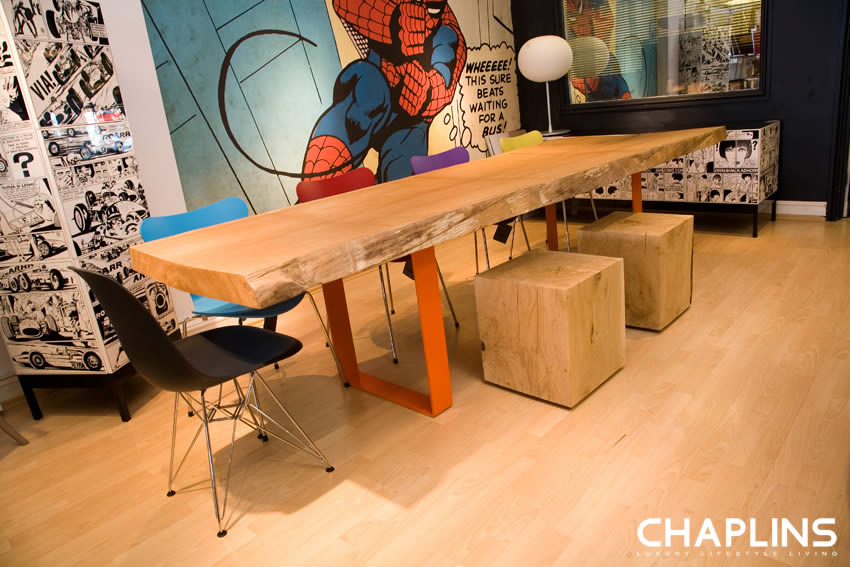 Tree to table
A decision that must be made when crafting furniture is whether to use a veneer or solid timber. Veneer can be light, somewhat attractive and will not warp with changes in heat and moisture content. But with these tables we choose to use solid timber which has been cut through and through. We believe wide solid wood boards are more sincere to the nature of the tree from which they came. It is true that the slabs are likely to change once installed in their new environment due to changes in temperature and the moisture content of their surroundings. With some forethought it is possible to minimise these and ensure that the table will not alter significantly over its life.
When approached by a potential client about a project typically we will speak with the client about their home so that we can get an idea of the space they have and discuss the options that are available. It is useful if the client can collect photographs of pieces that have aspects which they like beforehand. Once we have settled on a specification for the piece we will start trying to source the timber for the piece.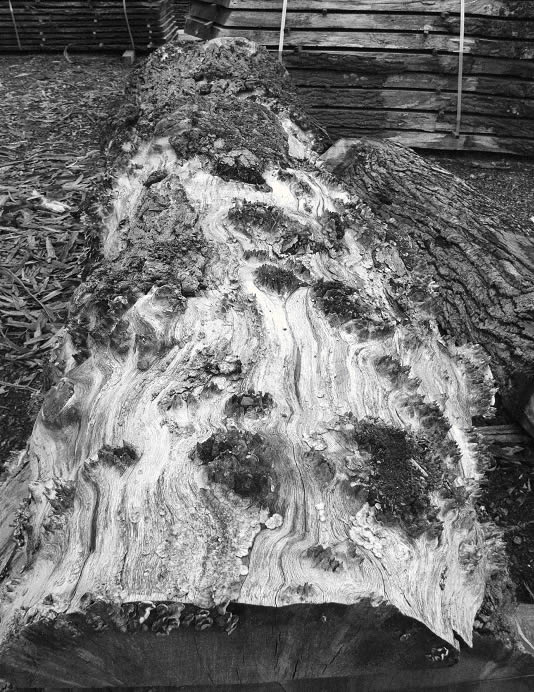 Sourcing
At Chaplins we are very conscious of issues of sustainability and we are increasingly trying to source as much timber as possible from trees felled for reasons other than the value of their timber, such as health and safety concerns, storm damaged and trees which are dying. We believe that these mature trees are wasted when cut into very small generic timbers or wafer thin veneers that do not do justice to the tree from which it came.
Natural Irregularities
The imperfections are what makes the tables interesting, it is an inherent part of the natural beauty of such large pieces of solid timber. All these perfectly natural features of wood, make the timber inherently more valuable to us. Although we can produce furniture made from timber that has no defects to a customer who is searching for it, our passion lies in finding the unique boards which have their own story to tell with all the organic and natural features intact. Although single width boards are a specialty of the company, occasionally we find smaller boards which have very interesting grain patterns. In this case using two sequential slabs we can produce a bookmatched pair of slabs which look like a mirror image of each other.
Clients will often specify ideal board features and those which they would rather avoid. We will then try to find a board which comes closest to matching the desired characteristics.
Selecting Boards
We try to secure at least two boards for the client so that they can choose from the different characteristics of the boards. It is possible, by buying boards that are longer than necessary, to change the properties of the boards to exclude or include different features in the board by cutting the board from a different point.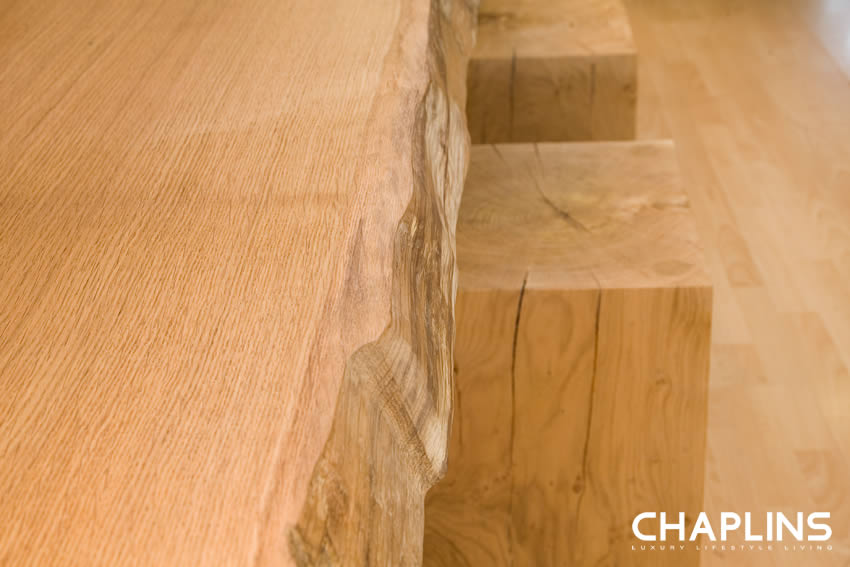 Finishes
Live edges – We do often produce tables with live edges, also referred to as waney edge or freeform edge, which makes use of the natural shape of the tree to provide further interest. We do however also make square edge tables where the natural edge has been removed.
Cracks – Many people choose to leave a crack unaltered or if it is necessary to be more practical we do fill with clear resin which allows the depth of the crack to be seen whilst preventing food from becoming trapped.
Butterflies – Using woods of similar tone or contrasting butterflies on different tables can further enhance the individuality of each table. In addition to making the table top stronger the addition of butterflies is an interesting feature of the design. For reasons of strength the butterflies must always be fitted with the grain running perpendicular to the grain of the slab. The size and number of butterflies is a key consideration in addition to carefully selecting a timber for the butterflies itself whose colour and texture will produce the desired aesthetic in the finished slabs.
Colour and Finishes – We can produce numerous different colours and finishes for a client. We will produce finish samples from the offcuts of the clients board and send them for final approval. It is possible to try to match a sample that is provided and we often recommend looking at the available colours of solid wood flooring companies for ideas on what colours may be possible to achieve.
Base – We can produce a number of different style bases which can either be cut from wood or steel and powder coated in a wide range of  RAL colours.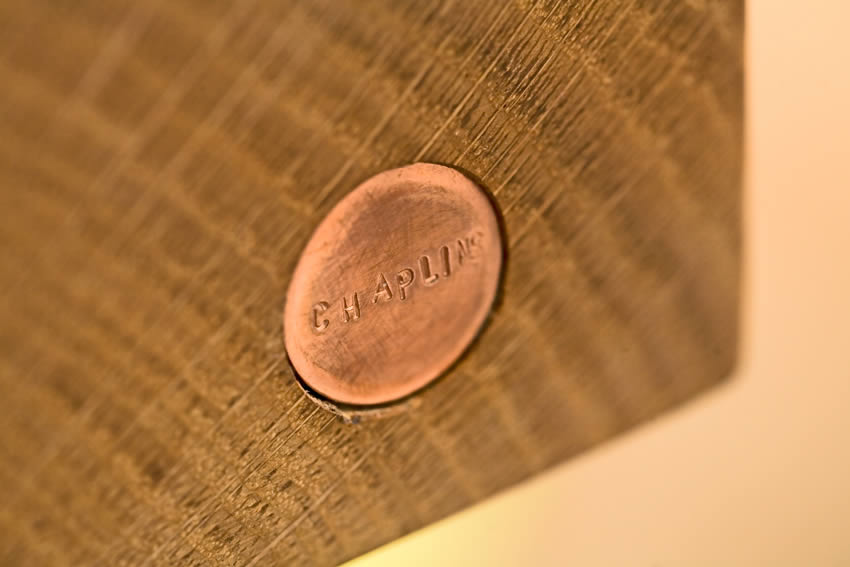 Delivery and aftersales service
We deliver all our pieces ourselves and will install them in your home. For larger pieces we can maintain the piece on an annual basis if you wish to have the peace of mind of knowing that it is being maintained by the same company that produced it. Generally speaking , but depending on the finish and intensity of use, they should require no more than annual maintenance.
For further information Click Here.