Chaplins Milan Awards 2014: Bringing you the very best designs from the worlds largest furniture fair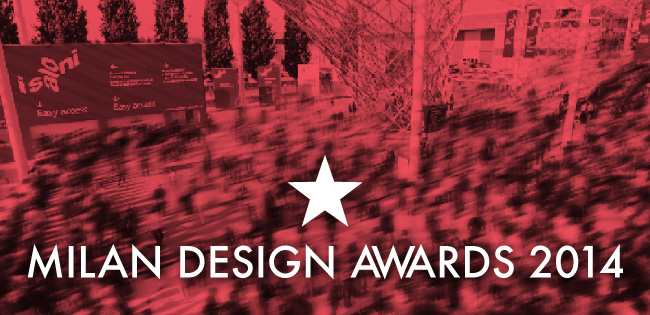 Welcome to the CHAPLINS MILAN AWARDS 2014, where we will be bringing you the very best from the world's largest and most exciting furniture fair.
At this year's fair we saw a lot of warmth in the new collections. Smoked glass, brass detailing and soft fabrics were a constant theme, with many designs provoking thoughts of yesteryear without feeling dated.
Over the next 12 months we will be focusing on bringing this livable luxury to our client's homes, where you can not only appreciate high end design but enjoy using it on an everyday basis.
We hope you enjoy the ceremony and look forward to presenting our new collections to you over the coming months!
BEST SOFA RANGE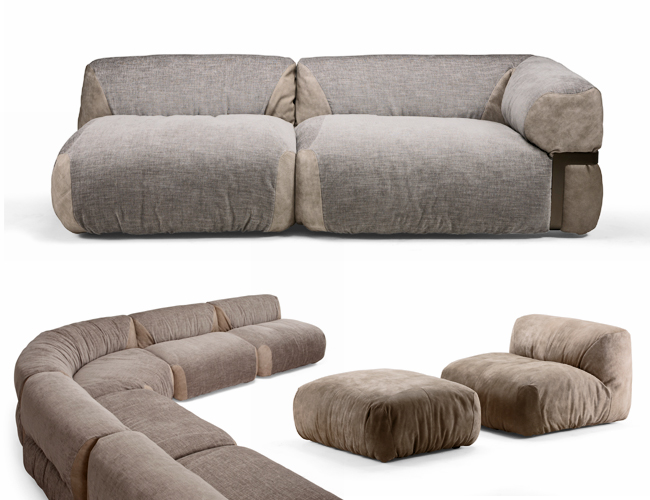 Lotus by Manzoni & Tapinassi
Lotus by Manzoni & Tapinassi typifies our own ethos of bringing everyday luxury into the homes of our clients. The soft, round lines and inviting down padding enwrap the body and give great comfort despite it's low profile.
We also liked the contrasting patches at the corners, which can be personalised according to one's own taste or to complement a colour scheme.
BEST DINING
Twist&Turn by Hans Sandgren Jakobsen
The Twist&Turn collection particularly caught our eye with its classic references to Scandinavian design traditions of the 50's as well as Gio Ponti's iconic Superleggera Chair from the 50's.
Consisting of two dining chairs, one with armrests and one without and a dining table in Canaletta Walnut, this solid wood dining set combines the simplistic but functional nature of Scandi design with the artisan traditions of the Italian manufacturer Porada.
BEST CHAIR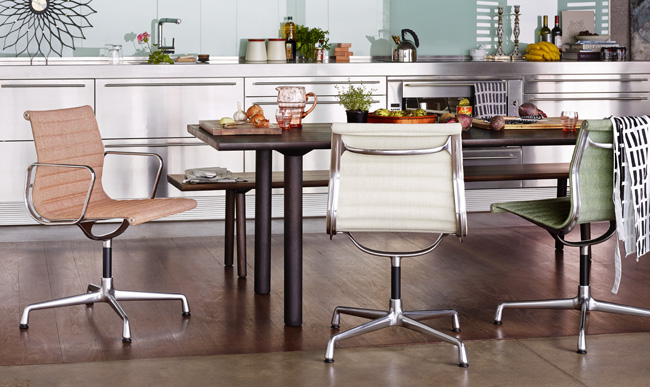 Aluminium Chair by Charles & Ray Eames
The new palette of colours adds an inviting touch to one of the greatest furniture designs of the twentieth century.
Thanks to the 26 new colours of Hopsak upholstery fabric, the classic Aluminium Chair can now be used to create attractively coordinated living environments in homes as well as office meeting areas.
BEST BED
Jaan by EOOS
No one puts our beds in the corner! It's time to showcase the place you sleep. The Jaan bed stands freely in the centre of a room and welcomes a modern way of living. Not bright and loud, the striking thing about the Jaan bed is its charmingly elegant allure, allowing it to shape a room without taking over it. Supremely soft and coolly casual.
BEST OCCASIONAL TABLE
Tobi-Ishi by Edward Barber & Jay Osgerby
We first fell in love with the rectangular version of the Tobi-ishi table when it was presented last January in Cologne and now B&B Italia have extended their collection to include a low multi purpose table, which is extremely practical due to it's lack of sharp corners. The table is only available in oak in four different finishes: light, grey, black and smoked. These natural finishes were specifically chosen to highlight the manufacturer's high level of craftsmanship.
BEST STORAGE SOLUTION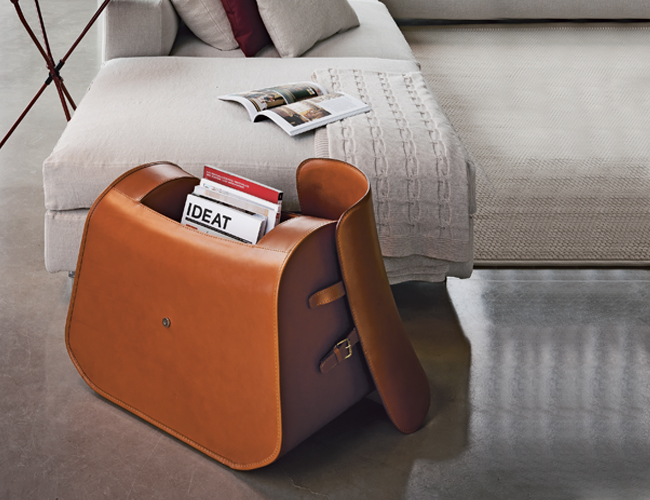 Nuno Stool by Kensaku Oshiro
The Nano stool is a wonderful, playful complement inspired by the work of saddlers, with the dual function of sculpture/stool and pouf/storage.
The structure is entirely covered in soft cowhide and is equipped with an opening seat that reveals a cowhide-covered organiser compartment. Attention to detail, stitching, straps, and the sturdiness and feel of the cowhide all contribute to the distinct individuality of this object, whose attraction will only increase over time.
BEST HOME ENTERTAINMENT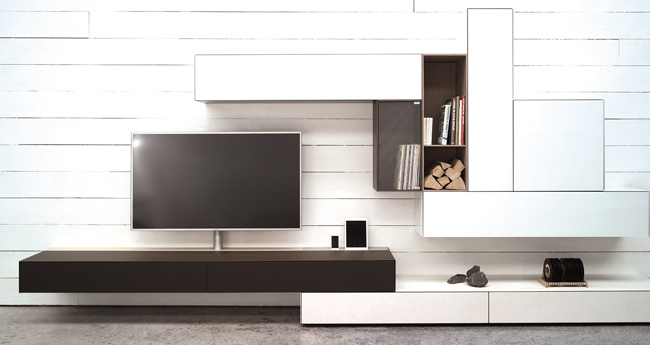 Ameno by Spectral Audio Möbel GmbH
There is nothing more magical than when something disappears and Spectral do exactly that when it comes to technology! Ameno has a specially made media compartment made of high-strength aluminium, which runs like a backbone through the rear section of the furniture. This gives the furniture its stability and provides space for entire cabling, the rotatable TV mount as well as all docks for holding smartphones and tablets.
We were also impressed with the huge range of surfaces on offer. These include over 2000 scratch resistant glass colours, 3 different wood veneers plus Spectral are breaking new ground with their innovative ceramic surfaces.
BEST HOME OFFICE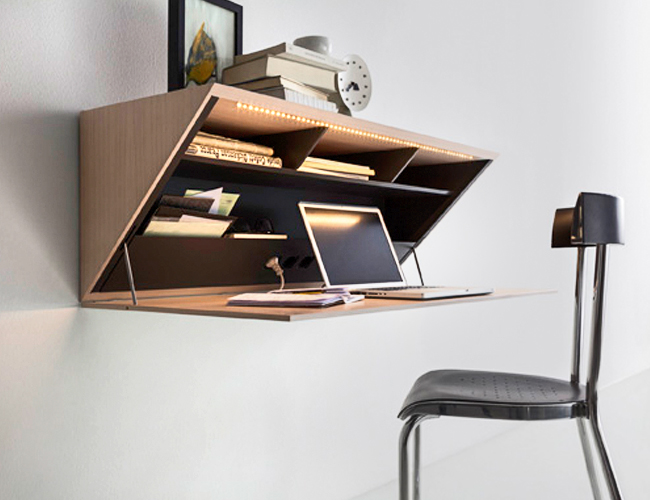 Segreto by Ron Gilad
Ron Gilad, the eclectic Israeli designer, has reinvented the classic "secretaire". No more old-fashioned desks with drawers, their place is now taken by an eye catching triangular unit, which can be suspended from a wall at any height.
Inside are tiny shelves and drawers in which to file away documents, letters, small books and other objects that need to be safely stored for retrieval at will. Thanks to its clever system of stay-rods the lower part becomes a worktop to use when writing or to support a laptop or tablet. The unit comes in eucalyptus or a selection of American walnut finishes, which makes it easy to integrate into any interior décor.
BEST OUTDOOR COLLECTION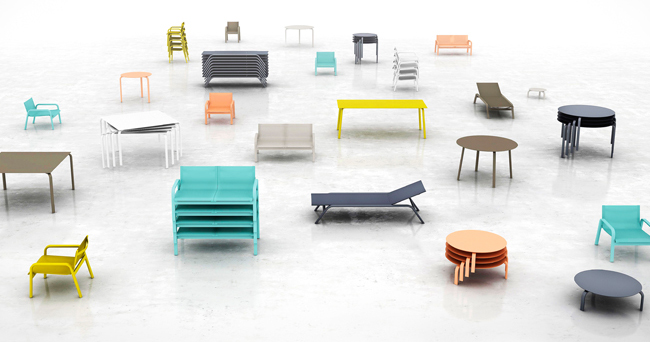 Stack Collection by Borja García
Stack is a stackable outdoor furniture collection inspired by the nautical world with design elements reminiscent of the 1960's and 1970's. We particularly liked the collection's clean and straightforward lines along with the materials used to give shape and colour to the simple, balanced, and incredibly light pieces. The Stack collection is ideal for both large contract installations as well as small residential projects.
BEST RE-EDITION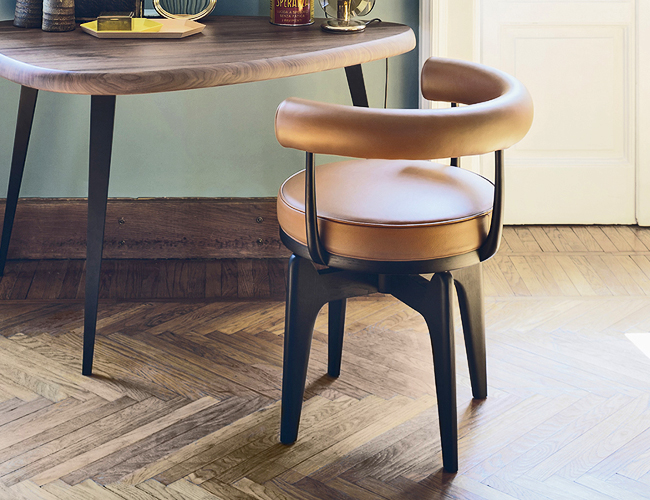 Indochine by Charlotte Perriand
At this year's furniture fair, Cassina presented for the first time new re-editions by Charlotte Perriand in wood, giving some of her design classics a new softer feel.
The Indochine small swivel armchair is an adaptation of the LC7 metal framed armchair which Charlotte Perriand designed in 1927 and demonstrates Cassina's high quality carpentry workmanship and is testimony to the pioneering architect's inspiring travels through the Orient.
BEST OVERALL COLLECTION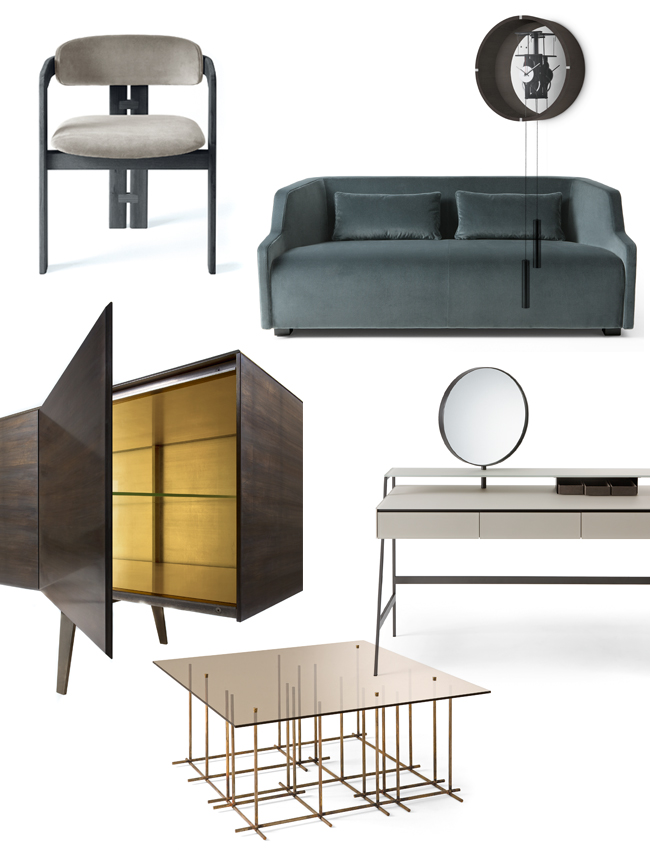 Gallotti & Radice
Gallotti & Radice marked their presence at the Milan fair with an impressive new collection, which underlined the timeless character and high quality finish of their products.
The new living and home products on show caught our attention due to their distinctive design and combination of different materials, which we believe will bring an exclusive beauty to our client's everyday lives.
WTF AWARD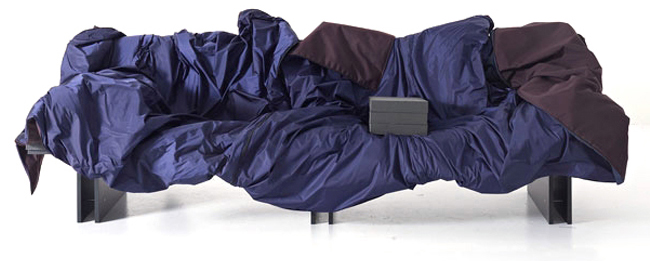 KNP by Jean Nouvel
At Chaplins we are all for pushing the boundaries when it comes to furniture design but we are still getting our heads around the KNP sofa by Arflex!
With KNP, Jean Nouvel questions the archetype of the sofa and separates it into three main elements: a wooden structure, a two-colour reversible cover and loose polyurethane flat cushions. Users are encouraged to personalise their piece by arranging the cushions and the cover according to different uses such as relaxing, sleeping, watching TV and reading.
Revolutionary or Revolting? We will let you decide!
For further information Click Here.