Chaplins Summer Sale: Carl Hansen & Son Promo
For Carl Hansen & Son, the formula is simple. It's about distilling beauty – the purest, truest kind possible – into a design that will last forever. The forefathers of Scandinavian style, each Wishbone Chair or PK1 is assembled, finished and woven by a team of local experts, whose knowledge of wood and deftness of hand cannot be found anywhere else in the world.
With this week marking the Danish Summer Solstice, we're thrilled to launch a special Scandinavian promotion as part of the Chaplins Summer Sale. Until the 17th August 2018, purchase one of the selected Carl Hansen & Son Dining Tables with four dining chairs and the fourth chair is included completely free. This offer can be used in conjunction with our seasonal 15% off Carl Hansen & Son products.
To find out more about the pieces included in the offer and the history of this gorgeous Danish brand, keep on reading below.
SH900 Extendable Dining Table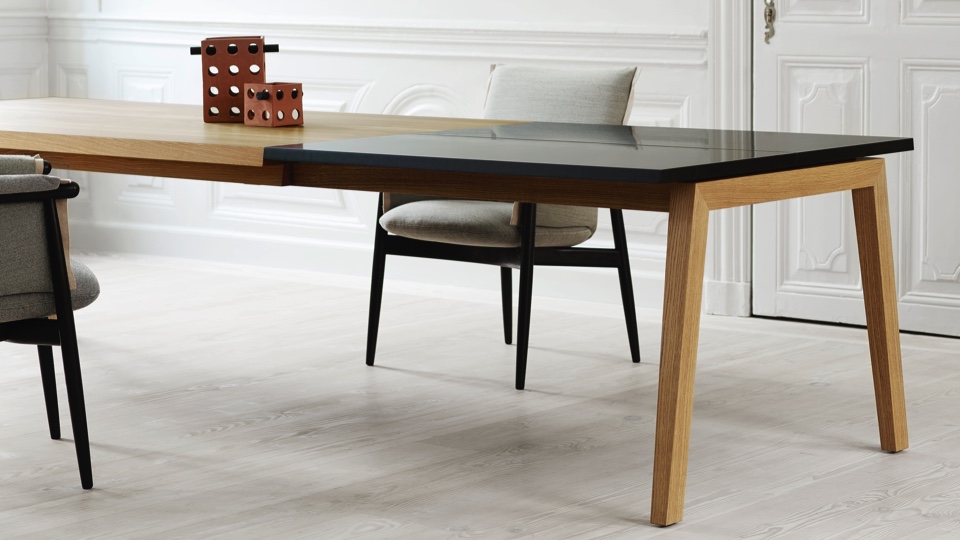 There's a seat at the table for everyone with the SH900 Extendable Dining Table. Designed by Strand and Hvass, it features the brands strong, simple, signature lines in an effortlessly graceful addition to the dining room. Built-in extension leaves and a hidden fold-out system reveals seating for four extra guests — perfect for those spontaneous summer evenings. Order in oak soaped, oiled or white oiled finishes to take advantage of the discount.
CH327 Dining Table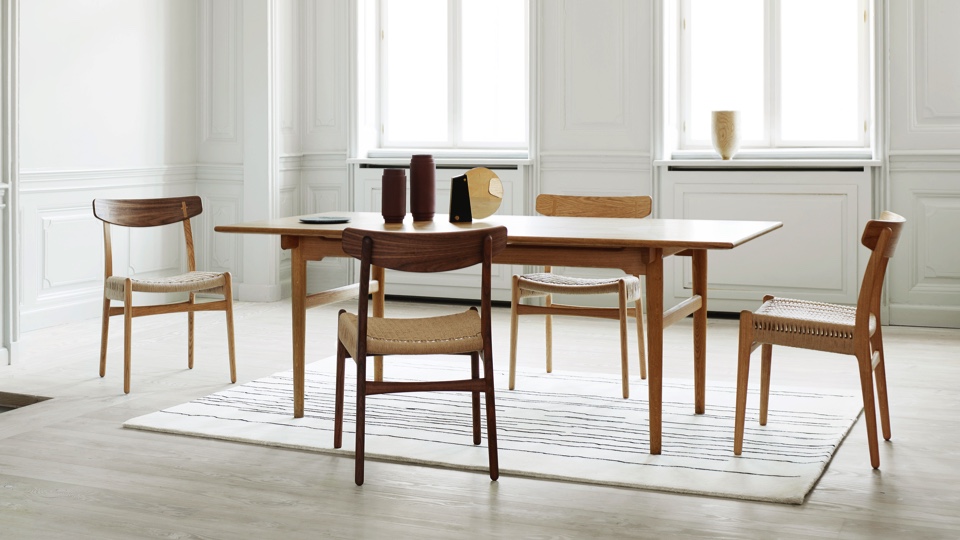 In the age of fast-fashion and one size fits all design solutions, the CH327 Dining Table is a work of patience and love. Each solid wood tabletop is made from hardwood staves that run the entire length of the table. This is considerably more difficult to produce than full-width tabletops but results in a more harmonious surface.
The perfectly carved top gives way to delicately tapered legs, engaging in a play of lightness and strength. One of Hans J. Wegner's finest designs, the promotion refers to the CH327 in the following finishes: soap oak, oiled oak or white oiled oak.
CH337 Dining Table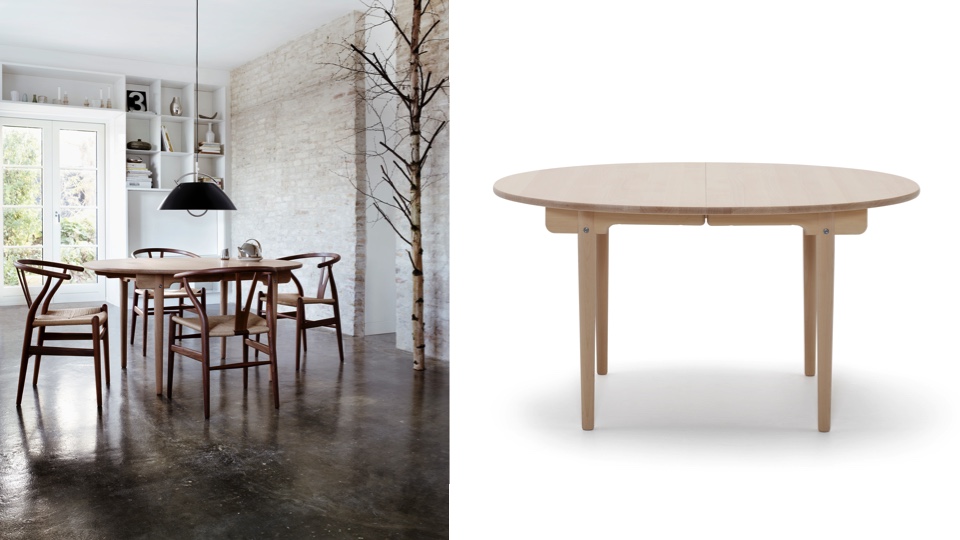 The CH337 is the archetypal wooden dining table, designed to bring Scandinavian style to residences of all shapes and sizes. The smart design, which features an elliptical solid-wood tabletop and solid-wood rounded legs that elegantly taper toward the floor, is available in three different sizes.
Purchase the CH337 in soap oak, oiled oak or white oiled oak alongside four eligible Carl Hansen & Son dining chairs to take advantage of this fantastic discount.
CH24 Wishbone Chair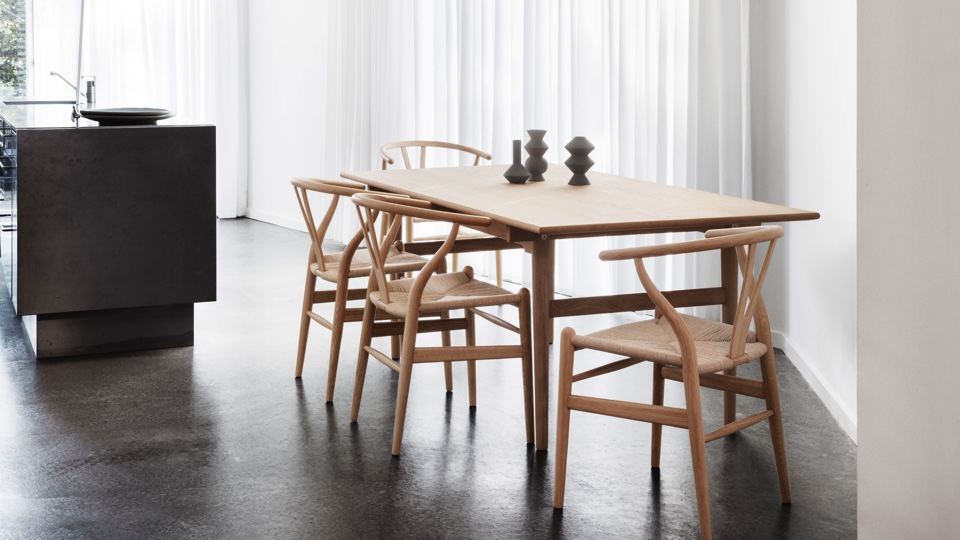 A global signifier of excellent style, the CH24 Wishbone chair is one of the most recognisable seats of all time. You will have seen it in the backdrop of films, Grand Designs house tours and countless lifestyle magazines. You might have even had the pleasure of sitting in one. One of Hans Wegner's first chair designs, it was inspired by the portraits of Danish merchants in Chinese Ming Dynasty Chairs.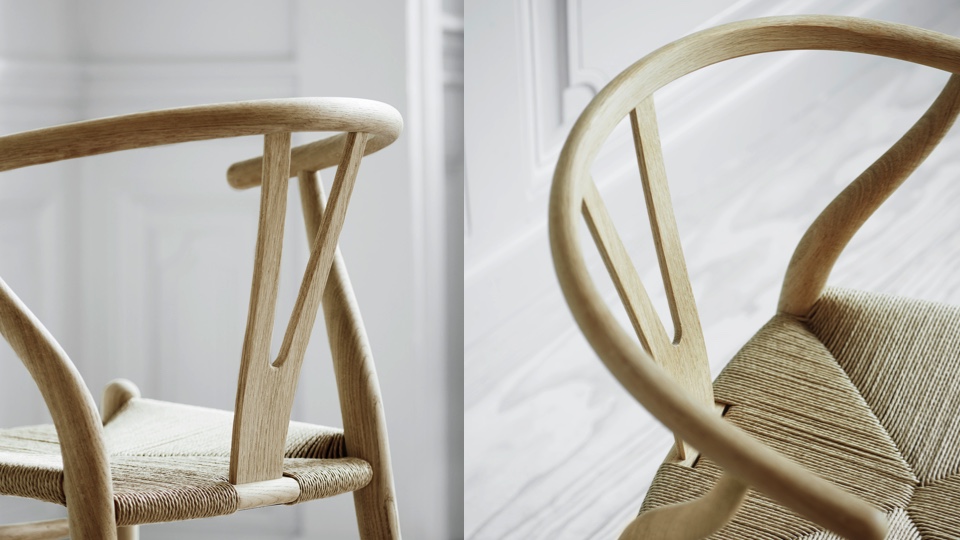 Since its production began in 1950, the Wishbone Chair has been made with the same 14 parts which require 100 separate processes and approximately 3 weeks of preparation. It relies on expert craftsmanship and the finesse of the human hand to bring about its characteristic Y-shaped back and hand-woven paper cord seat, a welcome feat in an industry increasingly dependent on robotics.
The quintessential symbol of Danish design, we are thrilled to announce that the Wishbone Chair in soap oak or oil oak finishes with a woven paper cord seat is included in the Chaplins x Carl Hansen & Son Summer Sale Promotion. Please note that black painted oak finishes are not included in this offer.
CH20 Dining Chair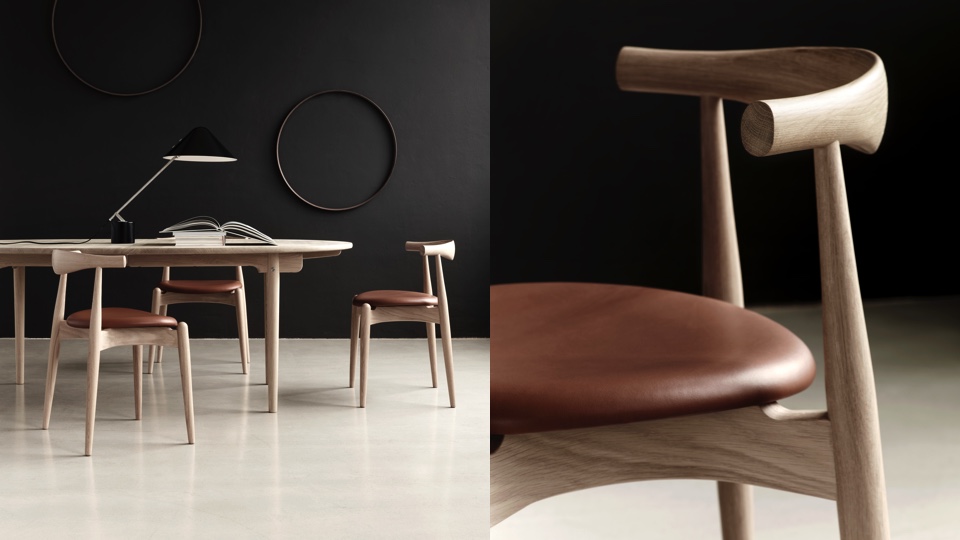 All light wood and luxurious leather, the CH20 is the perfect stackable dining chair. Featuring 11 layers of moulded veneer, it's gentle curves and soft rhythms establish a visually soothing aesthetic. Order in soap oak or oil finishes with Cat. A leather to be eligible for the promotion.
PK1 Dining Chair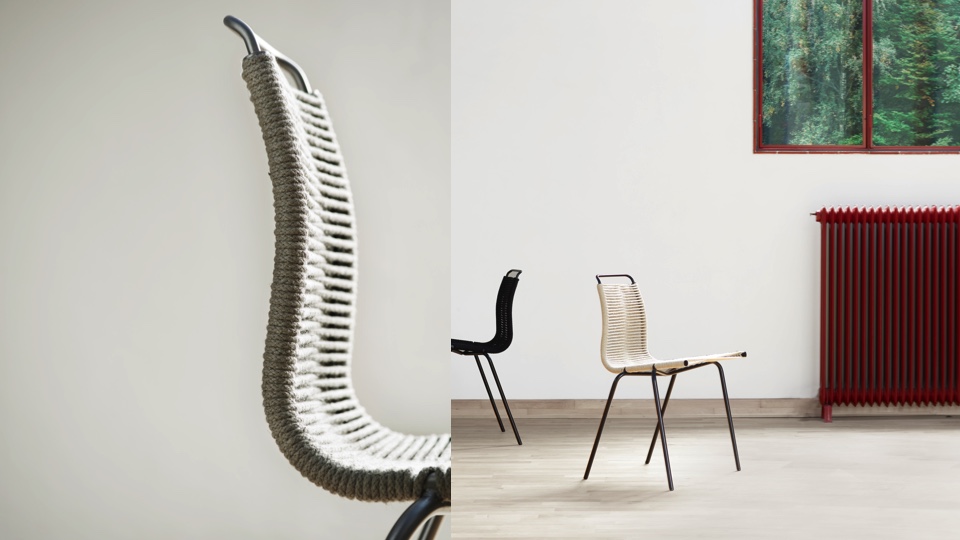 The PK1 Dining Chair, designed by Poul Kjærholm in 1955, revealed somewhat of a change in direction for Carl Hansen & Son. It incorporated a stainless steel frame with organic materials, offering a slightly more contemporary feel to the seating collection.
Its breathable hand-woven structure adds an injection of texture to classic Scandinavian interiors and is available in this promotion with a stainless steel frame and natural woven wicker seat.
CH33 Dining Chair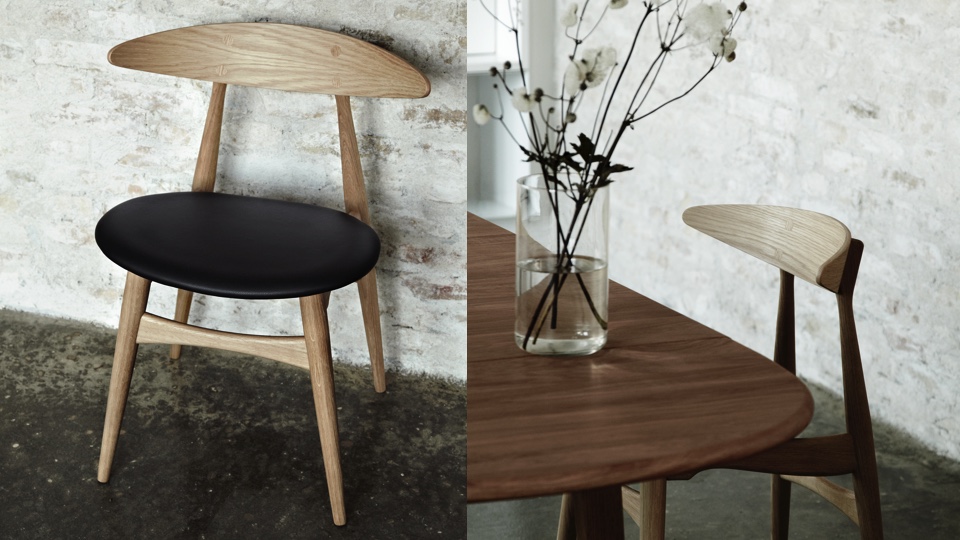 Designed in 1957, the CH33 bears all the hallmarks of Hans Wegner's signature style. Clean lines and the distinctive open back convey a murmur of Japanese minimalism, with the light woods and perfectly padded seat offering effortless comfort with every use.
A sculpture as a much as a seat, this striking modern dining chair is available in our Carl Hansen & Son promotion when you buy in a soap oak or oil oak finish with a Cat. A leather seat.
CH26 Dining Chair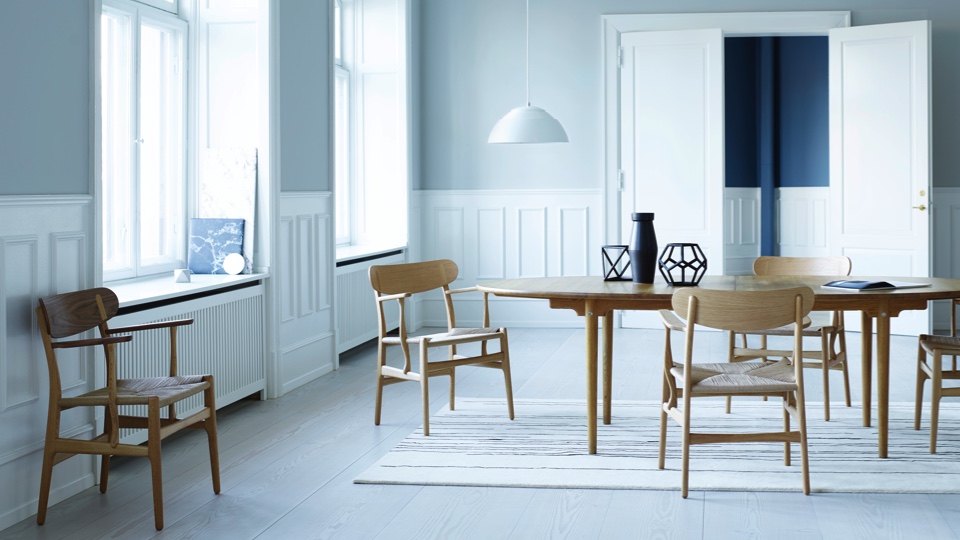 Wegner's CH26 dining was brought into fruition much more recently, through the painstaking study of his original sketches. It's a sturdier, elegant chair whose curved armrest supports enable it to double as a desk chair. The pursuit of perfect seated posture is present in the symmetry that characterises all Wegner creations, a selection of timeless chairs that help us to work, read, sit and eat better.
To qualify for the Chaplins x Carl Hansen & Son promotion, you need to select four of these chairs in a soap oak or oil oak finish with a natural paper cord seat.
CH23 Dining Chair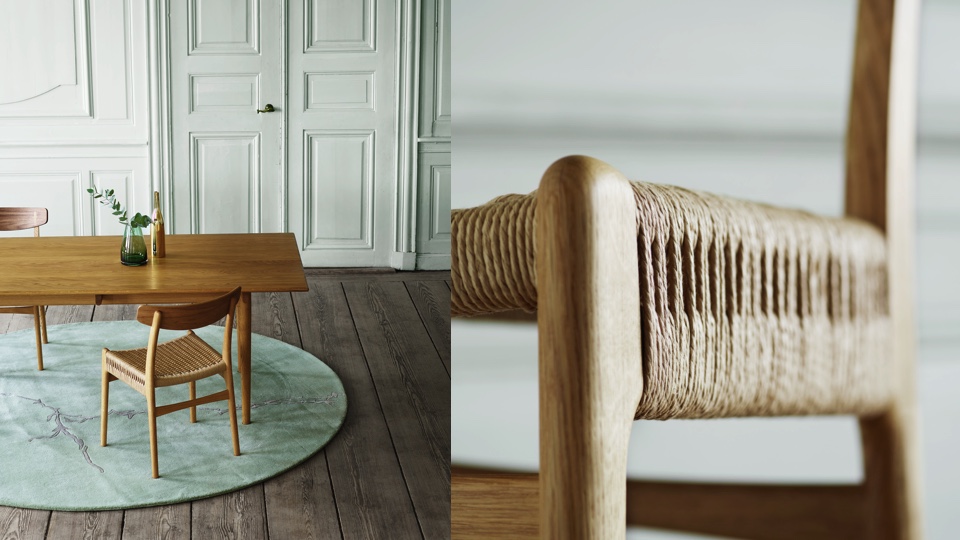 Wegner was a master in making complex designs appear simple, and despite the CH23 chair's richness in unique detail, its appearance is light and elegant. From the cruciform caps on the backrest and the special double woven seat, the CH23 exists in the exclusive club of classic designs that refuse to go out of style.
Purchase four CH23 chairs in a soap oak or oil oak with a natural paper cord seat to capitalise on this extraordinary promotion. Black painted oak finishes are not included.