Clerkenwell Design Week 2017 Review
Situated within the heart of the capitals creative district, Clerkenwell Design Week is one of the most highly anticipated events in the industry calendar. Each year, design lovers across the nation flock to the stylish scene to view the widespread selections of displays, exhibitions and showrooms scattered across the area. The prestigious event draws in an elective mix of furniture fanatics, art enthusiasts and design lovers, creating a fun, lively and energetic atmosphere that you can't help but immerse yourself in.
Naturally we took full advantage of this annual event, dropping by some of our favourite brands showrooms and seeking out some of the best designs on display. The day witnessed some remarkable findings, from exciting furniture finishes, to an assortment of colours integrating into the design world.
Carl Hansen & Son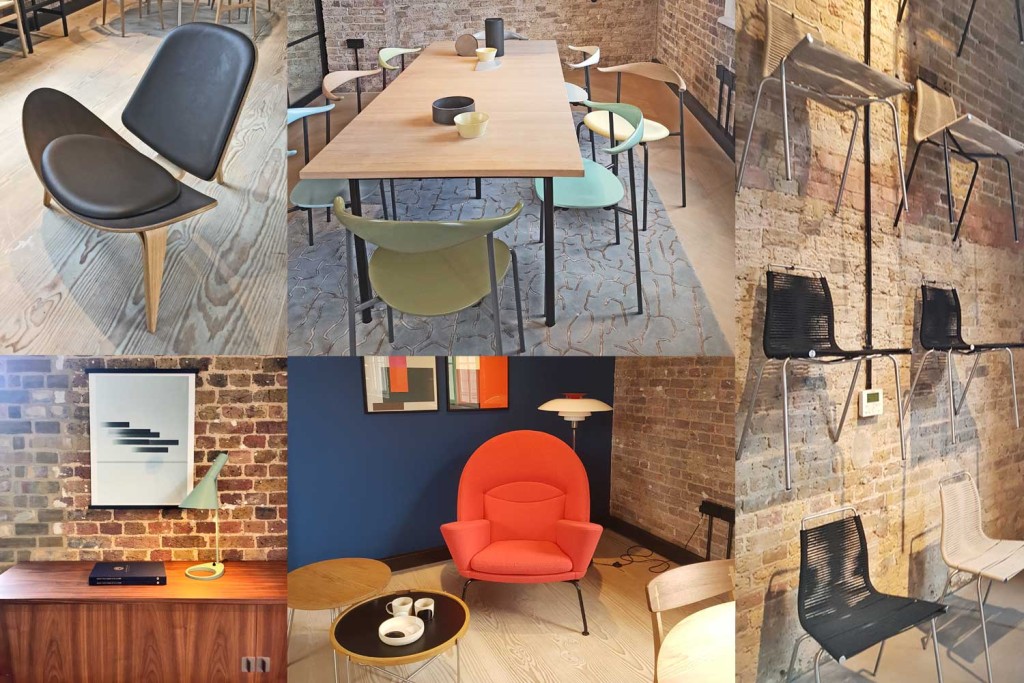 The morning began with the equivalent of a design orgasm. Carl Hansen & Son offered a colourful and creative showroom, paying clear attention to detail while incorporating current trends into their stunning displays. Their diverse selection of living scenarios made for a pleasurable experience as we strolled through the enormous showroom, marvelling at their impressive use of colour and innovative designs. We were extremely impressed by their refusal to serve up dull safe décor, instead basking in the soothing influence of dusky pinks, mints and blues.
The first design to capture our attention was the new PK1 Chair design created by iconic designer Poul Kjaerholm in 1955. Re-introduced by the brand for 2017, the smart chair cut a striking figure suspended on a wall fixture at the entrance of the showroom.
The multi coloured CH88T Dining Chairs were unapologetic as they broke the mould on neutral dining. The chairs versatile appearance allows them to integrate seamlessly into any space, promising maximum usability and a subtle shot of rousing colour.
As we ventured further into the showroom the striking CH110 Desk drew us in with its magnetic appeal. This fashionable and functional piece was a definite highlight of our day. Seduced by its lacquered oak frame, we were mesmerized by this desks endless extendable drawer concealed within its modern structure.
Another deceiving design was the Ch825 Sideboard. Sheathed behind its elegant exterior were state of the art roller-shutter doors that revealed an array of hidden storage options.
A firm favorite was the CH468 Oculus Lounge Chair. A vibrant design that contrasted exquisitely against its navy backdrop, this beauty captured our hearts with its rounded upholstery design and feminine finish. The fabulous design and gorgeous natural lighting created a setting so scenic we felt obliged to indulge in a selfie or two!
Moroso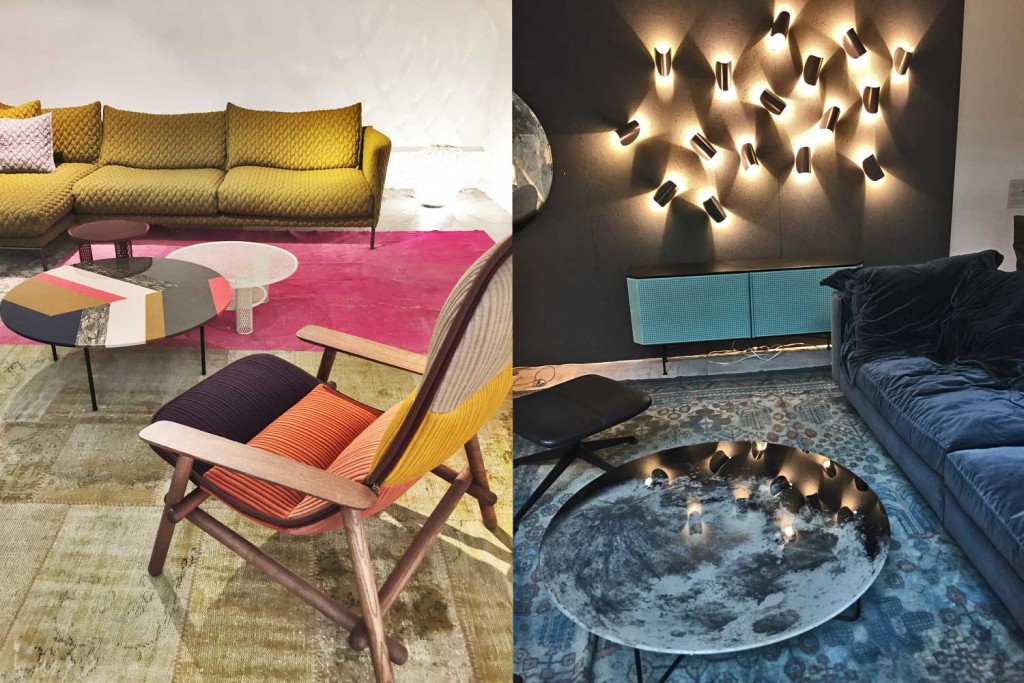 Drawing us in like a Greek siren was Moroso. Here we were treated to an assortment of mixed textures, elaborate finishes and intricate pattern detailing.
Stealing our attention with its unique interwoven design was the incredibly comfortable and creative Belt Sofa by Patricia Urquiola. Designed to emanate cosiness, its multi texture exterior and distinctive buckle detailing exuded character, comfort and class.
Another great piece on display was the versatile and welcoming Lilo Lounge Chair. The 1950's inspired design went down a treat with its funky stripe exterior and comfortable cushion detailing.
The multi finish Fishbone Tables was another highlight. Hand decorated with sintetica methacrylate, this colourful creation dominated the display with its bold personality and sensational finish!
When it comes to design we love a good collaboration. Moroso & Diesel generated serious attraction with their marvellous masterpieces. We loved the soft large exterior of the super stylish Nebula Nine Sofa and the detail in the artistic night sky printed on the glass of the My Moon My Mirror Coffee Table.
Cappellini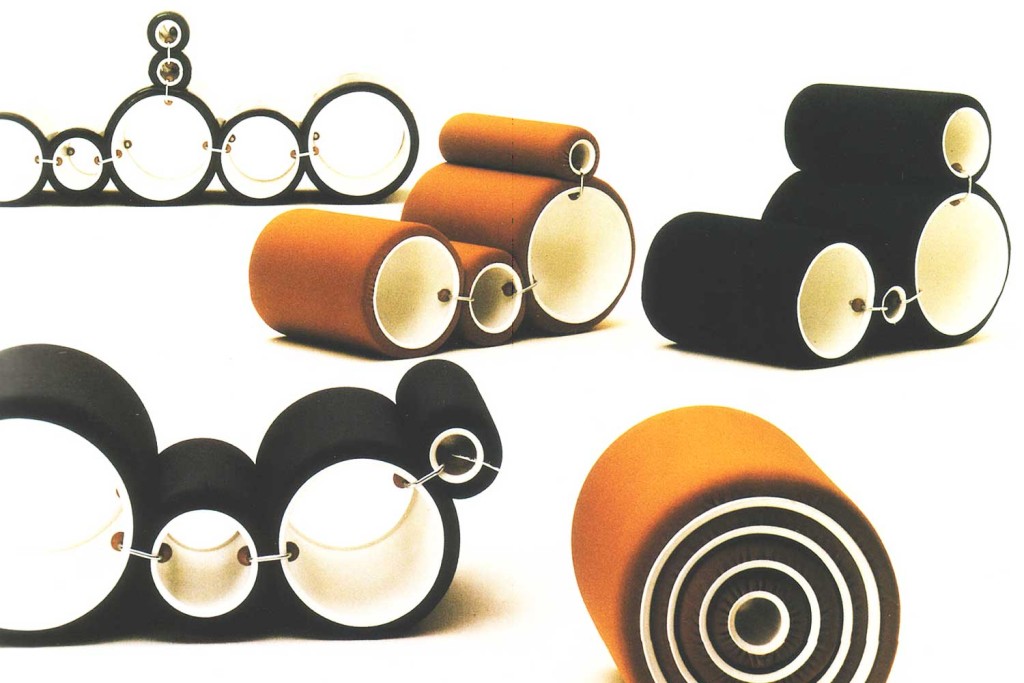 We don't use the word masterpiece lightly but the creative instillation by Giulio Cappellini and Antonio Facco constitutes one such worthy tribute. The iconic 1969 tube chair was reimagined into a contemporary new edition, featuring new materials and finishes, proudly presented on a platform within their showroom in aid of the week.
Vitra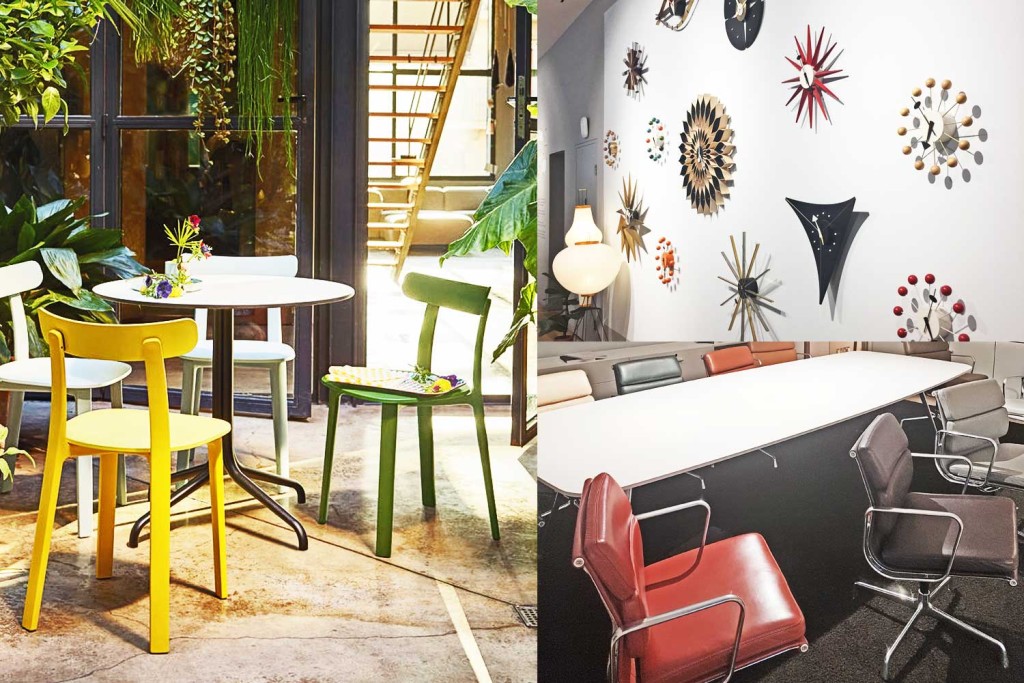 After a day of exploring exciting interiors our design thirsts were thoroughly quenched but our throats and feets were in need of some TLC. Vitra's incredibly scenic secret garden seemed a fitting choice to indulge in hydration! After exploring the stunning new spring collection, we enjoyed a cold beverage on Vitra's incredibly stylish 'All Plastic Chairs'. Designed by British design darling, Jasper Morrison, the chairs have been cleverly created to adapt to the sitter's movements, ushering in the next era of effortless ergonomics.
Knoll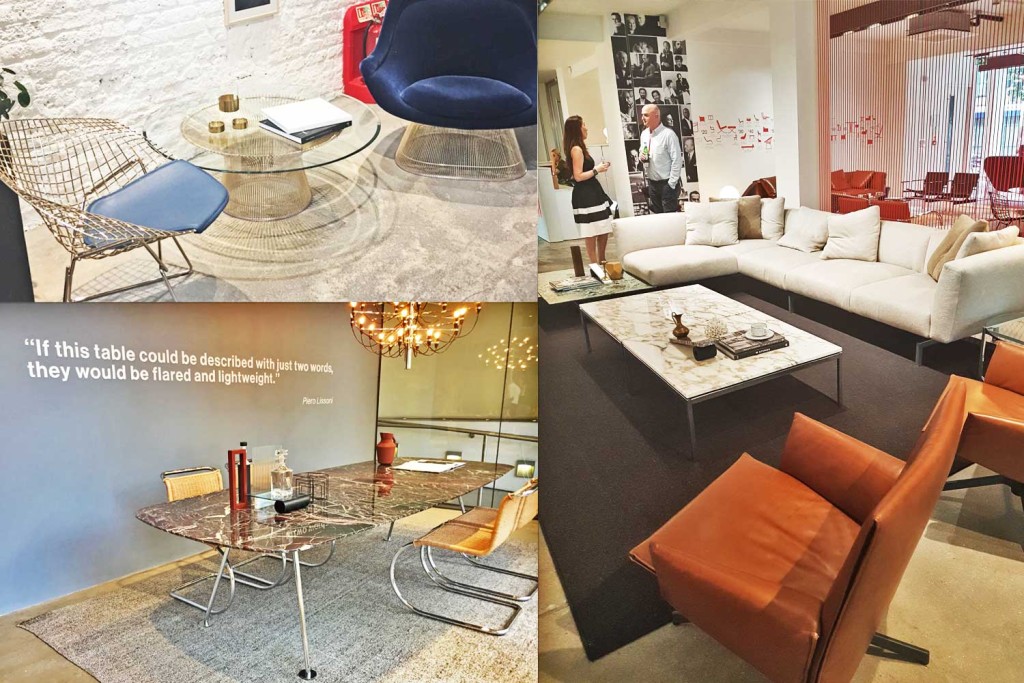 What better way to round up the day than raising a toast in honor of what would have been Florence Knoll's 100th birthday on the brand new Avio Sofa System.
As we celebrated with prosecco, we were surrounded by a delightful mix of Knolls latest additions fresh from their debut at the Milan Salone Fair.
Welcoming us into the showroom was the revitalized version of the iconic Platner Dining Table, showcased in a new marble top finish that caused our interior taste buds to salivate.
Situated in the showrooms window was the brand new Womb Sofa. Imitating the structure of the iconic original, the extended version enabled a twin experience as we tested out the delightful seating structure in duos.
Finally able to relieve our exhausted feet, we were free to absorb the beautiful combination of colors, marble, wood and lacquered glass in the Matrioska Credenza that helped strike another wonderful window setting.
Sometimes in life you have to save the best for last. The alluring Grasshopper Dining Table stood out amongst the abundant sea of design icons, its exquisite marble surface a delicate interplay of reds, browns and whites. Poised elegantly on impossibly thin chrome legs, the Grasshopper looked set to take flight into design legend.