Create your own Pool Table! Contemporary Dining and Billiards Tables by Chevillotte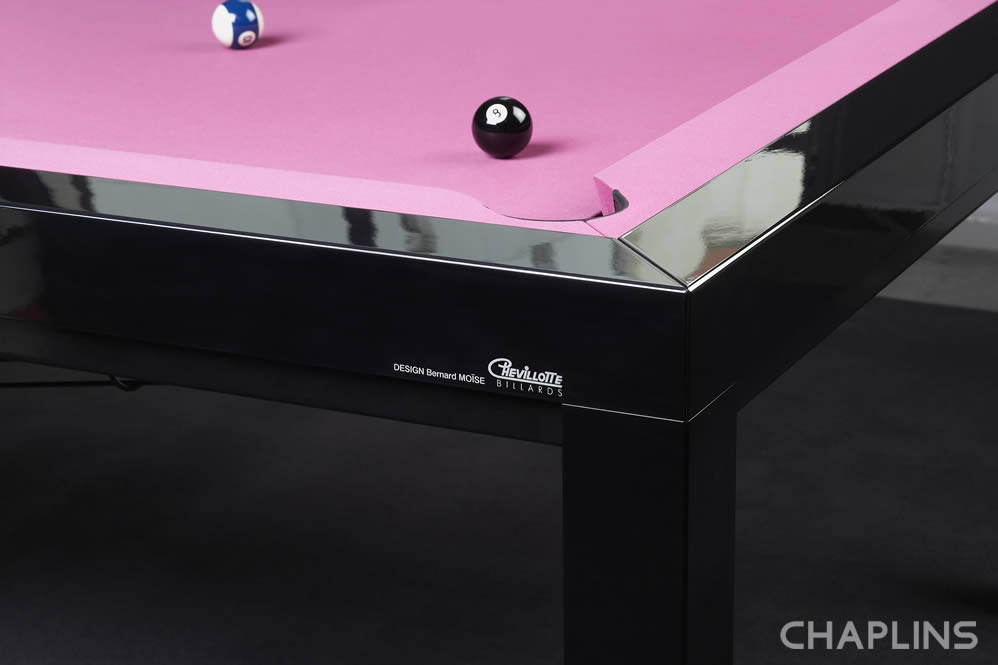 Over the years, Chevillotte has created a truly distinctive expertise in the production of modern pool tables. The company uses the most advanced techniques to ensure flawless game. The stamp "Made in France Chevillotte" on each pool table is a guarantee of authenticity.
Chevillotte also offers a range of accessories and games (backgammon, poker kits, casino kits, table football, multi-game tables, poker tables …) to create a festive and friendly atmosphere around the game of pool.
Chevillote created the first contemporary dining table (or desk) equipped with a unique patented high precision system, which transforms the table into a pool table.
Model Highlights include:


(VERY)TABLE
CHEVILLOTTE consecrated to its (Very) Tables Model a new design and used materials in accordance with its revolutionary conception. The purity of its lines incorporates steel, composites and brushed aluminium for the pleasure of the eye, and, accuracy of the game.


HEIMO
With HEIMO Chevillotte offers the pleasure to play on a real performing pool that combines the aesthetic and functional qualities of a beautiful table with contemporary design. HEIMO was designed primarily as a table that can adapt to all circumstances. Equipped with its table top, HEIMO will gather your family and friends around a good meal or a game.
HEIMO have also the ideal proportions to transform into a desk. Thanks to the Chevillotte exclusive system, the game mode can be changed in a few second from US to French. HEIMO offers many opportunities for fun and entertainment. Its sober and pure design, inspired from Nordic atmosphere, and its light and ebony finishes will integrate easily into any contemporary interior.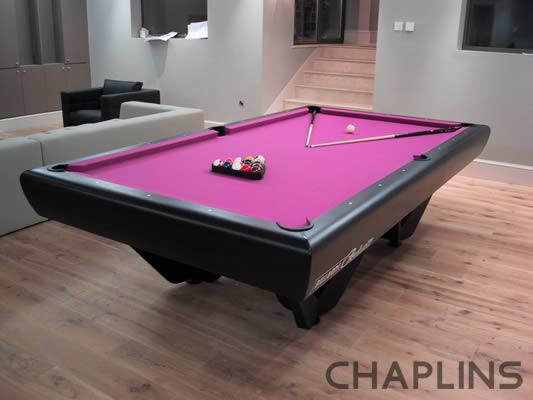 EUROPA MASTER
In the world of competition, the Europa-Master has always been the favourite choice. It is used for all the top tournaments, and the world's best players use it to express their passion for the game and their love of precision. But it is not just an outstanding table, it is also superbly designed. Its lacquers or black laminated finish fit into any home and make it the first choice for any billiard room.


CONCORDE
Never has the billiard table merged straight lines and curves with such sensibility. Its structure with steel beam creates an intellectual contradiction material and the extravagant dynamism of the finishes. Its slate successfully combines rational features and full scale aesthetics. A pallette of creative laquers with 150 colours to choose from allows you to be daring. Cover your billiard table with one of our colours that will go along with your interiors colour scheme and the shade of your billiards table.


ANTARES
A beautifully balanced table made from a structured superposition of lines. Its angles give it a touch of arrogance and flexibility. It makes a delightful table and a superb desk: an embodiment of a new way of living and thinking.
Please contact the showroom on 020 8421 1779 for further information and prices and to discuss all the various colours and finishes available with each model of table.
For further information Click Here.