FIAM Italia reflect on 40 Years of award winning product design with three new magical looking Wall Mirrors
For the past 40 years FIAM Italia have taken a material that was once seen as a merely a complement to others, and turned it into the main protagonist, making FIAM Italia itself an icon in this movement.
Over this time the company has witnessed the development of many unique and advanced technologies. But the years have also left behind a love and passion that, from the very beginning, has been the guiding spirit of the glass master, allowing them to apply that special character to every product, creating emotions.
Some of FIAM Italia's award-winning products and works are displayed in major international museums, seen in films and television programmes, and many illustrious people have chosen them for their homes. For these reasons, among many others, FIAM Italia's goal remains that of making the owners of their products proud and happy to do so, leaving behind a legacy and a testimony of good taste and culture.
Below are three brand new mirror designs, recently launched at the Milan Design Festival:
Wing Mirror by Daniel Libeskind for FIAM Italia

Wall mirror consisting of two curved glass elements in silvered glass and three flat mirrors welded together. Metal back frame allowing horizontal, vertical and slanted hanging.
Description from the designer:
The Wing Mirror collection recreates the mirror and its magical space. The mystery of reflection is communicated by the traces inscribed on the surface of the unusually oriented form.

The wing of dreams and desires refers to the function of the awakening which the mirror performs for us.

"To awaken the eyes of those asleep" said the blind bard, attributing to the mirror the imprinting of a dynamic mark on the faces of those the look in it.

These mirrors suggest the enigma of awakening.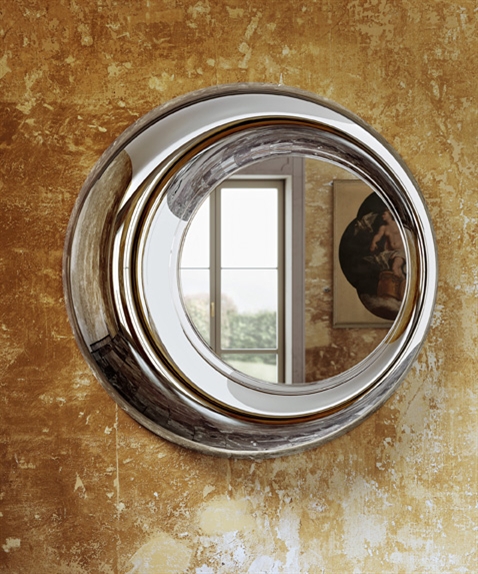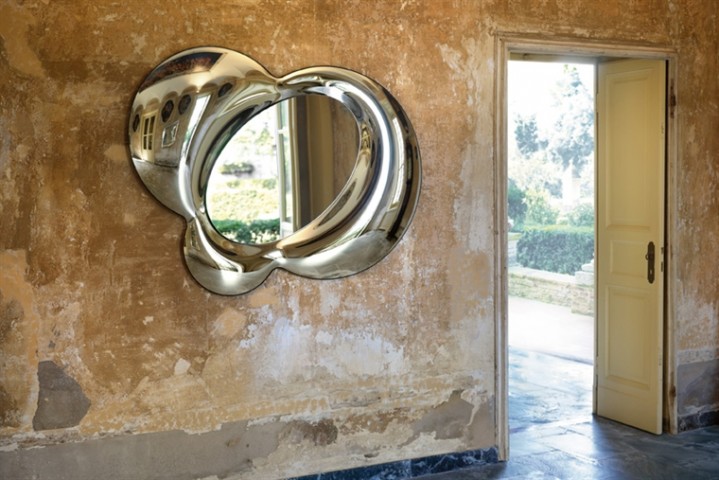 "Rosy" and "Lucy" Mirrors by Massimiliano Fuksas and Doriana O Mandrelli for FIAM Italia
Wall mirror in 8 mm-thick fused glass with silvered back;  5 mm flat mirror. Rear mounting panel allowing hanging in various positions.
Description from the designers:
Two wall mirrors conceived as single pieces, produced entirely of glass.'Rosy' a single rotund body with rounded frame, resembling an eclipse of the moon, or perhaps a pool set in a lunar landscape.

Its companion, 'Lucy', is a sculpture, at its core an elliptical reflective surface, set in a rounded frame like three large irregular petals.

Both frames, in silvered glass, have sensual, feminine lines.Mirrors that add character to a design scheme, each one a piece of a jigsaw puzzle or a map waiting to be put together. Mirrors to be looked in at oneself, for pure vanity, or in a search of something only legible when reflected in them.
For further information Click Here.