IMM Cologne 2012: B&B Italia presents the first new designs of 2012
The focus of the presentation is the living area with a series of designs for padded seating systems that represent a constant evolution based on the needs of consumers both in terms of product comfort and design.
The new designs include the Michel seating system, new versions of the Athos table, J.J. and Mart armchairs, an expansion of the Frank, Luis and Ray sofa ranges and a series of complements that enhance living area solutions.
Warm and reassuring settings paired with a striking visual layout, portray the elegant and international lifestyle of B&B Italia.

Michel, design Antonio Citterio
The Michel seating system includes 34 linear and modular elements as well as 5 square and rectangular ottomans. As opposed to its predecessor Frank, this system is characterised by a new slim structure in painted bronzed nickel or black chrome-plated aluminium and the seat cushion offers a different comfort. All the linear and modular variations are available in two different depths (91 and 106 cm). This variety in the product range makes it possible to organise different types and methods of use, from formal to casual.
Michel sofas offer a serene yet definitive response to the desire for comfort and wellbeing, with a frame created from elements in polyurethane foam, Dacron® inserts for armrests and backrests and down with polyurethane for seat cushions.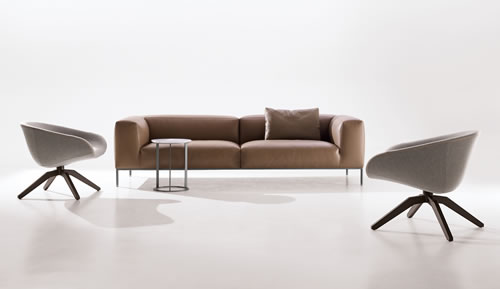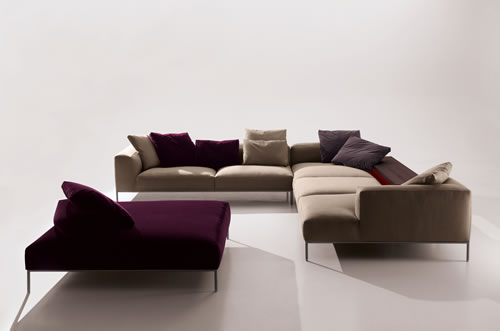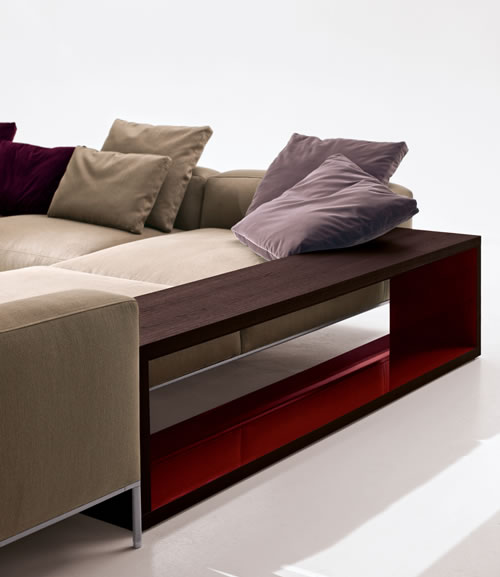 Frank, design Antonio Citterio
The modular Frank system, presented in 2008, has been expanded with new elements that make it even more versatile. The changes include the addition of a series of smaller elements for the right and left terminal elements, benches with backrests, central benches, chaise lounges and sofas. All elements in the system are available in two depths (91 and 106 cm). The formal structure of the system has undergone no modifications while a new black chrome-plated finish is now available for the feet and profile.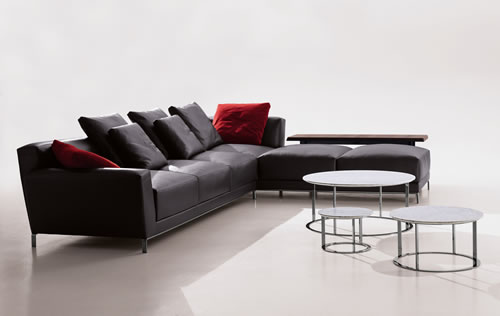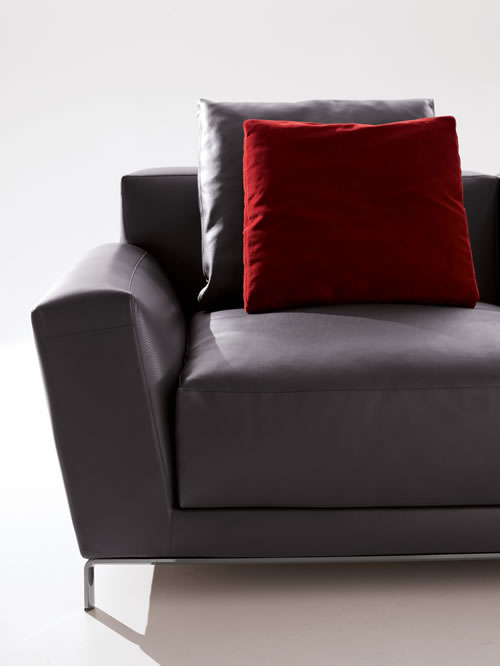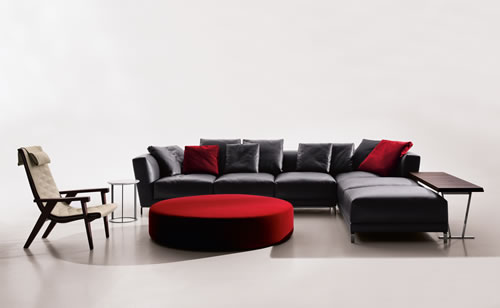 Luis, design Antonio Citterio
With this updated Luis design the modular seat, proposed in numerous versions, offers a solution that unites comfort and formal elegance. Balanced volumes, measured proportions and an extremely soft appearance thanks to down cushions, accompany a wide range of compositional solutions that can adapt to different sized spaces. Two seat depths (90.5 and 106.5 cm), versions with two cushions (78 and 94 cm) and three cushions (78 cm), with two height variations for the backrests and armrests. The system enables limitless pairings and the creation of linear, angular and peninsula sofas. In order to fulfil precise comfort needs, Luis is available in two seat heights, 41 cm for the floor-mounted version and 47 cm for the version with a new painted bronzed nickel or black chrome-plated base.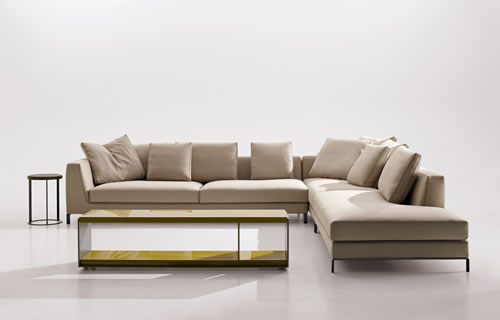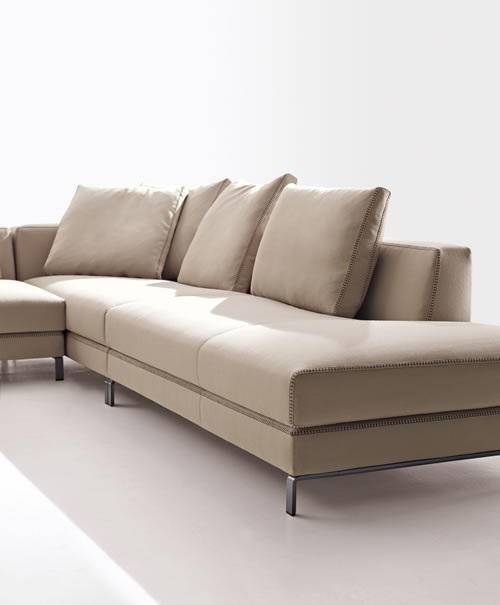 Ray, design Antonio Citterio
Ray, the seating system successfully unveiled in 2010, has been enhanced with three new elements: a chaise lounge, a terminal element and a bench that offer additional both linear and angular compositional possibilities. A black chrome-plated finish has also been added for the frame.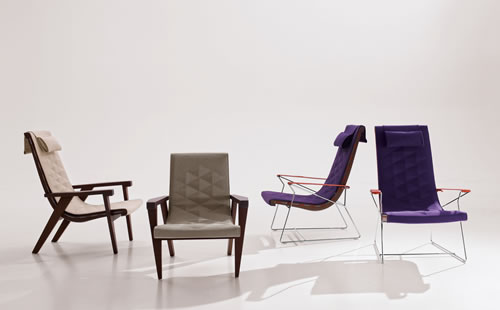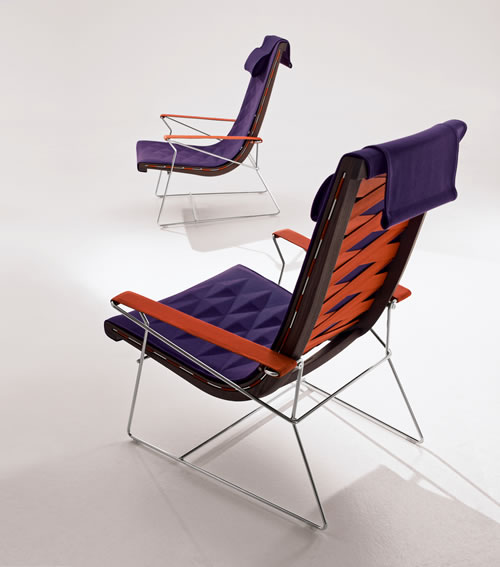 J.J., design Antonio Citterio
The range of J.J. armchairs has been expanded with a brand new version. The new designs, created both in a conversation version with a low backrest and a lounge version with a high backrest and headrest, are now available with a pad in textured fabric with a diamond-shaped pattern. The polypropylene bands on the frame are available in three new colours, dove grey, black and orange, and are repeated on the armrests.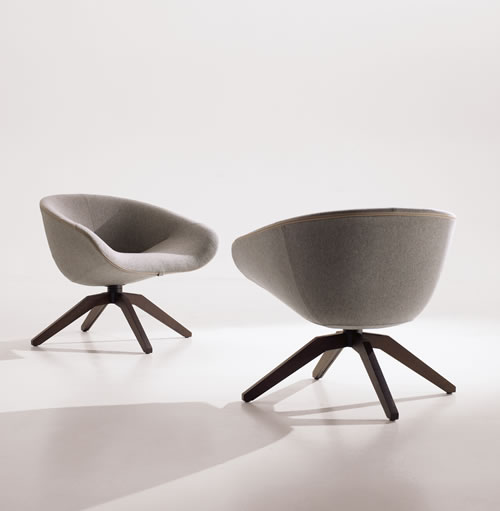 Mart, design Antonio Citterio
Mart armchairs, introduced in 2003 with innovative technology for thermoforming leather, are now proposed, both for the fabric as well as for the leather version, with a new swivel base with four spokes in smoked stained oak.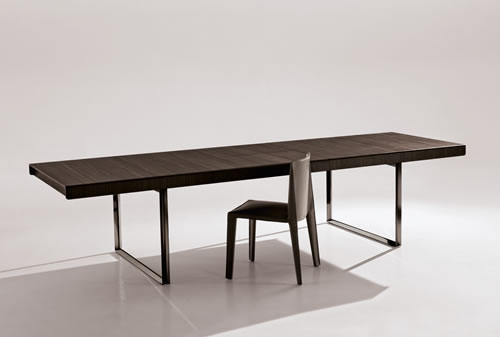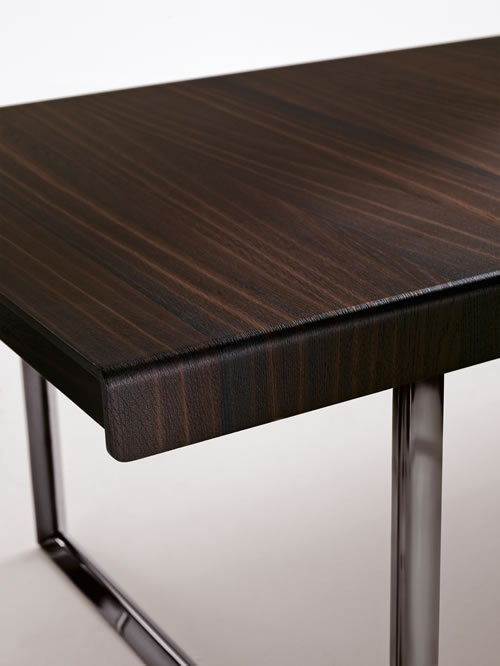 Athos, design Paolo Piva
Ten years since it was unveiled and quickly become a best seller in the table category, Athos has been completely redesigned including its supporting structure and top design.
The frames have a metal "V shaped" profile with glossy chrome-plated, black chrome-plated or bronzed nickel finishes. The thick top is softened by rounded edges and created in wood (natural oak, brushed black oak, grey oak and smoky oak) or in satin painted finish. Created in a single width (100 cm), Athos is available in a fixed version in two sizes (200cm and 250 cm) and an extendable version that uses an invisible mechanism to lengthen the top from 255cm to 320cm.
Various new complements proposals, designed by Antonio Citterio, to create in combination with the sofas a harmonious and functional environment.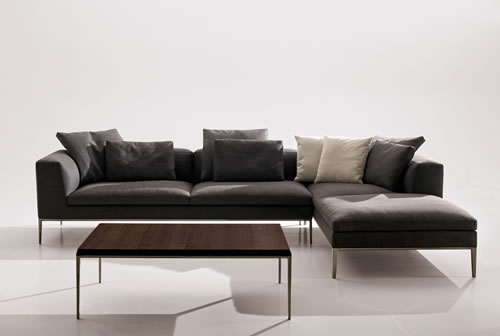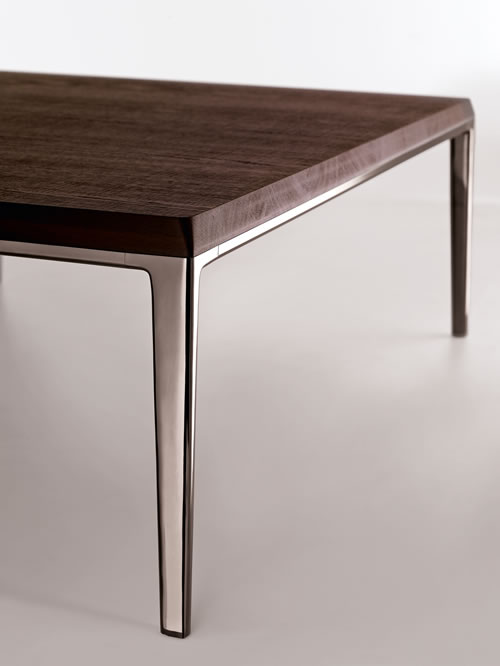 Michel, design Antonio Citterio
In five sizes and top in rough-cut smoky oak, small Michel tables reinterpret the design and finishes of sofa frames.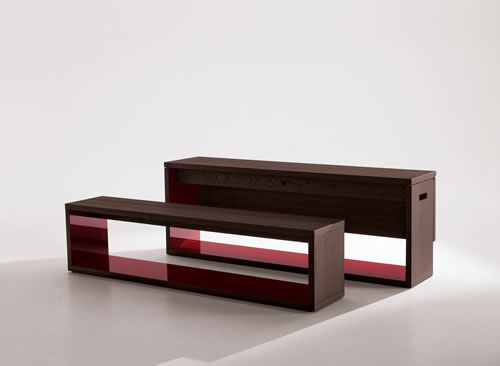 Frank, design Antonio Citterio
For the Frank and Michel seating systems a brand new series of low rectangular tables and rear sofa consoles are now available, characterised by exterior finishes in rough-cut smoked oak contrasting an interior in glossy lacquered brick red.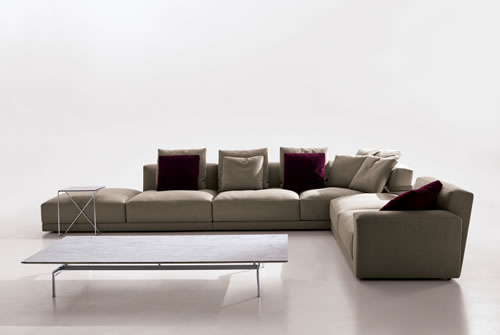 Luis, design Antonio Citterio
The Luis system is completed with accessories compatible with elements without armrests. These are available in various sizes with tops in rough-cut smoked oak and frames in black chrome-plated or painted bronzed nickel steel.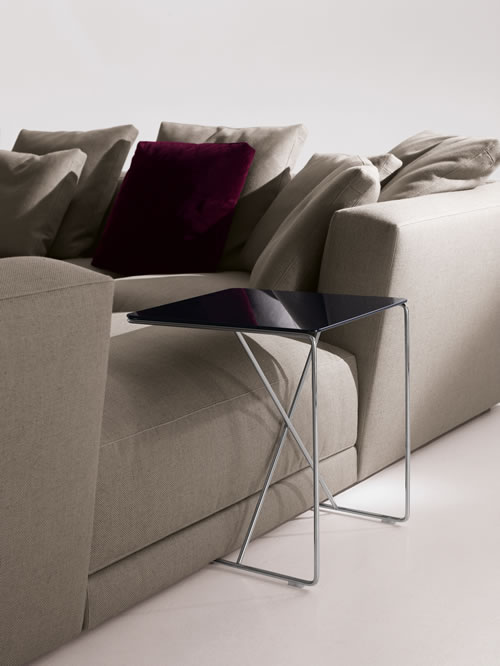 J.J., design Antonio Citterio
Created in chrome-plated rods with a black glass top, the J.J. table is a small functional surface with universal possibilities.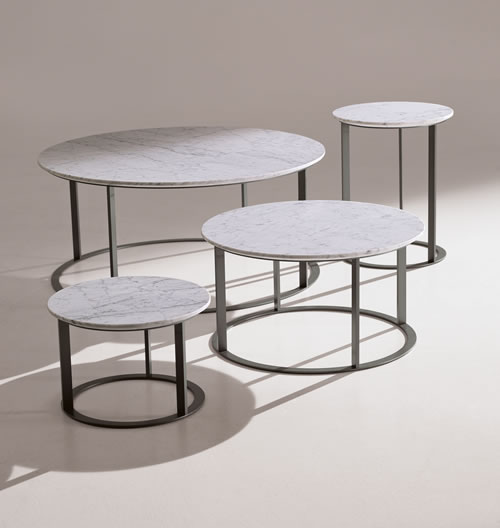 Mera, design Antonio Citterio
Versatile and compatible with different models, this new family of small round tables is available in four different sizes and heights. The top in white statuarietto marble with a tapered edge is connected with the circular metal structure available in glossy chrome-plated, black chrome-plated or painted bronzed nickel finishes. A table/pouf version has also been added to this collection with the turned top in smoked stained oak.
For further information Click Here.