Kartell Design Rocks! Starring Lenny Kravitz + Philippe Starck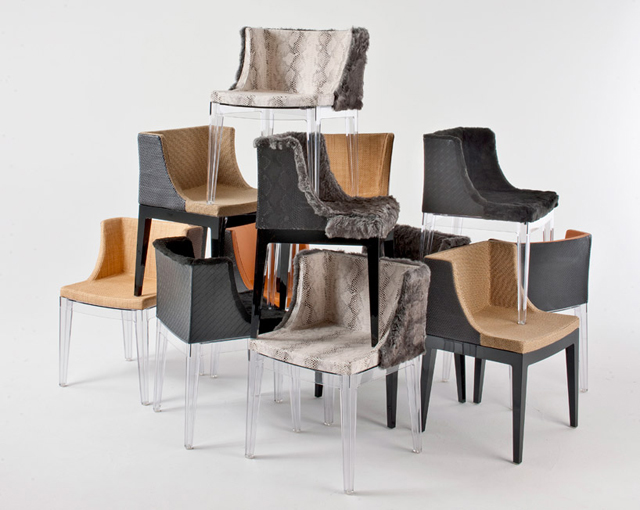 In keeping with the company's longstanding history of breakthrough collaborations with the most talented creatives in the world – Kartell announces a new and extraordinary partnership with a talent who brings some of the most glamorous and soulful influences the design world has yet to see. At the Milan Furniture Fair (Salone del Mobile) Kartell aims to astonish with its most ironic and playful side of the brand that enjoys partnering with icons of respected fields from fashion to art and music.
Kartell's Milan flagship store, the meeting point for all who love design and attend the Salone, turns into a stage and… KARTELL GOES ROCK with two exceptional partners: the superstar designer and musician, Lenny Kravitz and the über designer, Philippe Starck!
The American rock icon, with his Kravitz Design team, has created a collection of six Mademoiselle armchairs (originally designed by French design icon Philippe Starck) exclusively for Kartell and re-imagined and upholstered in a combination of fabrics chosen together with Starck. Combining exotic finishes of python, fur, leather and woven materials, the end result reflecting the wild spirit of the artists.
The project grew out of the friendship between Kravitz and Starck and out of the Kravitz Design, Lenny Kravitz's design company 's passion for design through the lens of a casual elegant blend and perspective on living. Claudio Luti, President of Kartell, enthusiastically gave his approval to the project and created an event around it bringing together design & Kartell's musical soul.
Said Lenny Kravitz "Philippe Starck has been wonderfully supportive of my design endeavours, so when he asked me if I would interpret his Mademoiselle chair for Kartell, I was excited about the idea of two icons collaborating in this way. The Kravitz Design take on the Mademoiselle chair is haute couture meets rock and roll".
Philippe Starck stated: "An environment is made of materiality; wood, stone, metal … but also made of immateriality such as light, temperature, memories and also sounds and music. Lenny proved at the highest level he could create an entire musical universe. It is now time for him to translate the magic of his music into materiality, into chairs, into lamps … A new experience for Lenny, a new territory for us".
Rock and roll is dead? Not at Kartell!
For further information Click Here.