NEWS: London Design Festival 2014 Roundup
London Design Festival
To mark the closing of the twelfth annual London Design Festival, we bring you a round-up of all the latest products on display from both our biggest and emerging new brands.
100% Design
This year 100% Design celebrated its 20th birthday in style at the world renowned venue, Earls Court. 100% Design is not only the capital's largest contemporary show but it is also one of the main reasons for London being marked on the modern design map.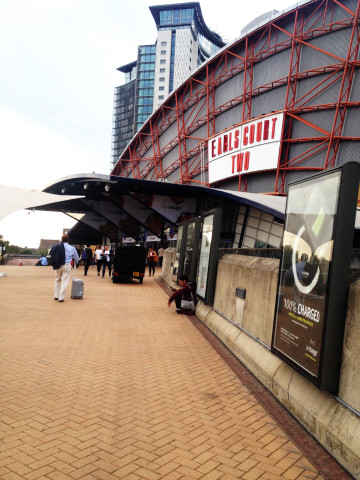 Immediately as you arrive at Earls Court you are met with a dramatic entrance created by Studio Design UK in collaboration with Lasvit. The long hallway leading you into the main halls is constructed using towering mirrored supports, which are subtly lit, evoking a feeling of a gladiator, who is about to enter into an futuristic arena filled with modern design!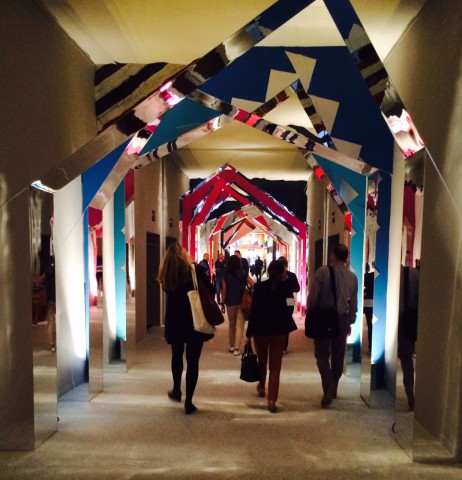 Continuing their long-term collaboration with world famous architect and designer, Daniel Libeskind, Lasvit started off proceedings with an extraordinary installation called "Ice".  With this stunning chandelier, Daniel Libeskind succeeds in perfectly transforming glass elements into contemporary designs using Lasvit's know-how and expertise. The "Ice" chandelier is made up of clear glass 'cells,' clustered together in a series of puzzle-like, triangular patterns. These modular patterns can be twisted and turned into any number of horizontal compositions to suit a wide variety of spaces. Like stalactites or icicles, the glass forms capture light, refracting it into prisms, so that each column glows in unpredictable ways.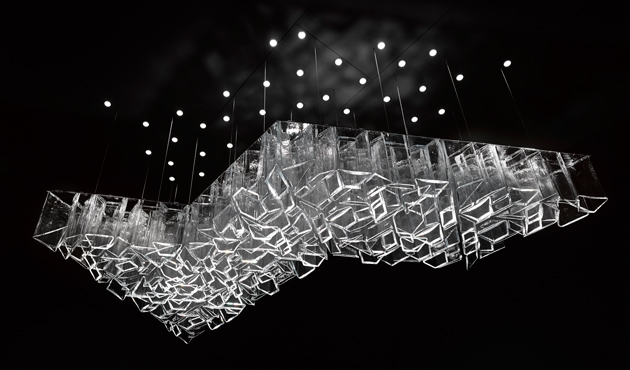 When entering the Interiors & Emerging Brands section of 100% Design we were welcomed by one of the largest contributors to contemporary luxury furniture, the Swiss based manufacturer Vitra. Founded in 1950, Vitra created a goal to design furniture that was not only functional but also inspiring, since then they have produced such greats as the Eames Lounge Chair and the Panton Chair, combining an intensive design process with engineering excellence.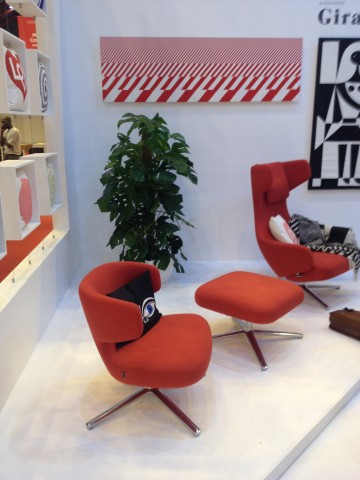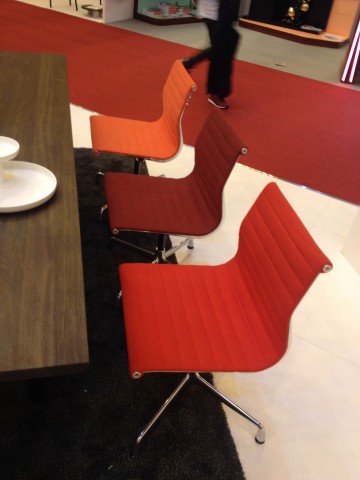 Their display consisted mainly of pieces from the 2014 Milan Fair, with the Aluminium Chair by Charles & Ray Eames, the Splayed Leg Table by Alexander Girard, Mariposa Sofa by Edward Barber & Jay Osgerby, the Rise Table by Jasper Morrison, the Rotary Tray by Jasper Morrison and also the Wood Table by Edward Barber & Jay Osgerby.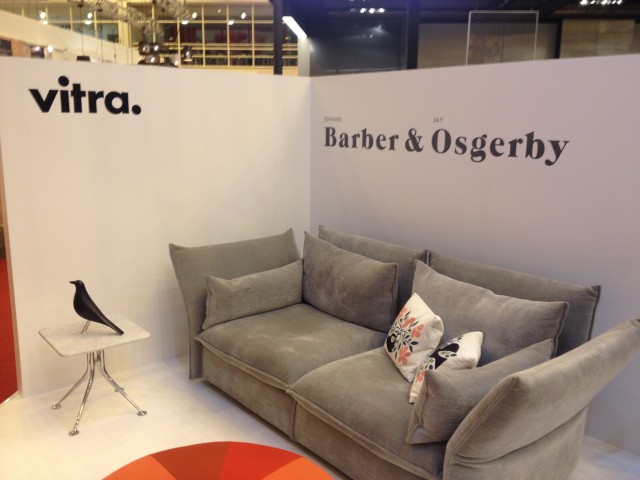 For those who could not get to the last Clerkenwell Design Week experience, there was also a stand with the best picks of the previous design festival. Highlights on the stand included the Knoll Washington Skeleton Chair by David Adjaye, being one of the leading architects of his generation it is no wonder why he can create such creative pieces of contemporary furniture.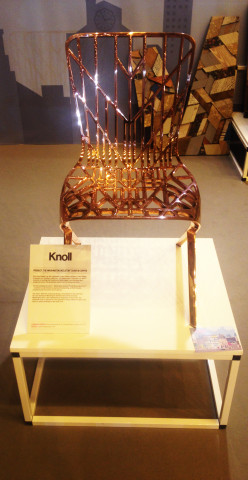 Next we had the Vitra EA Soft Pad Chair by Charles & Ray Eames with its sophisticated and timeless design it epitomises the true talent of Charles & Ray Eames. It comes as no surprise that these two feature among the most influential figures and designers of the twentieth century.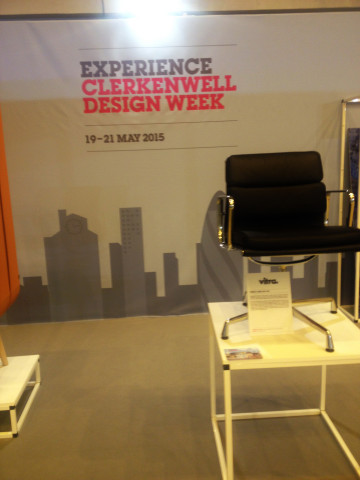 The final piece that caught our eye was the Edra Gina Chair by Jacopo Foggini, with a seat formed by polycarbonate in an embroidery fashion showing the true talent of this designer and his ability to construct modern design furniture.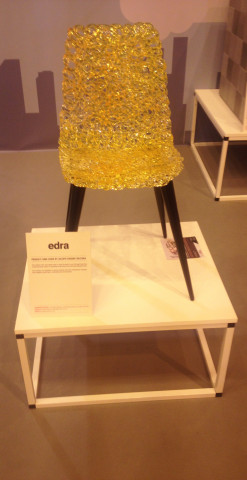 Designjunction
Next on our list for London Design Week was designjunction, with this being the fourth year of the critically acclaimed show, the derelict Sorting Office on New Oxford Street once again provided the perfect juxtaposition against the modern furniture and lighting on display.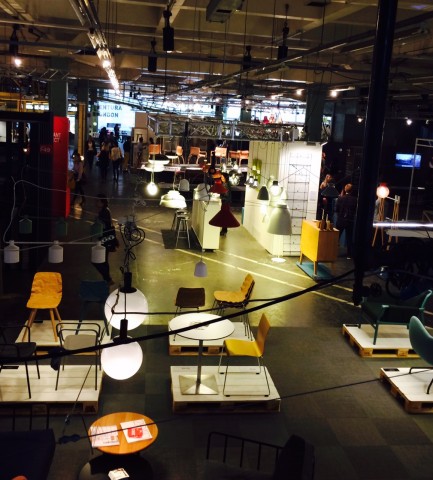 Designjunction was host to a wide range of brands and designers including an array that we here at Chaplins are proud to represent including Anglepoise, Artemide, Brokis, Fontana Arte, Fritz Hansen, Innermost, Lightyears, Ligne Roset, Marset, Tom Dixon and also Zanotta.
With designjunction being spread across four floors we agreed the best way to examine every stand available would be to start at the top and work our way down to the basement. As you entered the top floor you were welcomed by a small yet effective Zanotta display, with the Mezzadro Chair by Achille & Pier Giacomo Castiglioni, the Sciangai Coat Stand by De Pas, D'Urbino, Lomazzi, the Cumano Side Table by Achille Castiglioni and finally the Sacco Bean Bag by Gatti, Paolini, and Teodoro.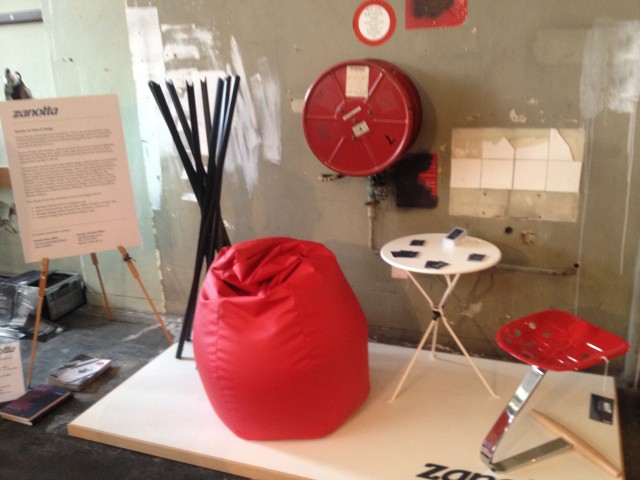 Moving on we  were greeted by the lovely sales team at Innermost. We especially liked their more obscure designs including the Canvas Chair by YOY, something you have to see to believe. The Canvas Chair is designed to have the appearance of a canvas painting of a chair it is however actually a fully functional chair, perfect for popping on your shoes in a hallway or entrance area to your home!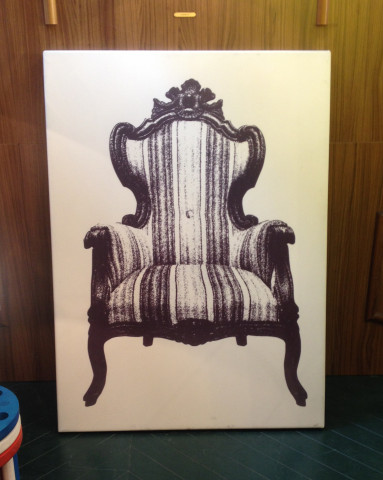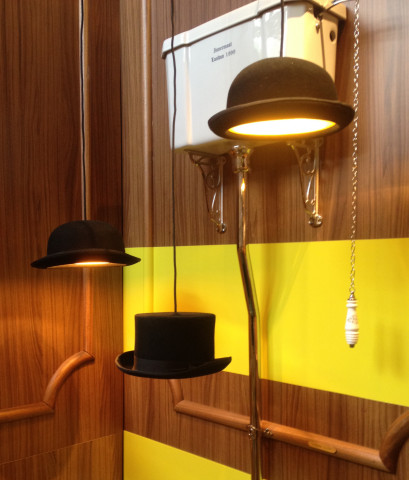 Innermost were also displaying their creative yet quirky Jeeves Suspension Light and Wooster Suspension light by Jake Phipps perfect for those in tune with the great British humour. To complete their display Innermost also were showcasing the Beads suspension light by Winnie Lui, the Origami Dining Table by Anthony Dickens, the Poke Stool by Kyuhyung Cho, the Circus Suspension Lights by Corinna Warm and also the Snowdrop Suspension Lights by Stone Designs.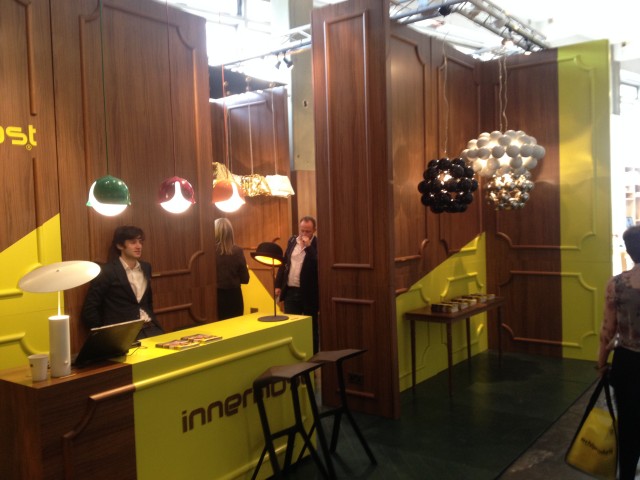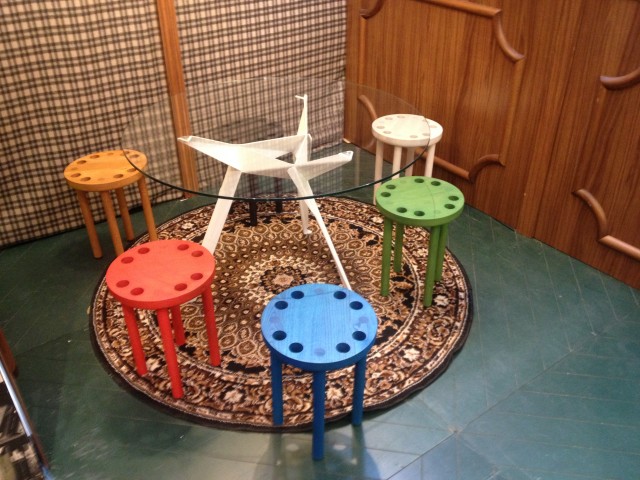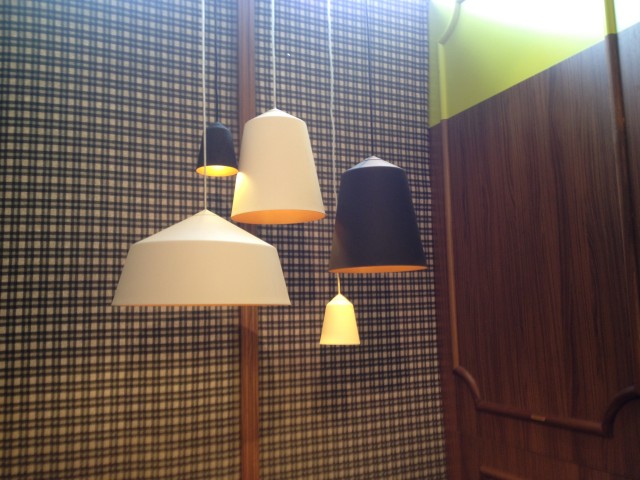 As we entered the 2nd floor Ligne Roset were showcasing their new design from Philippe Nigro, the Cosse sofa. Nigro's main aim with the design of the Cosse sofa was to optimise comfort, so he created a form with gentle contours that sweep around the sitter. The designer described the shape of the sofa as: "Softly welcoming contours, a soft, delicate all-enveloping form which, sustained by a fine natural wood structure, floats above the ground."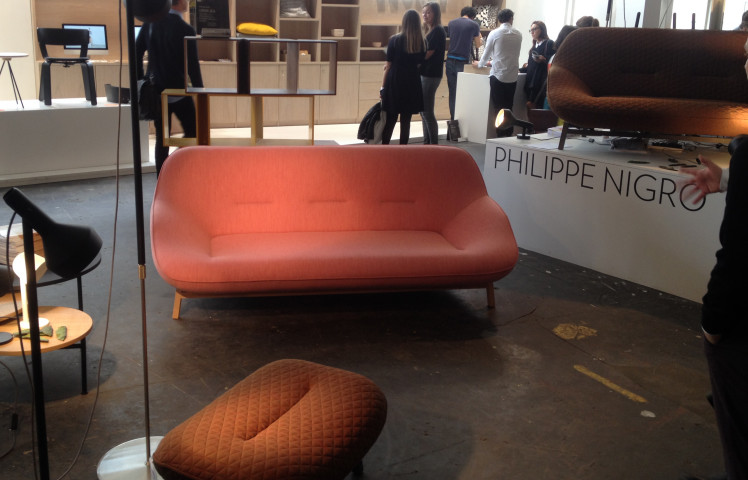 Next up was Marset and their modern display of designer lighting. Showcasing their new collection inside large wooden boxes gave the stand a somewhat industrial feel to match the surroundings yet inside each box was an elegant piece of lighting design.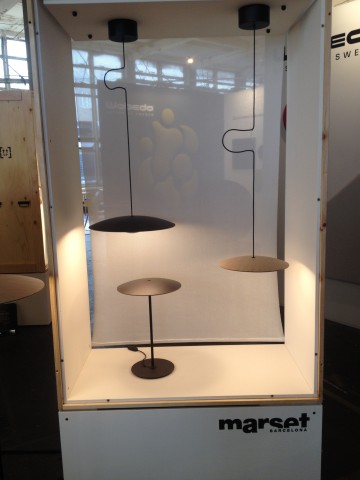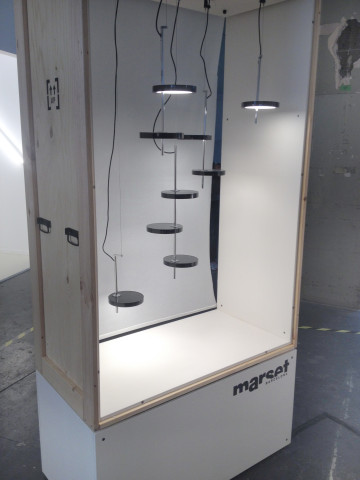 For instance the Discocó Suspension Light by Christophe Mathieu is a true token of modern design, consisting of 35 metal discs surrounding a chromed spherical core giving it an attractive and elegant appearance. Even when there is no light being emitted it provides the room with a piece of sculptural art.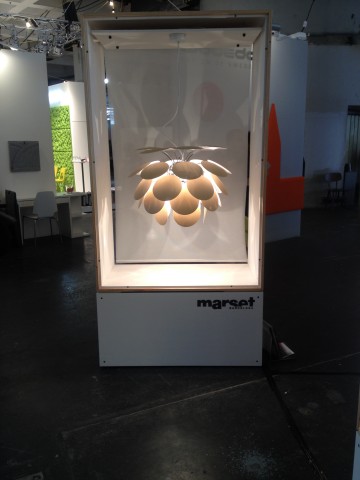 Last stop on the top floor is Anglepoise, this year showcasing their latest re-design from Paul Smith. With being one of the leaders in his industry Paul Smith has collaborated with Anglepoise to add a touch of style and colour to the classic Type 75 Table Lamp.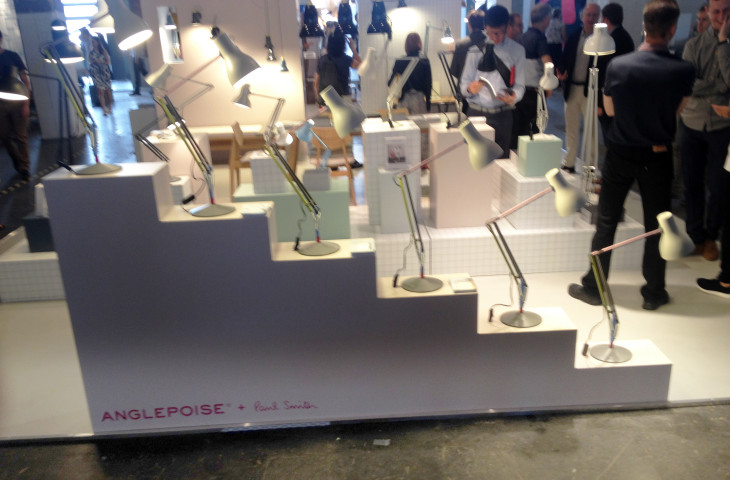 The 1st floor was primarily made up of lighting companies including Brokis, a lighting company from the Czech Republic, which provide exquisite design, superb quality and remarkable craftsmanship.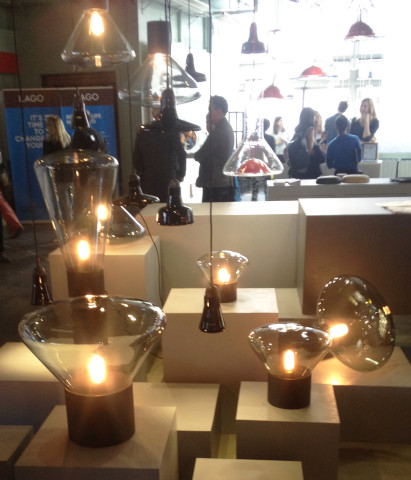 Displaying their new and updated products it allowed us to see the talent that their designers have to offer. Take the Muffins for example, with a combination of hand-blown glass and oak it fills each area with a truly special aura. With a wide selection of finishes available within this range alone, Muffins can adapt to many different interior decors.
Joining the Muffins on display for Brokis was the Balloons range, this collection of lamps is based on a transparent, nearly invisible balloon with a reflector simply hovering providing a clean and elegant appearance. The reflector is available in a range of finishes allowing you to find the perfect lighting system with a range of lacquer colours and also the choice of either brass or copper makes it able to fit in any surrounding.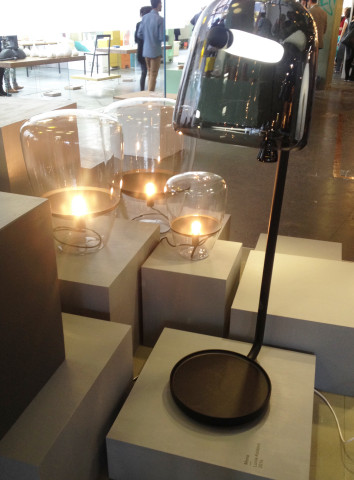 Another lighting company on display was Lightyears.This season they proudly presented three new lamps created by some of Europe's most renowned and talented designers. We especially liked the Aeon Rocket Suspension Light, a prime example of the combination of creativity and elegance; with a monochrome metal upper shade and polypropylene lower shade it provides light respectively yet unhindered.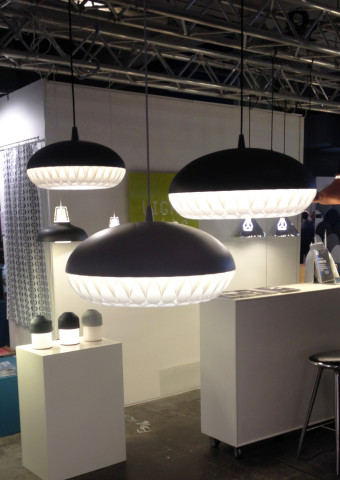 The Calabash Pendant Light was also a part of the Lightyears display at designjunction; the light has an organic form with a special iridescent surface giving it character and a unique expression. Available in three finishes black, chrome or gold allowing you to provide not just light to your home but also a touch of personality.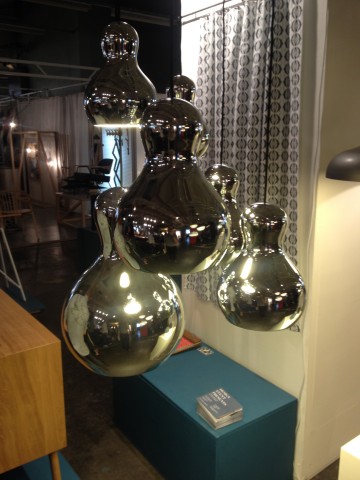 Last but not least, The Republic of Fritz Hansen. One of the most renowned Scandinavian furniture manufacturers known for providing us with such greats as the Egg Lounge Chair by Arne Jacobsen and also the Series 7 Chair by Arne Jacobsen. This year at designjunction Fritz Hansen were displaying their new pieces from Milan.
The Drop Chair by Arne Jacobsen was being shown, although it was originally designed in 1958 as part of his masterpiece, the legendary Radisson Blu Royal Hotel in Copenhagen, Fritz Hansen have now released it for the public.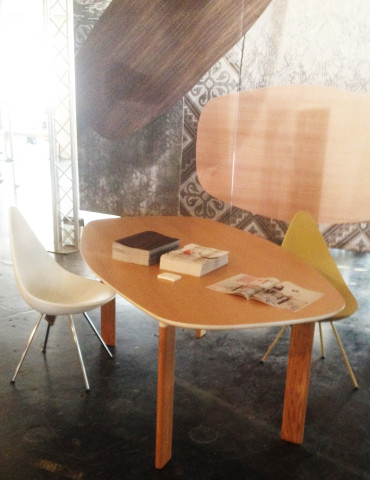 Along with the Drop Chair was the Analog JH63 Table by Jaime Hayon, designed to celebrate a more social side to dining. The design is not a square, not a circle and not an oval – however, it takes the best of each shape in order to create a new organic form to provide an authentic way of connecting with one and other.
The ground floor of designjunction consisted of pop-up stores, here we saw British designer Tom Dixon, as well as Holdall & Co Ltd. Having never seen Holdall & Co Ltd. it was a pleasant experience to learn about the company and see their products firsthand.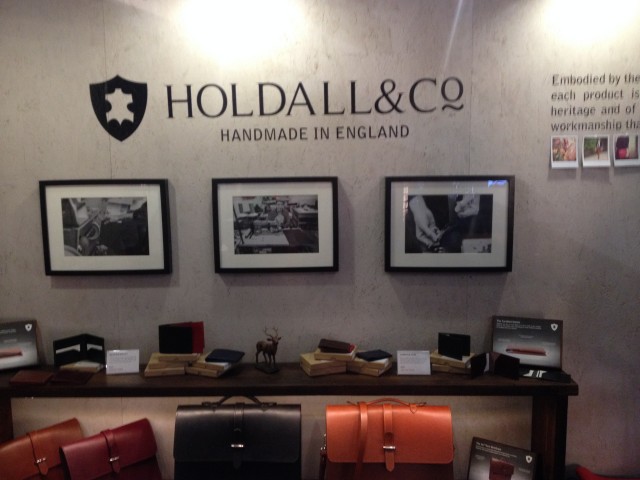 Established in 2012 they are a relatively young company, however with the quality of their products both of the design and the leather it would make you believe that they should have been around for decades. Founded by Raimonda Navickaite who has a love for vintage designs she began designing products that not only held the same quality but also the heritage.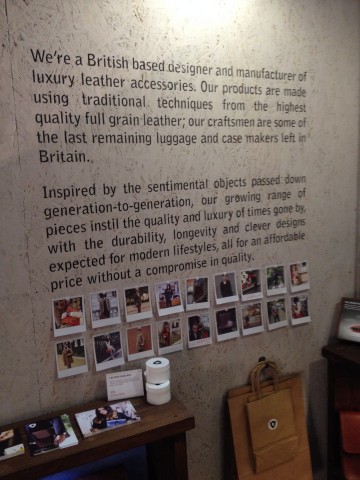 Last but not least, lightjunction. Situated below the main building in the lower levels of the Sorting Office on New Oxford Street were arrays of lighting companies showcasing their stylish new designs.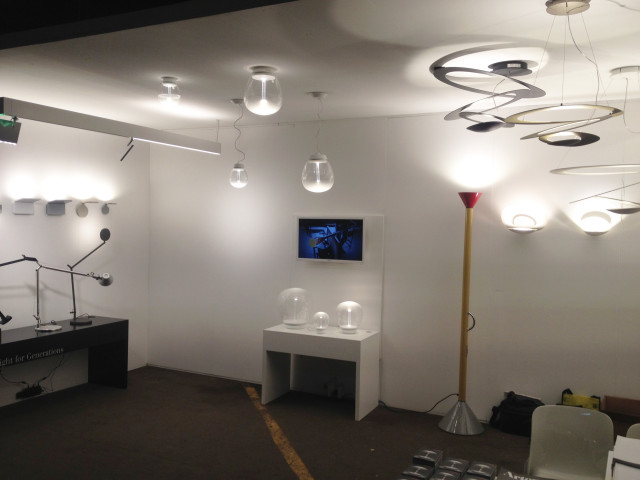 On display was a vast selection of delicate complex shapes including the Pirce Suspension Light by Giuseppe Maurizio Scutellà from Artemide. A light which provides the room with such elegance meaning that they can also be considered a piece of sculptural art.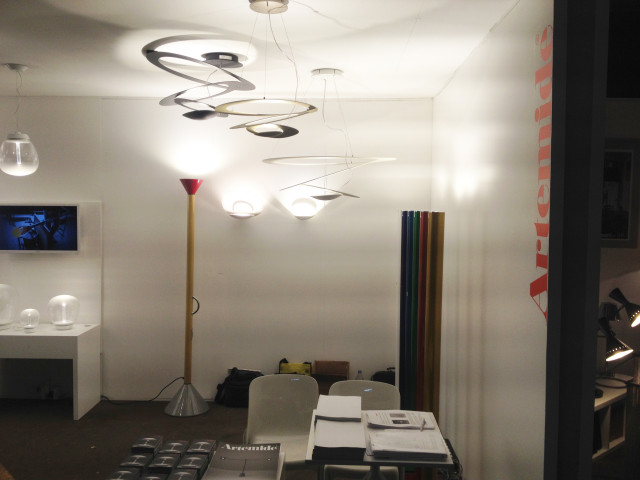 And who could forget Fontana Arte the contemporary furniture and lighting design company from Italy founded in 1931 by Gio Ponti. Known for such greats as the 1932 Coffee Table by Gio Ponti and the Tavolo con Ruote Coffee Table by Gae Aulenti.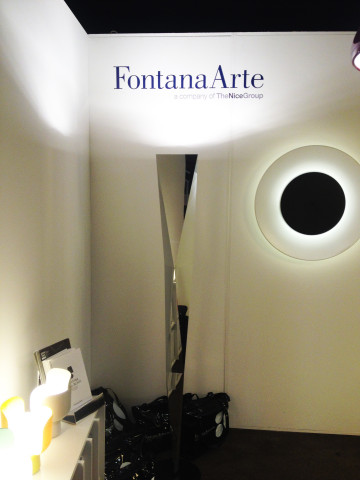 What really caught by eye was the Blom Table Light by Andreas Engesvik. With its brightly coloured frame and its contemporary design it gave the light such character allowing it to stand out from the rest of the display. Another exceptional piece was the Lunaire Wall light from Ferreol Babin. Presented with a white outer disc and a black face it proved to be worthy of the honourable mention during the red dot awards.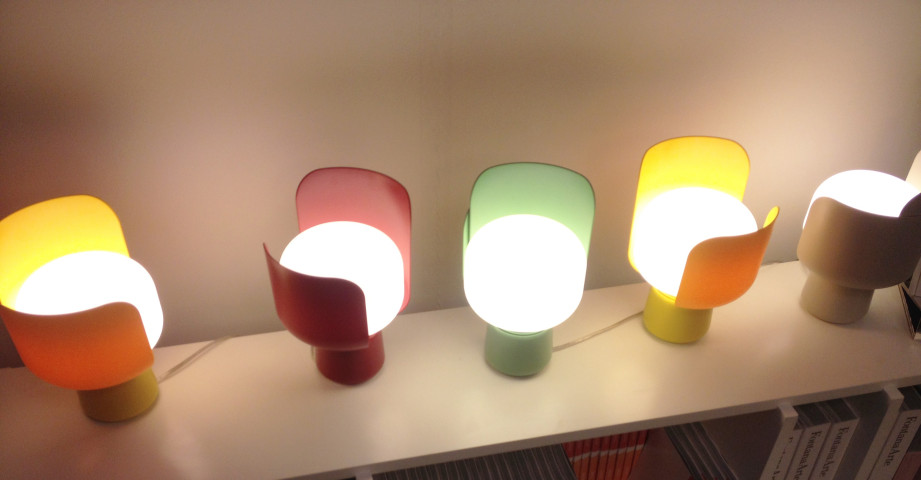 Tent London & Super Brands London
Hosting over 280 stands from 29 countries spreading from here in Europe to the Far-East, Tent London and Superbrands is designed to highlight diverse talent, which cannot be seen at any other event.
It was nice to see one of our most established brands  Ligne Roset being joined by one of our newest, Chisel and Mouse, who were also displaying their beautiful sculptures. Not only do they produce sculptures of some of the famous landmark building in the world we also learned that they love taking on bespoke commissions; working on projects as diverse as private homes, department stores, Stirling Prize nominees and heritage sites. The perfect Xmas gift for someone who is truly house proud?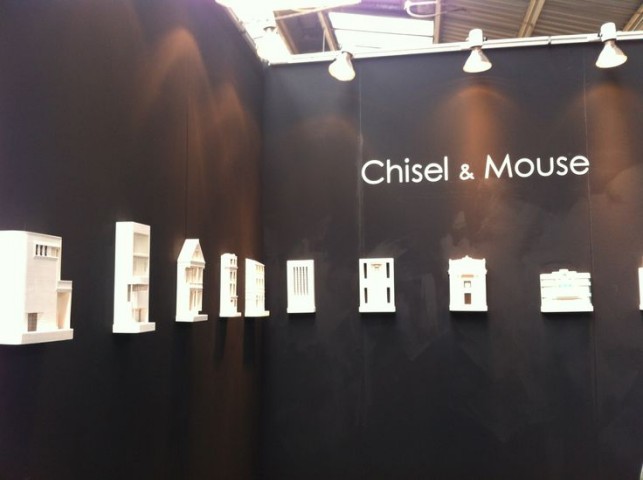 Click here to view the full Chisel & Mouse collection
With visiting our brands at Tent London & Super Brands London we also had time to look around and admire the work which has been completed by talented new designers. One that stood out amongst the rest was the 'Ant' chair by Philippe Nacson.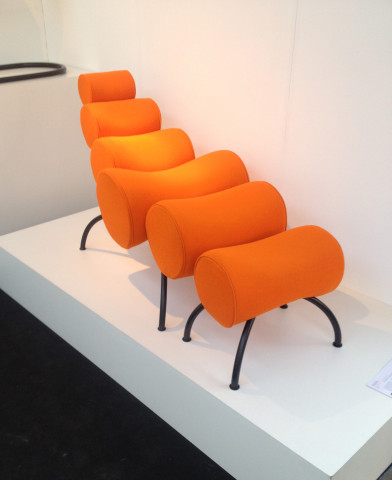 Although Philippe Nacson never attended any formal education in design he is still able to create designs which are simply breathtaking. With its cylindrical sections upholstered in different densities of bultex and memory foam proving a high level of comfort and also support. The ergonomic support is not only practical; but also a true token of modern art. We wish him all the luck in the future!
Many thanks to Jamie Ellmore (Showroom Assistant) for his wonderful round up!