Outdoor Living Trends 2020: Modern Rustic Style
While we're only just scratching the surface when it comes to wellness, there's one thing all scientists seem to agree on. Whether you're old or young, spending time in nature can have a powerful impact on our physical and mental health. This research has dramatically shaped how designers see outdoor spaces, with the garden increasingly become part of the residential panorama.
One outdoor living trend we've noticed this season is modern rustic style. Unfussy and relaxed, it encapsulates the easy-going nature of alfresco living. Once the strict preserve of Scandinavian brands, it has increasingly found resonance with Italian designers, with the likes of B&B Italia and Cassina adopting this wholesome look.
However, we'd like to argue that it goes deeper than mere aesthetics. In temporarily shedding the formality of indoor settings, we discover new rhythms and possibilities, reconnecting with ourselves, the world and our place within it. In search of more answers, we had a look at how some of our favourite brands are deploying this of-the-moment trend…
Characterising each of these modern rustic designs is a distinct lack of artificial joints or bolts. Instead, the connections are clean and unhurried, with each piece of wood being carefully positioned to support the other. Simple and authentic, its the kind of carpentry our ancestors would have recognised, brought to life by contemporary upholstery and memory foam cushions.
This is especially evident in the new Fence e Nature collection by Cassina. Rather than opt for unsightly screws, designer Philippe Starck constructs the backrest with delicate wooden pegs, inviting charm and simplicity back into the manufacturing process. The organic backrest is also crafted using natural willow, a living material that helps to strengthen the collection's relationship with the natural world.
---

With the Fenc-e Nature, I created something that doesn't exist; something between daily DIY and Duchamp's Ready Made. It doesn't seem to come out of a factory, and brings humanity, charm, poetry, creativity and Nature to your home. – Philippe Starck

---
Meanwhile, at Carl Hansen & Son, this year's design mission has been all about flexibility. Building on the success of the BK14 Sunbed (which transforms into an indoor bench when not in use) they set about investigating whether it would be possible to adapt some of Børge Mogensen's iconic designs so that they could be elegantly stowed upon on a wall when not in use. The result was a delicate collection of collapsible furniture, ideal for use on patios and terraces alike.
Flexibility can also be found in Ligne Roset's delightful new Paseo Lantern. As it's Spanish name suggests, Paseo is an invitation to stroll, a solar portable light that offers two lighting moods — night-light or manual. It's a gentle reminder that sustainability and flexibility are often connected, and of increasing importance in today's uncertain times.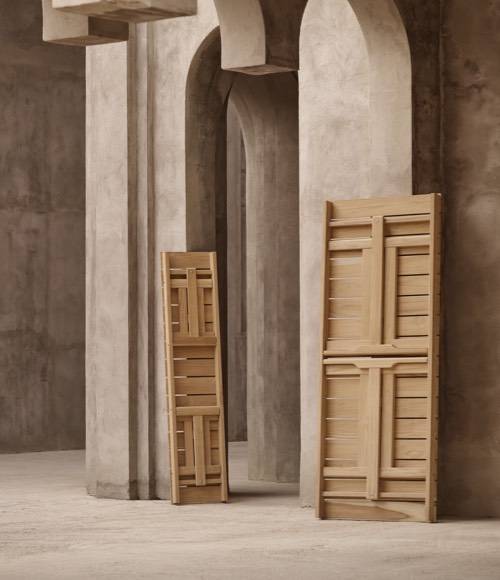 BM1871 Bench
---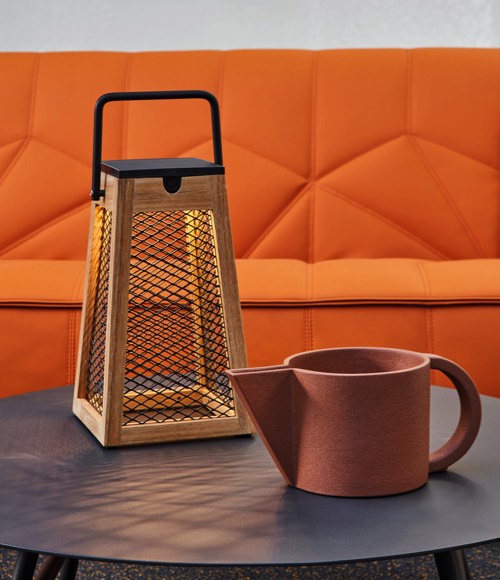 Paseo Solar Lantern
---
Timeless and Tactile Materials
Uniting all of these collections are a preference for timeless, tactile materials. Think sustainably-sourced teak, wicker and a wide range of waterproof upholsteries. The idea is simple, to make it seem that design lovers are being embraced by Mother Nature herself.
New favourites include Gloster's Lima Collection and the wonderfully rustic Ayana from B&B Italia. The former reinterprets colonial style for the modern era, serving up modular islands with high-backrests and stylish head cushions. Both would look just as stunning in an indoor context — once again blurring the lines between indoor and outdoor living.
SHOP MODERN RUSTIC OUTDOOR STYLES ONLINE OR IN-STORE AT CHAPLINS