The invisible border which separates design from art. Multileg low table by Jaime Hayon for Bd Barcelona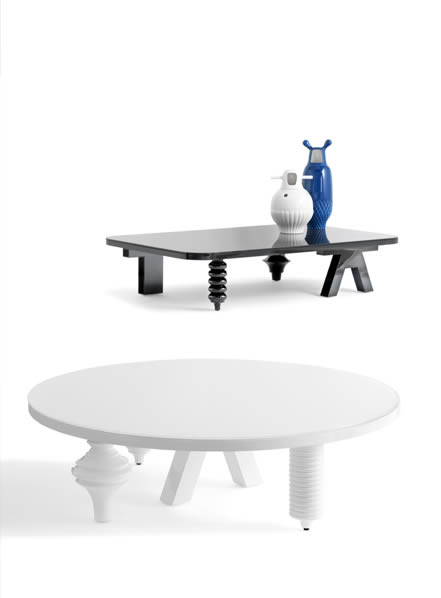 Jaime Hayon – written without accent, as he prefers, is today a celebrity. He is the youngest Spanish designer with the greatest international image. Based in London, he is regularly featured in the press. He has achieved fame because he has talent, his own style and the determination to carry out his projects with quality.
As things always used to be done. He often seeks inspiration in the past, and in craftsmen, who in other times abounded, he finds the necessary collaborators to manufacture his designs with care. This is one of his signs of identity, the other is to be found in the invisible border which separates design from art, a place much travelled in recent years, where Hayon is constructing his own universe with room for everything – drawings, toys, shoes, objects, furniture and interiors – and where nothing generates indifference.
Some adore it and others – ever fewer – criticise it. For this reason there is much merit in BD having backed this creator from Madrid from the start of his career. His easy chair with a hood and the cabinet with many legs – Multileg – from the Showtime collection have become icons of contemporary design. They are beautiful pieces of furniture and are also functional. In Showtime plastics coexist with quilted upholstery, the glow of lacquered wood and the tradition of the best ceramics. Classicism and modernity. The contrasts and sophistication which give personality to Jaime Hayon's work are represented in this ample collection which also includes vases, chairs, an elegant and comfortable wingchair – the Lounger – and this new low table which makes a good pair with the Multileg cabinet.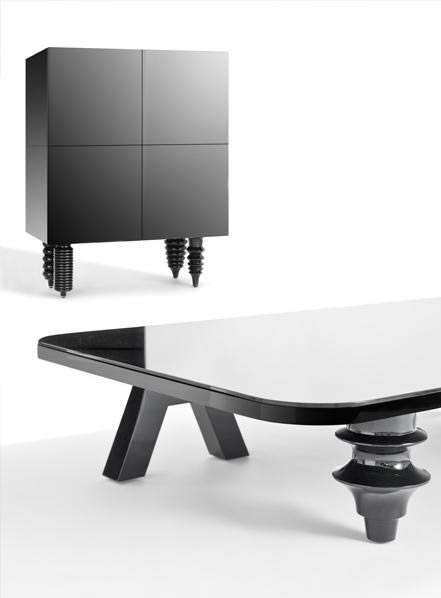 Description:
Base in MDF. Glass top of 8 mm lacquered on the bottom. Legs in turned alderwood. Available lacquered high gloss in white, grey, red, aubergine, blue and black or laquered matt in red, grey, aubergine, blue and green.
For further information Click Here.