Washington Collection by Knoll International: Award winning architect David Adjaye OBE unveils his first furniture collection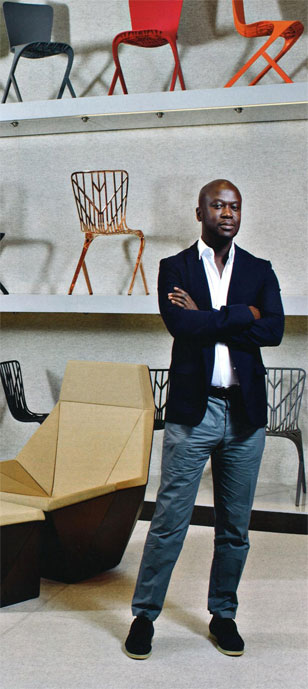 With 75 years of iconic furniture making behind them, Knoll have secured an anniversary coup: A collaboration with award winning architect David Adjaye OBE, someone who has previously shunned the interior market. The collection includes two cantilevered side chairs and a limited edition coffee table.
Description from Knoll:
The Washington Collection for Knoll, David Adjaye's first collection of furniture, transforms his architectural and sculptural vision into accessible objects for the home and office. The collection consists of two cantilevered side chairs, a club chair, an ottoman, a side table and a monumental coffee table.
David Adjaye said, "Knoll approaches furniture as making connections between people and how they work and live their daily lives. This project has been an exhilarating and collaborative experience – an unexpected balancing act between the design and engineering processes. My original idea of what this furniture should be was continuously refined and transformed throughout."
Commenting on Adjaye's work, Knoll design director Benjamin Pardo said, "David is doing really innovative and important architectural projects, and what really interested us was to see that work on an entirely new scale."
Adjaye's limited edition cast bronze coffee table reflects this cross-over. The sculptural table with a clear glass top is constructed from four cast bronze panels, and four connecting plates. The roughhewn exterior contrasts the highly reflective, hand polished interior surface. To mark our 75th anniversary the bronze coffee table is limited to an edition of 75.
For further information Click Here.