Bright Idea: Discover The New Bellhop Lamp by Flos
Bellhop has one of those eerily perfect creation stories. At the time, British duo Edward Barber and Jay Osgerby were in conversation with Flos about the possibility of creating a portable lamp for the restaurant at the London Design Museum. While casting his eyes about the studio, Barber noticed a treasured Japanese bowl that they'd brought back with them from one of their voyages East.
"We simply dimmed the lights and shone a torch into the underside of the bowl. The reflected light that bounced from the porcelain was really beautiful. So we thought, why not recreate that?"
The luminaire they arrived at has a playful, snug shade, perfect for emitting the kind of flattering downward light you want when you're sat face to face with someone sharing a meal. And while Barber & Osgerby had initially only envisioned it as a solution for restaurants, it's gone on to become wildly popular for all kinds of other nomadic adventures.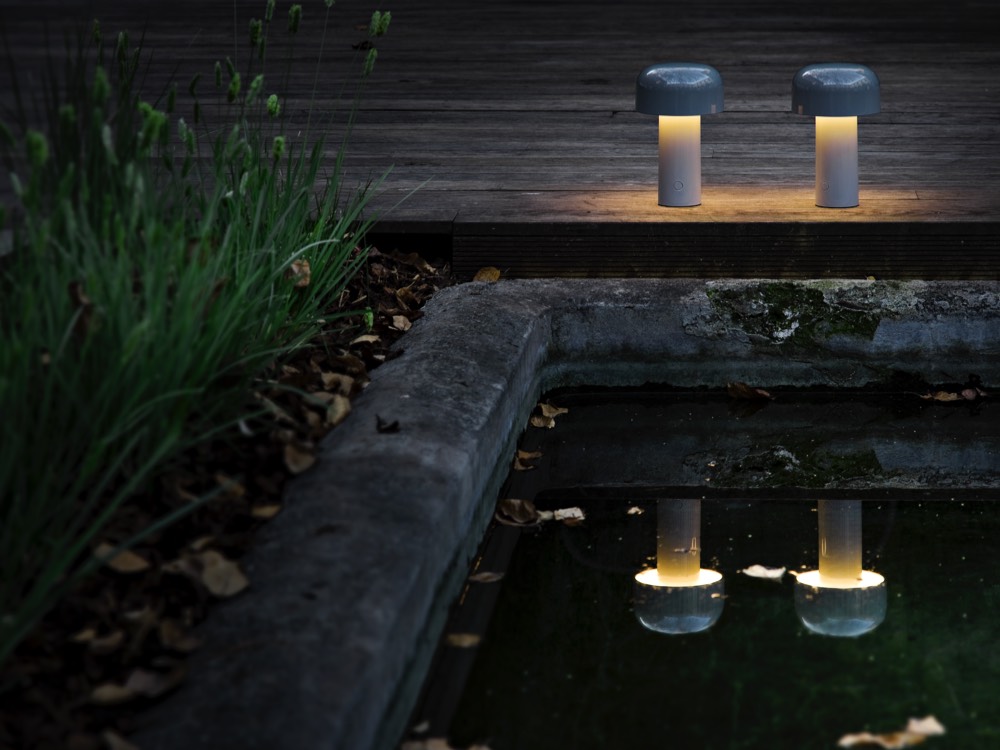 "Once we'd designed it, we realised it was a nice object to have around the house. You can walk around with it, and it's like a little friend that you take with you."
Having basked long enough in its soft light, Barber & Osgerby decided in 2020 (as many foolish parents do) that it was time to try again. A couple of months later, the Bellhop Floor was born.
Whereas the table lamp is charming and chunky, the Bellhop Floor Lamp has an elegant, sculptural feel.
"We suggested to Flos that we should make an uplighter as part of the Bellhop collection. So we flipped the top upside-down. We realised we needed a bit more character for such a large scale lamp. We did this by making the top in glass, which gives a really lovely glow."
It's not just the materials that lend personality to this new addition to the Bellhop Family. Each of the colourways is split into three distinct chromatic sections. There is the grounding concrete base. The glossy aluminium tube. And the ethereal glass bulb from which light seeps like a handful of cupped moonlight.
Taken together, it has an almost Bauhaus simplicity with each element stacking together to form a totem pole of light.
Much like the S64 for Thonet or the Cesca Stool for Knoll, it's the kind of style we can imagine working in contemporary and period settings alike. And while it remains shackled to the wall for now, its clean and endearing silhouette means you'll be tempted to snap one up for any nook of the home in need of an injection of personality and light.
SHOP THE FLOS BELLHOP COLLECTION ONLINE CHAPLINS