CHAPLINS & LLADRÓ PRESENTS BELLE DE NUIT, ITS NEW STUNNING CHANDELIER, AT FOCUS/13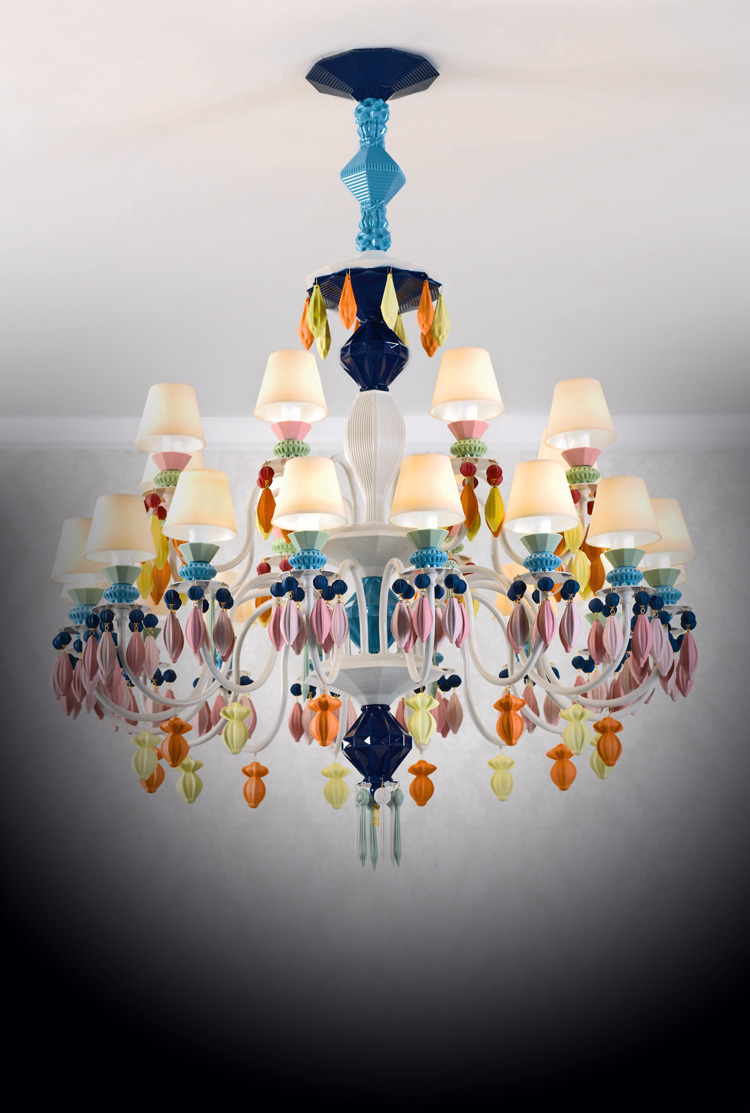 The Spanish art porcelain brand premieres a new concept of porcelain lamps updating classic chandeliers and decorating them in a striking palette of colours. The Belle de Nuit chandelier will be on display throughout FOCUS/13 at our showroom on the 2nd Floor South Dome in Chelsea Harbour.
Famous worldwide for its figurines, Lladró is currently celebrating its 60th anniversary with its sights set on the future and with a strong focus on its lighting.
Lladró's Belle de Nuit collection is a new line of ceiling, tabletop and wall lamps made in porcelain and come in various formats and colours in tune with happening trends in interiors and home décor.
The concept for this new collection is based on the classic crystal chandelier, updating it not only in terms of the material used, but also changing the expressive language. This reinterpretation gives rise to contemporary lamps in different sizes and models, which fit in to perfection with all kinds of interior styles, and in which porcelain and colour play an important role.
The sensation Lladró lamps transmit in comparison with those made in other materials is the greater sense of warmth. The inviting and comforting effect of porcelain is enhanced in this new collection with the use of porcelain lampshades, known as lithophanes, instead of the usual textile shades. When they are lit, the transparency of the porcelain brings out the designs etched on the surface, creating a subtle lighting with a very evocative effect.
However, the most striking feature of the Belle de Nuit collection is the application of the original Lladró palette of colours, surprising us with a wide spectrum that ranges from the sober version in white to a multicoloured version, which will be on display at CHAPLINS.
With this new line Lladró is taking another step forward, consolidating its range of lighting and décor products. Porcelain lamps which boast the differential values imbued by the artistic qualities of this noble material and the brand's creative capacity.
Like all Lladró creations, the piece on show at FOCUS/13 is handcrafted at The City of Porcelain, in Tavernes Blanques (Valencia). There, around one thousand people give life to the creations that Lladró exports to over 120 countries on the five continents. With sixty years already to its credit, the brand continues making all its pieces following the same entirely artisan process that has won it worldwide fame.
Please contact Ludovic Aublanc for further information:
Chaplins Chelsea
Design Centre Chelsea Harbour
2nd Floor South Dome
London SW10 0XE
9.30am – 5.30pm
Monday – Friday | Closed Weekends
contract@chaplins.co.uk
+44 (0) 20 7352 6195
For PR Enquiries, please contact:
James Press
020 8421 1779 | j.press@chaplins.co.uk