IMM Cologne Trend Report 2015
Getting Comfortable.
Stop what you're doing, sit down and get comfortable. At this year's Cologne furniture fair we saw many of our manufacturers turn their attention towards the importance of comfort and cosiness. It seems that with all what is going on in the world, people want to be able to relax when they get home and withdraw from the hustle and bustle of everyday life.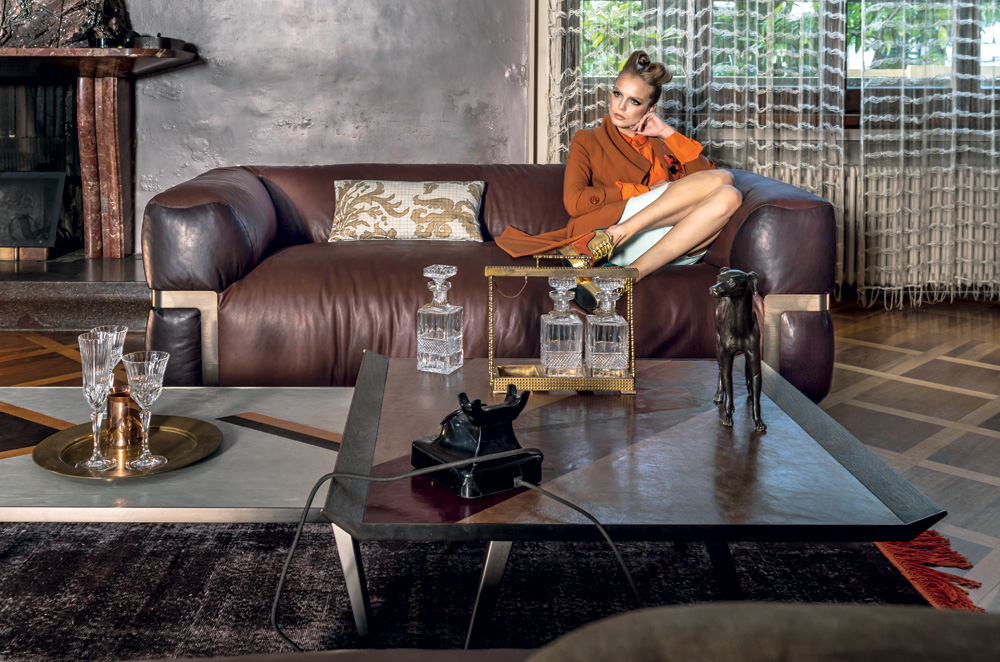 Lotus by Arketipo
So how did this translate into the collections of our biggest brands?
With all this is mind we saw many new collections being introduced with the emphasis on a softer feminine shape with large sofas being dressed with as many pillows as possible. Also in vogue this year were soft velvets and warm colours such as burnt oranges, deep reds and teals. These were paired with dark woods and metals to create settings, which were glamorous, laid back and just a little bit moody.

323 Sofa by Rolf Benz
Home entertainment should be heard and not seen.
When in the sanctuary of our own home, what better way to relax than watch a good film or listen to your favourite album. Home entertainment or 'smart furniture' as it is now being labelled was also on everyone's lips in Cologne with slimmer built in sound systems being concealed from view within decorative units in a wide variety of woods and metals.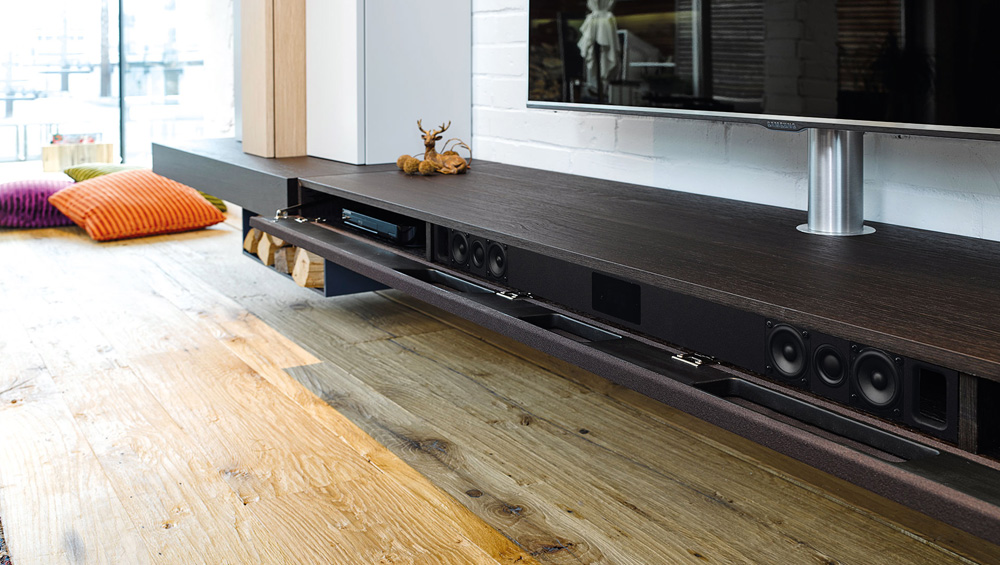 Twenty Media Unit by Spectral
So what pieces caught our eye in Cologne?
A Classic with a Contemporary Twist
With a brand new B&B Italia and Maxalto studio being introduced into our Hatch End showroom in the coming months we were excited to see what new additions they had added to their collection. The Solatium sofa by Antonio Citterio stood out in particular. This classic looking sofa with elegant details comes with the modular flexibility of a contemporary piece so will feel at home in any living space large or small.
Solatium Sofa by Maxalto
New Leathers for a Timeless Icon
The Cab chair designed by Mario Bellini for Cassina has been a long standing fixture in our showrooms and it was great to see it given a new lease of life with the improved selection of colours. In its privileged relationship with the human body, the chair is according to the architect one of the pieces of furniture most deeply rooted in our collective memory. Cassina's know-how can be identified in the workmanship of the saddle leather, now available in 16 colours, which fits like a glove over the chair's metal skeleton.
Cab Chair by Cassina
A Classic Cabinet gets a Hollywood Style Makeover
We were also impressed with the new range of luxurious finishes available on a young design classic, the Cube cabinet system. This year it was presented as a sideboard with shimmering accents in copper and brass, adding glamorous highlights to the handles and frames thus giving the design a completely different feel.

Cube Gap by interlubke
A Very Special Centrepiece
If you are looking for that something special to sit in the centre of your living space, then Tama by Walter Knoll could be just the thing for you. A brand new occasional table made of top quality natural stone, Tama could quite easily pass as a sublime sculpture. The Tama tables interplay of surfaces and materials looked elegant and discreetly sophisticated, which made a nice change from the more angular and cold looking occasional tables that we have become so accustomed to.
Tama Occasional Tables by Walter Knoll
A New Dining Table with Timeless Character
Rich in design values, this new dining table from Gallotti & Radice demonstrated a perfect balance of modern design with hints of sophistication and classic charm. What made this stand out from the other tables on view was the soft tactile top made from a satin glass, something you can't help but run your hands across once seated at the table!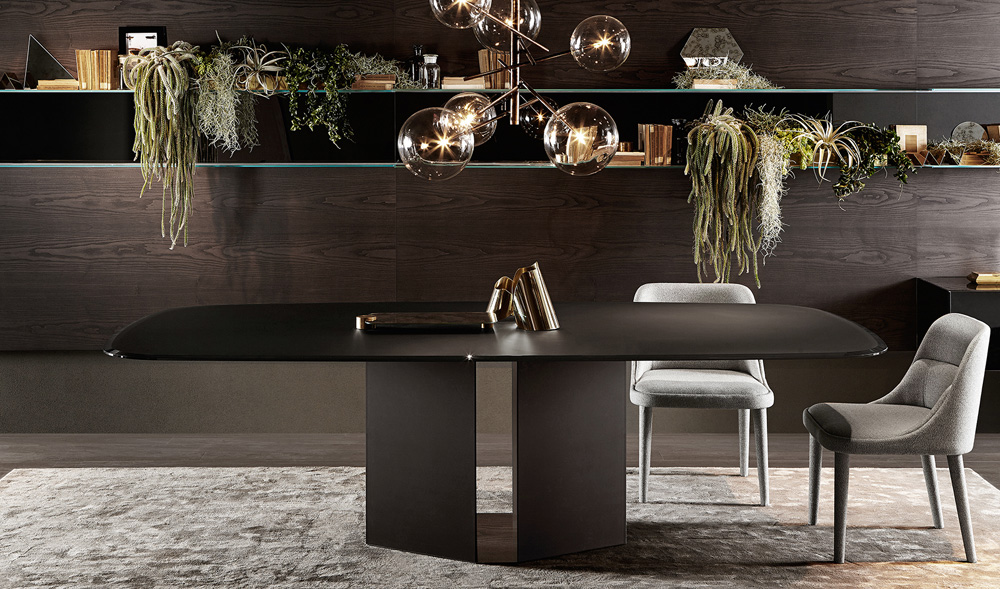 Ely Dining Table by Gallotti & Radice
The DS-600 Slithers into Cologne with a Sting in it's Tail
The DS-600 sofa system by de Sede, another icon of modern furniture design, was presented in Cologne this year with the addition of a new stool element. The stool enhances the legendary snake-shaped seat by adding an intermediate and final element, perfect for both residential and public spaces.

DS-600 Sofa System by de Sede
A World of Design on your Doorstep
Through our commitment to detail and sourcing the right products, we to continue to drive design forward by showcasing the very best design houses and locating the products that fulfil our clients need for a timeless yet contemporary interior. We look forward to presenting all these lovely new pieces to you over the coming weeks.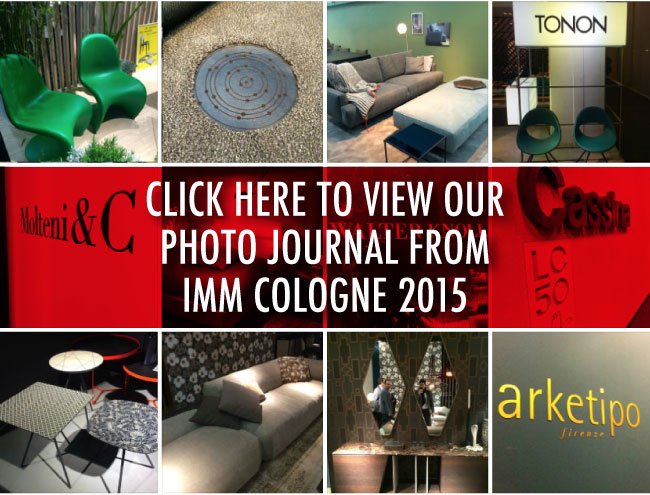 Click here to view our photo journal from IMM Cologne 2015: http://goo.gl/irdwYI
For high-res images and further product information, please contact James Press on:
j.press@chaplins.co.uk | 020 8421 1779