Our Guide to Styling Colourful Furniture This Pride
Life is understood in colours. We see red, feel blue, hunt down golden opportunities and cultivate green thumbs. An abundant power in our emotional lives, colour also has the potential to uplift, focus and calm the human spirit. When the late Gilbert Baker gave the world the rainbow flag, he trusted that its joyous influence would come to embody a new language, one of liberation and expression.
In celebration of Pride, we've put together an expert guide on styling colourful furniture in your home. How and where to introduce colour so it doesn't overpower your furniture, which interior styles lend themselves to particular hues and all the glorious in-between.
THE CONFIDENT CACOPHONY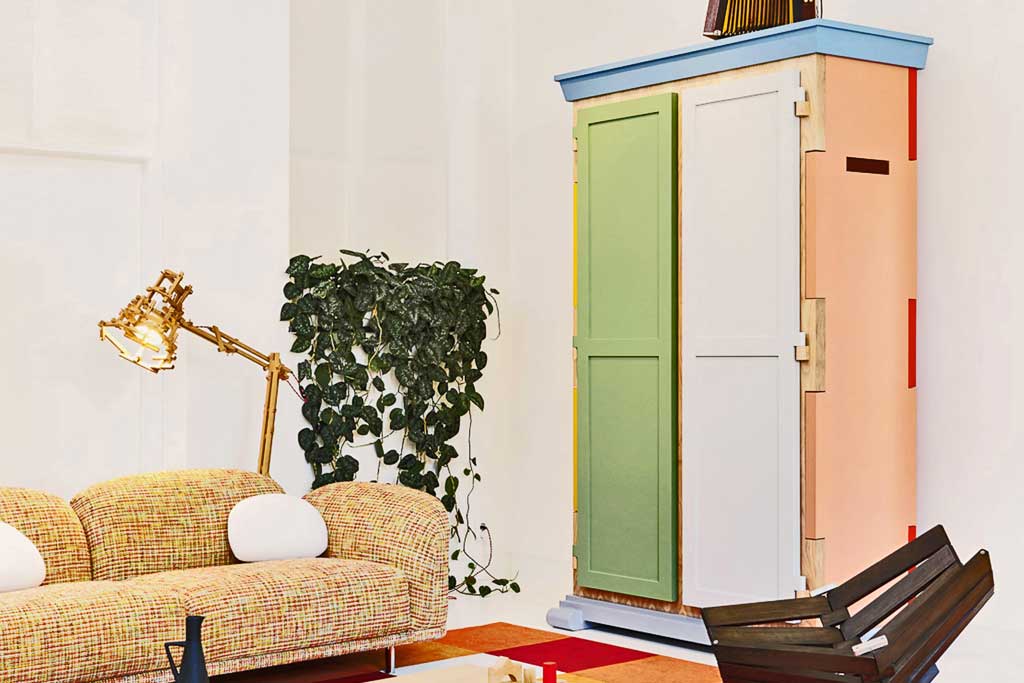 Neutral walls are the homeowner's equivalent of a blank canvas. Feel free to experiment as you layer colour throughout the room, taking primary colours as your starting point for large furniture and trusting quirky patterns for your soft furnishings. In the living room above, the Moooi Paper Patchwork Wardrobe acts as a playful springboard for the rest of the decor. Carefully balanced by the neutral walls, the splashes of contrasting colours feel like natural companions rather than competing show offs. There is an innate inquisitiveness about the room, in part provided by the unusual bamboo frame of the Brave New World Lamp and the wooden living chair.
SIT PRETTY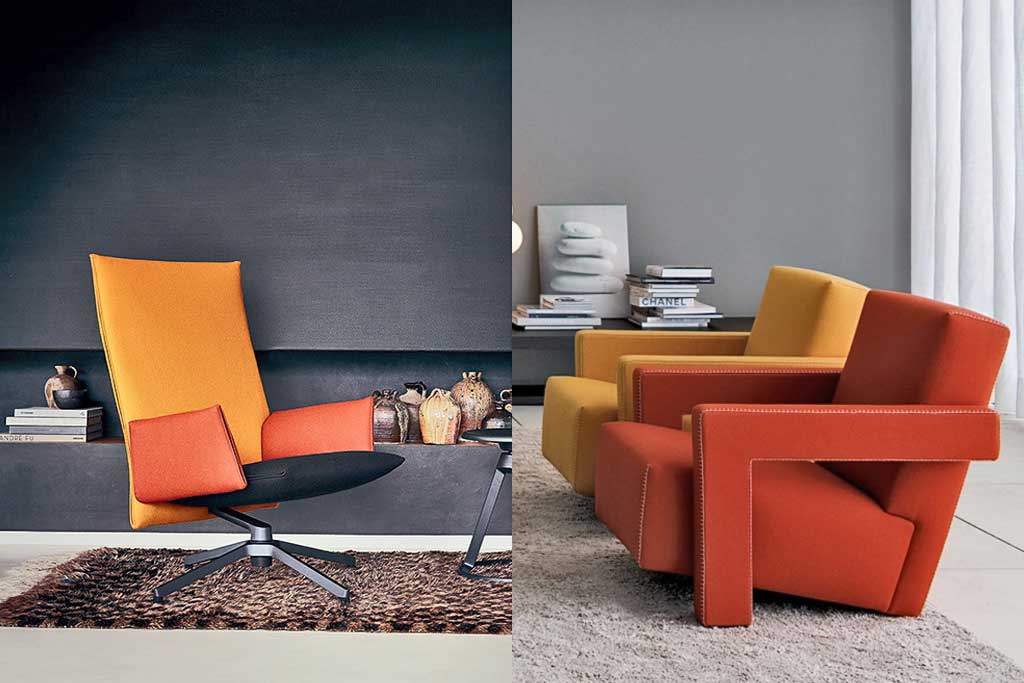 Armchairs have always acted as a statement piece in the modern home. Opting for a boldly coloured chair is to enhance the natural power which the form exudes, gifting a vitality and passion to the space in question. These chairs are particularly desirable for uplifting colder colour schemes, ensuring that the room does not feel too sombre as evidenced below by Knoll's Pilot Armchair and Cassina's Utrecht Armchair.
EARTHY EXTRAVAGANZA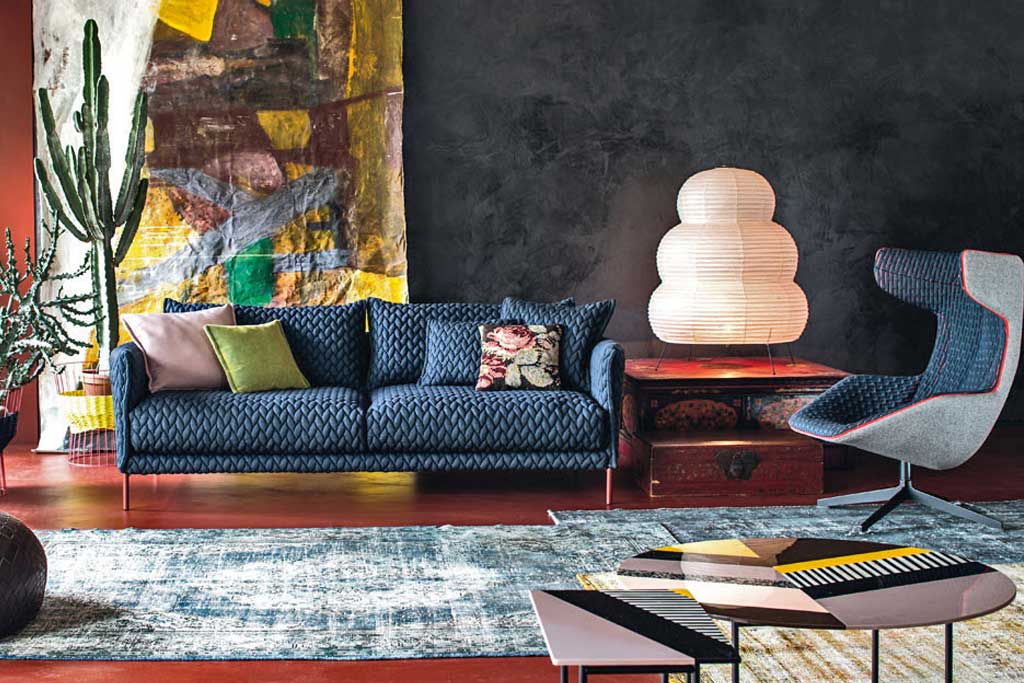 Colour doesn't have to be conspicuous in order to impress. One gorgeous option is to pair deep earthy hues – rusts, greys, deep blues – with pops of lively yellow. The effect is a wholesome yet invigorating living space for families and urban cosmopolitans alike. Also worth noting is how the crisp geometrics of the Moroso Fishbone Table offset the quilted upholstery of Patricia Urquiola's Gentry Sofa and the Take a Line for a Walk Lounge Chair.
LOOK TO NATURE: Scandi x Greenery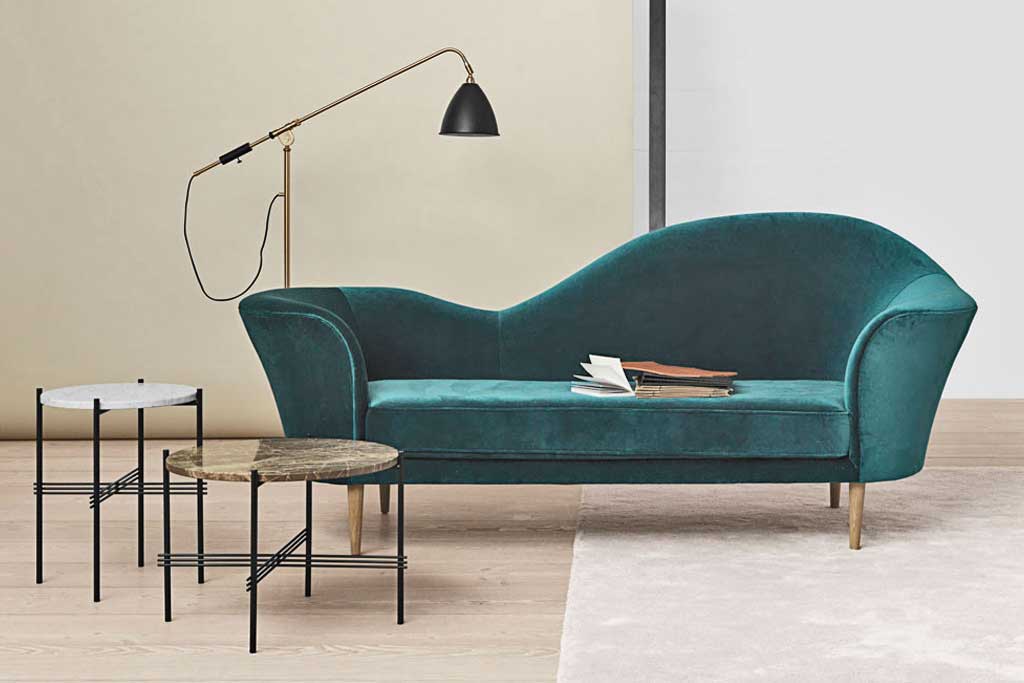 Even the most die-hard Scandi-minimalist can't resist a pop of colour, and there is one hue that lends itself particularly well to their ethos: greenery. Announced as the Colour of The Year by Pantone for 2017, the trend involves bringing the soothing influence of the outdoors back in. Paring revitalizing green furniture with stripped back woods and organic elements establishes the living room as a zen sanctuary, a combination that can absolutely be carried through the rest of the house. Pictured above is the Grand Piano Velvet Sofa by Gubi and the gorgeous TS Sidetable and Low Table.
LIGHT IT UP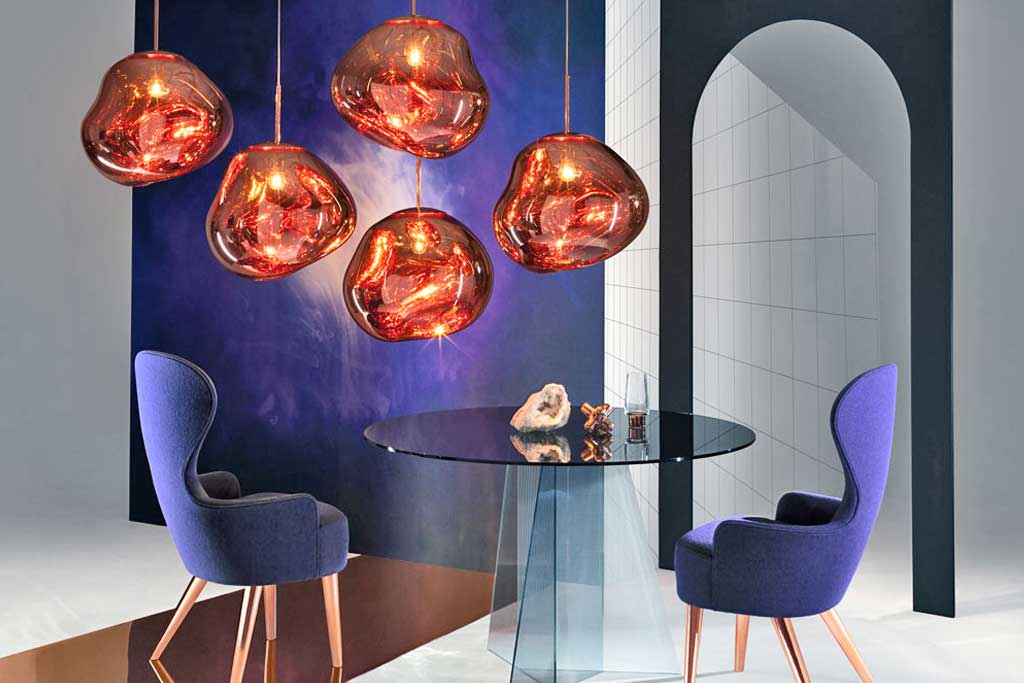 Pendant lighting is an incredible way to create a more ambient atmosphere and Tom Dixon's Melt Pendant's take this to the next level. The orbs resemble droplets of molten lava, injecting a fiery burst of colour into any setting. They look especially mesmerizing when paired with the plush blue Wingback chair – be sure to carry the volcanic undertones through to the last detail by selecting the Copper feet and matching accessories.
CULTURAL COLOUR SCHEMES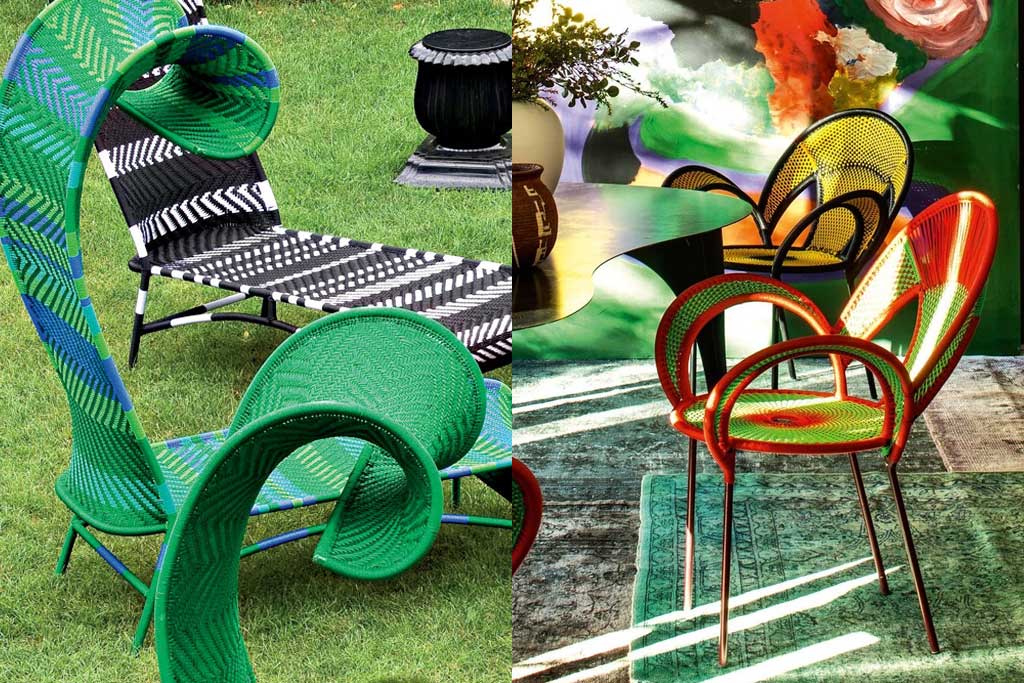 For too long outdoor furniture has been synonymous with boring beige and out-of-touch teak. Well, no more. It's time to spice up your garden this year with the latest offerings from Moroso. The M'Afrique collection imports rich African tribal patterning onto free flowing frames to create a visually exciting set of outdoor seating options designed to delight and inspire. Cultural colour schemes are a great way to infuse personality into the modern home, whether indoors or outdoors, equipped as they are with a rich history and worldly aesthetic.
FLOWER POWER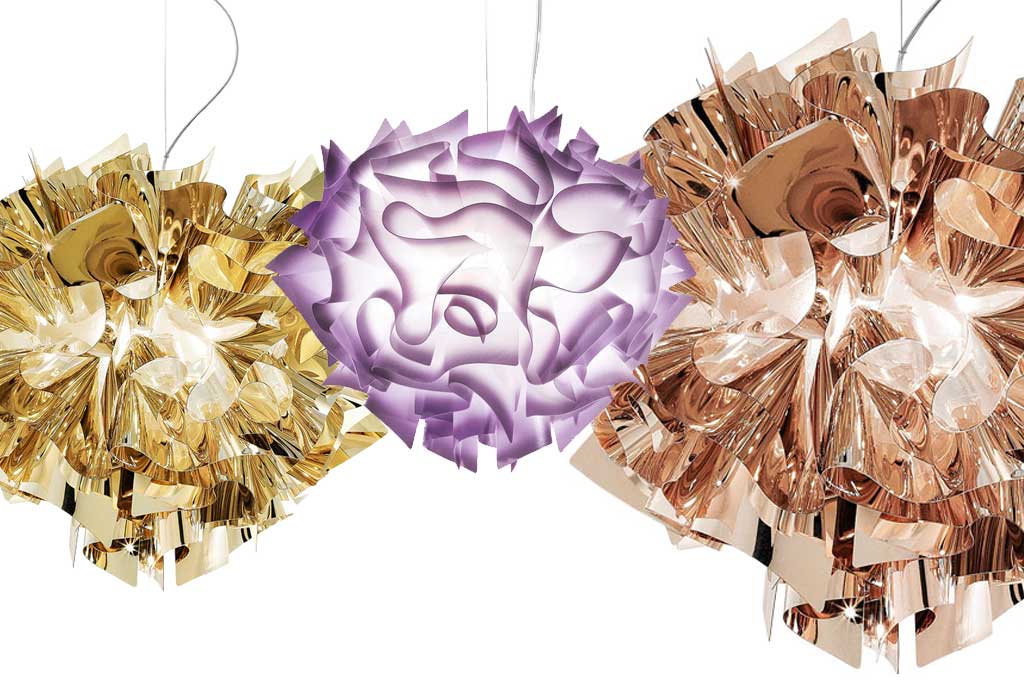 Flowers have been used as a symbol of resistance since records began. From the War of the Roses to the Hippy Movement in the 1960s, they are an intrinsic part of the natural world and one of the few species that defies gravity in continual growth towards the sun. Similarly, the fabulous Veli Pendant Lamps by SLAMP are far from bashful wallpapers. A soft, stirring lighting option, the floral inspired lights deliver a gentle gush of light from between their intricate folds, making a show stopping statement – even when they're switched off. For the more daring, go for gold and update your living area with a touch of metallic luxe.
THE SOFT EDGE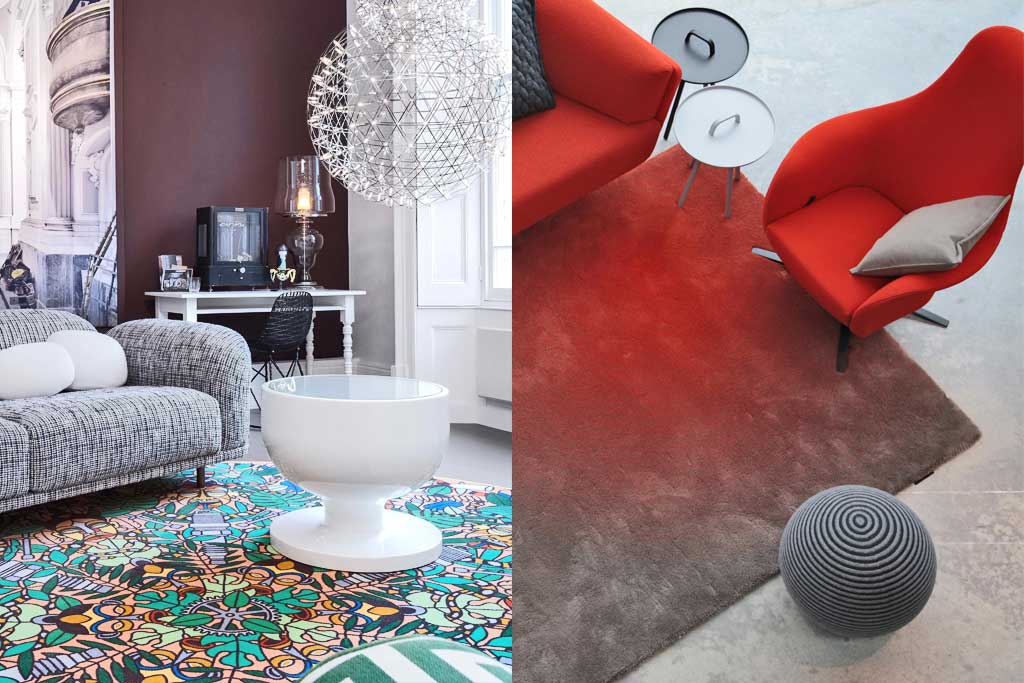 Not ready to commit to an all out colour extravaganza? No problem. Accessories are still the easiest option for those wishing to inject a hint of colour into their modern home. Easy to refresh and switch up, watch how the inclusion of a plush Carpet Sign rug can transform the entire aesthetic of monochromatic spaces. Come and take a closer look in store at Chaplins where you will find an exciting mix of plush textiles from gorgeous European designers like Carpet Sign and Moooi Carpets.