It's time to look north, as our favourite Nordic brands launch a flurry of new designs demonstrating their woodworking prowess as well as their impressive furniture making legacy. Launched and exhibited at 3daysofdesign, the oh-so-chic design show which takes places across Copenhagen' stylish showrooms and spaces each year, 2022's new pieces didn't stick to a trend, with colours, finishes and inspirations varying wildly – what united them was an adulation for natural materials and future-facing, sustainable choices.
There was also a bevy of big birthdays as brands and individual objects demonstrated their staying power with celebratory launches, with many out-of-production pieces joining our homes once again. Meanwhile collections grew larger, new designs were introduced, and perspectives showcased. Here's our pick of the crop.
Basket Collection by Joe Colombo - Coming soon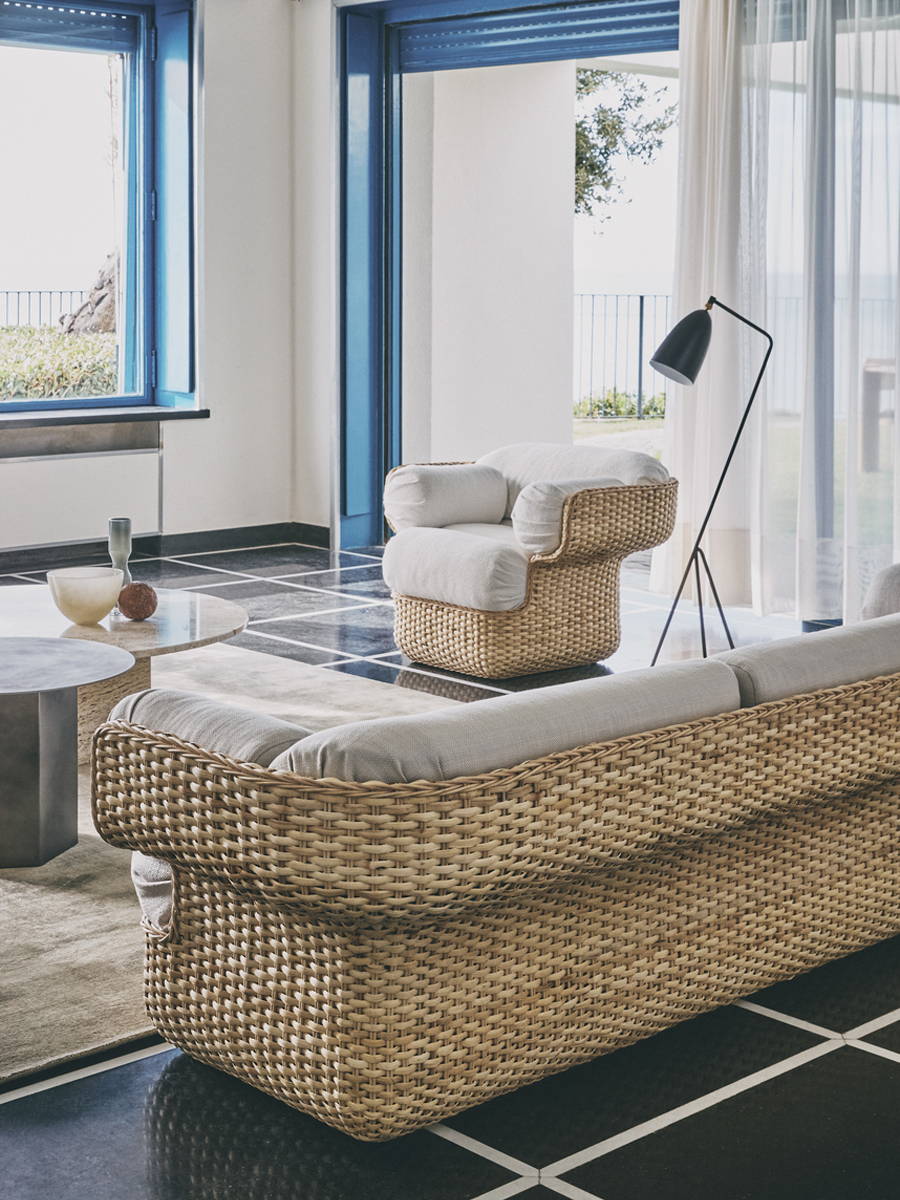 Basket Sofa & Armchair, Grasshopper Floor Lamp, Epic Coffee Tables
Capturing the interior world's on-going love affair with all things natural, crafted and with alluringly rounded edges, Gubi's Basket seating collection ticks all of the 2022 boxes. Created by Joe Colombo and first produced in the late 1960s, the design interprets his signature futuristic and modernist aesthetic in classic handwoven rattan basketry, a spirited blend of the artisanal and the industrial.
Out of production for decades, Gubi's contemporary reinvention of the armchair, two-seater and three-seater sofa follows the designer's original 1967 drawings while adding a further modern – and environmentally responsible – twist by replacing the inner fiberglass shell with an innovative machined precision steel skeleton.
'The Basket Collection gives a new form to traditional materials, exploiting an innovative structure that had never before been used for such large and light products,' says Ignazia Favata, Director of Joe Colombo Studio. 'It is really exciting to see it in production once again reaching new audiences.'
The words 'Fritz Hansen' and 'Egg Chair' go hand-in-hand, paired together almost unprompted, the brand's iconic cocoon-like seat admired around the world. Now there's a cracking new addition to the famous family – introducing the Egg Table, an original Arne Jacobsen design created in 1952 and back with a bang for its 70th birthday.
Both new and familiar, it – unsurprisingly – has an elliptical shaped top covered in walnut as well as a trio of polished chrome legs inspired by precision and minimalism, both fitting into and challenging the current vogue for irregular, organic forms.
"Arne Jacobsen's architectural works in the early 1950s were influenced by the precise, and angular International Style. As a contrast to this, his furniture designs looked to or- ganic curves found in nature,' explains says Marie-Louise Høstbo, Head of Design at Fritz Hansen.' The elliptical Egg table defines any space, lending multiple possibilities to contemporary settings.'
T Dining Chair, Carl Hansen & Son
Living up to its namesake letter, the T Dining Chair designed by Ole Wanscher in 1958 has been relaunched, lightly refreshed with modern-day proportions and retaining the typographical elegance of the original model.
Dependant on fine craft skills, the linear design commands many hours of carpentry to achieve its signature smooth lines and tight curves, the T-shaped backrest merging seamlessly with the duo of back legs to create a three-legged feel that speaks of practicality and usefulness as well as the alphabet.
In 1958, Danish newspaper Politiken wrote; "Owning a Wanscher chair is an adventure every day, and will be so even several hundred years from now, for this is how long it lasts". Not long until it gets proved right.
A supremely sculptural take on timber, the Eclipse Desk by Fred Rigby honours nature, resulting in roundness that tempts touch and makes sitting down to a day's work something to look forward to.

'I found inspiration for the piece by looking to the shapes and forms of pebbles I collected on a beach,' says Rigby. 'I wanted to create a design that wasn't static, and one which was bold in colour yet tactile in form.'
A convivial celebration of the asymmetric, its supportive steel column leg hides a multitude of cable-storage sins, fitted with a lifting lid to reveal slender hidden space. Now available in natural oak and painted black steel as well as all-over black, the two-tone materials contrast gracefully juxtaposing the manufactured with the organic and instilling a sense of calm.
Known for the stylish outdoor furniture and accessories it has dedicated itself to for more than 30 years, Cane-Line is taking cover, moving indoors for the first time with the launch of two modular sofa concepts which stray away from its archetypal aesthetic of modern rattan and weaves.
The collection's buzz word is flexible, both the Scale sofa, designed by byKATO and the Aura by Foersom & Hiort-Lorentzen MDD are pieces created with adaptation in mind, each piece ready to cater to various lounging needs, desires, spaces and situations. Like to sit upright? Need lumbar support? Someone who curls up? Spreads out? Nestles? This could be the seating collection for you.
'Upholstered and modular, you design your own sofa and adapt it to your current way of living, explains Cane-line's CEO Brian Djernes. 'We sought to develop a sofa that follows you through life. You can expand your it with extra modules, and you can take out modules, move them around, and adapt your sofa to match your surroundings to meet your family's needs.'
PH 5 Retake, Louis Poulsen
A majestic entry into the eco-product charts, the PH 5 Retake is made from recycled Louis Poulsen PH 5 lamps that have issues such as dents or irregularities. The imperfect lamps, from vintage to new-but-imperfect, are stripped back to their steel core, leaving a tactile raw surface exposed before being fitted with the latest lighting technology. Left over time they'll develop unique patinas which tell their new story.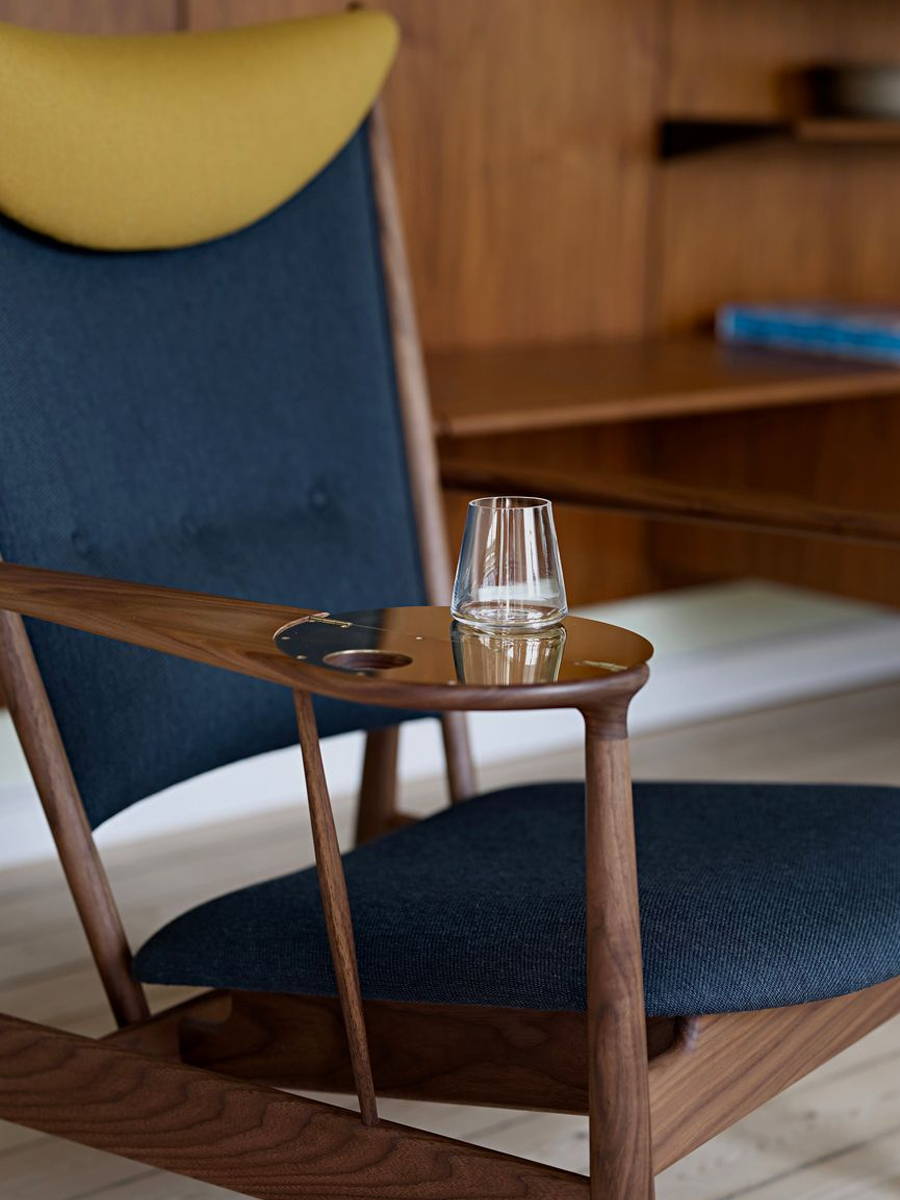 The Whisky Chair, House of Finn Juhl
Originally designed by Finn Juhl in 1948, The Whiskey chair has returned, a stately seat designed to invite – tempt? – its owner to indulge in a little me time. Crafted from rich American walnut, its gloriously smooth frame houses upholstery as well as a fold out handmade brass tray designed specifically to hold a glass or two of its namesake liquor. The revived chair comes complete with an exquisite whiskey glass mouth-blown by Danish glassmaker Mikkel Yerst, and the first 250 chairs sold are numbered and supplied with a bottle of a limited peat smoked single malt whisky by award-winning Danish distillery Stauning Whisky.
Oslo Lounge Chair, Muuto
Another member of the enduringly popular Oslo range by Anderssen & Voll is here, the Lounge Chair paring the range's minimalist take on comfort with a light, airy impression thanks to the fresh addition of a swivel base. Offering a joyful freedom of movement, the base's design is typically sleek and chic, simple powder-coated lines that are a beautiful feature in themselves which also sink into the background and allow the quiet curves of the upper seat to shine. Befitting of a home office as well as pride of place in the living room, upholster it – and the wider range – in an array of tactile textiles options by distinguished Danish fabric house Kvadrat.
J39 Morgensen Chair, Fredericia
A chair in continuous production since its design in 1947 and one of the best-selling wooden chairs in Danish history, the J39 by Børge Mogensen has had a sustainable makeover for its 75th anniversary. Fredericia is marking the occasion by returning to the seat's material origins – hand-woven sedge grass, which for the first time since it was conceived comprises the seat, echoing the original 1947 version which Mogensen had standing in his own living room. A highly sustainable material, the grass grows rapidly and serves as a habitat for a large number of animal species as well as lending the chair a rich texture and an almost Mediterranean mood.