Stylish Spaces: Mumbai Penthouse by Rajiv Saini & Associates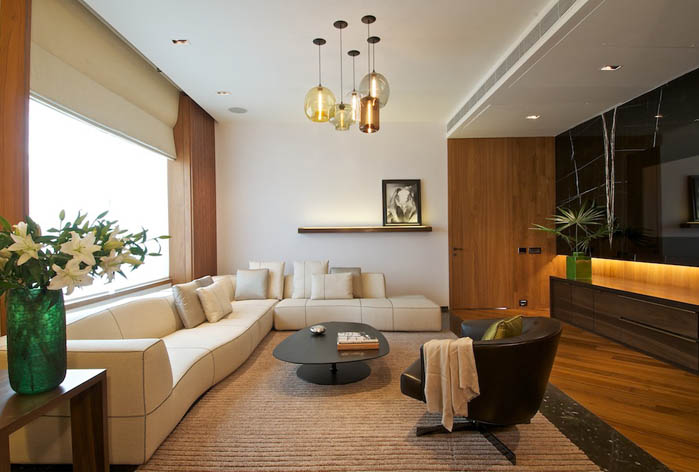 B&B Italia Bend Sofa by Patricia Urquiola | Moroso Phoenix Coffee Table by Patricia Urquiola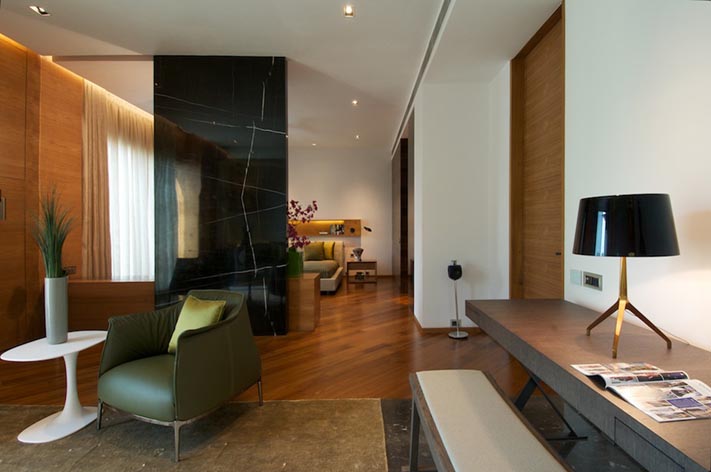 Poltrona Frau Archibald Armchair by Jean-Marie Massaud | B&B Italia Awa Side Table | Foscarini Lumiere XXL table Lamp by Rodolfo Dordoni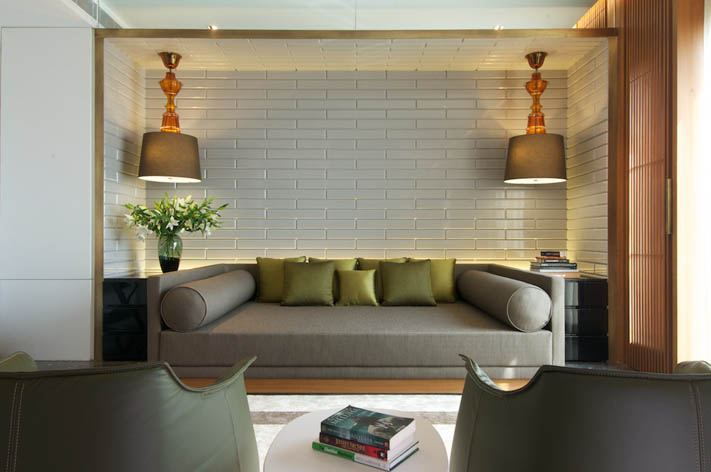 Barovier& Toso Samurai Hanging Lamp by Angelo Barovier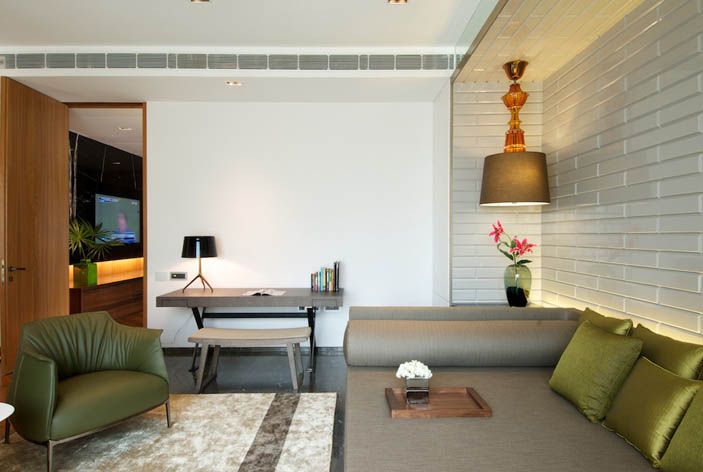 Maxalto Max Desk by Antonio Citterio | Maxalto Sella Stool by Antonio Citterio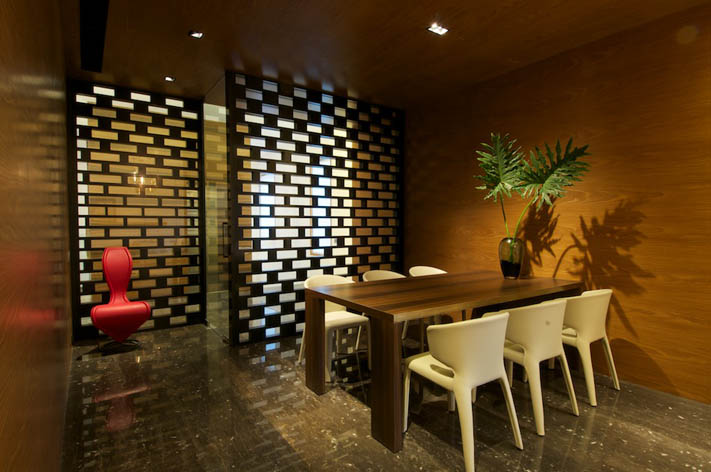 Cassina 369 Hola Chair by Hannes Wettstein | Cappellini S-Chair by Tom Dixon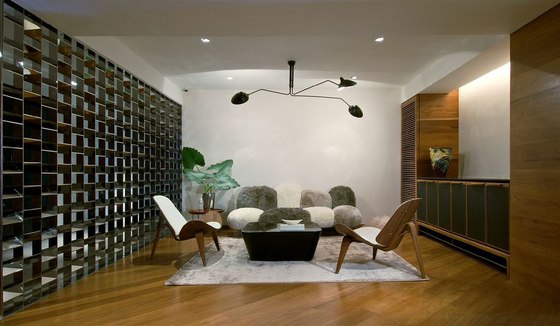 Carl Hansen & Søn CH07 Lounge Chair by Hans J. Wegner | Edra Cipria Sofa by Fernando & Humberto Campana | Established & Sons Zero-In Low Table by Barber & Osgerby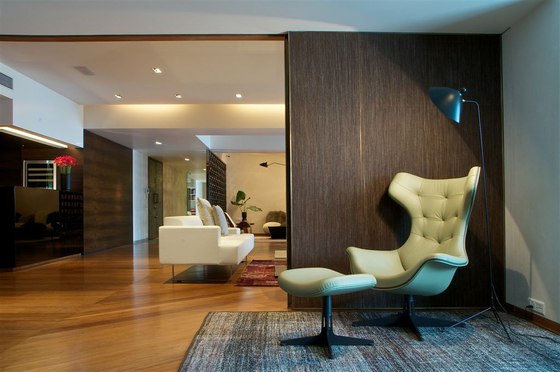 Poltrona Frau Regina II Swivel Armchair by Paolo Rizzatto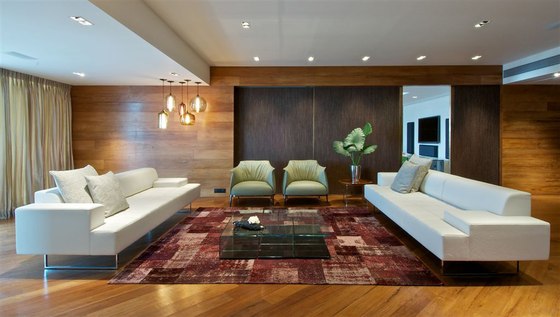 Poltrona Frau Quadra Sofa by Studio Cerri & Associati | Poltrona Frau Archibald Armchair by Jean-Marie Massaud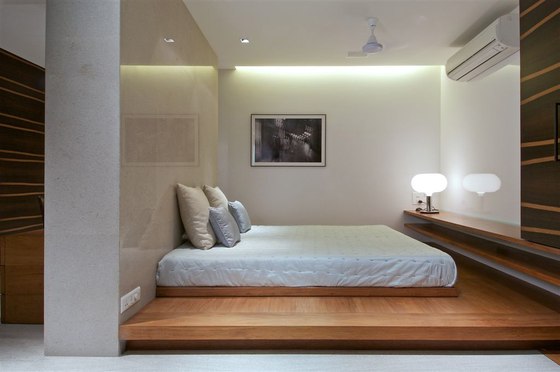 Nemo AM1N Table Lamp by Franco Albini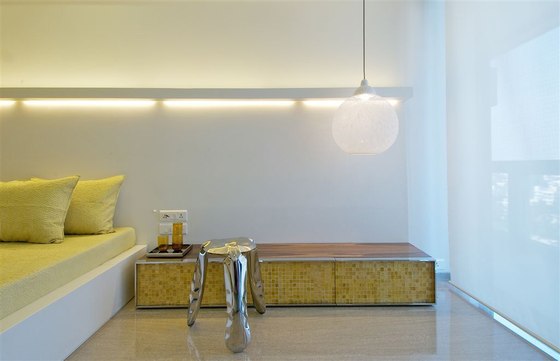 moooi non random Lights by Bertjan Pot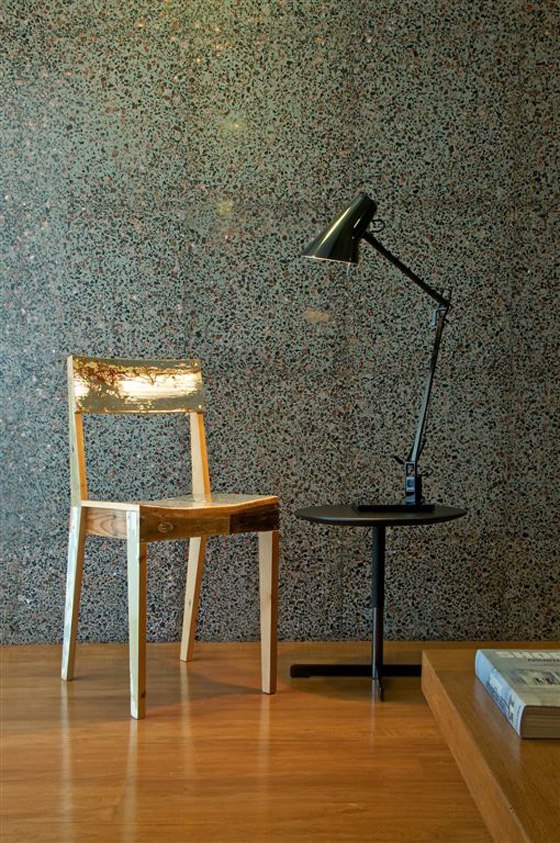 Flos Kelvin T Table Lamp by Antonio Citterio with Toan Nguyen | Poltrona Frau Bob Low Table by Jean-Marie Massaud
Description from the architects:
"I knew the clients for a while, so I was aware of what they required. They didn't want a formal looking space, instead an open plan in the public areas that would have a seamless flow with the outdoors. I used teak wood flooring to unify the spaces, with the living room opening onto the decks. So, invariably, all the entertaining at night spills into the outside spaces, that offer stunning views of the city. As a reversal of sorts, all the private areas such as the bedrooms and the family rooms have cream-coloured stone." Says Rajiv.
The renovation required breaking down walls and contending with low beams. The average ceiling height in the apartment is just about 7'-6". His idea was to open up the areas and give an illusion of space, so that it took away from the boxed-in feel. "The only place we couldn't break down a wall was in the guest bedroom where an RCC column behind the bed supports a water tank on the terrace above," he says.
Taking the open place theme forward, a stainless steel screen divides the entrance lobby from one of the sitting spaces in the living area. Its three-dimensional form lends a sculptural element to the room, even as it connects the public area with the private spaces. In fact, much of the furniture in the house has iconic overtones, with an industrial backing that comes from the steel-mesh atop the 12 -seater dining table. The master suite bathroom wear black marble, while in the children's two bathrooms, corian makes for easy maintenance.
Rajiv's eye for detail, confident aesthetics and meticulous finishes make this house a signature style design. For the client, it's a state-of-the-art home that offers both spaces for parties and privacy.
Design team:
Principal Architect: Rajiv Saini
Team : Kalyani Kale and Nikita Pai
photographer: © Sebastian Zachariah