Verpan are paying tribute to Verner Panton
Verpan are paying tribute to Verner Panton with some new ideas
This year would have been Verner Panton's 90th birthday. So the Danish manufacturers of his furniture and lighting have decided to celebrate the occasion.
The celebration provides a chance to conceive and try out new ideas, just as Panton used to do, when he embarked upon new projects. So Verpan have decided: to introduce yet another luxurious metal finish, to make use of a dustier colour palette, and to upholster with some of Kvadrat's most exquisite fabrics designed by the Belgian trend-setter, Raf Simons.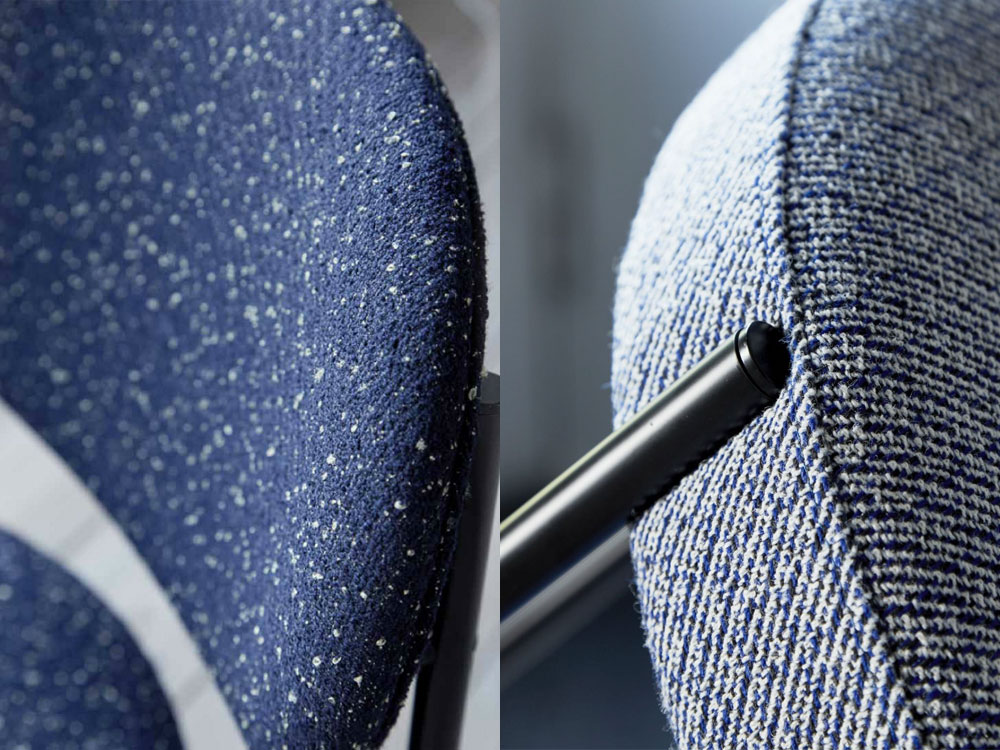 Different Shades of Blue
Different shades of blue will be the hallmark of Verpan's tribute to Verner Panton (1926-1998): not only because it was Panton's favourite colour, but also because it is such an elegant complement to the furniture.
Series 430 chair and System 123 Dining and Lounge chairs, which Verpan have chosen to upholster with fabrics by the Belgian designer, Raf Simons, do not consist simply of one single blue. Instead, an entire symphony of blush shades, with discrete, scattered tints of gold, sand and black.
COLLECTION HIGHLIGHTS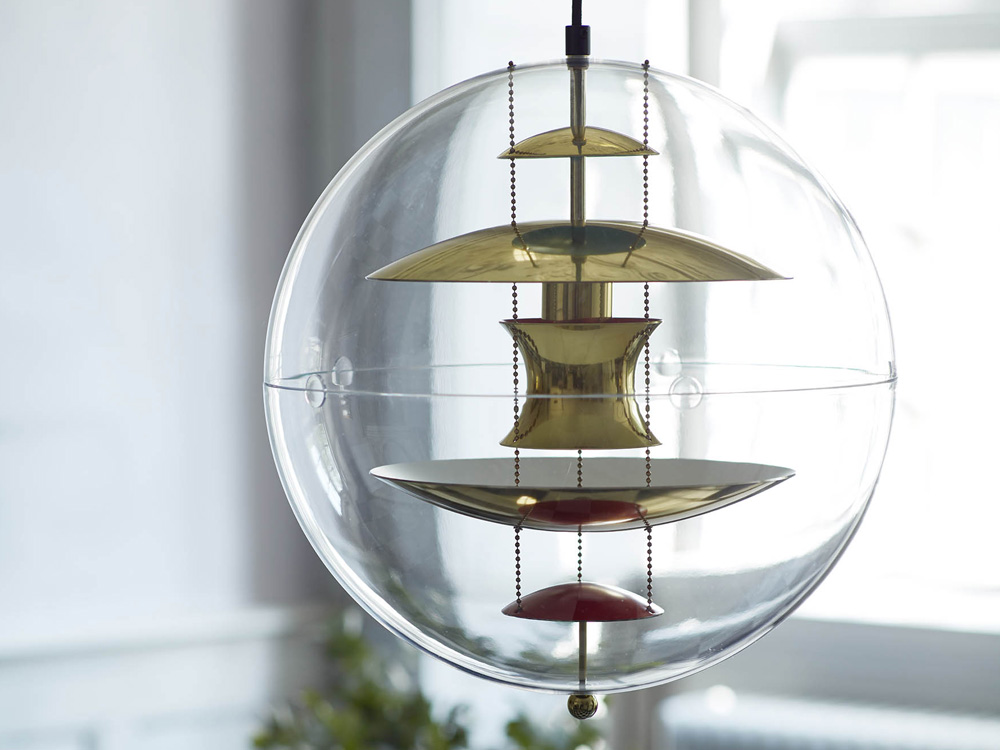 VP Globe
The interplay of materials, colours and shapes are what characterises Verner Panton's VP GLOBE. This lamp's beauty lies in the unity of its contrasts.
VP Globe is one of Verner Panton's most iconic pendant lamps. To honour Verner, his idiom and his international life, Verpan are launching a new version with a brass finish.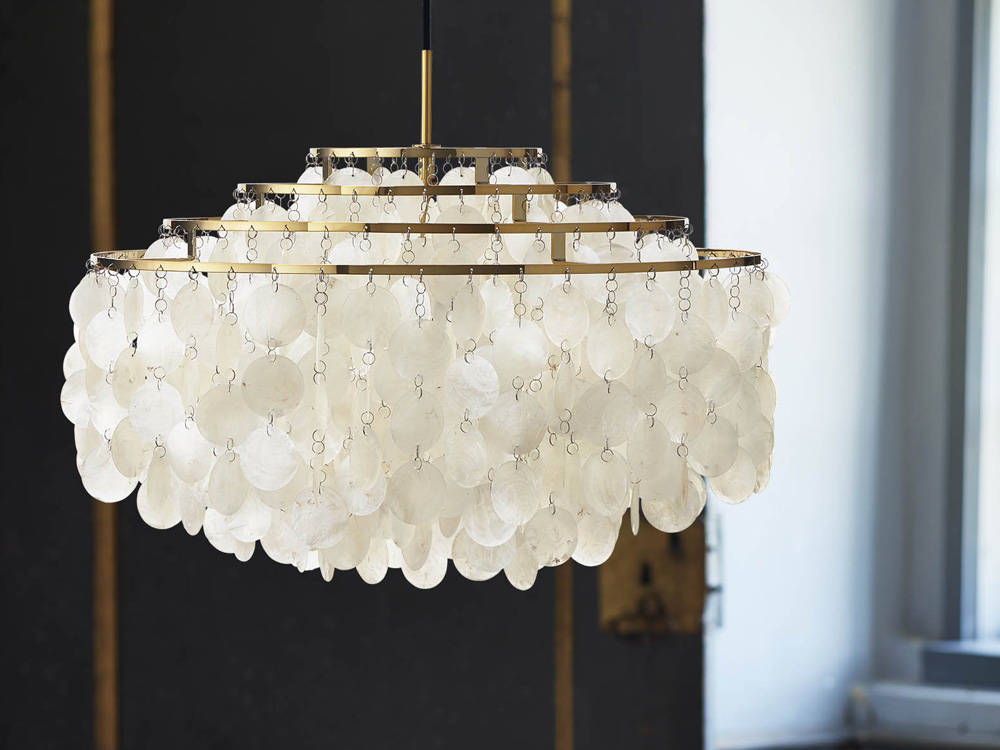 FUN 10 DM
Many people regard the FUN pendant lamp as one of Verner Panton's greatest masterpieces in the field of lighting design. Ever since 1964, this pendant lamp has kindled joy and a wealth of stories.
In collaboration with designer's window, Marianne Panton, Verpan now present FUN with a warm brass-finish frame.
Series 430 Chair
Verner Panton's goal was to design a practical dining chair that was just as comfortable as a lounge chair. That is why Series 430 has a wide, enveloping back and a well-padded seat with elastic webbing.
This allows it to better adjust to the weight of the body and provides a relaxing seating position.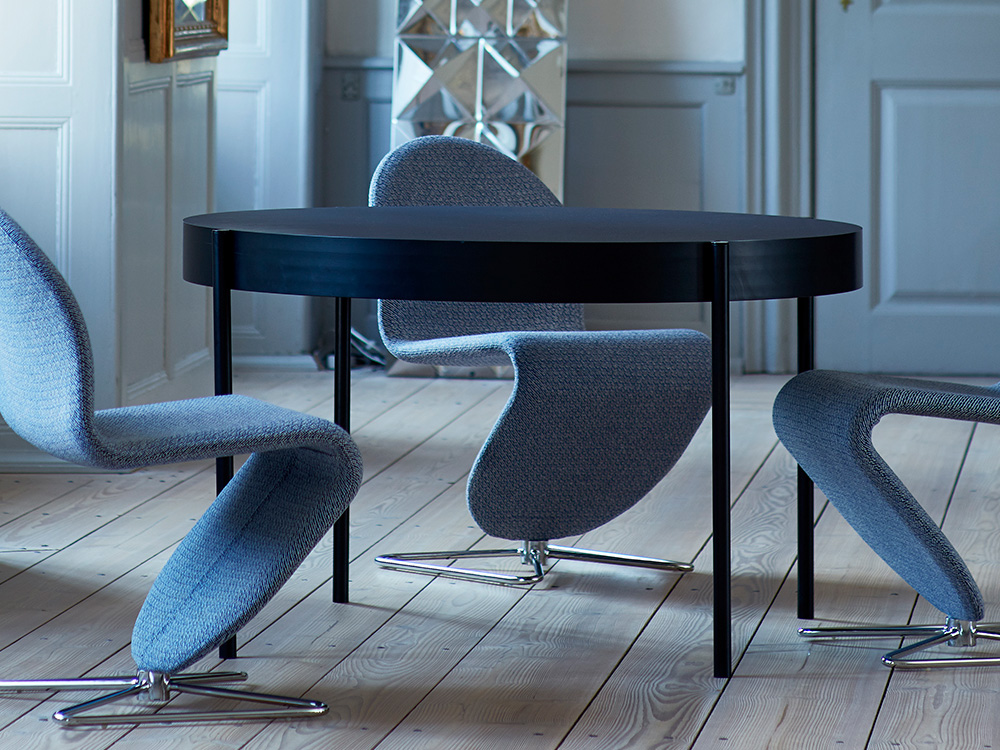 Series 430 Table
Designing a table without a pedestal meant that the legs should be so slim and elegant that you hardly noticed them. In Series 430 they are just that.
It should also be so light that you could move it as required to accommodate different uses: everything from a gathering point in the dining room to a card table in the living room or an extra working surface in the kitchen.
Its lightness, slender legs and obvious frame really make Series 430 stand out. The table is a perfect match for the collection's own lightweight Series 430 chairs or for the more distinctive System 123 dining chairs.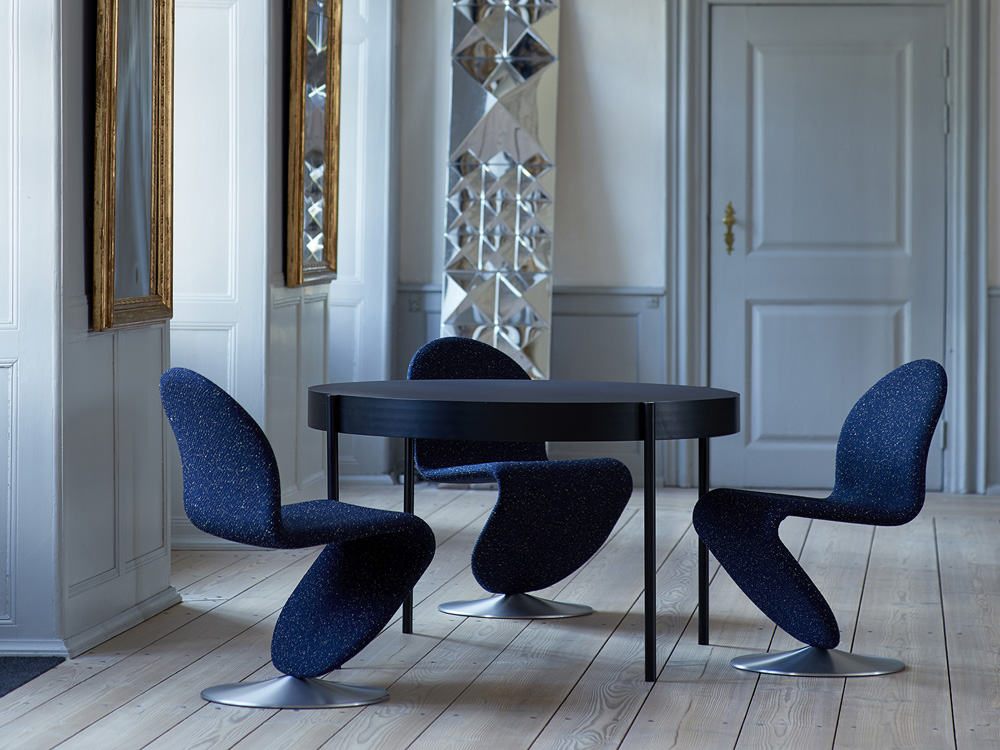 System 123 Dining Chair
As far as Verner Panton was concerned, a chair should be so comfortable that you could sit comfortably on it both during and after dinner. Here you can automatically change sitting position when you have finished dinner and assume a more relaxed position. His solution was to split the back into two zones by adding a small fold, which enables the back to be upright or to recline as required.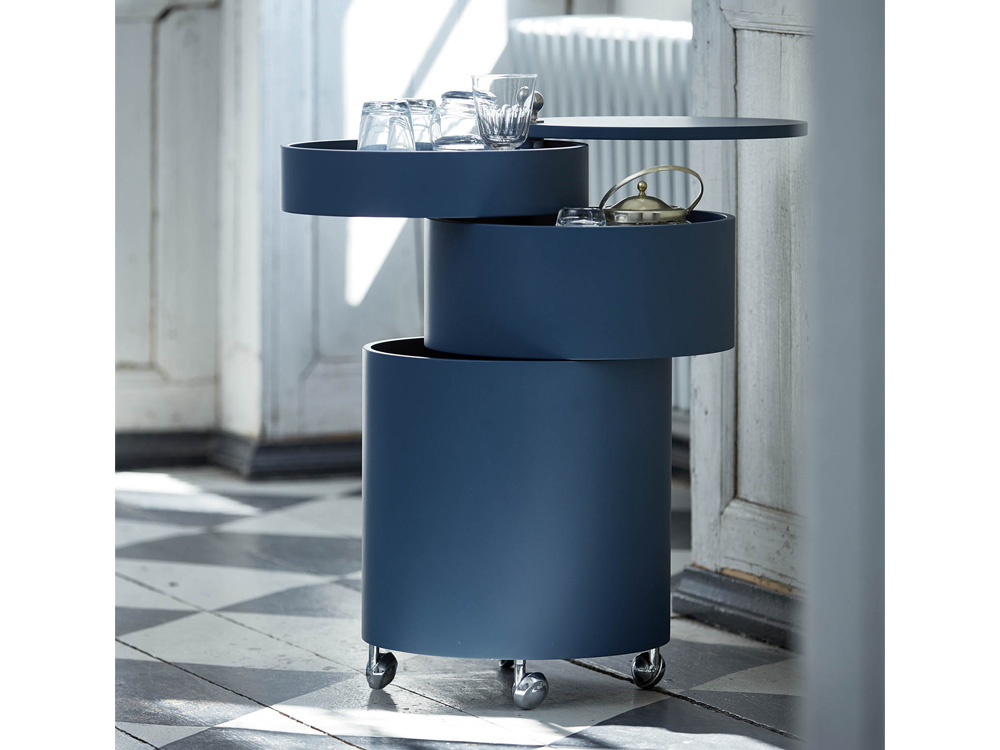 Barboy
The Barboy is a typical example of Panton's furniture. Designed in a sensuous idiom in which the designer combines a matt surface with a shiny chrome handle and wheels, providing the piece with an elegant contrast.
Verpan's decision to celebrate the Danish designer with a new shade of blue should be regarded as a tribute to his huge knowledge of, and flair for, colours in both interiors and designs. Colours were so important to Panton that he declared – unashamedly – that colours were more important than shape.
SHOP THE COLLECTION