Why Woven Furniture Is Making a Summer Comeback
Interest in woven furniture and artisanal crafts is booming. From the reappearance of weaving workshops to the French art of Macramé, designs that have been touched and finessed by the human hand are firmly back on the agenda. Such a revival in the 21st century is not hard to understand. In a world mediated by screens and automated answering systems, texture and tradition exert a popular allure. However, there are other intriguing factors at play. In many instances, the revival of woven techniques has revealed an ethnographic map of overlooked cultures and skillsets from which the design world is keen to learn.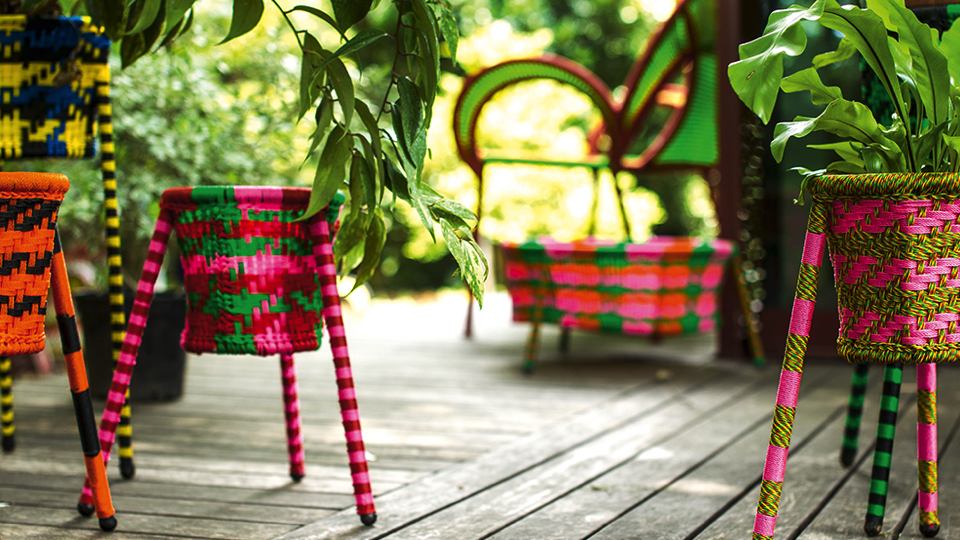 At the forefront of this renaissance are brands like Moroso, B&B Italia and Paola Lenti, each of which are harnessing woven techniques to create incredible outdoor spaces. Their weaves are light, breathable and incredibly strong, characteristics that lend themselves for use during the hot summer months. With more and more designers incorporating woven elements in their designs, we'll be taking a look at its evolution from sub-Equatorial countries to the forefront of contemporary design.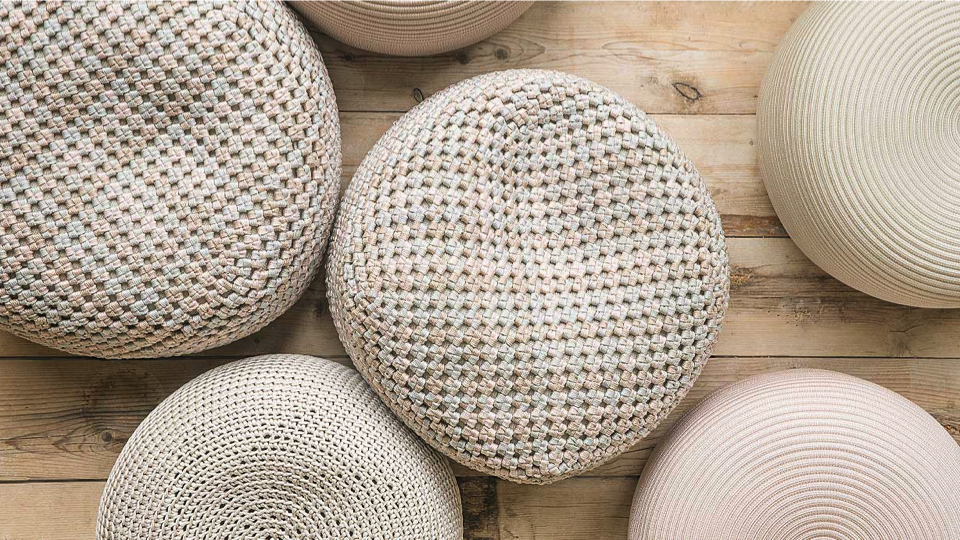 Woven furniture as a major trend first came onto the Chaplins radar in 2009 with the introduction of Moroso's M'Afrique Collection. Comprising twenty-five colourful outdoor chairs, loungers and tables, the collection seeks to reveal the intense creativity and plurality of the African continent.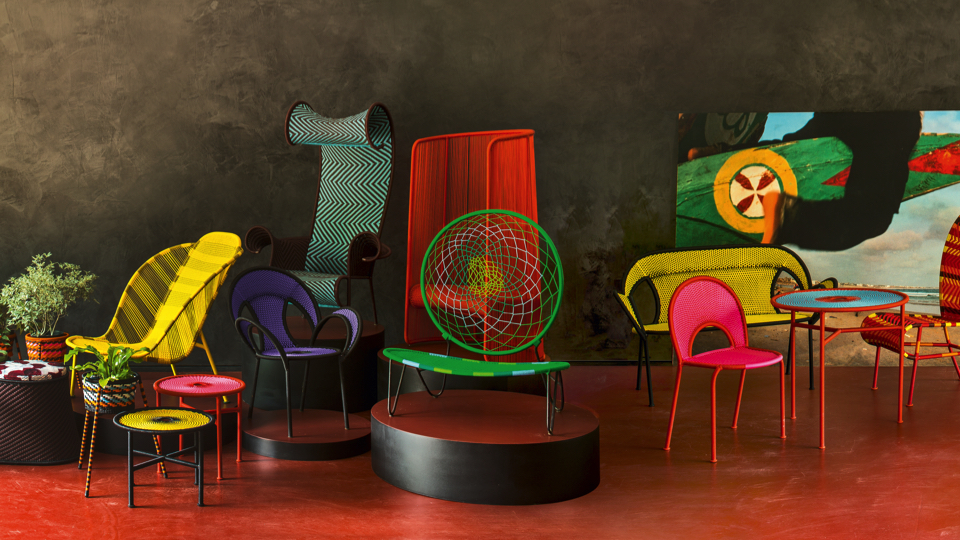 The project is the brainchild of Creative Director, Patrizia Moroso, who established a profound connection with the people and cultures of Senegal following her marriage to Senegalese artist, Abdou Salam Gaye. Known for her deep affinity with texture and colour, Moroso swiftly became enraptured with the myriad of fibers and yarns used on a daily basis in this vibrant country. In ancient African society, cultural tales and religious beliefs were conveyed orally or transposed onto fabrics and yarns as decorative motifs rather than written words. Senegal is Africa's largest producer of such textiles and a commercial and cultural workshop thanks to its strategic location between the Savannah and the Atlantic ocean.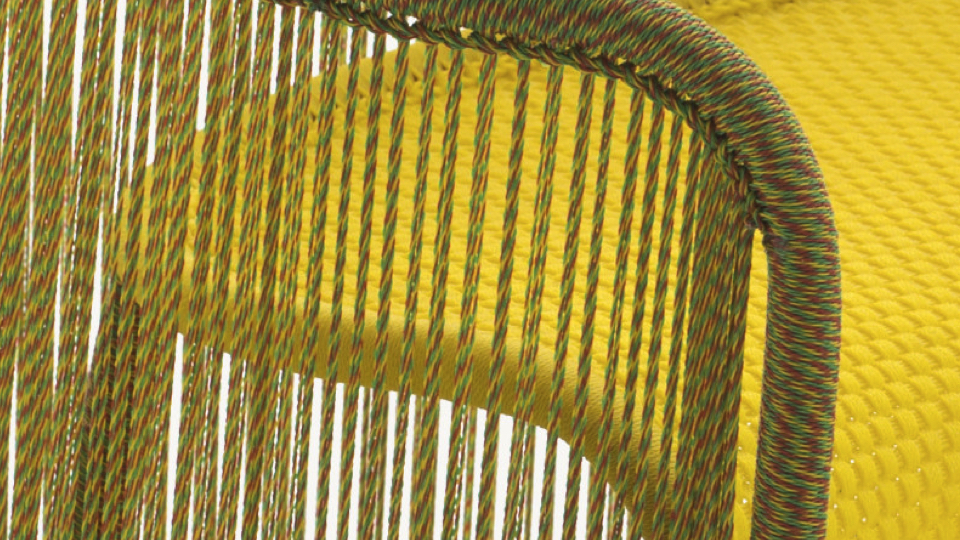 As she observed the local weavers crafting their colourful fishing nets, she was struck by the peculiar thickness of the cords and the infinite patterns that could be created by their strong, rhythmic hands. It occurred to Moroso that this particular technique could be used to create striking outdoor furniture that would weave the colourful tale of African aesthetics for a new global audience.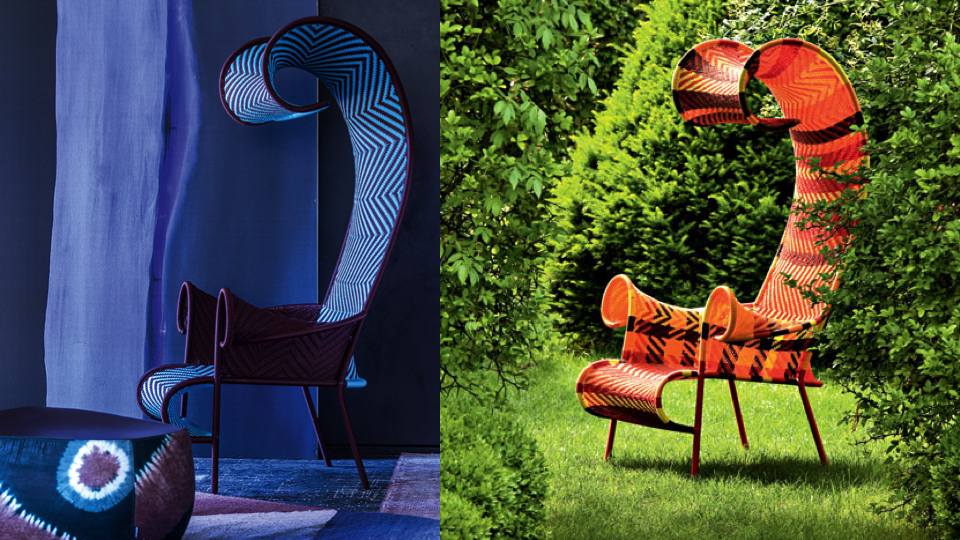 This swiftly led to collaborations with some of Africa's most renowned artists and architects. Highlights include Tord Boontje's Shadowy Collection, a graceful outdoor lounge chair that uses the fisherman's technique of stretching polyethylene strands over its curled metal frame. Shade and light are crucial to this striking design, and the furled backrest provides a welcome reprieve from the beating midday sun.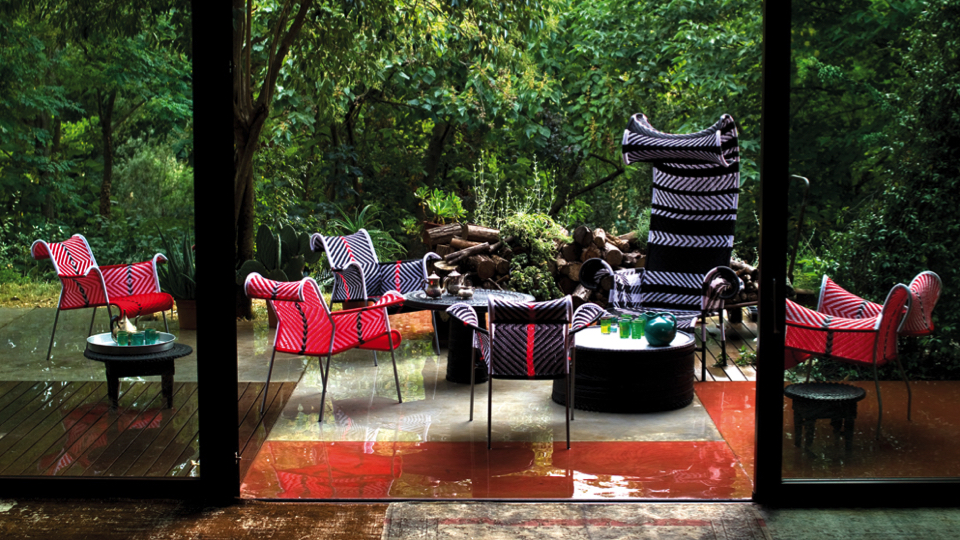 Striking too is Dominique Petot's Iris Chair, a geometric outdoor armchair that resembles the monochrome print of the country's now endangered zebra. However, the real jewel was adding posthumously in 2014, in the form of Sebastien Herkner's Banjooli Collection. Inspired by the mating dance of male ostriches, this quirky collection remains a summer staple for gardens in need of a colourful boost.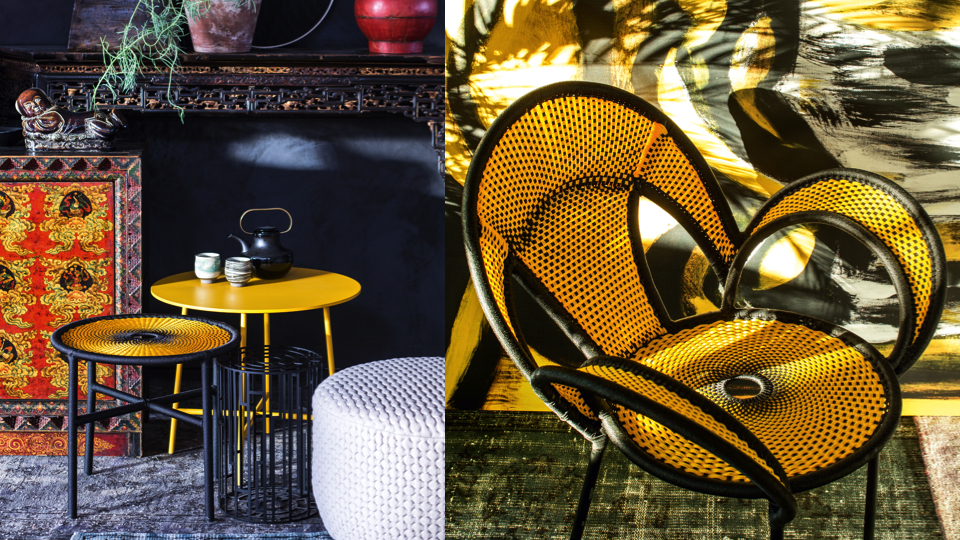 The M'Afrique Collection is the only Moroso range to be made outside of Italy, in a workshop installed within Abdou Salam Gaye's family home. The workshop works in perfect synergy with the local economy and has lead to the production of Moroso's much-coveted Batik fabric. In this context, each chair or table becomes something more than a designer object —they offer an ethnographic map of Senegalese culture to the rest of the world.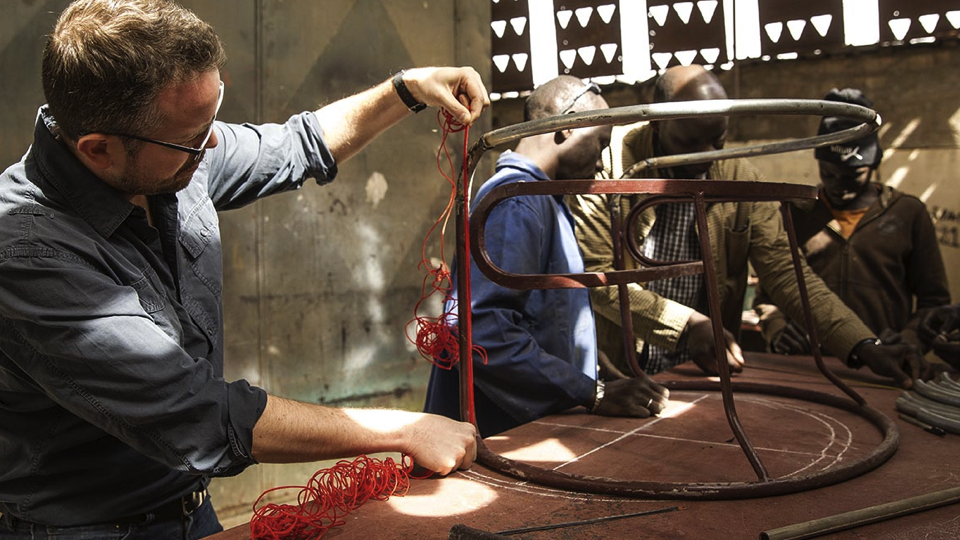 At the other end of the spectrum is luxurious Italian brand, Paola Lenti. Spotting a niche in the market for outdoor textiles, the eponymous founder embarked on a challenge to create soft, outdoor furnishings that drew strength from woven yarns rather than wood or metal frames.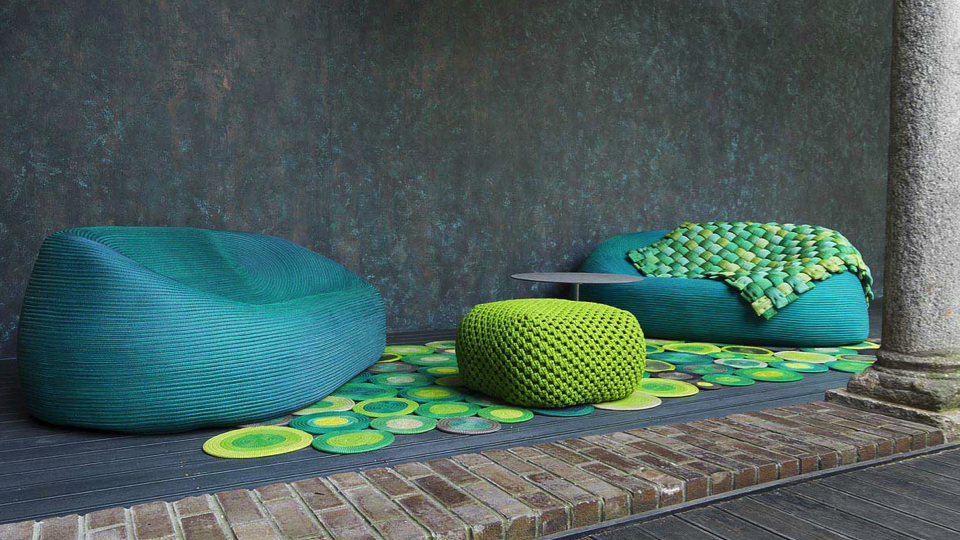 For the 36-year old graphic designer it was a fascinating dive into the unknown. While her concept was strong, the physical barriers to success were substantial. It took several years of research and experimentation into the production of high-tech yarns until she able to produce a design that could withstand everything nature had to throw at it. The result is a collection of impossibly strong yet visually delicate furniture that is resistant to all of nature's most tempestuous elements. Nowadays, research and development still sit at the heart of Paola Lenti, with their patented Rope and Aquatech yarns permitting the continued blurring of boundaries between the indoors and outdoors.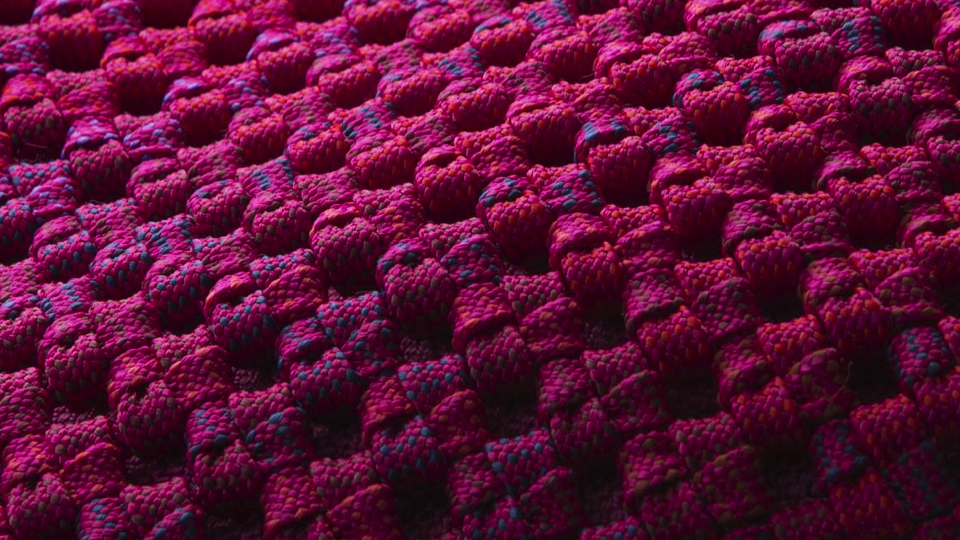 While the craftsmanship is simply brilliant, it's the iridescent colour palette and the organic, comfortable shapes that really sets Paola Lenti apart.
Weaving differs from knitting in that it relies on the bondage of various different yarns, as opposed to a single yarn looped continuously. The necessitation of various threads thus opens up woven furniture to infinite chromatic combinations. Nowhere is this correlation better exploited than at Paola Lenti. Each rug or seat is woven into an intricate tapestry of colour, so seamless and harmonious it seems to be drawn from nature itself.
"For me, colors are instinctual. There are many references to nature, even with the most outrageous colors. Think about walking along the banks of a river in the winter. You see branches and find reds, purples, sandy colors, powder blue . . . you need to know how to see". (Paola Lenti, 2015)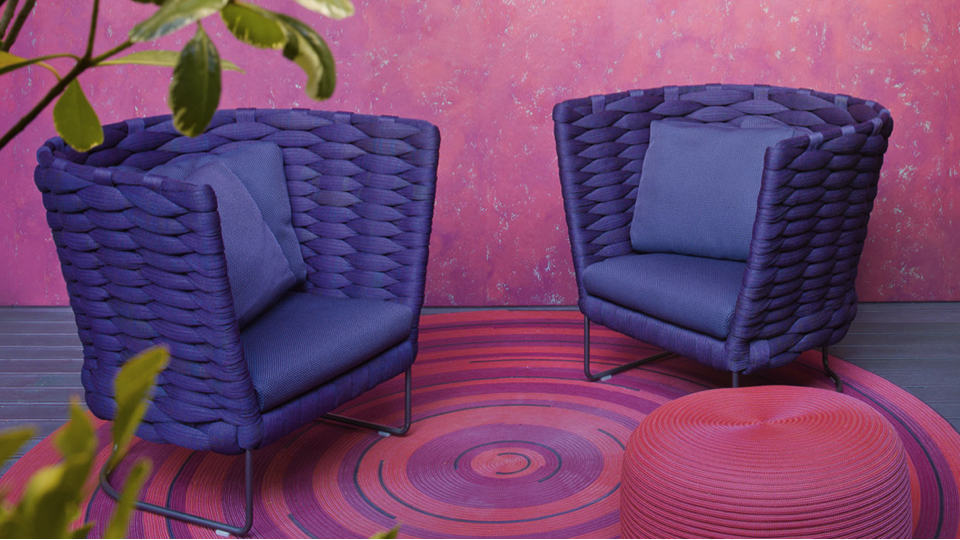 In an epoch of shrinking living spaces, Paola Lenti's designs have found a way to reclaim the garden as part of the residential panorama.
The transformation of outdoor spaces into a viable living space is also a central tenet at B&B Italia Outdoor. Woven textiles have increasingly been the starting point for many of Patricia Urquiola's designs, including the intricate Crinoline series. She describes it as "an innovation in taste", inspired by the hooped skirts and microarchitectures of 19th century womenswear. The structure was realised in Italy before flying east to seek out the expert weavers who could bring Urquiola's vision into fruition. The final result is a mixture of codes and languages — the 1800s, digital technology, and handcrafted excellence.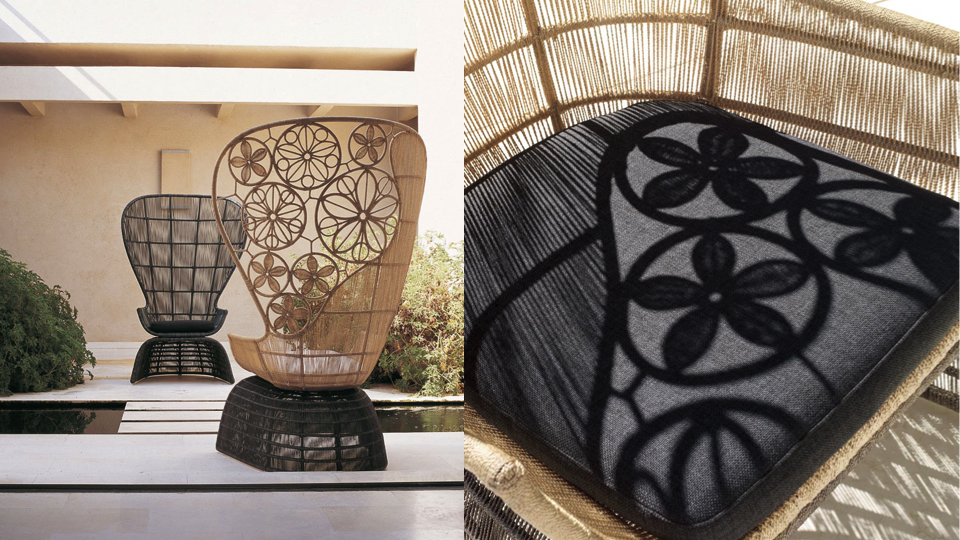 Much like with the Shadowy Armchair, creating pockets of shade and privacy is a key concern in outdoor furniture design. High backrests, also glimpsed on the new Bay and Fat Collections have thus become somewhat of a staple at B&B Italia. Through the elegant weave of these sculptural silhouettes, sunlight and brief glimpses of the outdoor surroundings are permitted to shine through.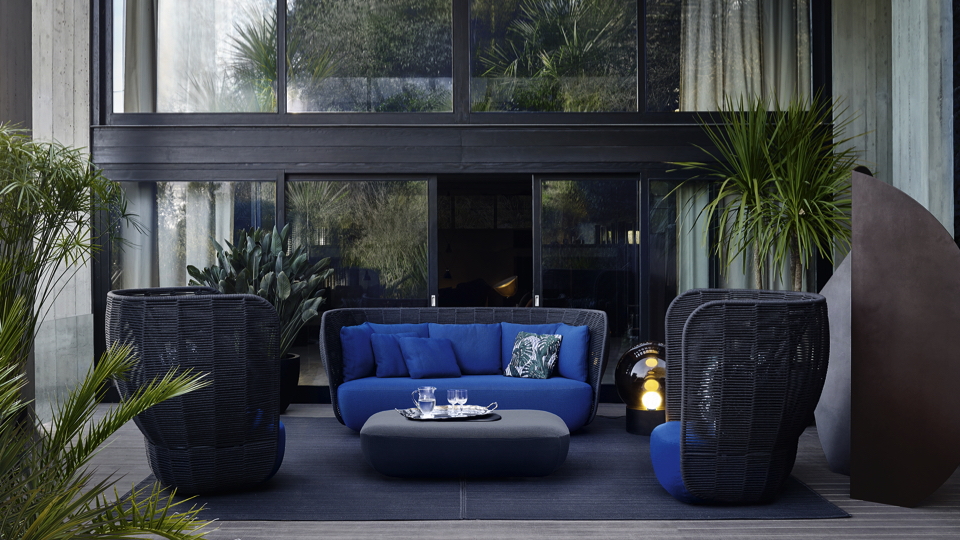 It's a similar story with Antonio Citterio's outdoor sofas. Citterio is acutely aware that it's not enough to merely translate a design for outdoor use via the use of waterproof upholstery. To do so would create a piece that feels strangely out of sorts in its outdoor environment. Instead, he looks to woven elements and structures to gift a reassuringly natural feel. The effect on the Ray Outdoor Sofa is of an artist weaving a colour outdoor repose, its green structure reminiscent of the work of the banana leaf weavers in North East Brazil.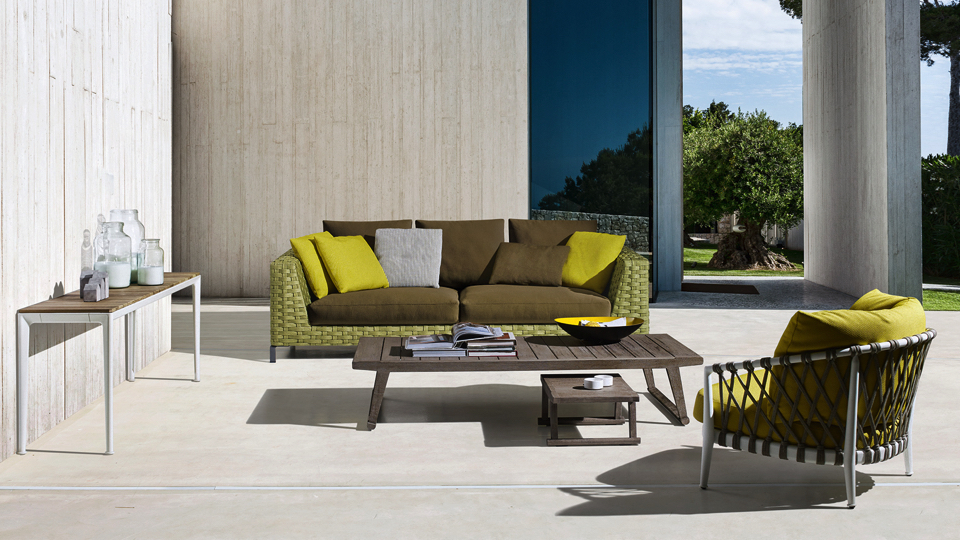 The Erica collection is looser and somewhat more relaxed, its open weave evoking an almost nautical feel. Together, they express the varying possibilities of this traditional yet constantly evolving technique.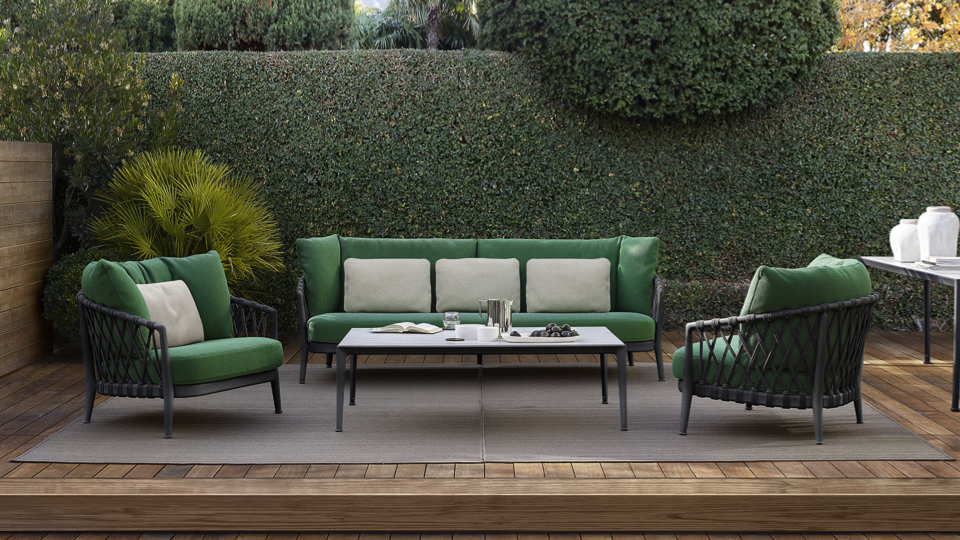 With up to 10% off all outdoor furniture and lighting online, there's never been a better time to invest in an Eden of your own. Use our handy live chat feature to speak with a design expert immediately and start cultivating your own woven Oasis. 
SHOP ONLINE WITH 10% OFF ALL OUTDOOR FURNITURE AND LIGHTING