Lema: Wardrobes Tailored to Your World
And exhale. Forget about the outside world – you're home now. Spaces of 2023 are all about the inner effect they have on their inhabitants. We want real, liveable rooms – it's time to forget about if they look good in a picture and focus on the needs they meet, and how they affect your mood. Only the best designs can do it all.

It's what the Lema fitted wardrobe collection does so well. Under the Art Directorship of celebrated Italian interiors maestro Piero Lissoni, each piece crafts a creative, calming universe, where design emerges gently from the soothing and convivial atmosphere flowing around it.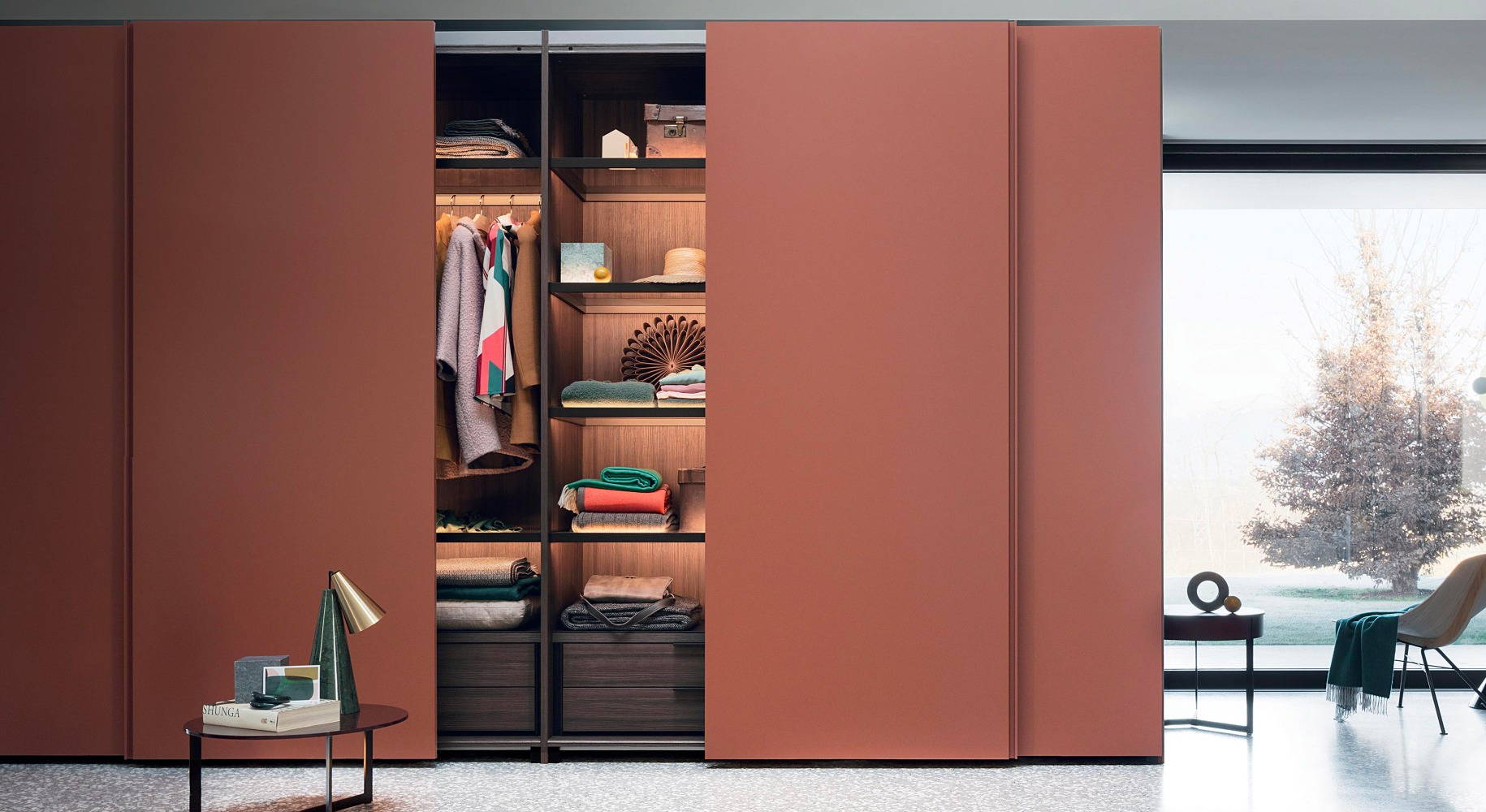 That Lema's wardrobe collection is Made in Italy is clear in the polished attention to detail, catwalk-worthy tailoring, refined curation of materials, seamless performance and overarching pure beauty. Crowning it all is an aura of indulgence, calmness and peace.
It was in the early 1970s that Lema became the first Italian company to design and produce integrated furniture systems, and it hasn't stopped innovating since. As well as sliding into your room and routine smoothly, each wardrobe offers storage solutions and innovations you didn't realise you needed, the pieces – crafted by a bevy of international designers – basking in the pleasure of furnishing plus function, as well as offering a few hidden surprises.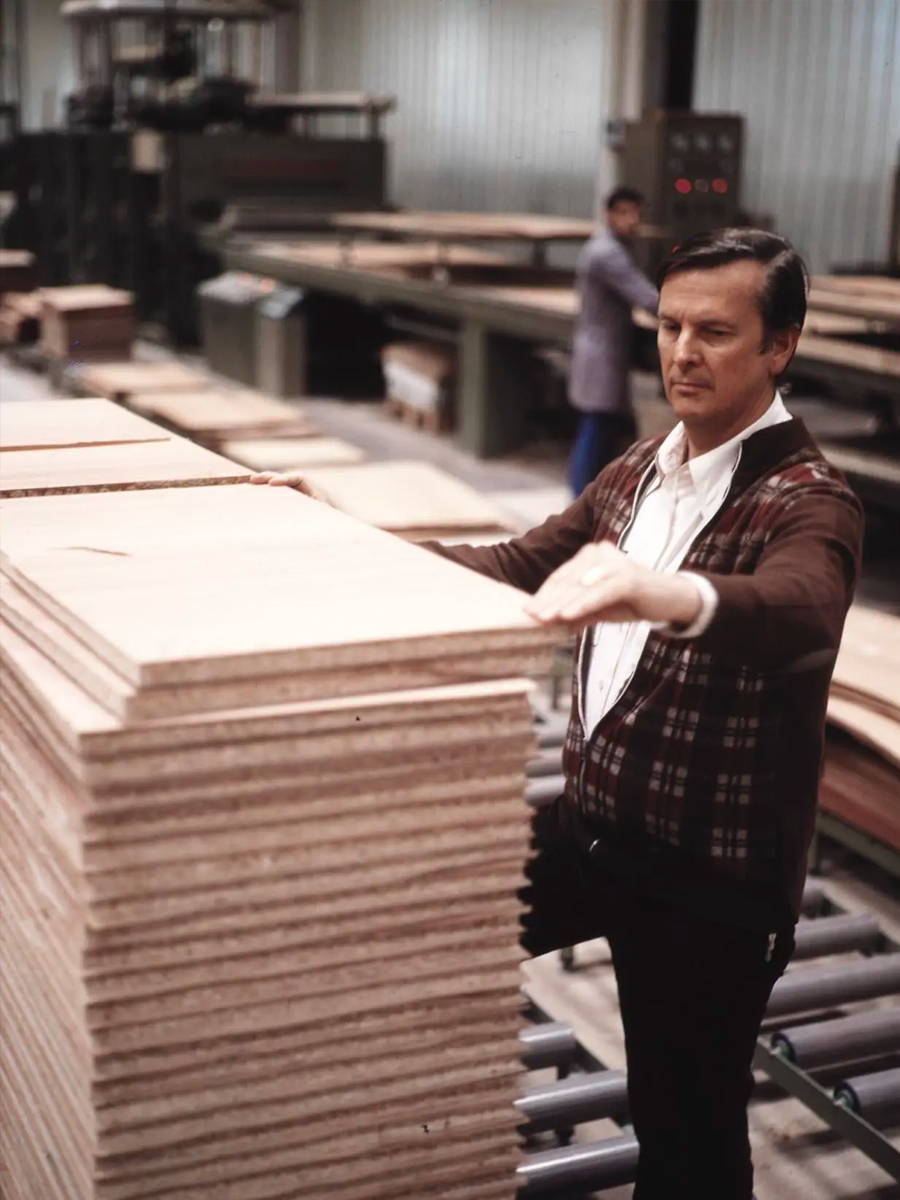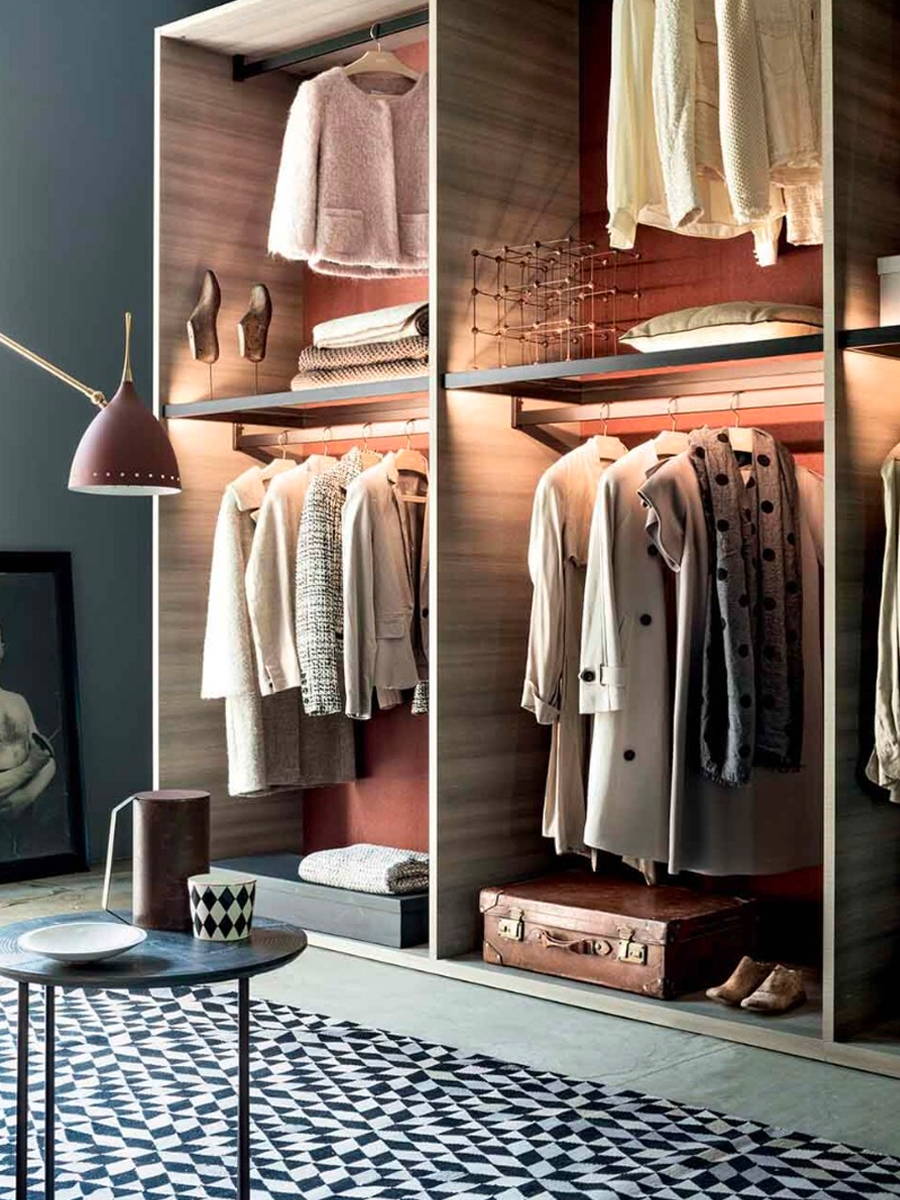 Express yourself - Lena Wardrobe
A sophisticated meeting of materials with a refined palette of colours. The Lena wardrobe is subtly audacious, merging upper and lower segments of contrasting pieces of timber and soft lacquered tones, as well as coordinating finishes. A range of colours, spanning rainbow brights to the more subdued, both in glossy and matt lacquer, go head-to-head with slices of blackened or natural oak and walnut. Combinations can be gloriously mixed and matched as well as coordinated.

A slimline frame and handle outline it all, turning each door into a graphic blank slate ready to be filled with expression and personality.
The doors can be hinged, sliding or coplanar, while inside is additionally made-to-measure with an extensive range of additions giving the wardrobe endless bonus functions. Accessories include chests of drawers, trouser racks, belt holders, shoe racks, shelves and bars, coat hangers, all softly illuminated by the integrated LED system.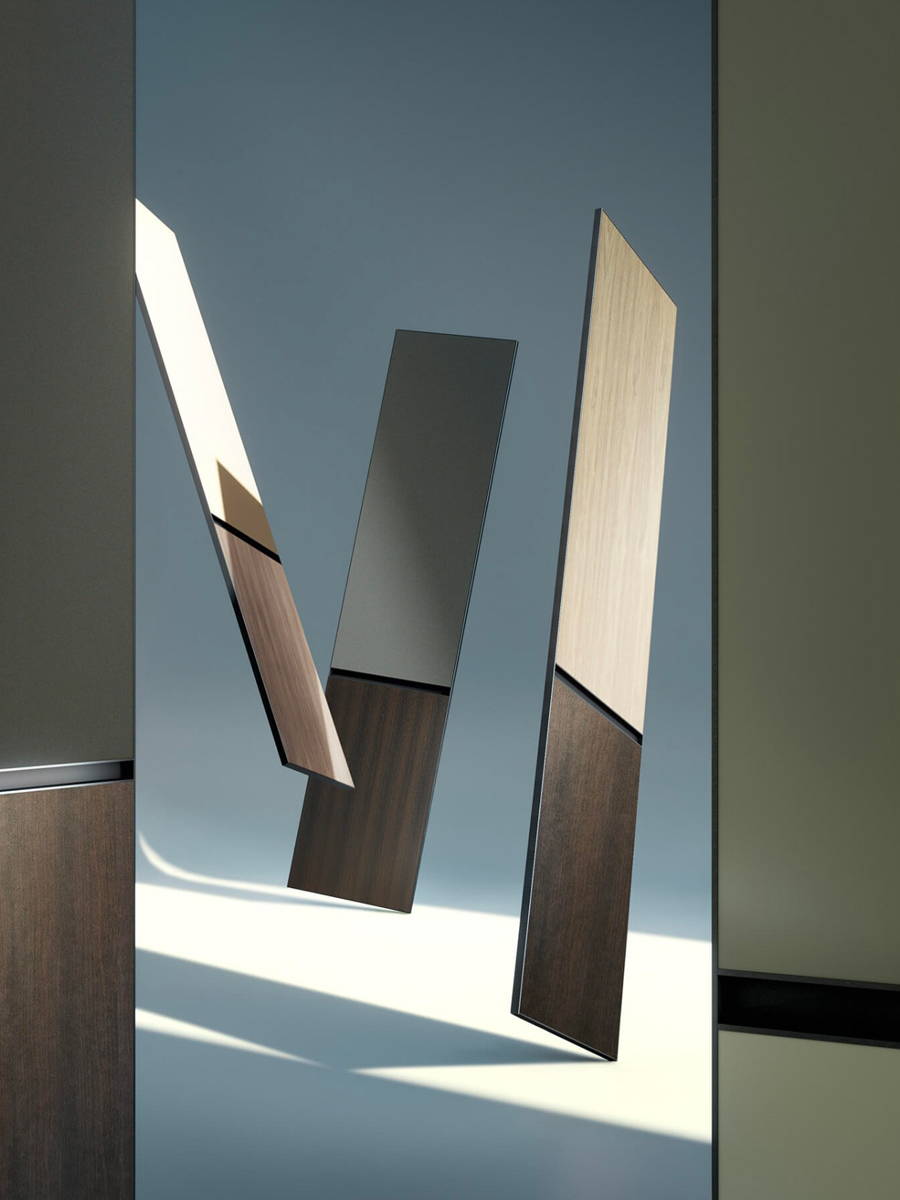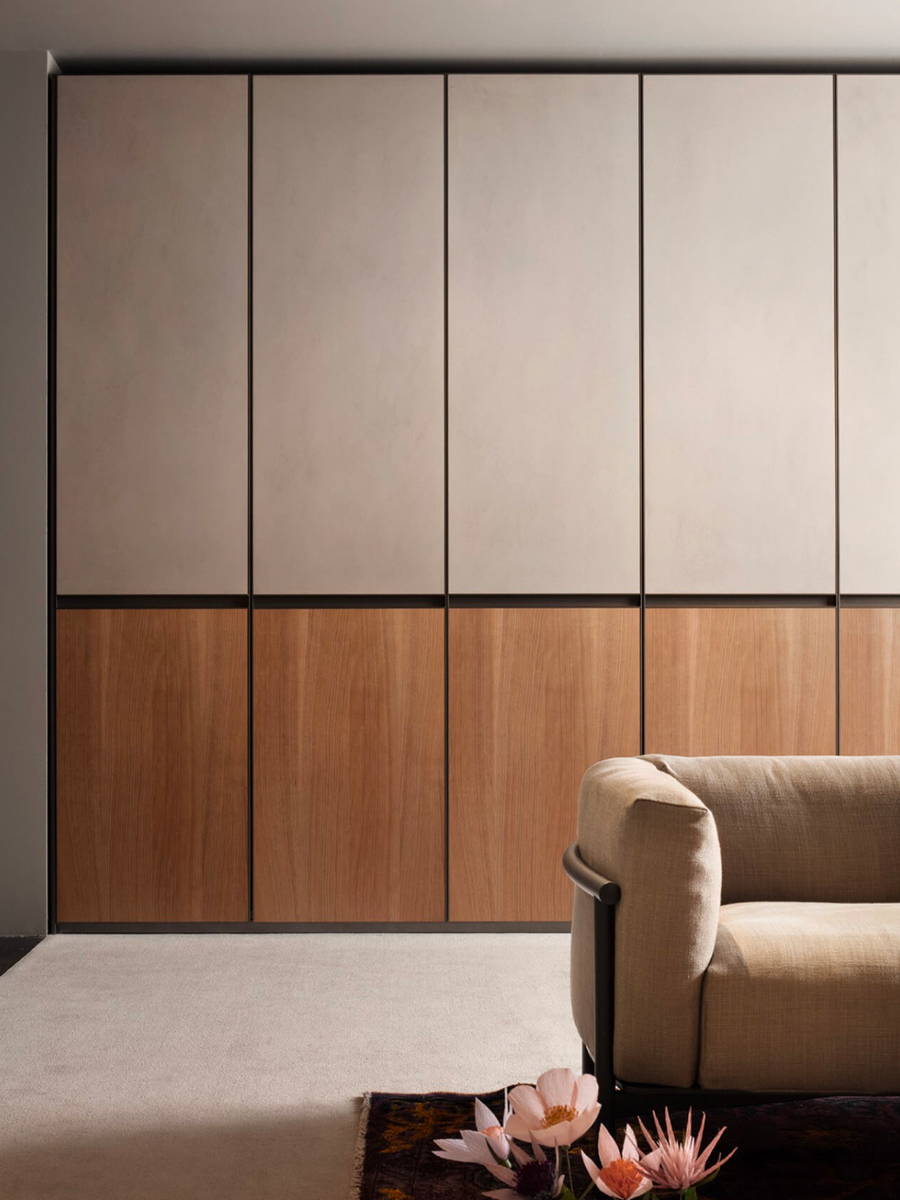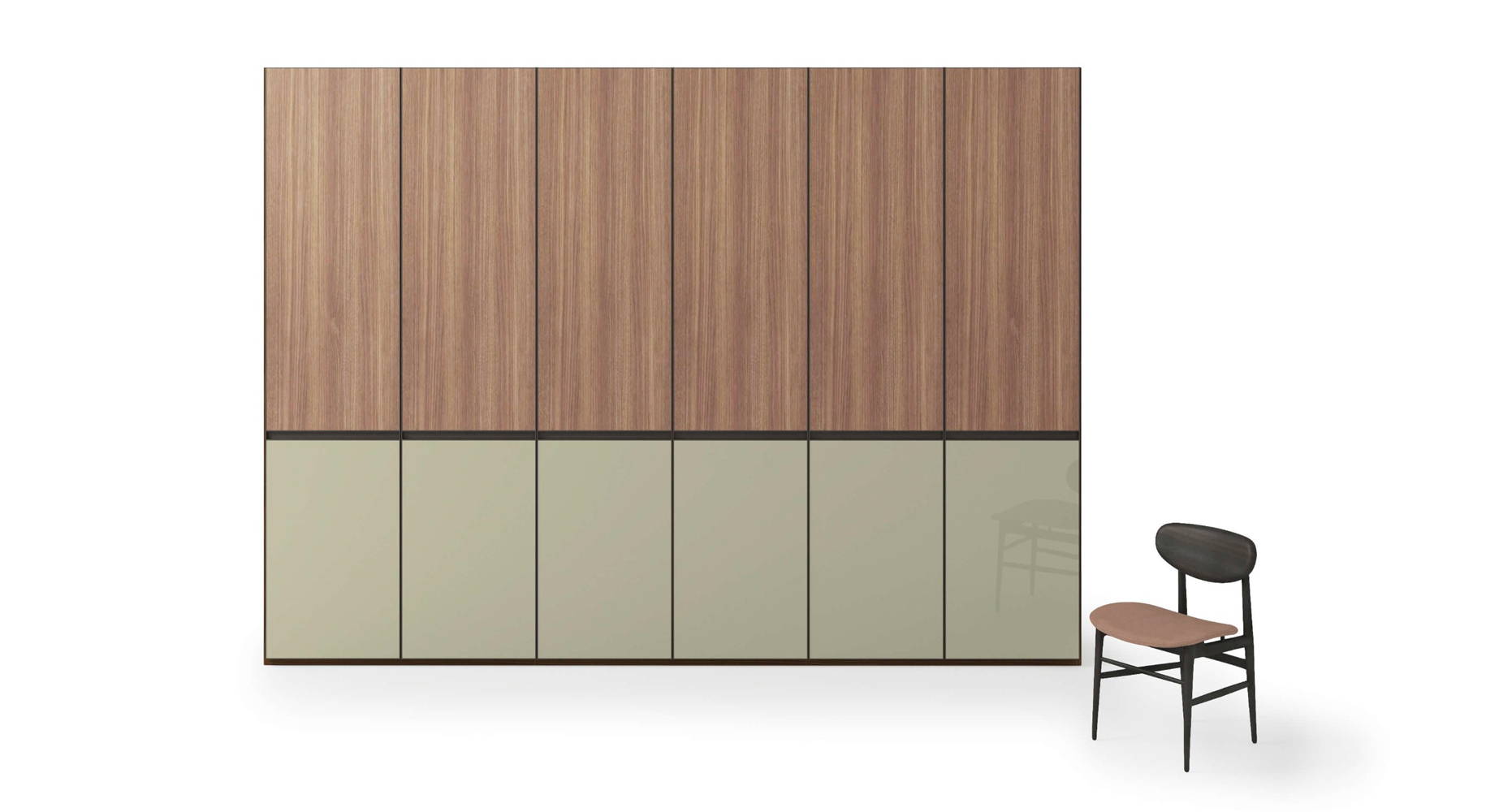 Look to the future - Venti-Tre
Fusing stunning Italian aesthetics, functionality and a forward-thinking, earth-friendly viewpoint is the VentiTre walk-in wardrobe by David Lopez Quincoces, a progressive stylish storage solution crafted completely from recyclable materials.
Carefully produced in collaboration with Saviola Group, a specialist in 100% recycled wood panels, the VentiTre walk-in wardrobe is at the forefront of sustainable storage design. Invisible to the eye, the entire piece is created to be easily disassembled at the end of its life, to allow for the correct disposal of every material and component, from glass to metals and melamine to the smallest attachments and fixings.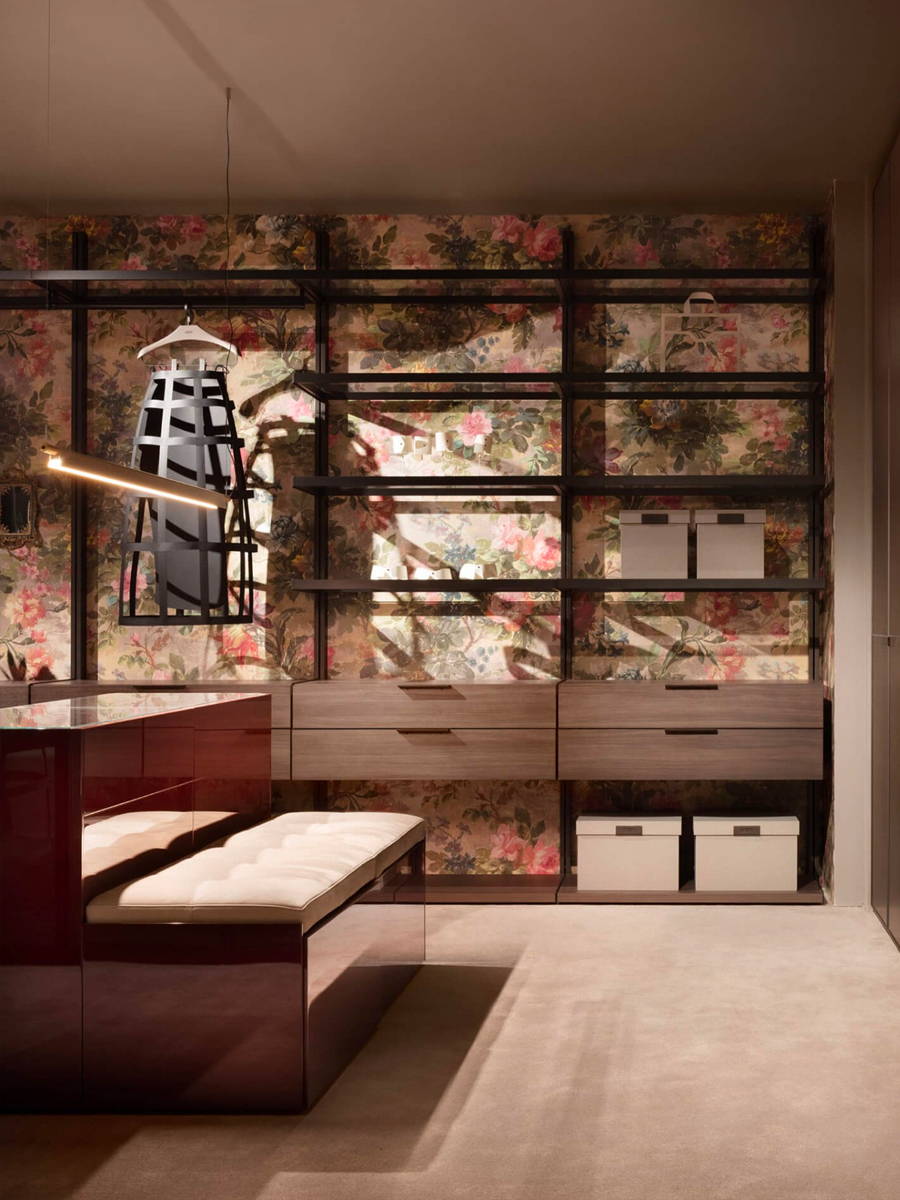 Venti-Tre Wardrobe | Lema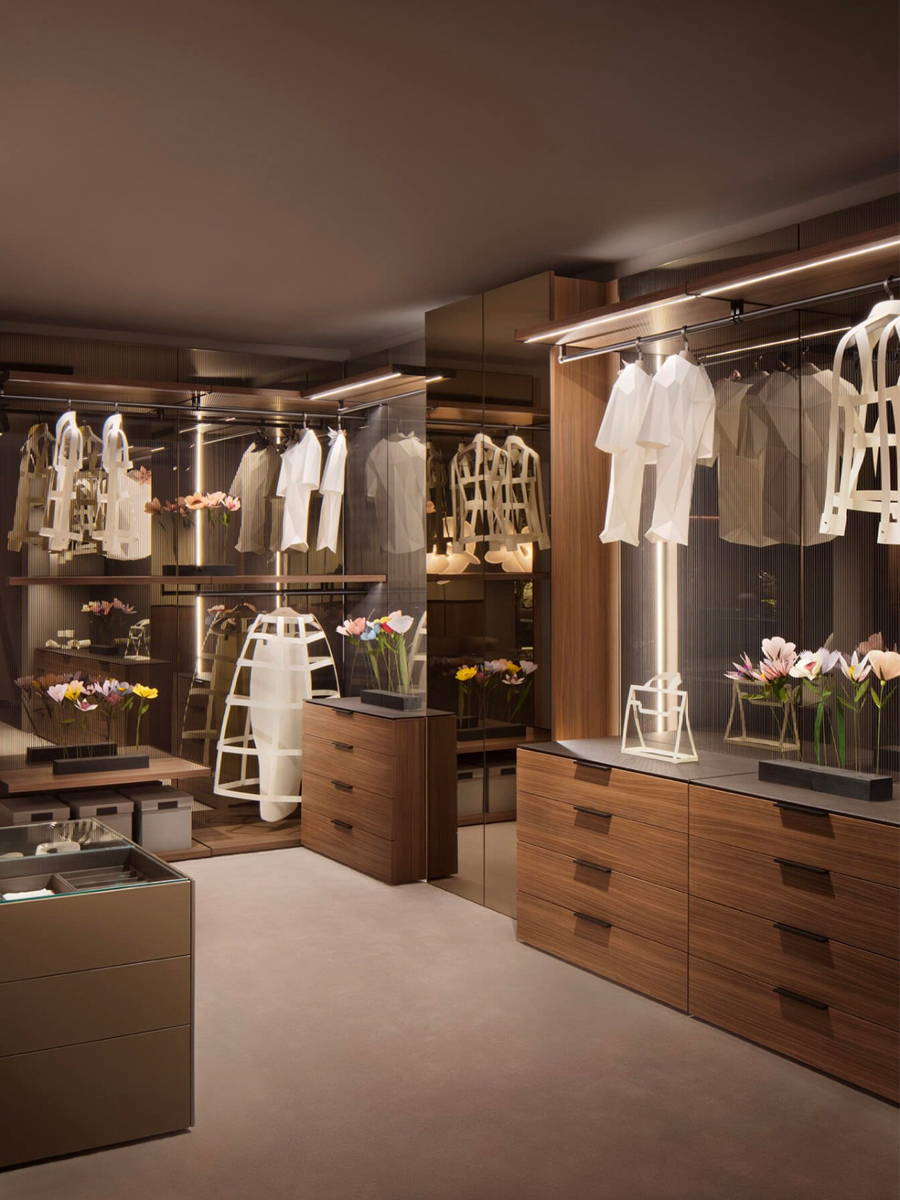 Venti-Tre Wardrobe | Lema
With smooth, clean lines and a purist sentiment, alongside its eco credentials, VentiTre is dedicated to contemporary customisation. With no wall panels it becomes almost weightless, drawing an outline in space without intruding upon it. Add walls and suddenly it's a canvas, intelligent and complex, each project unique and creative. Its huge array of finishes offer endless personality traits, from calm and subtle tones found in nature to the brighter and more gregarious, while textiles and glass fronts provide nuance, depth and tactility.
To finish – add the final accoutrements such as drawer units, shelves, closed compartments and glass cases, each pragmatic piece entering the world responsibly as part of a circular, green economy.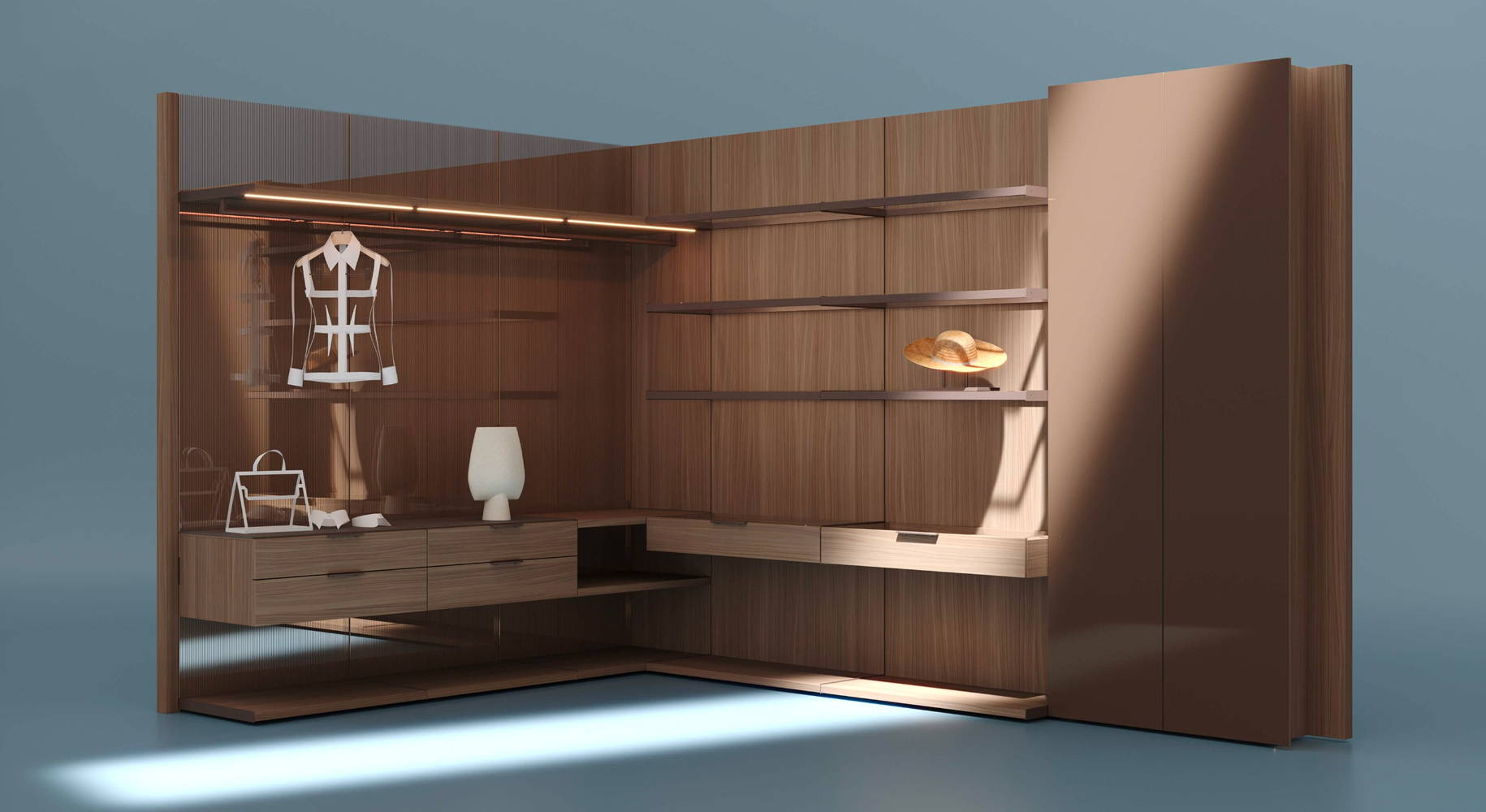 Venti-Tre Wardrobe | Lema
Beauty inside and out - Armadio al Centimetro
A revolutionary reinterpretation of the wardrobe world, the Armadio al Centimetro by Officinadesign Lema is a jewel of the collection, where functional and aesthetic desires collide. Launching initially in the 1980s, it was one of the first designs to offer unique tailored configurations, and it has continued to progress ever since.
Dedicated not only to keeping space tidy, but to the joy of design and adding beauty to the home, the wardrobe is exquisite both to look at and to interact with. Created with free-flowing versatility in mind, it can be adapted in dimension and materials until it fits into a specific life, and space, flawlessly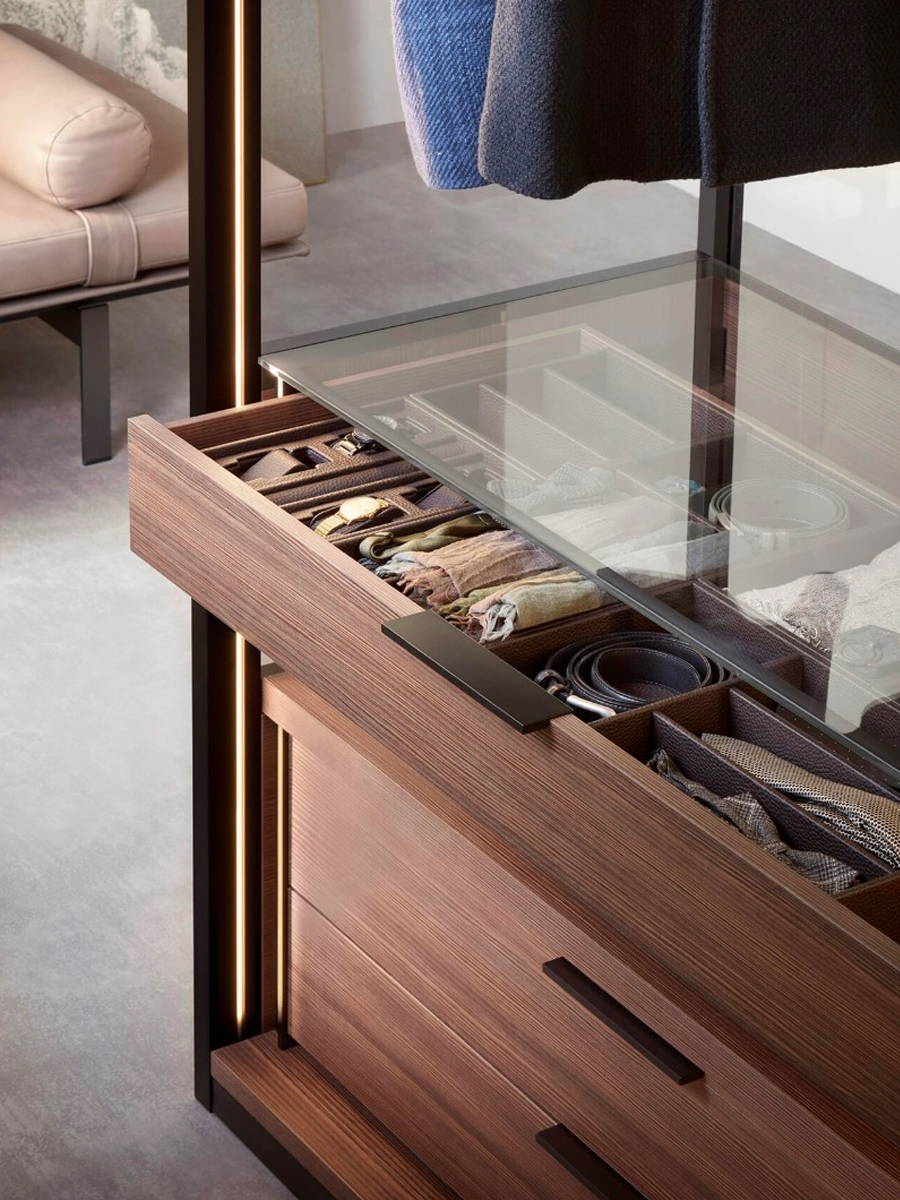 Armadio al Centimetro Wardrobe | Lema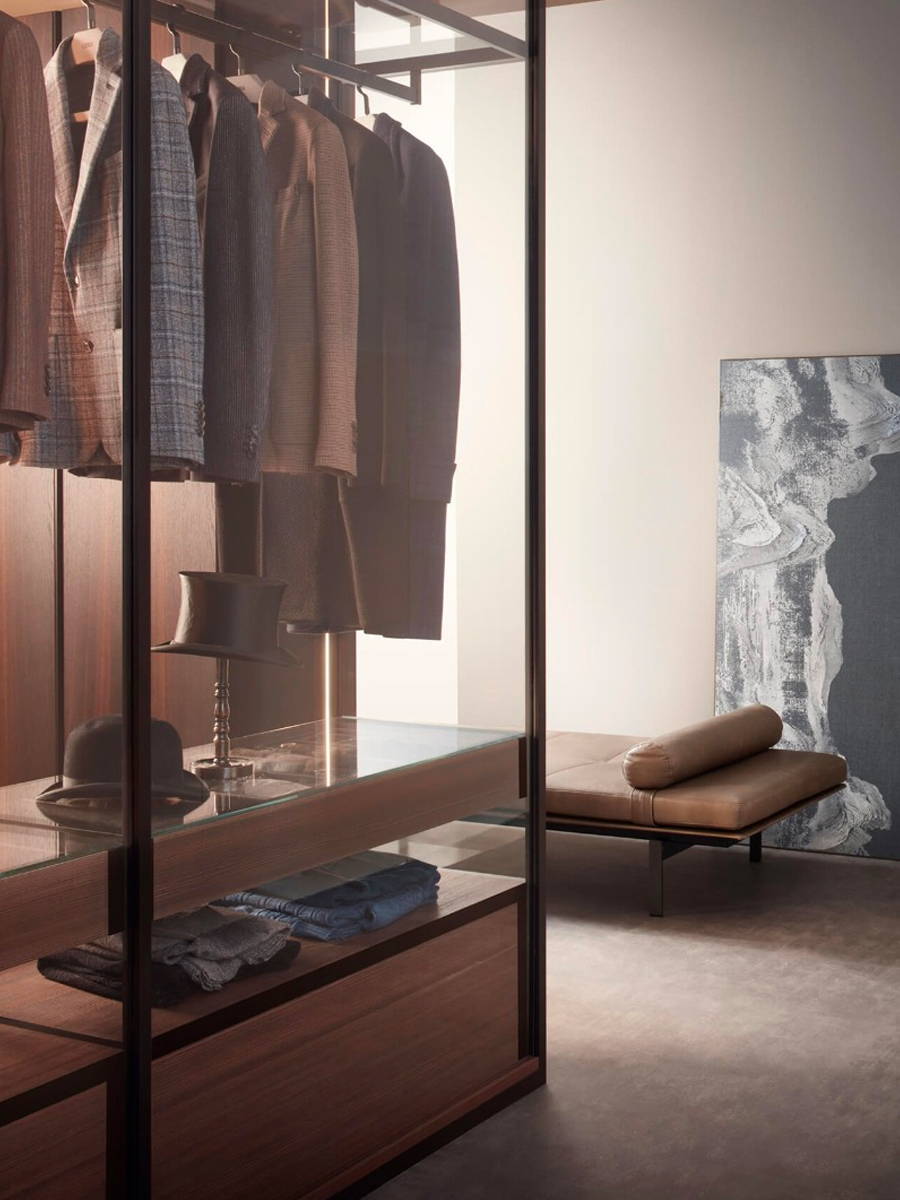 Armadio al Centimetro Wardrobe | Lema
The ever-evolving structures and hinged, coplanar and sliding doors are a fresh dialogue between a practical container and domestic architecture. Its modules can be enhanced with frames and doors by globally celebrated designers, as well as additional systems – such as for working or applying cosmetics – in a stunning selection of custom finishes.
What makes it even more ground breaking, is that all this is achieved with 100% recyclable materials. The sophisticated smoked and transparent glass, rich timbers and subtle melamine backs providing splendour before – eventually – finding their way back into the world as other useful objects.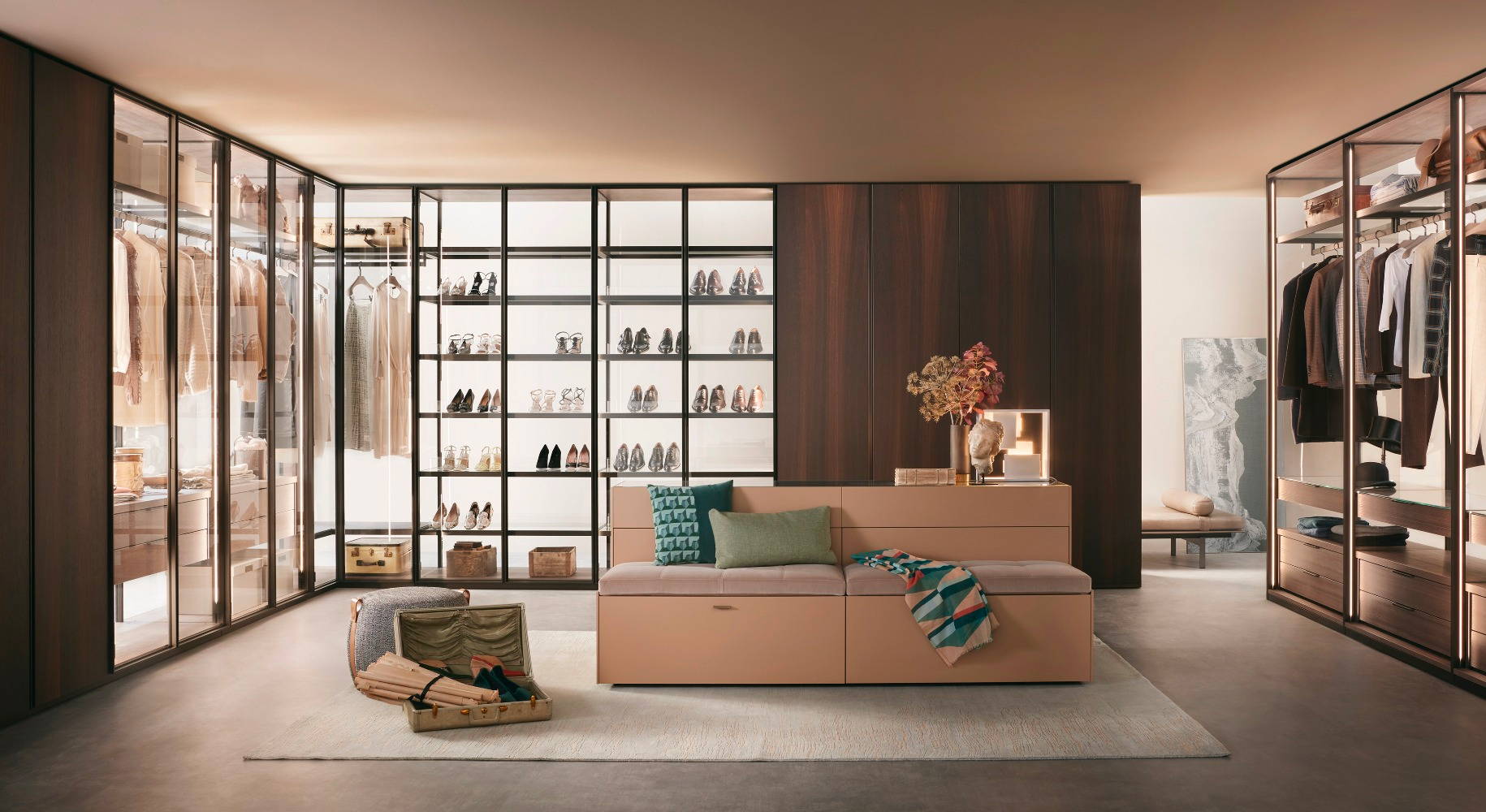 Armadio al Centimetro Wardrobe | Lema
As we go about our hectic lives, what we wear is exposed to viruses, bacteria, odour, and moulds, which can be collected in poorly ventilated environments such as offices, transport and indoor public spaces.
All of the brand's wardrobes can be added to with the patented Lema Air Cleaning System, a cutting-edge device that slides incognito into the furniture piece and purifies the contents, marking another innovative first achieved by the company.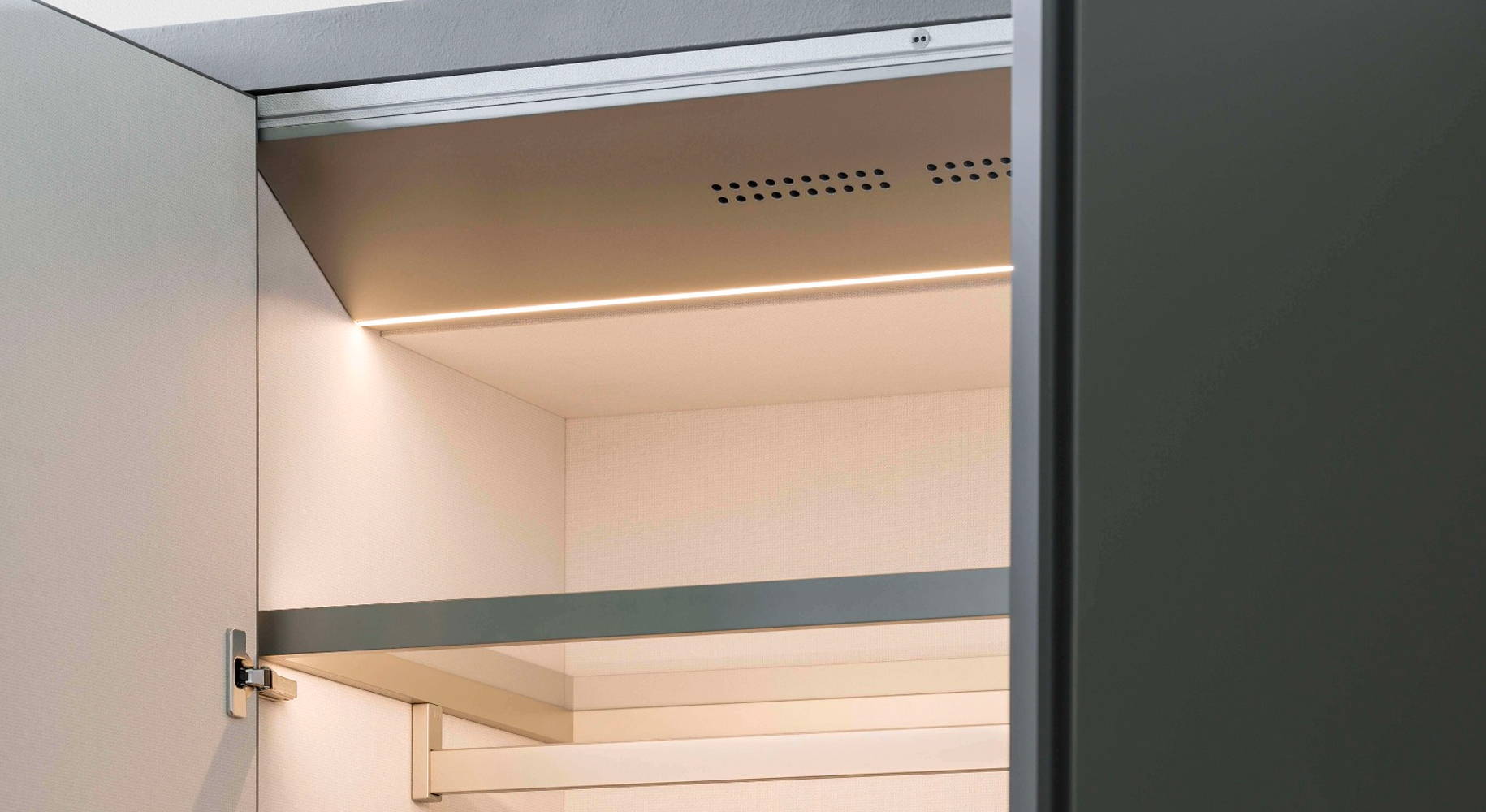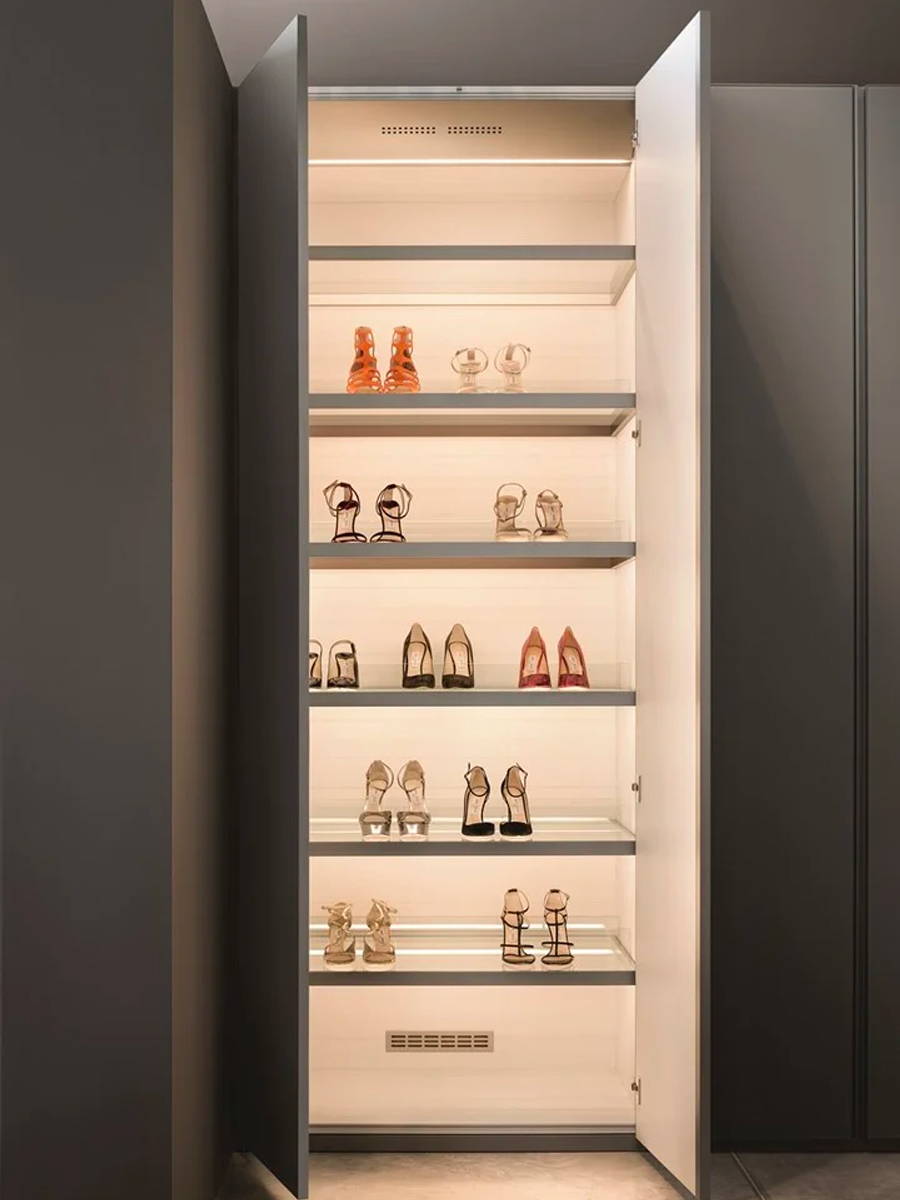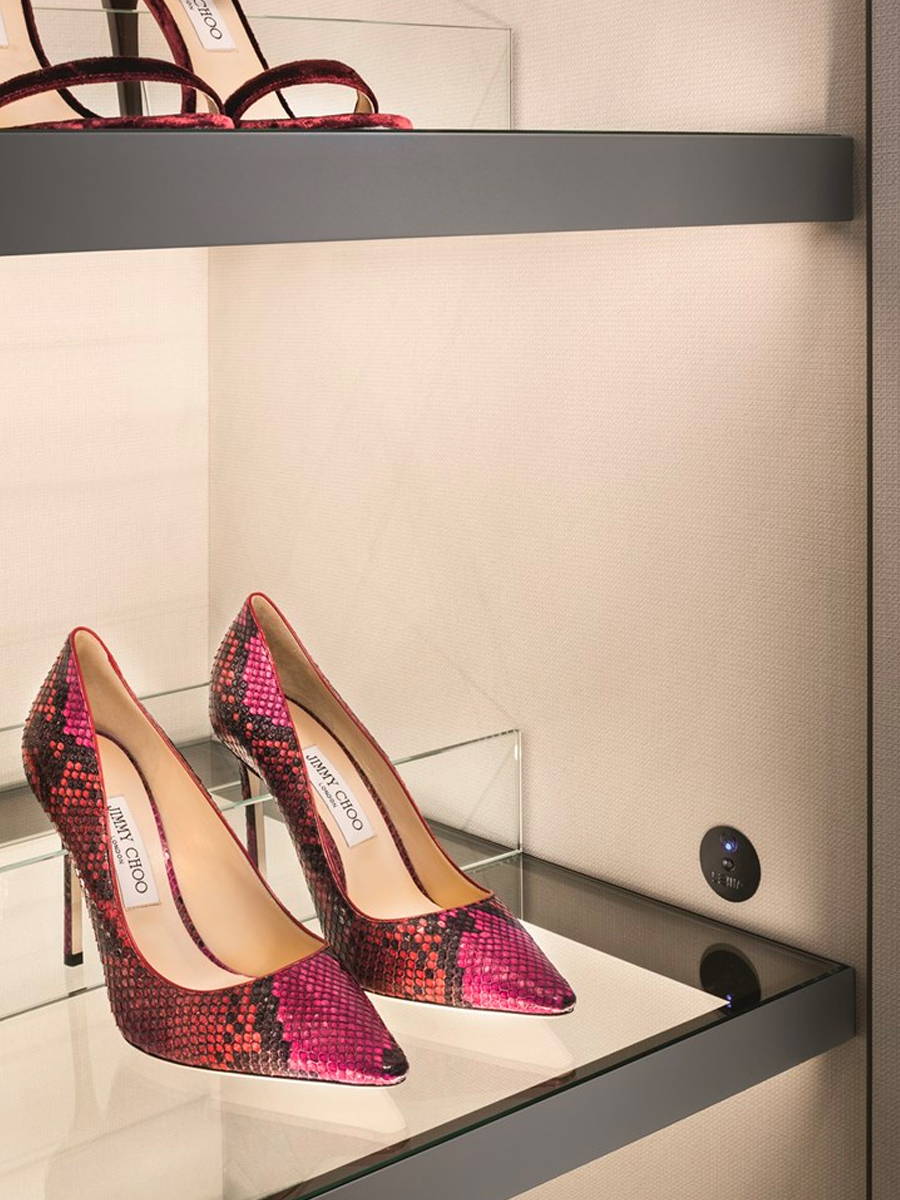 A worldwide exclusive, the Lema Air Cleaning System draws on nano-technology and specialised UV lighting, to produce a photochemical reaction which naturally destroys more than 90% of unpleasant clothing and footwear smells, as well as mould, pathogens such as Covid- 19, and other substances which can cause allergies and respiratory problems.
Lema's Air System combines Italy's craft sentiment with efficient sanitation, which is the result of over a year of research. In action or not, it hovers imperceptibly within the wardrobe, its sleek, modern design camouflaging it and maintaining the inner design's refined, contemporary aesthetic. When at work, it sanitises the entire wardrobe, quietly and non-toxically using the same pioneering technology employed in the medical and aerospace industries, fostering peace of mind alongside its smart functionality and undeniable Italian good looks.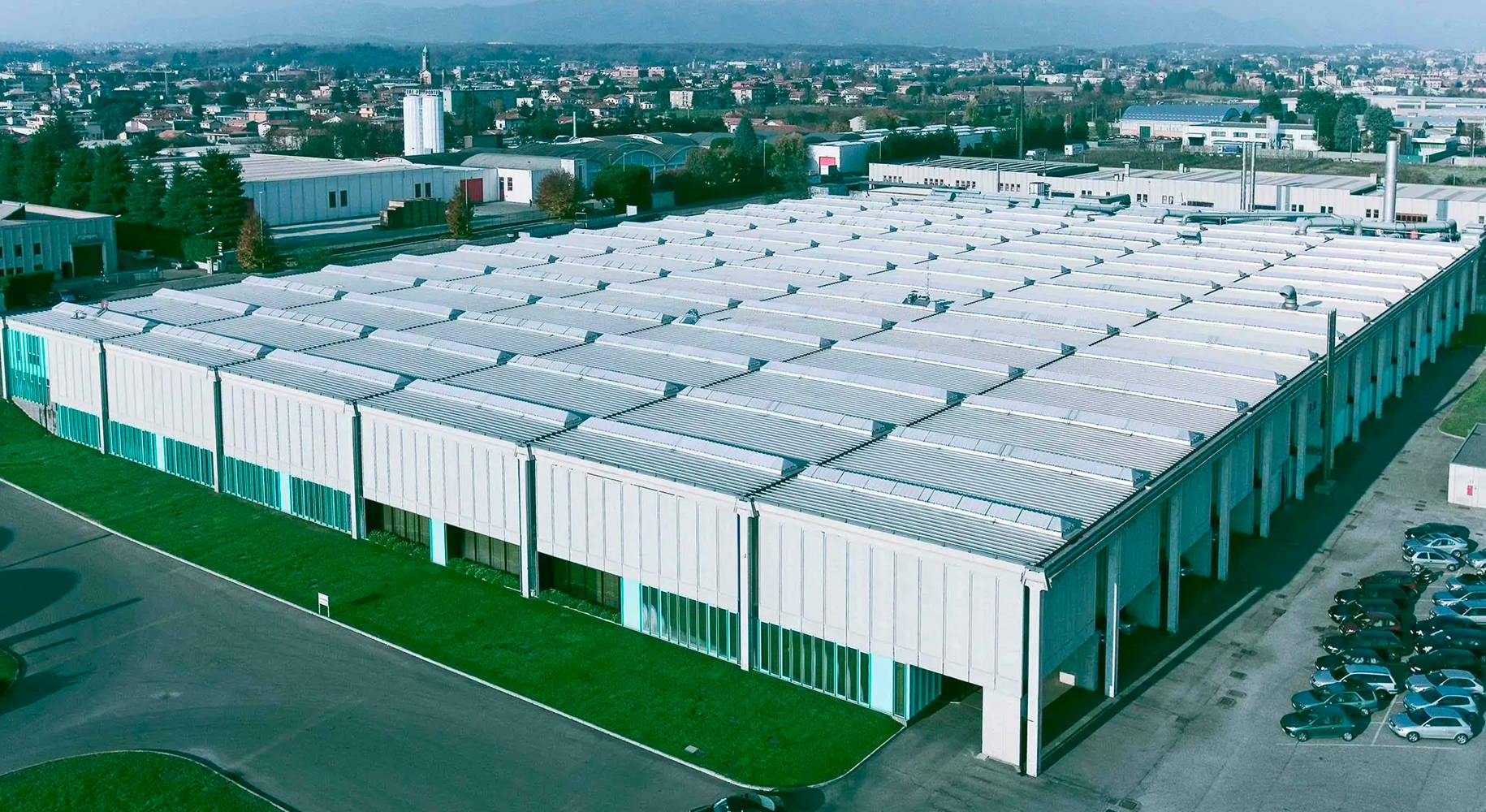 Where the magic happens | Lema Factory, MIlan
Discover the wider world of Lema Furniture below