Illuminating the streets, showrooms, salons, patios, parlours and palazzos of Italy's style capital, Milan's inimitable furniture fair Salone del Mobile got its glorious groove on last week, as the interiors glitterati from around the globe descended. With the air humming with anticipation and energy, there were unveilings at every turn as the industry's most luxury brands presented pieces that will come to define the next interiors season.
Our homes have come a long way since we were last here. Namely, we spent 2022 throwing the doors open and letting nature in, from every bucolic colour to organic shapes and new found-in-nature materials, creating a soothing, sometimes ethereal, mood. This year? Things are ramping up. Statement colour is here, bringing with it doses of joy, happiness and hopefulness. Textures are growing bolder, adding playful twists to elegant pieces, and shapes have taken a turn for the whimsical. Our homes are becoming places which make us smile – while remaining stunningly beautiful and carefully considered, of course. It's an elusive balance, but one which is merged into individual designs to make curation all the easier and more enjoyable.
---
Chunky Boucle
There is boucle and then there's heavy, oversized, statement boucle, and it was big, brazen bumps that dominated Salone del Mobile 2023's upholstery. A way to give life to neutral shades and add extra oomph to colours, bold boucle says, 'Here's where the funs at,' inviting hands to nestle in and explore. With the larger looped pieces in the fabric creating a thicker texture and deeper shadows, the oversized boucle gives a light-hearted wink to whatever it's covering, be it framed with an exquisite piece of crafted walnut or topped with bright, furry cushions.
Ridges
Creating subtle yet characterful decoration, ridged markings and upholstery hit Salone hard, with furniture and accessories alike adorned with subtle stripes cut into solid materials and tailored onto the soft. Instantly adding a three-dimensional effect and forming a layer of shadows, ridges pull the eyes into them, highlighting the contrast they create and inviting you to re-examine their base material. The overall effect is one of craft and delicacy, the lines emerging gradually to form a pattern that's simple and striking.
Textured Glass
The ambience this year is hazy, dreamlike and illusory as textured glass takes over, casting beautiful, almost watery, shadows which transform a room into something ethereal and otherworldly. From textures embodying the organic to gentle patterns, in furniture, large textured glass slabs create the illusion of water frozen mid-movement, while lighting is embracing ever-so distorted glass shades, throwing a layer of mystery over their surroundings come nightfall.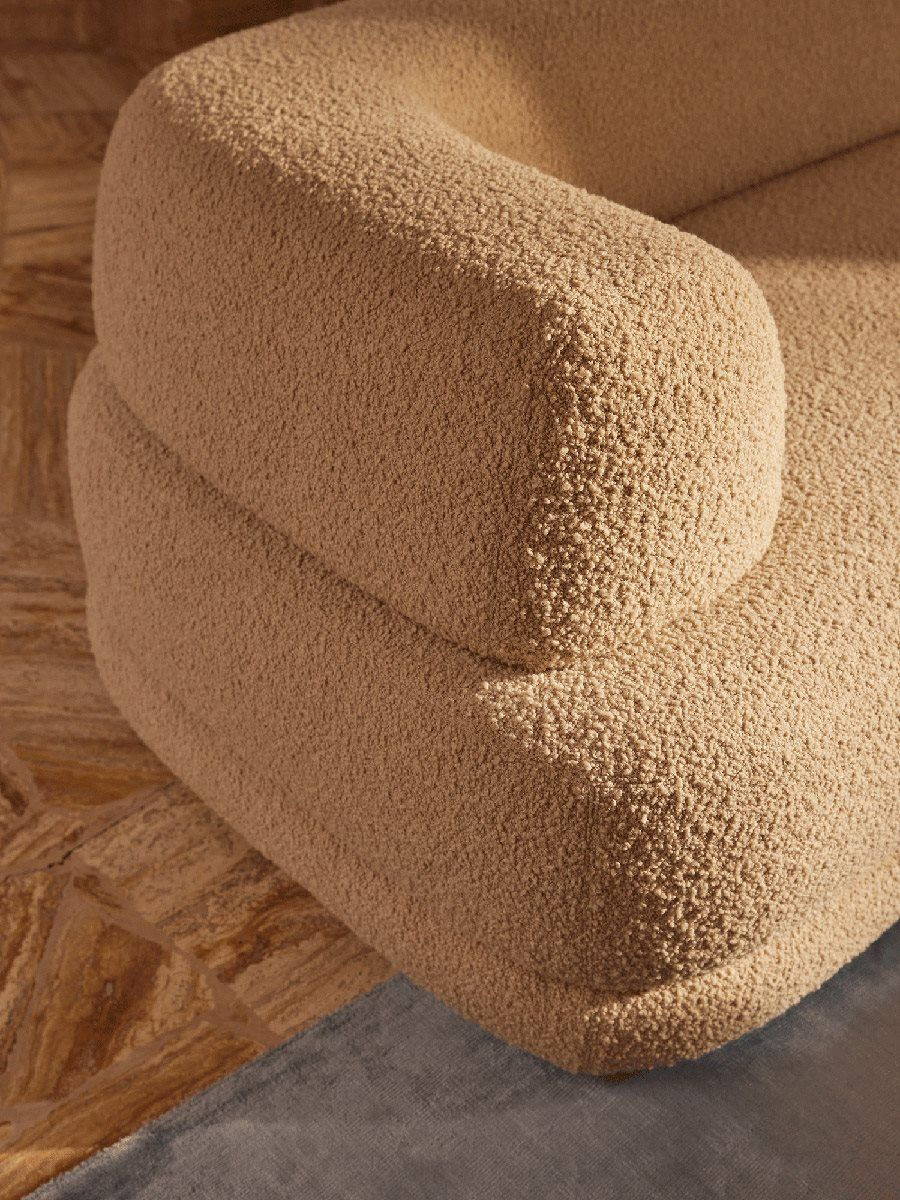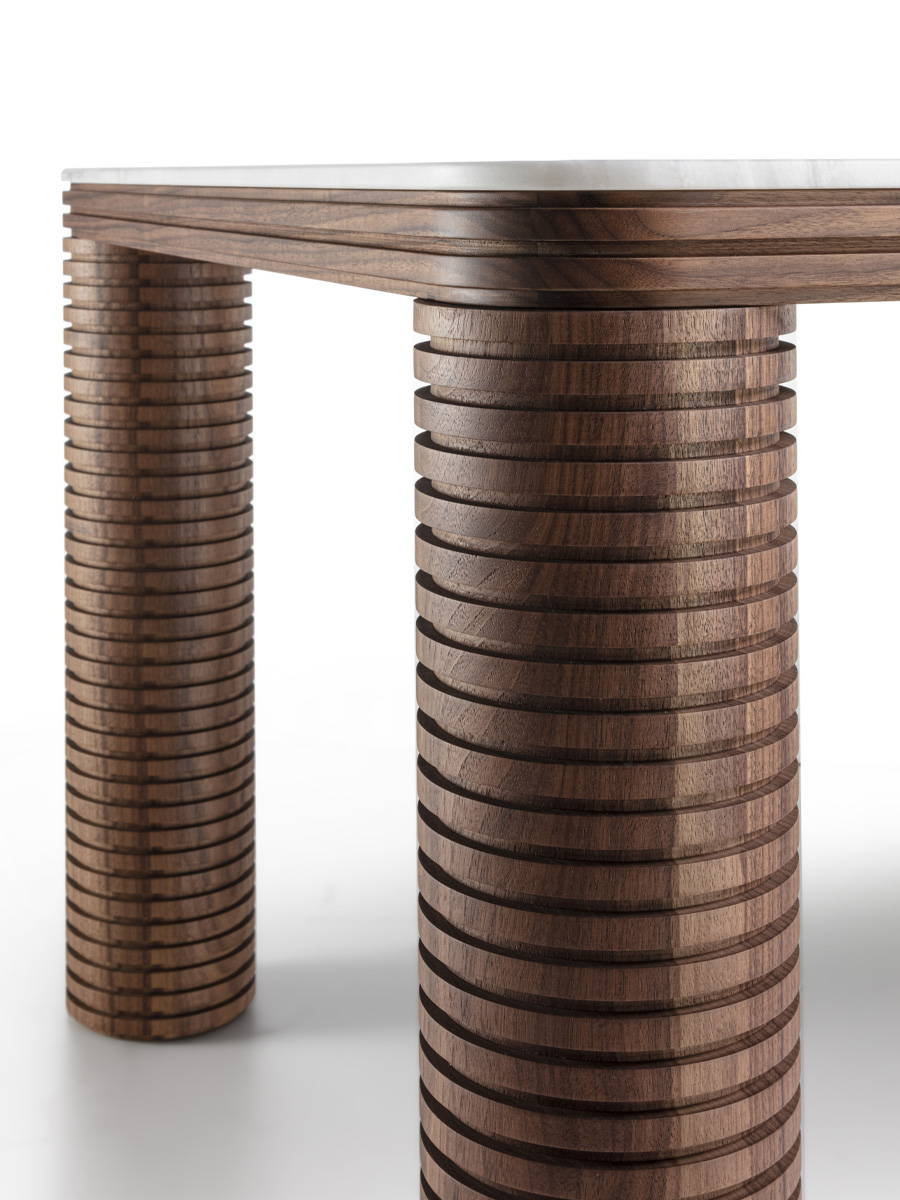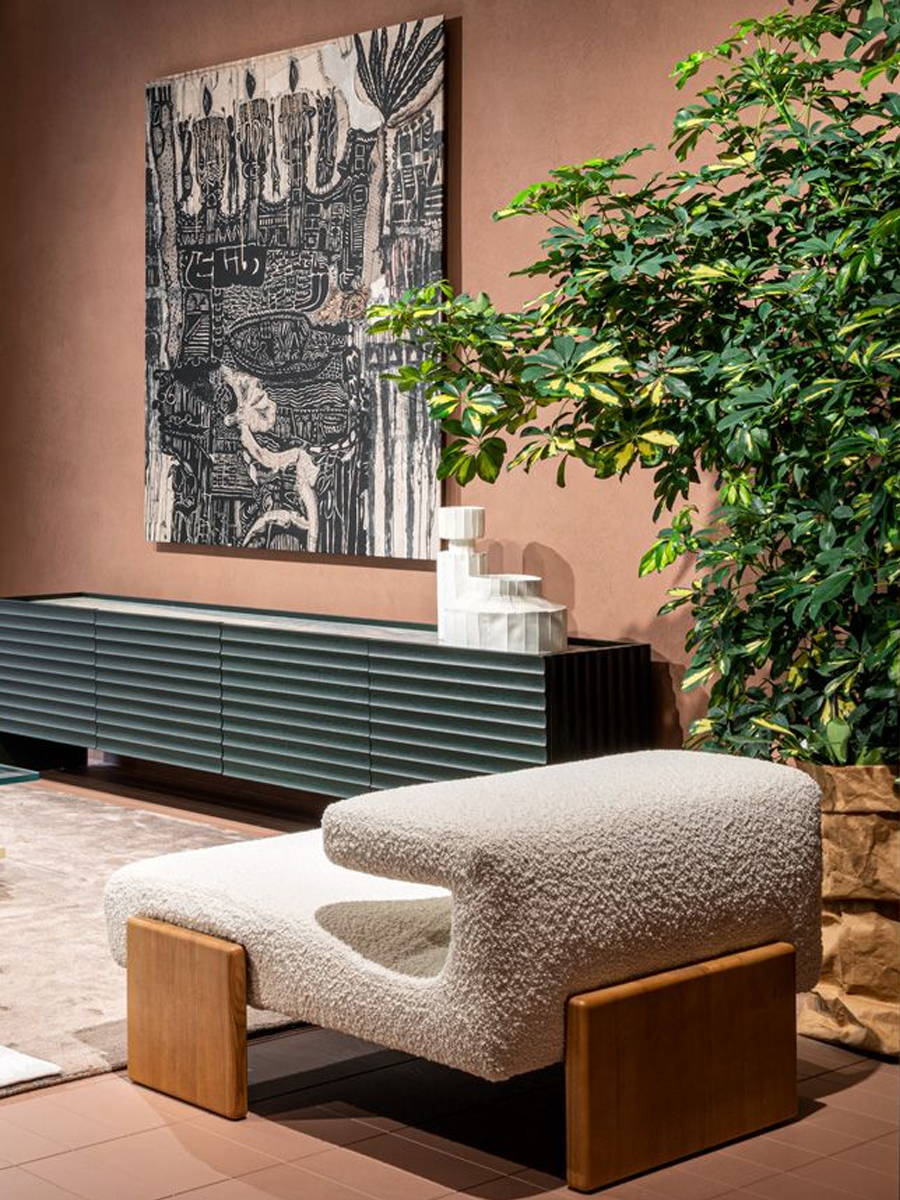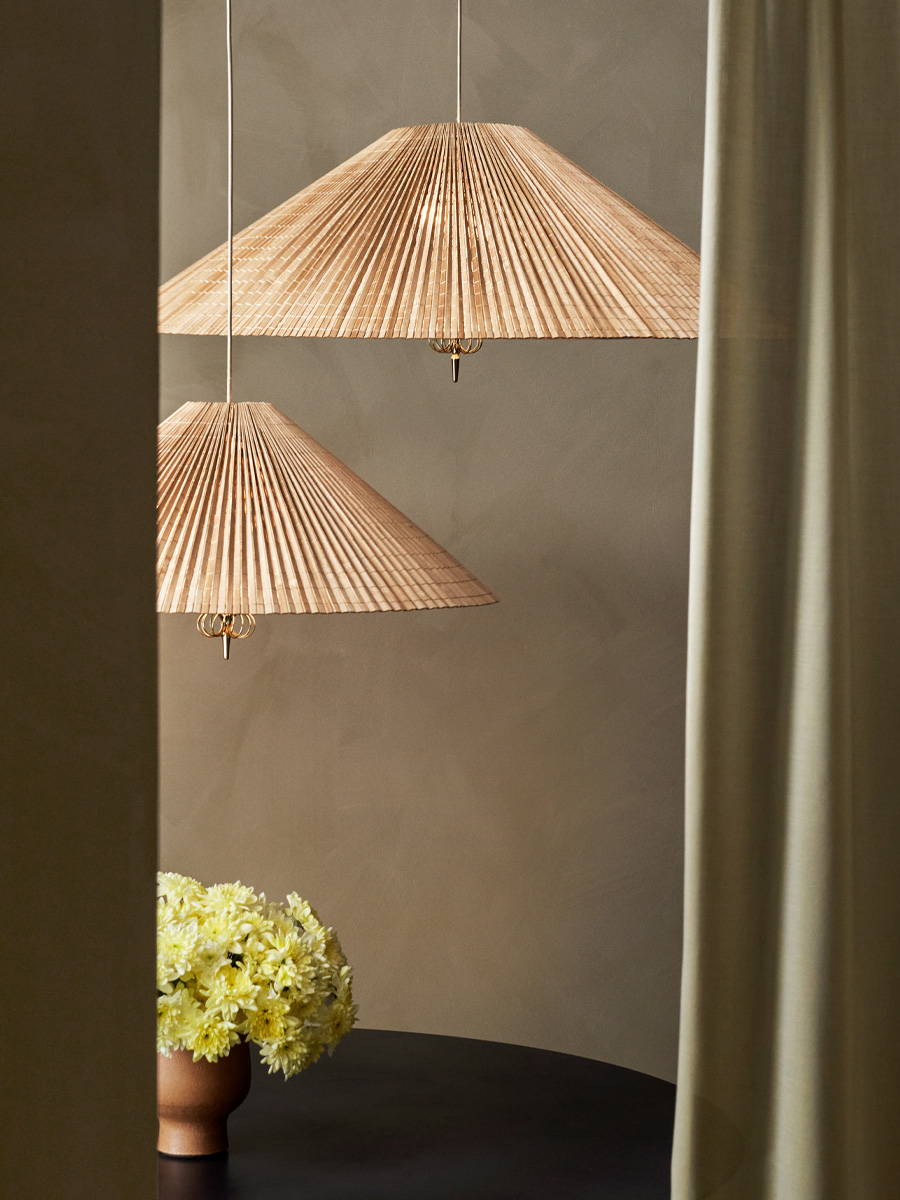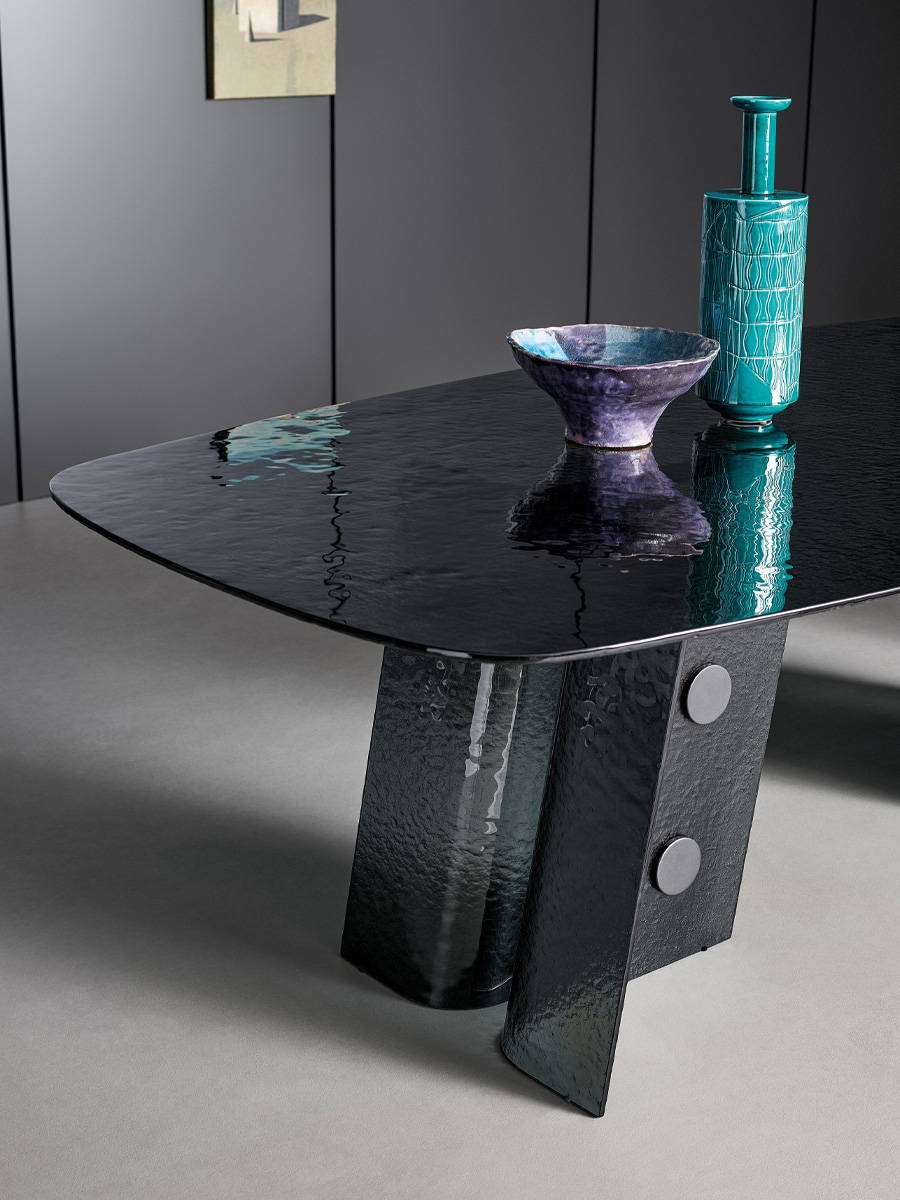 ---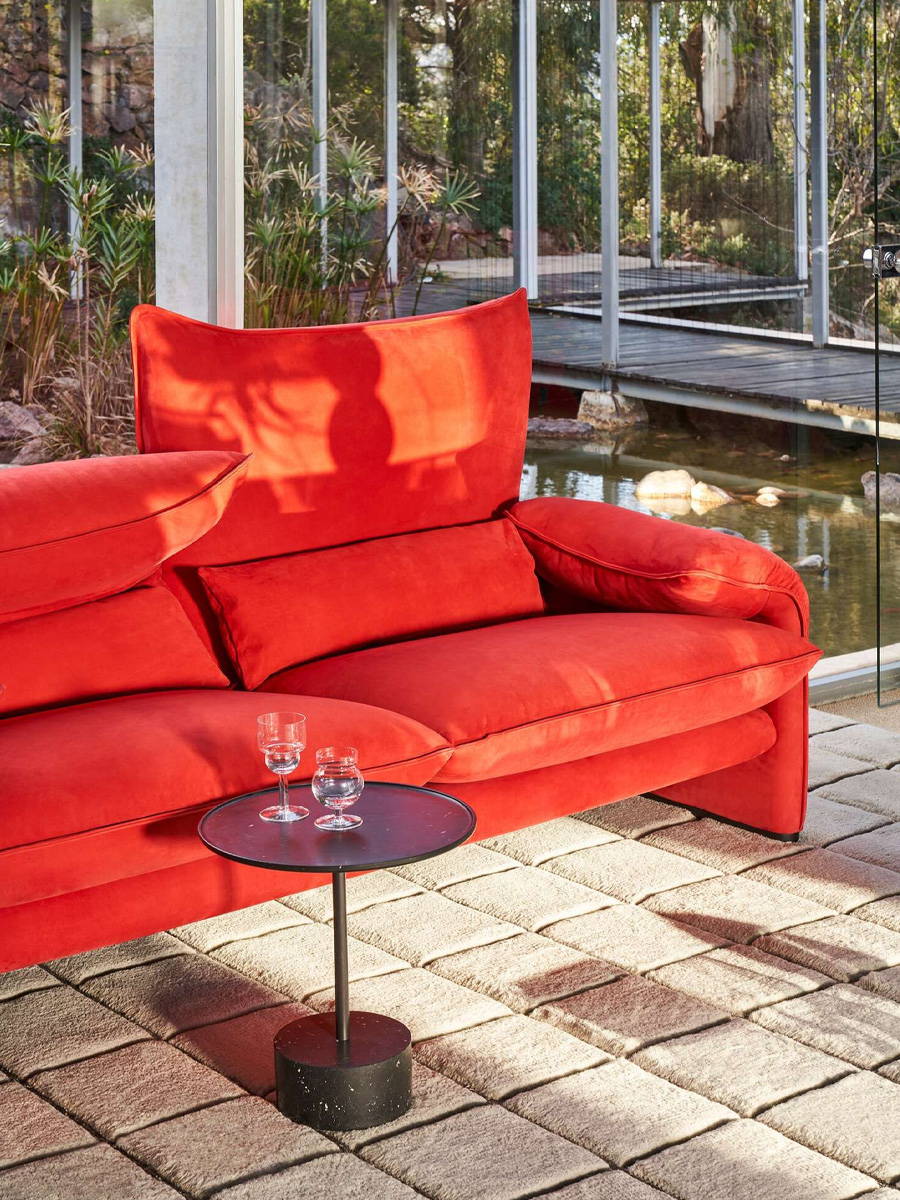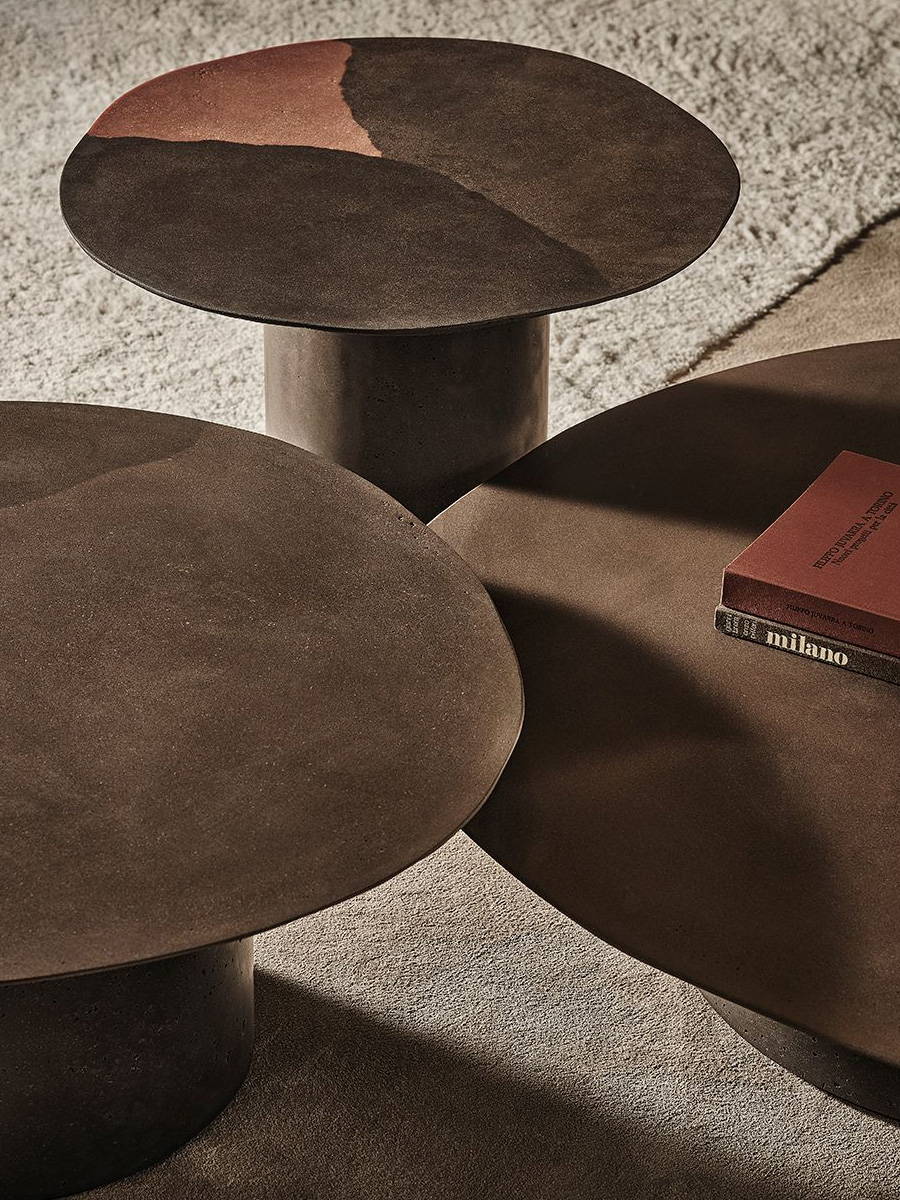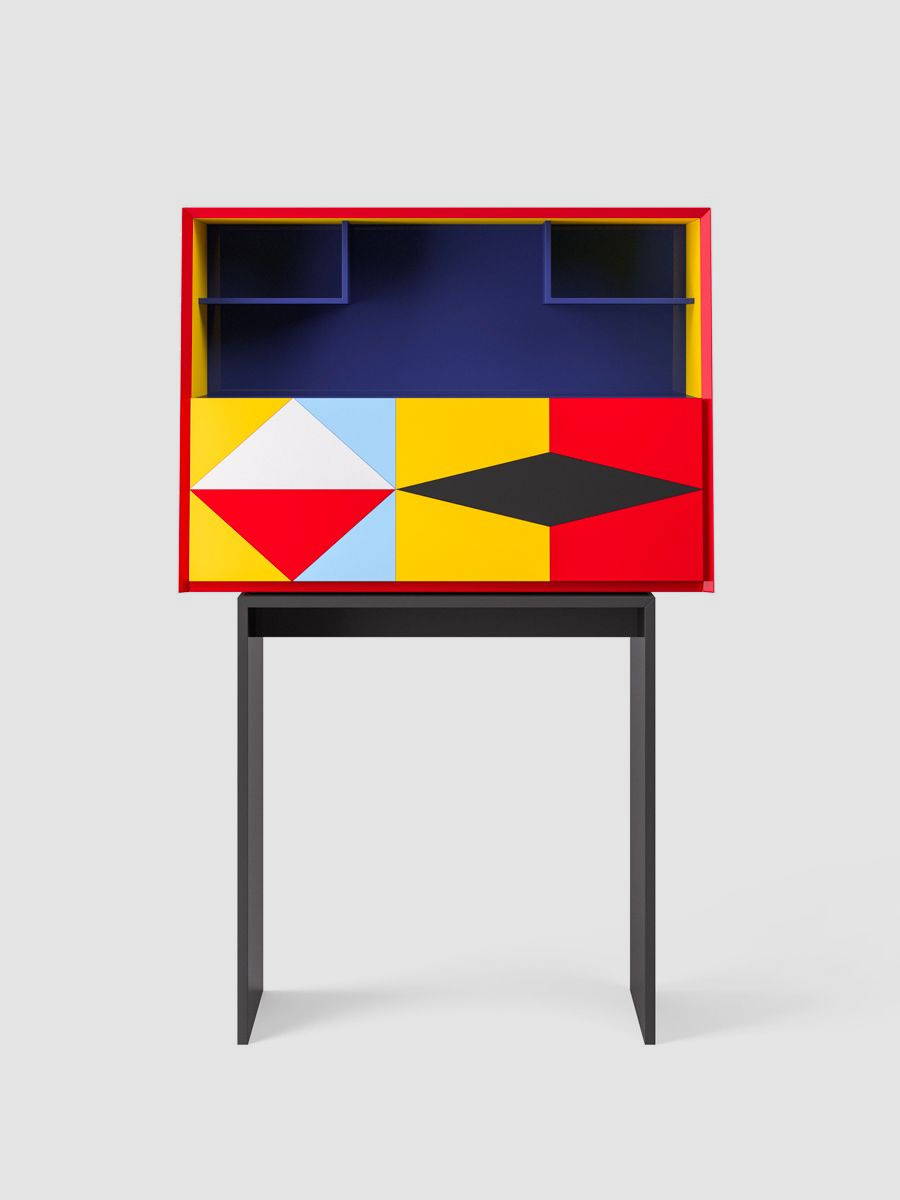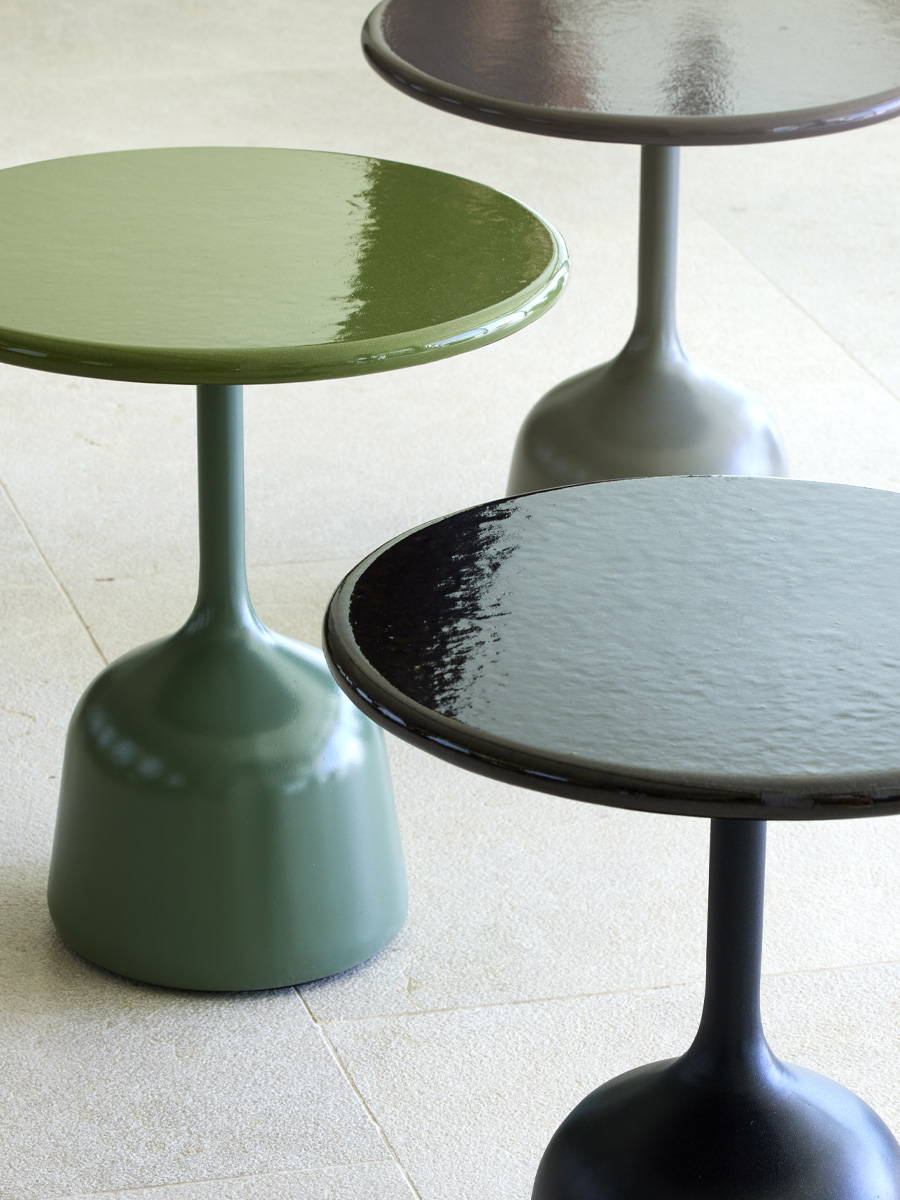 Primary Tones
At the top of the brightness scale this year are vivid, primary tones as interior design trends for 2023 take a turn for the kaleidoscopic. Playful and nostalgic, these happy shades remind us of our youths and bring intense splashes of energy inside. Introduction on simplistic designs big and small which let the colour itself create impactful bursts of joy and positivity.
Mediterranean Tones
Sunkissed, Mediterranean, earthy tones are where it's at for colour that makes a statement without being too dazzling. Green has been the darling of the interiors world for several seasons as we've sought to become more grounded, and this year a rich olive has emerged as the trending tone. Falling somewhere between neutral and bold, it speaks not only of nature but of tempting warmer climes and endless lazy days. Sun-baked terracotta red also dominated, the brick-like tone conjuring even more tranquil images of tiled roofs disappearing into the horizon. And relax.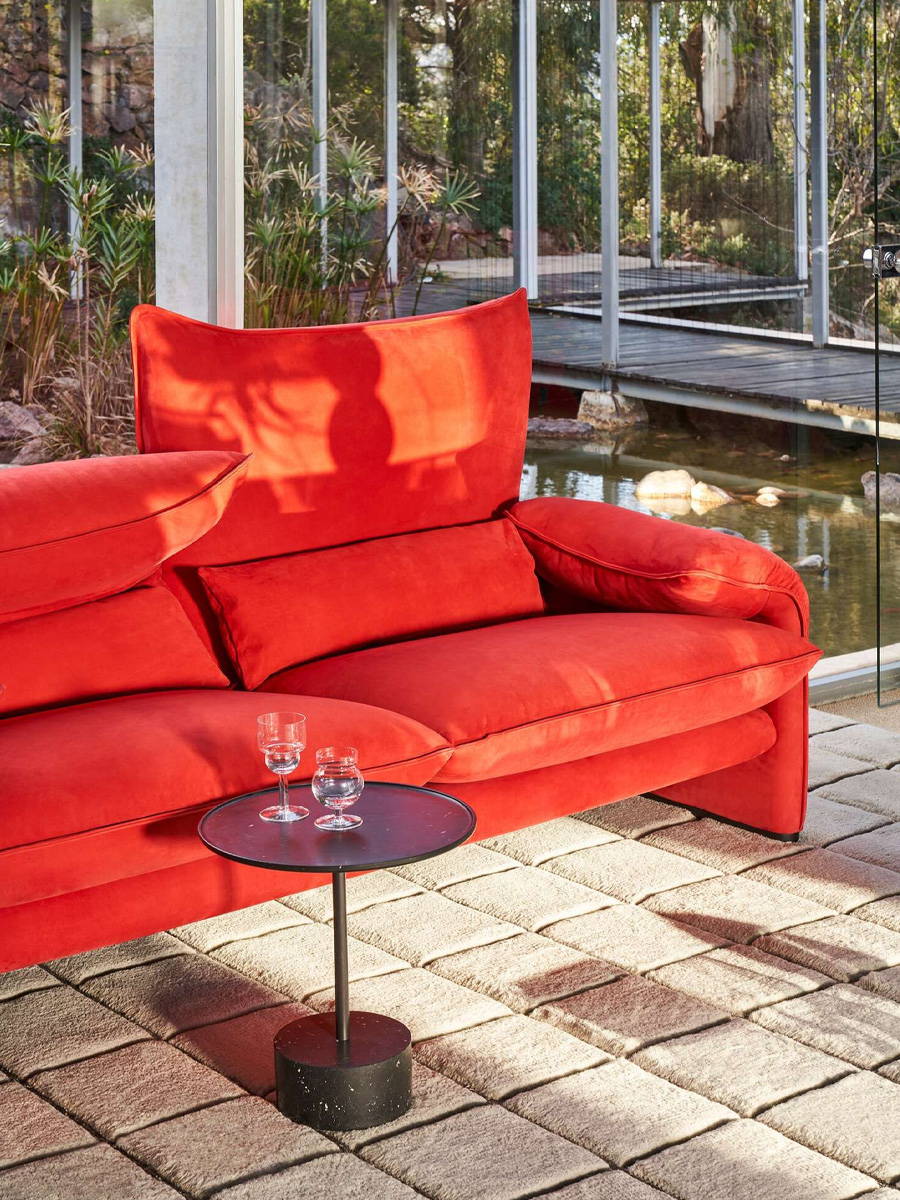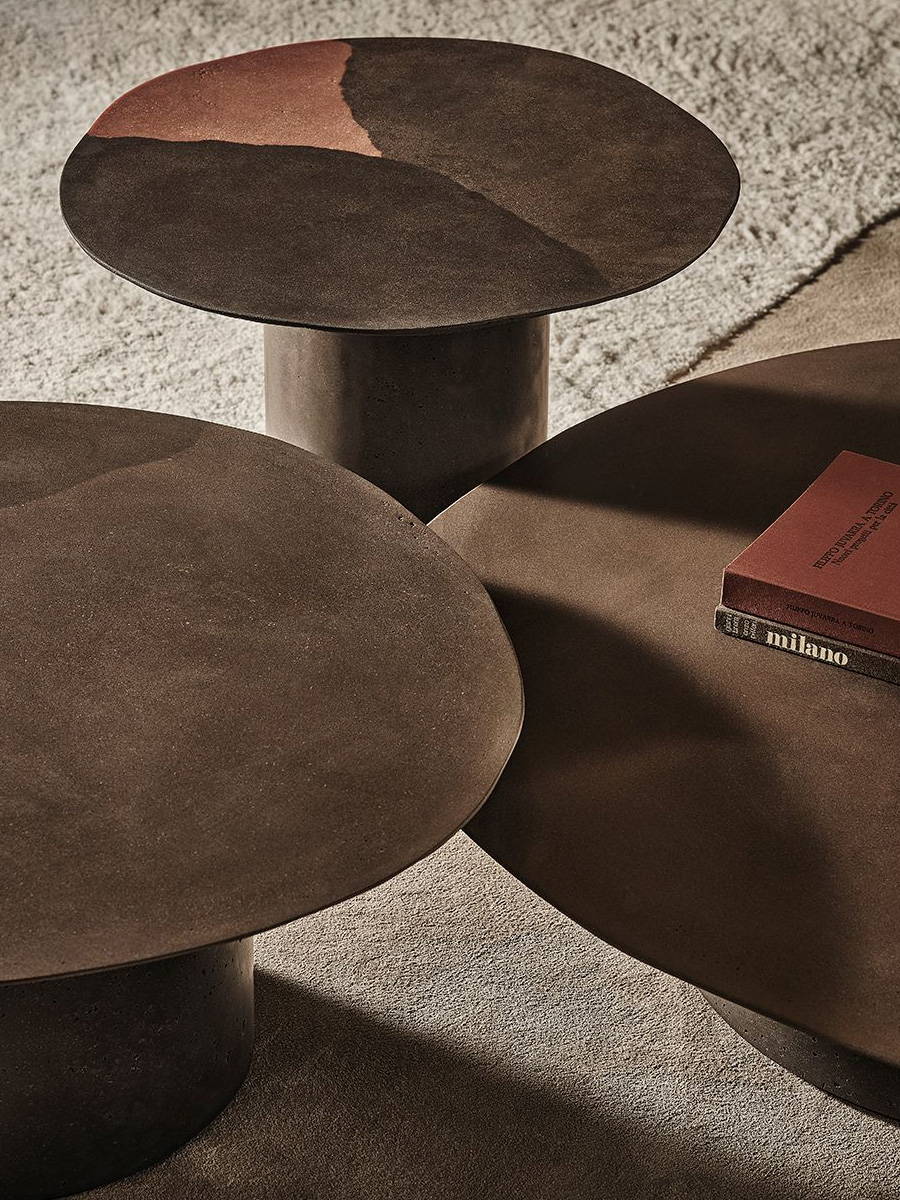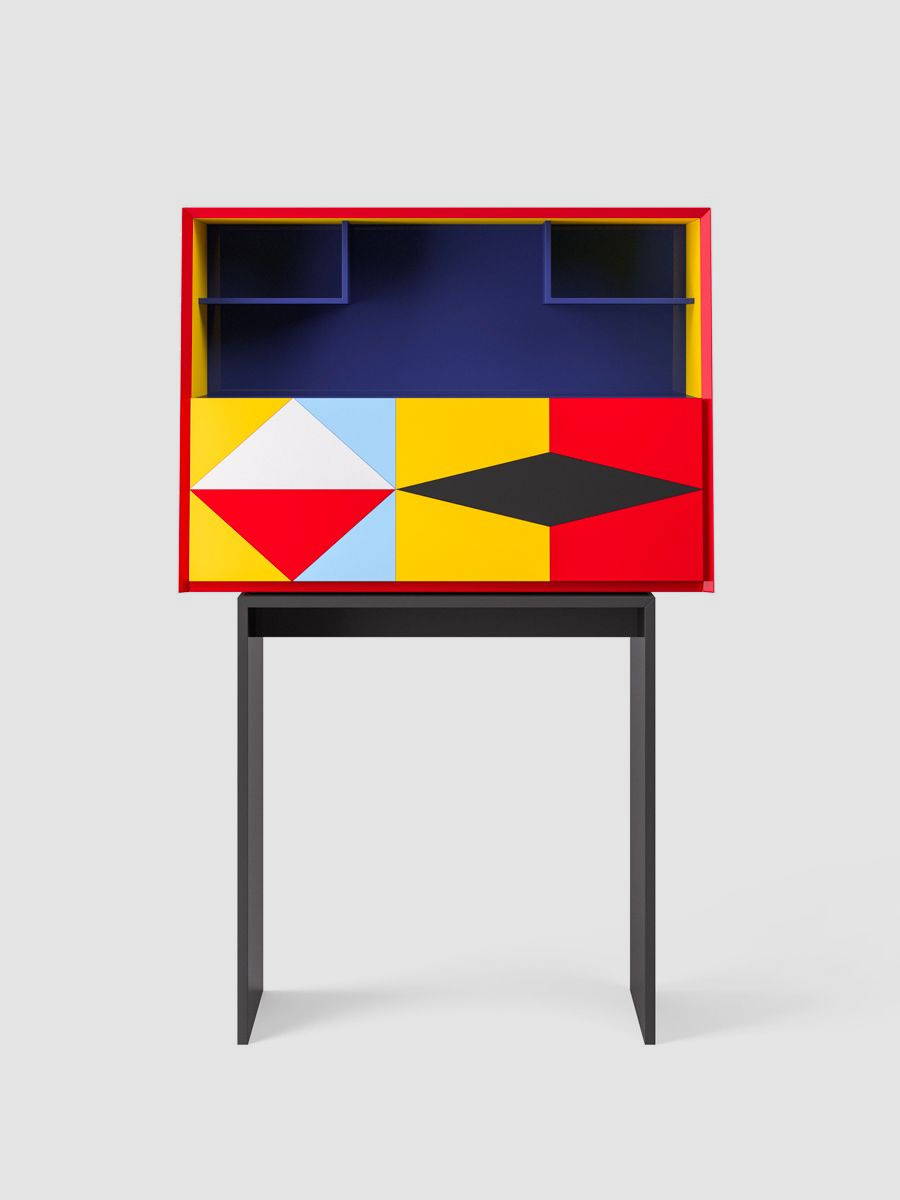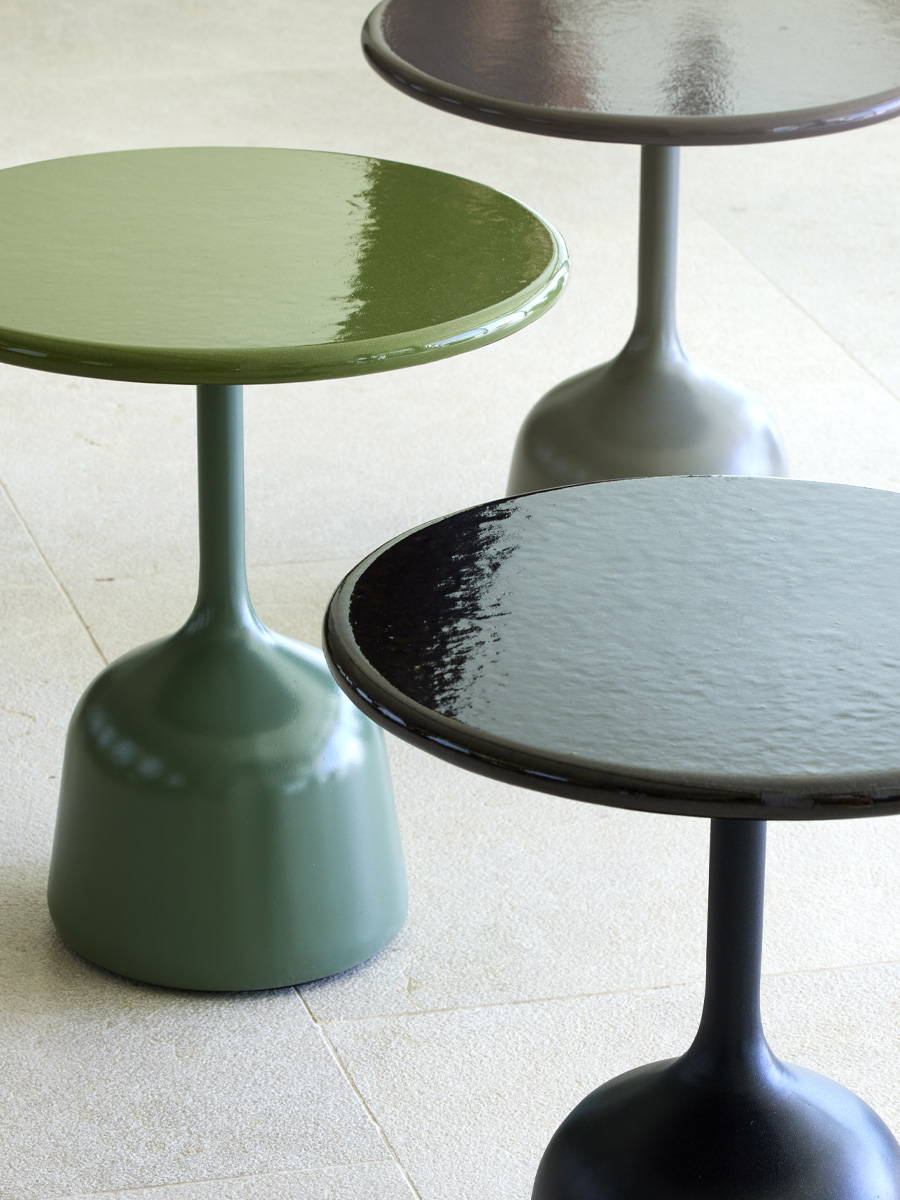 Dusky Pink
For something colourful as well as calming, it's dusky pink all the way. Suspended between pink and grey, this isn't a sickly, classically pretty tone, but rather a dash of sweetness to top off a room. Used on accent pieces: a chair here, a cushion there, maybe the odd sofa – the hazy shade creates a slightly dreamlike feel, a sense of whimsy that's at once delicate and daring.
Tan Upholstery
Smooth, buttery soft, tan leather is all we'll be sitting on this year. A tempting toffee tone took over sofas, chairs and upholstery in general across Salone, its laid-back vibe nodding towards the 70s and drawing attention to the beauty of shapes, tailoring and material combinations. With more punch than beige, think of it as an easy-yet-statement neutral, its milky, flat white-esque shade relaxed as well as elegant.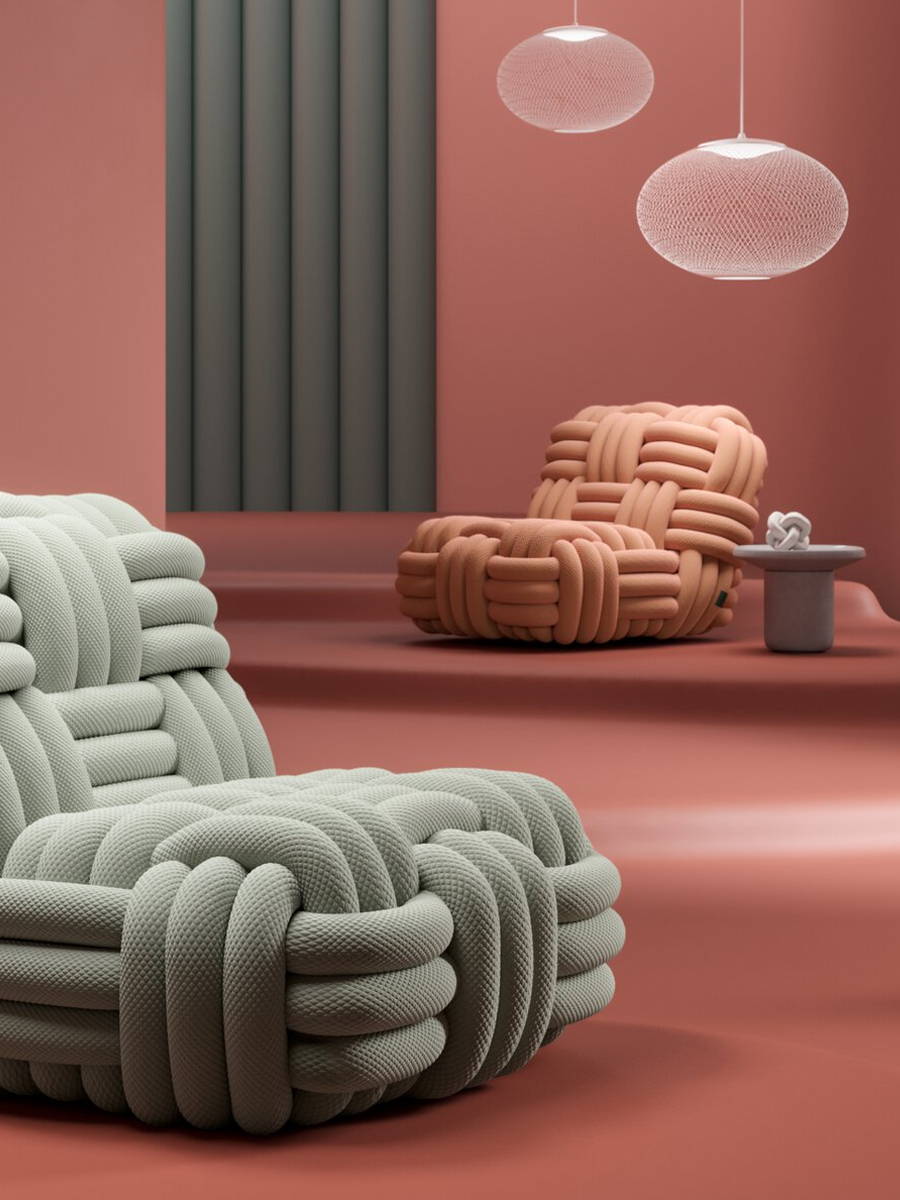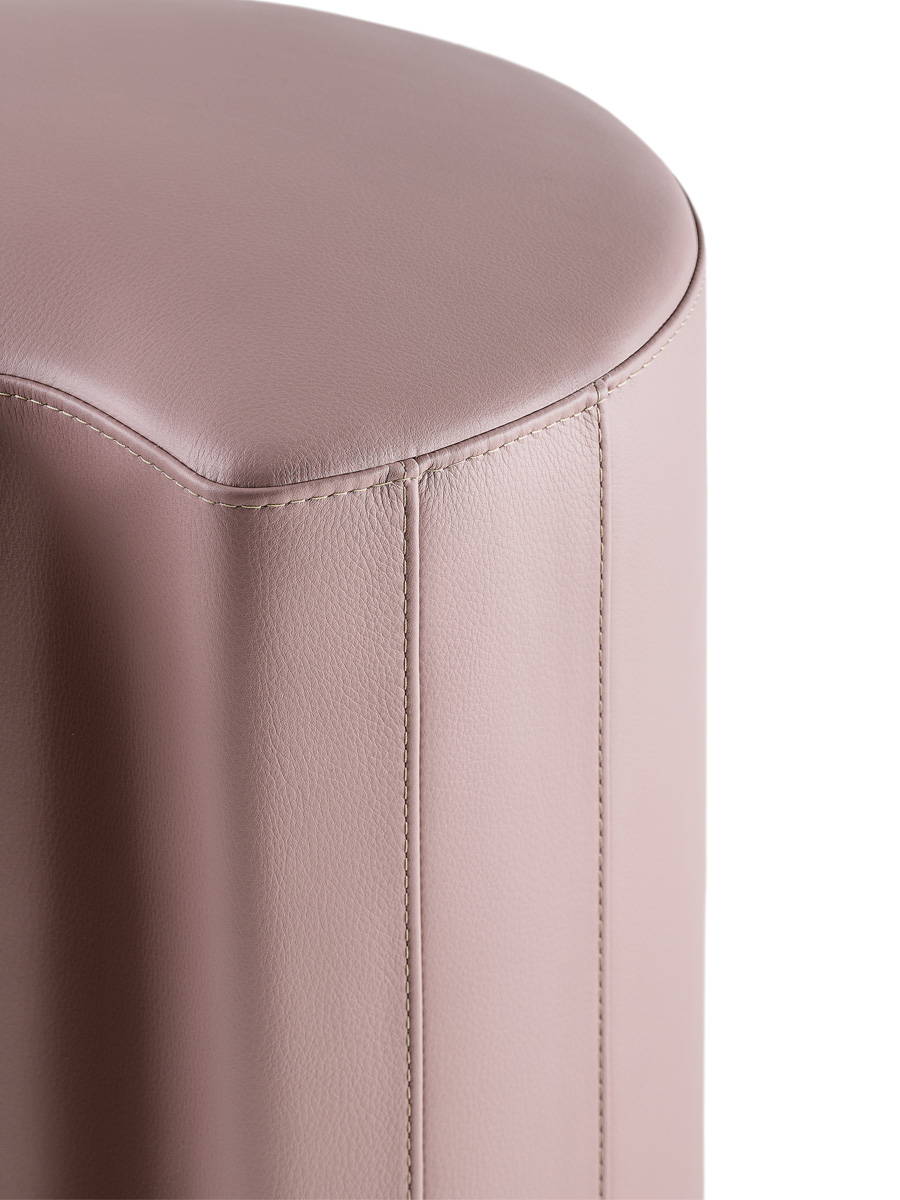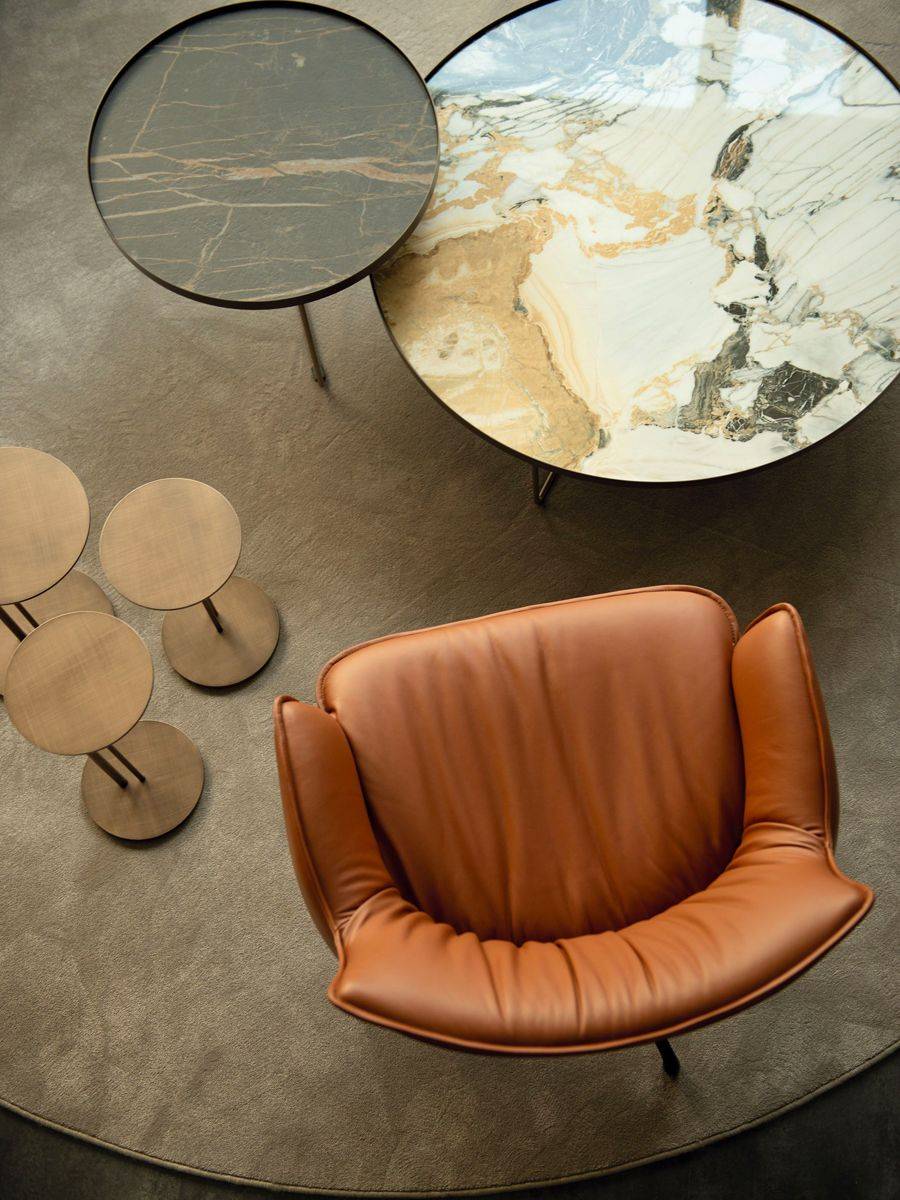 ---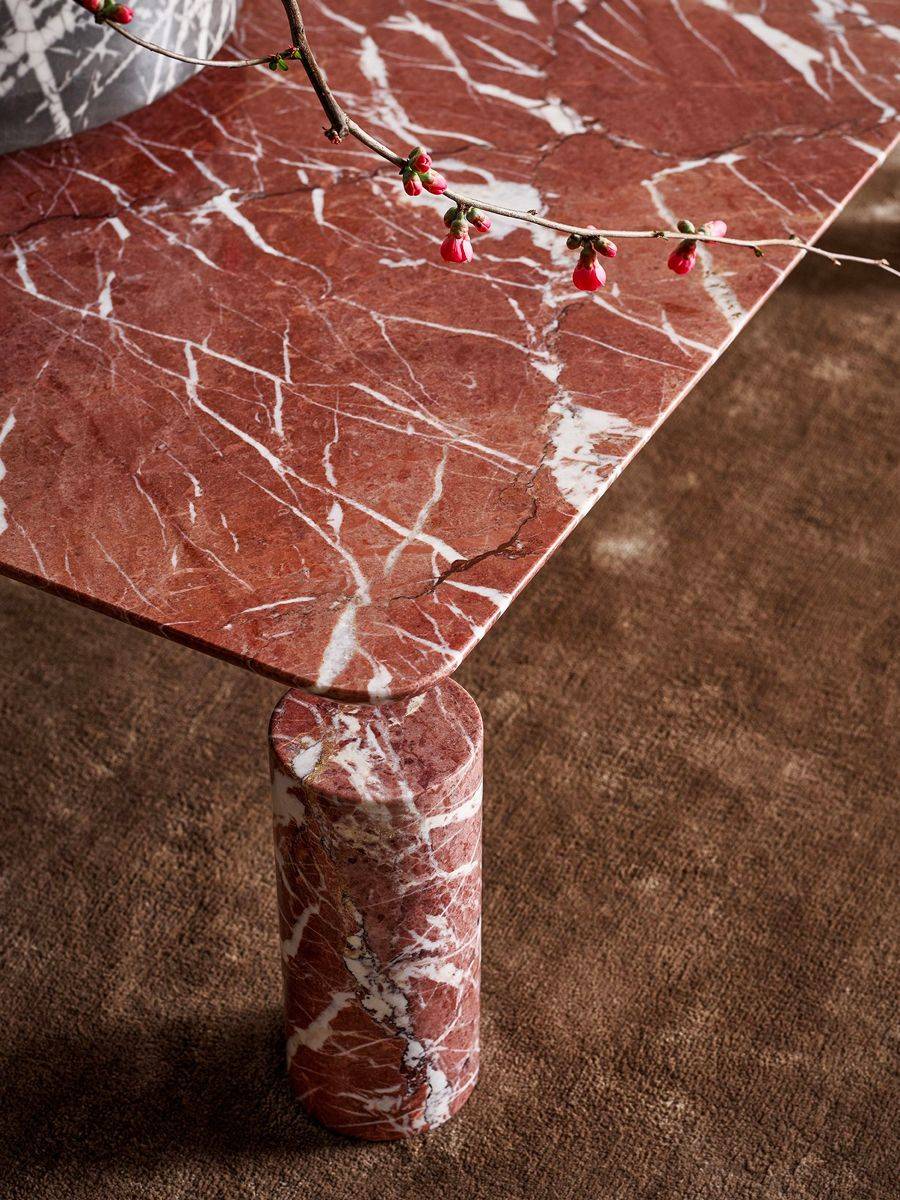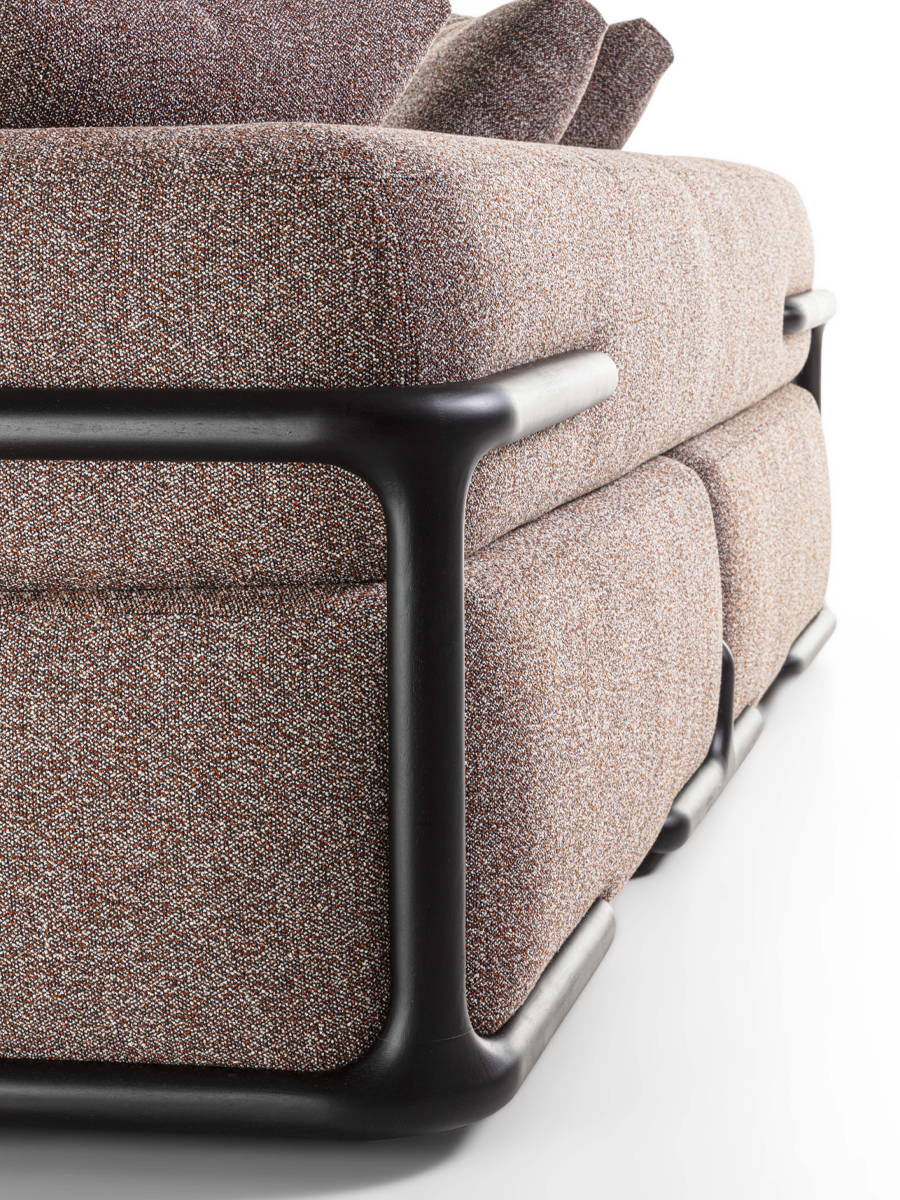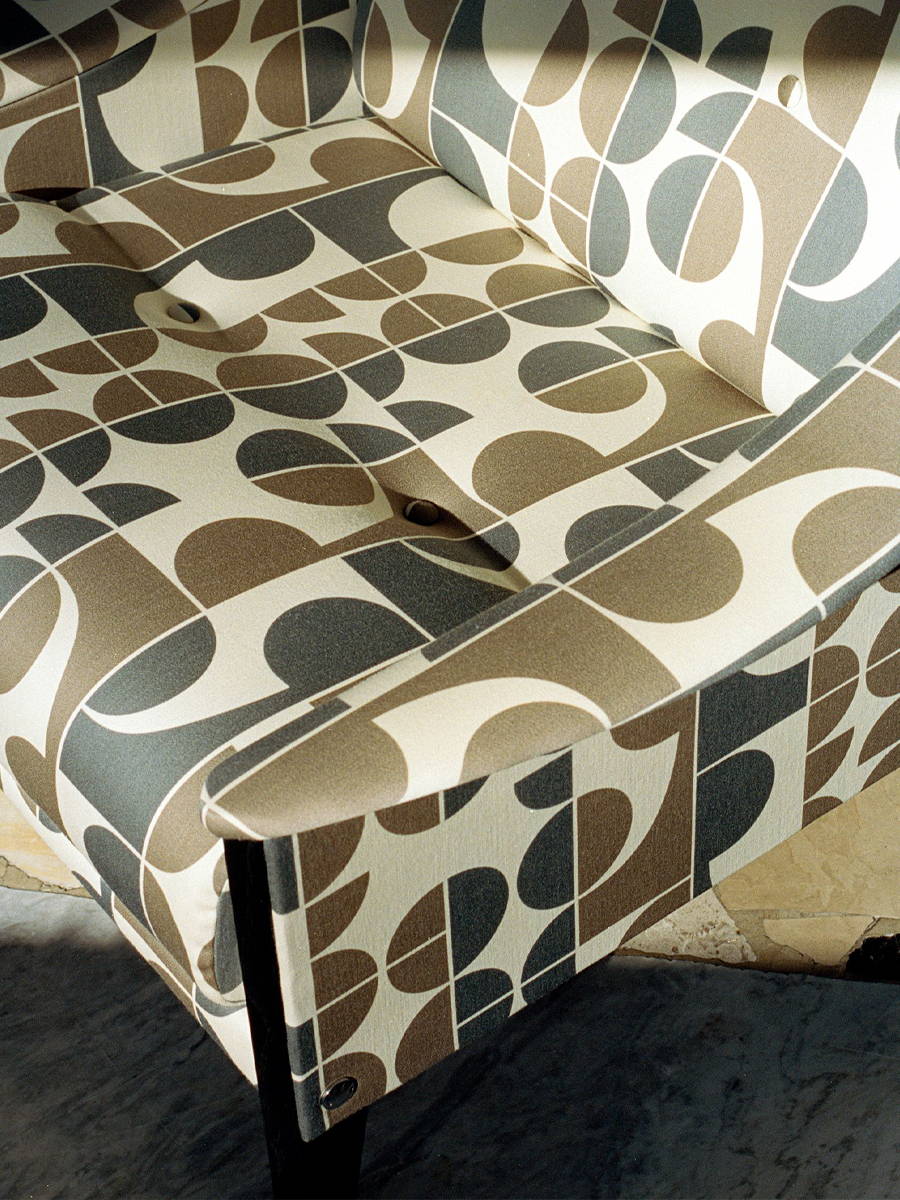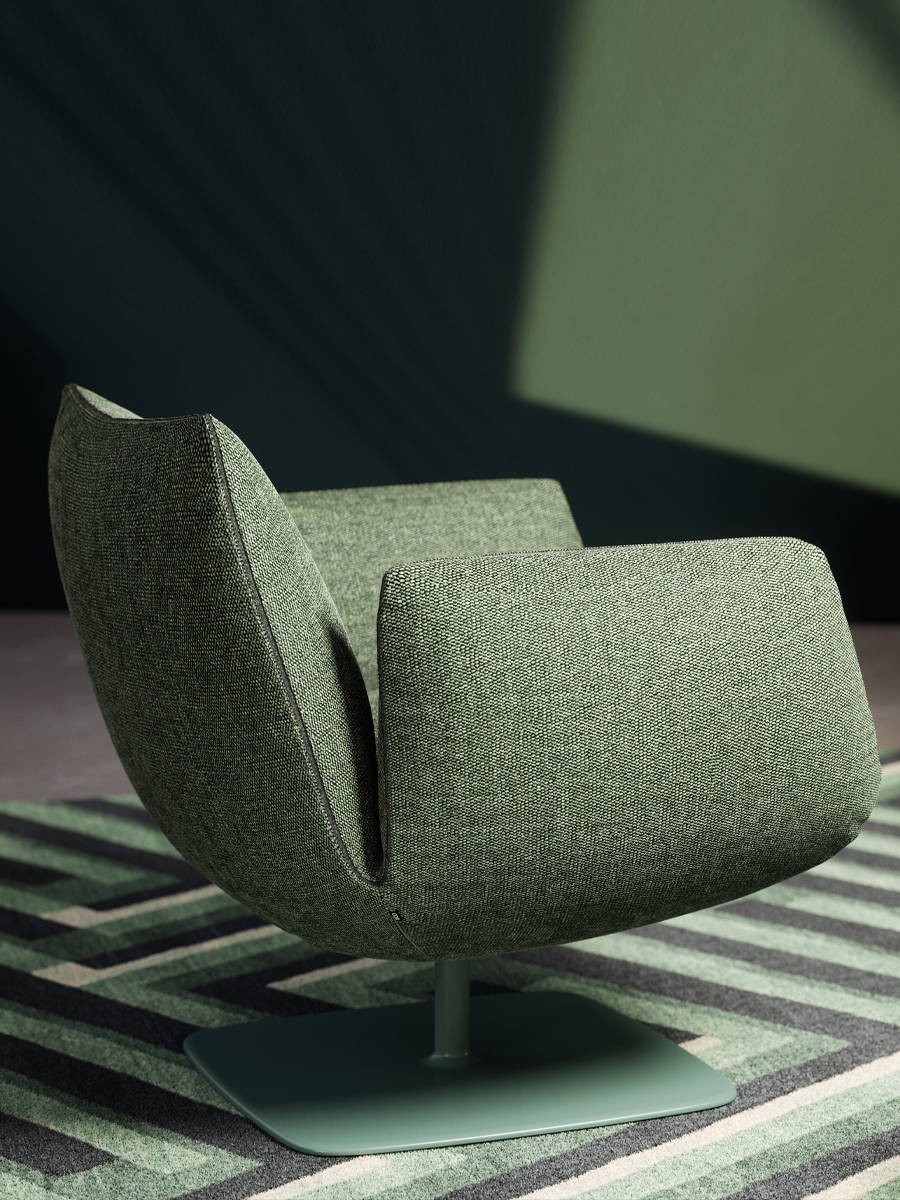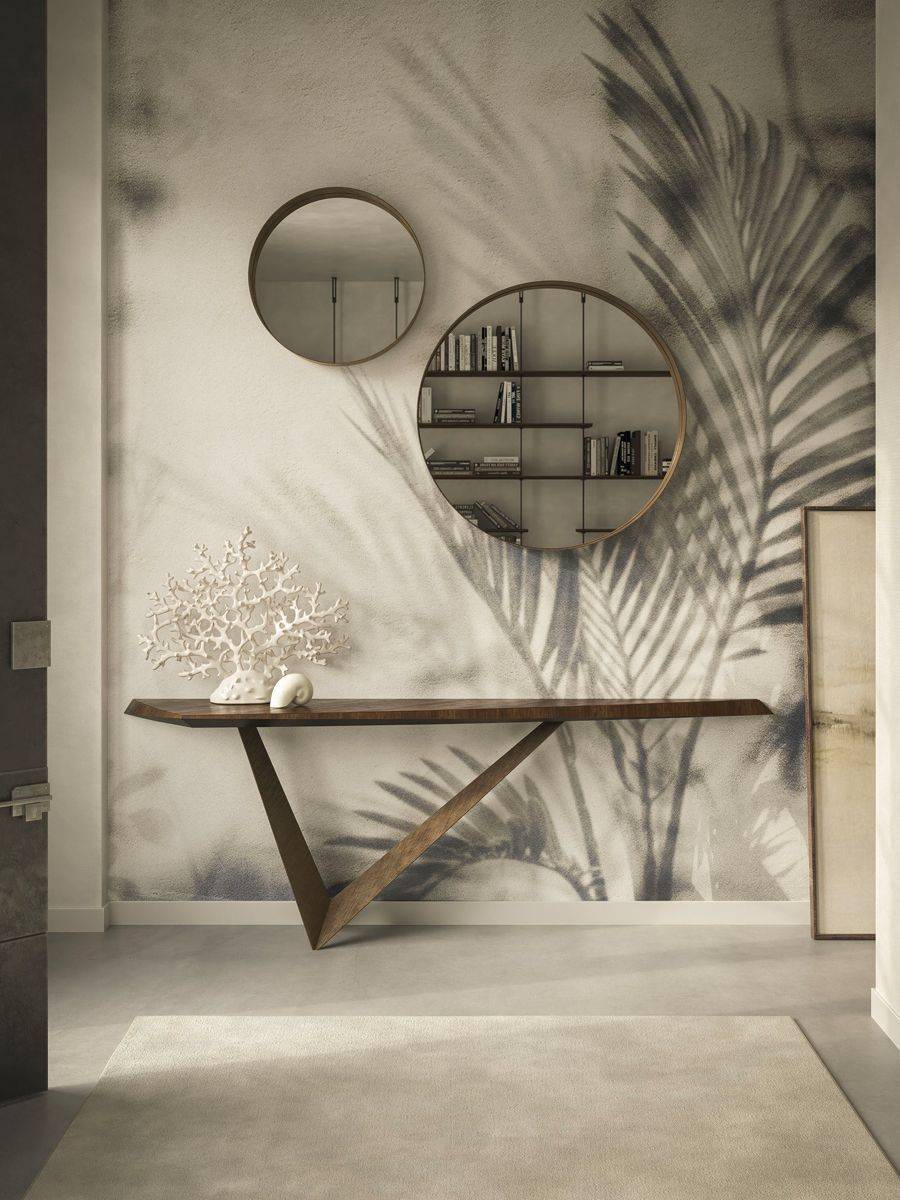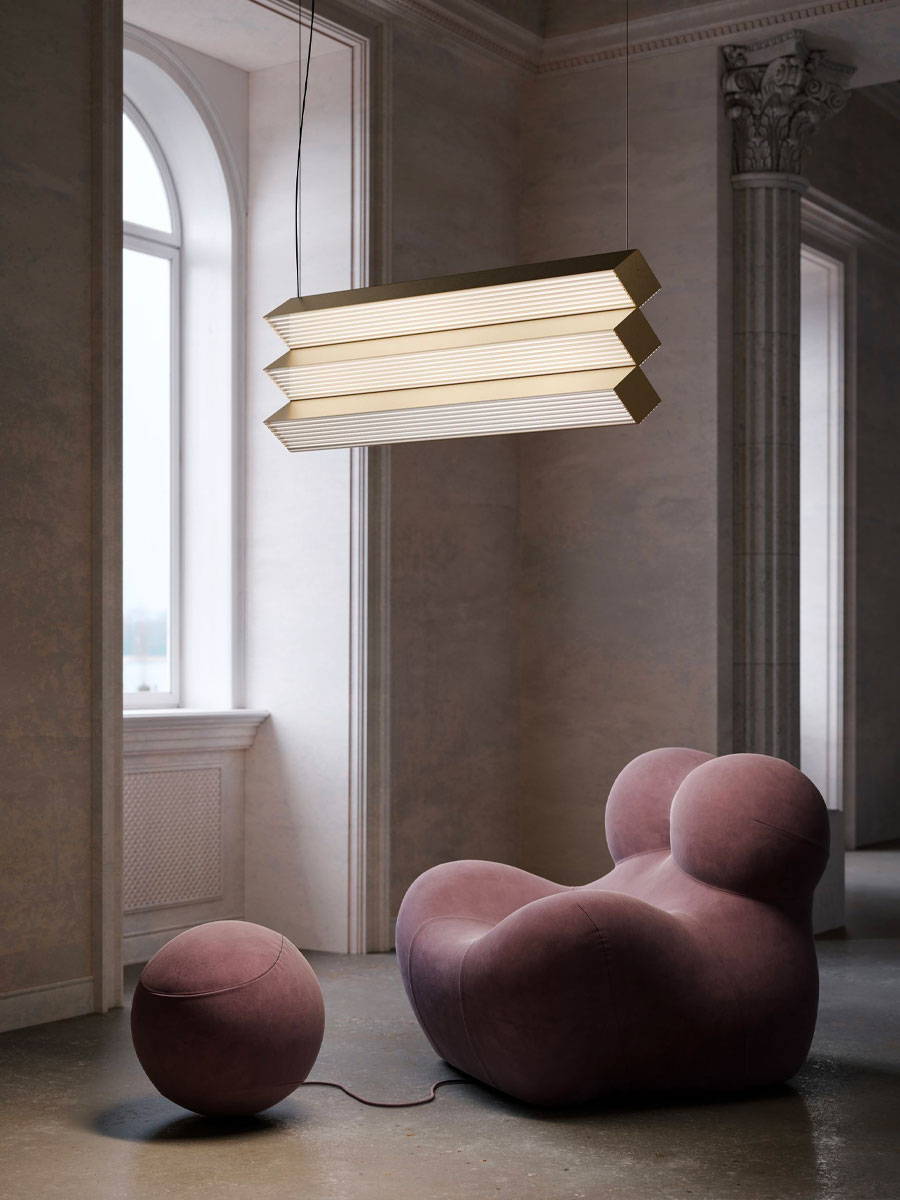 Floating
Furniture and beyond at Salone del Mobile 2023 was held aloft by single slender stems, dividing pieces into upper and lower, the balanced and the not so, supporting objects from table surfaces to chair bodies. Legs fade into the background, tiny and barely there, or are positioned almost out of view, creating a sense of lightness and putting all of the attention onto what's hovering up top. The result is an instant feel of the sculptural, with gracefulness and poise bestowed on even the heaviest, most bulky of designs.
Hugging
Whereas before, sofas and chairs were composed of free-floating cushions magically held together from within, this year structures are more on show. From thick pieces of metal to slim cuts of curved wood, cushions, backs and armrests are being held in place for all to see, the hard frame gently pushing into upholstery to create an embracing, supportive, I'm-here-for-you feel, emulating a sense of comfort and comfy containment.
Geometric
Maths-book-perfect geometric shapes are convening for modern home design this year, coming together on single-design objects from lighting to storage for a chic take on the childlike. As standalone forms, circles, rectangles and triangles with ruler-straight lines and perfect Pythagoras mesurements can create a harsh, unforgiving feel, but amalgamated into one item they become friendly, nostalgic and fun – plus part of you wants to reach out and rearrange them.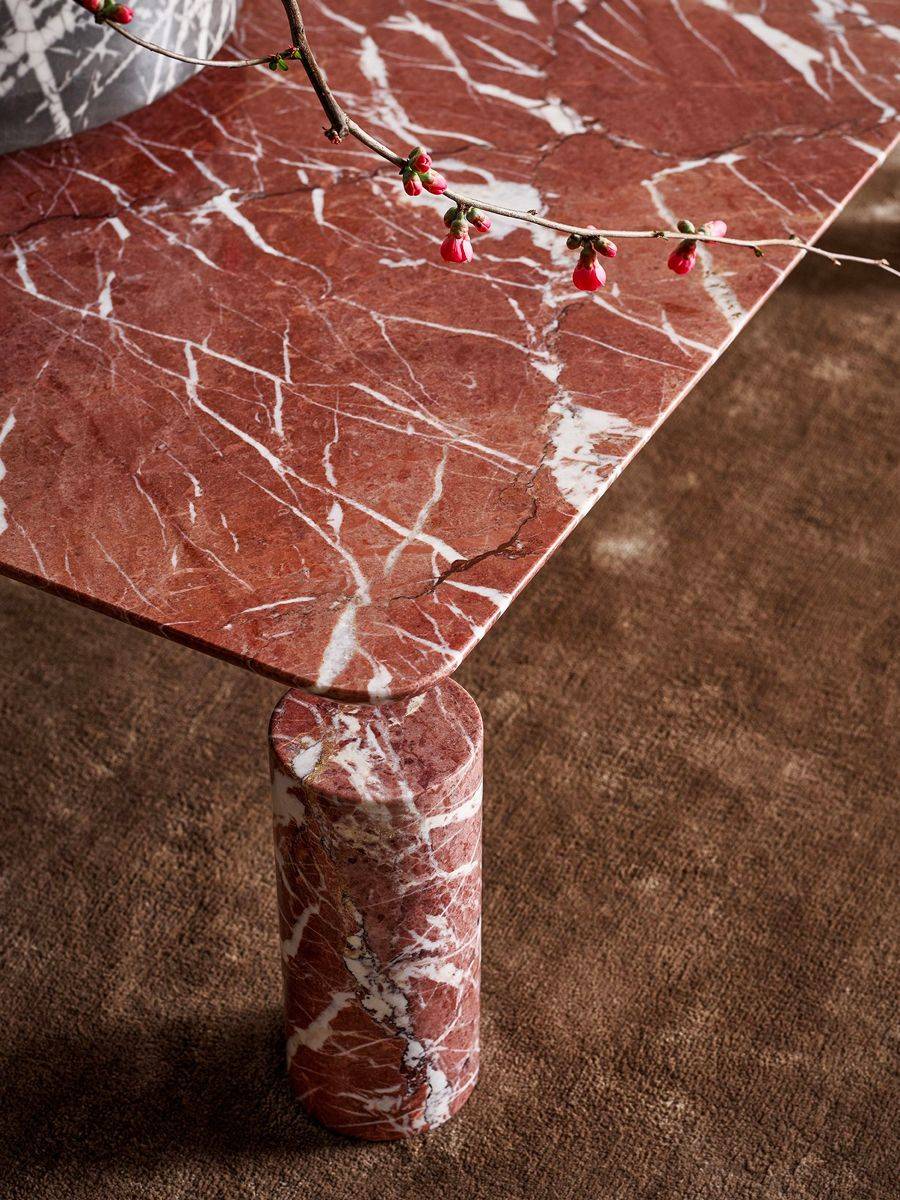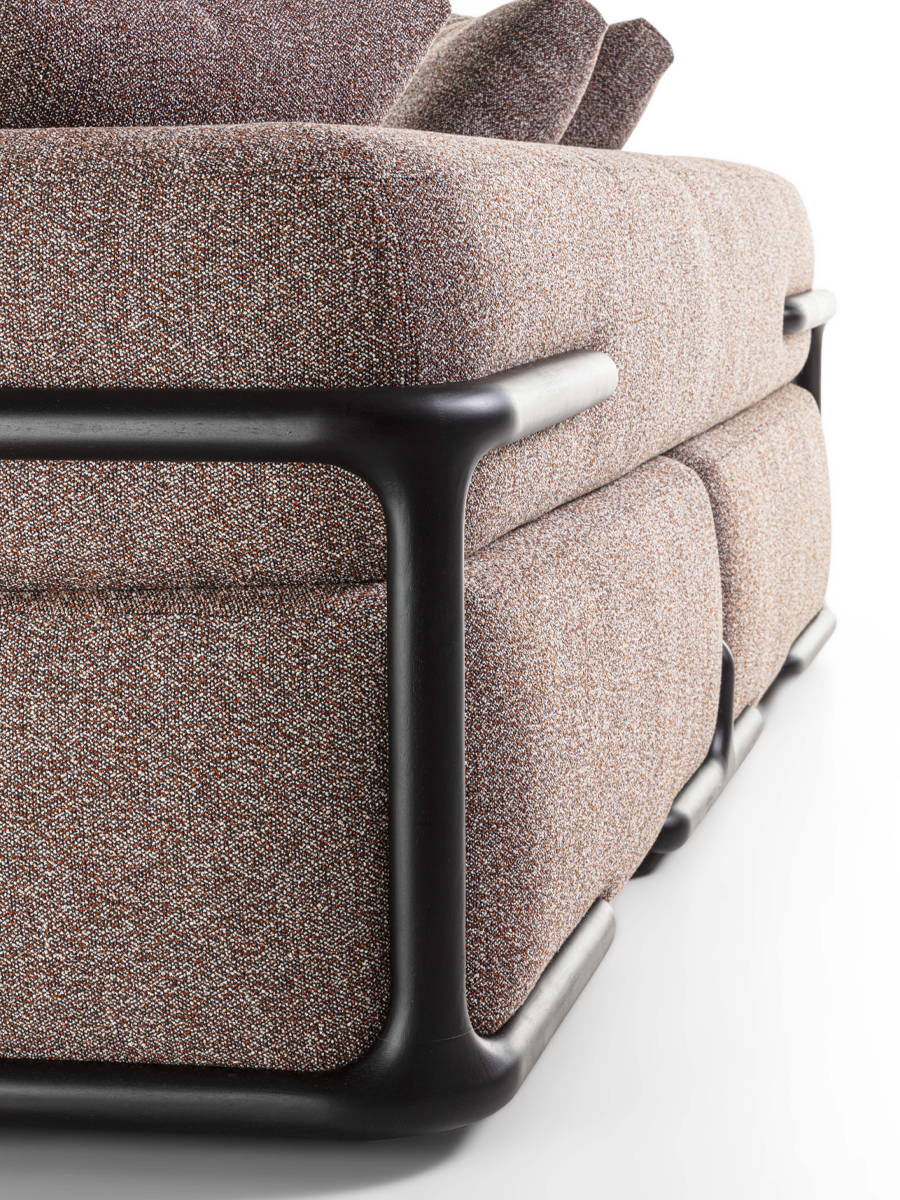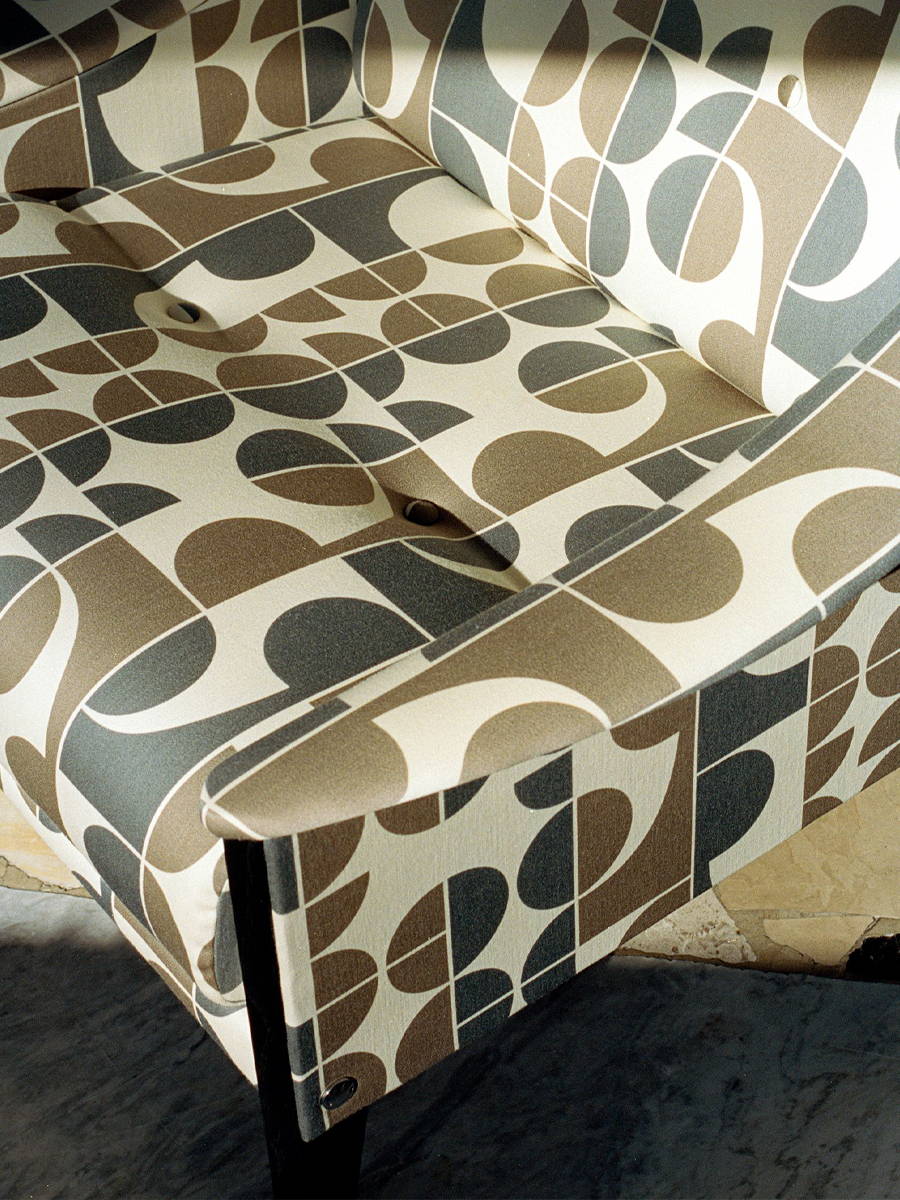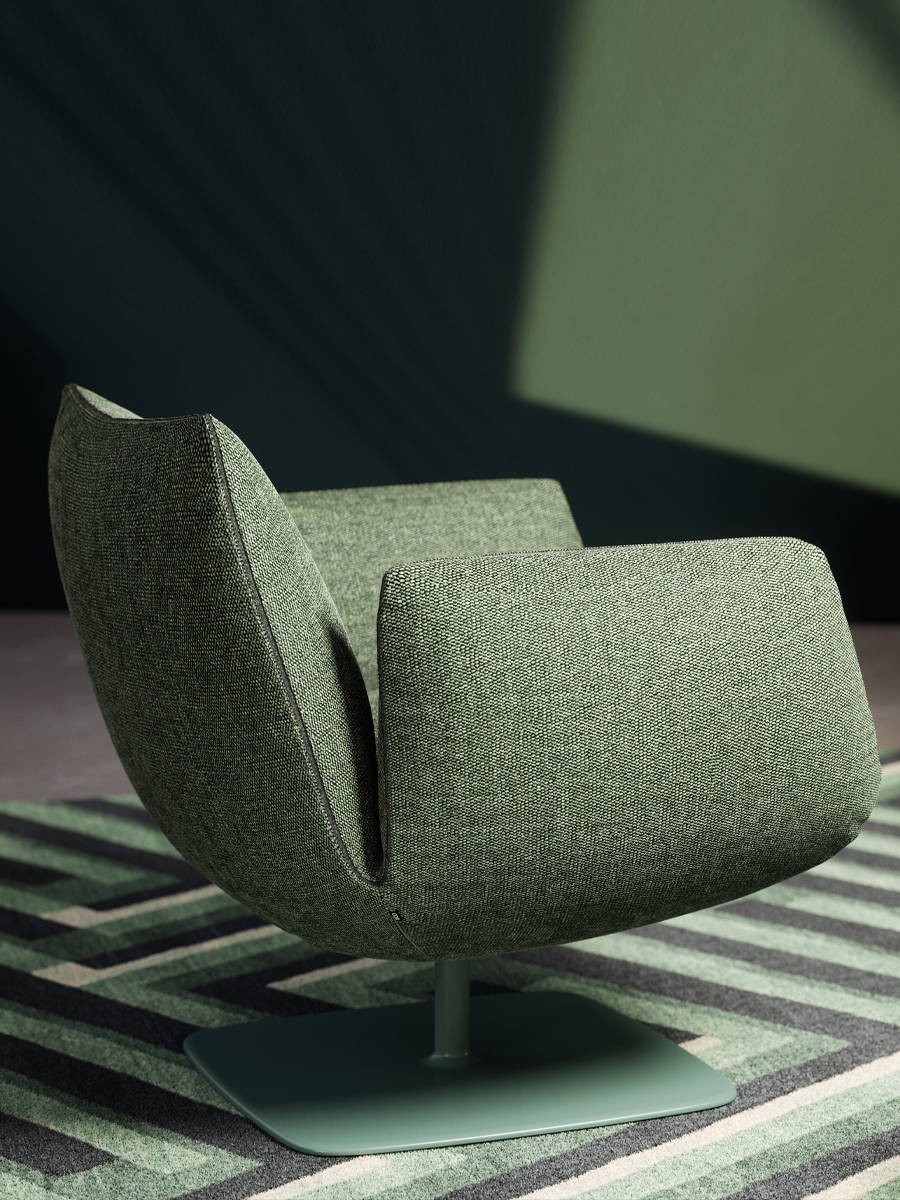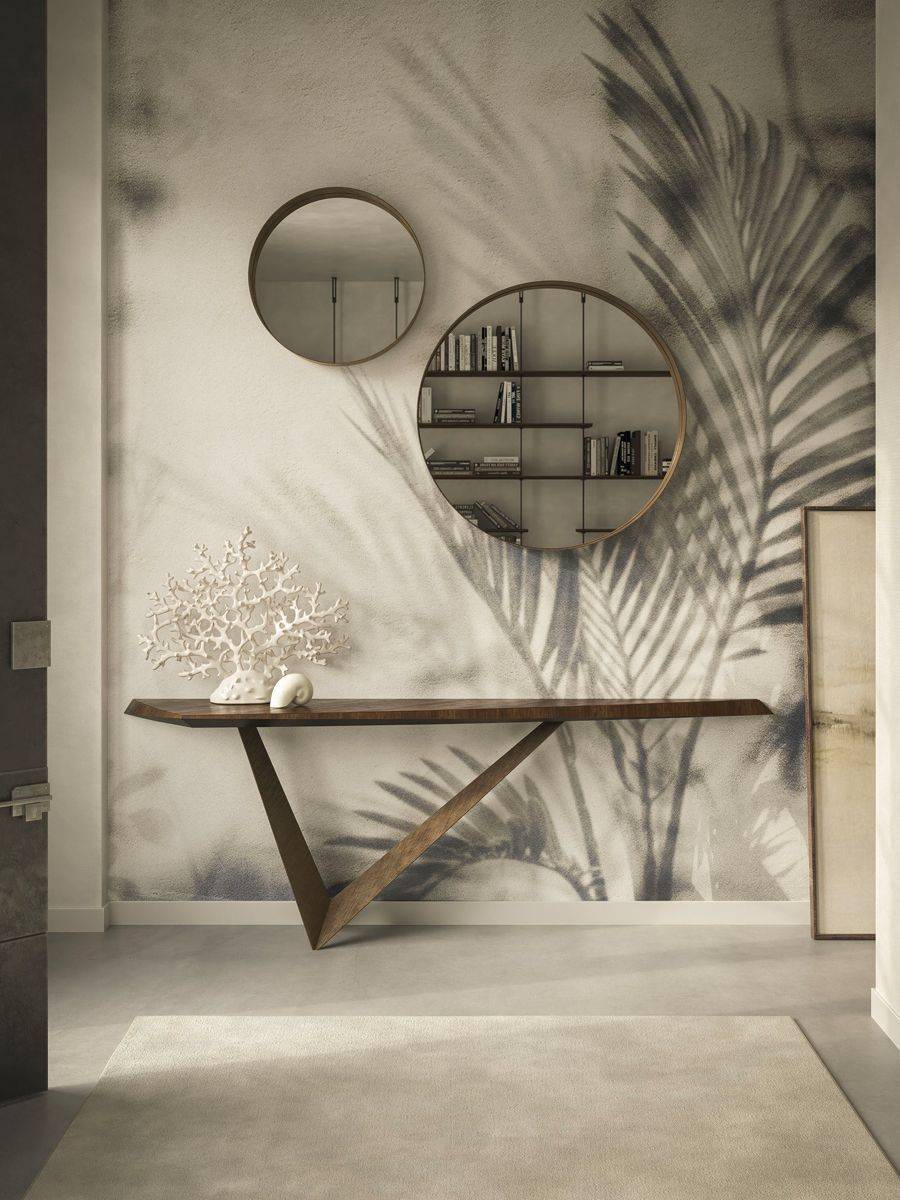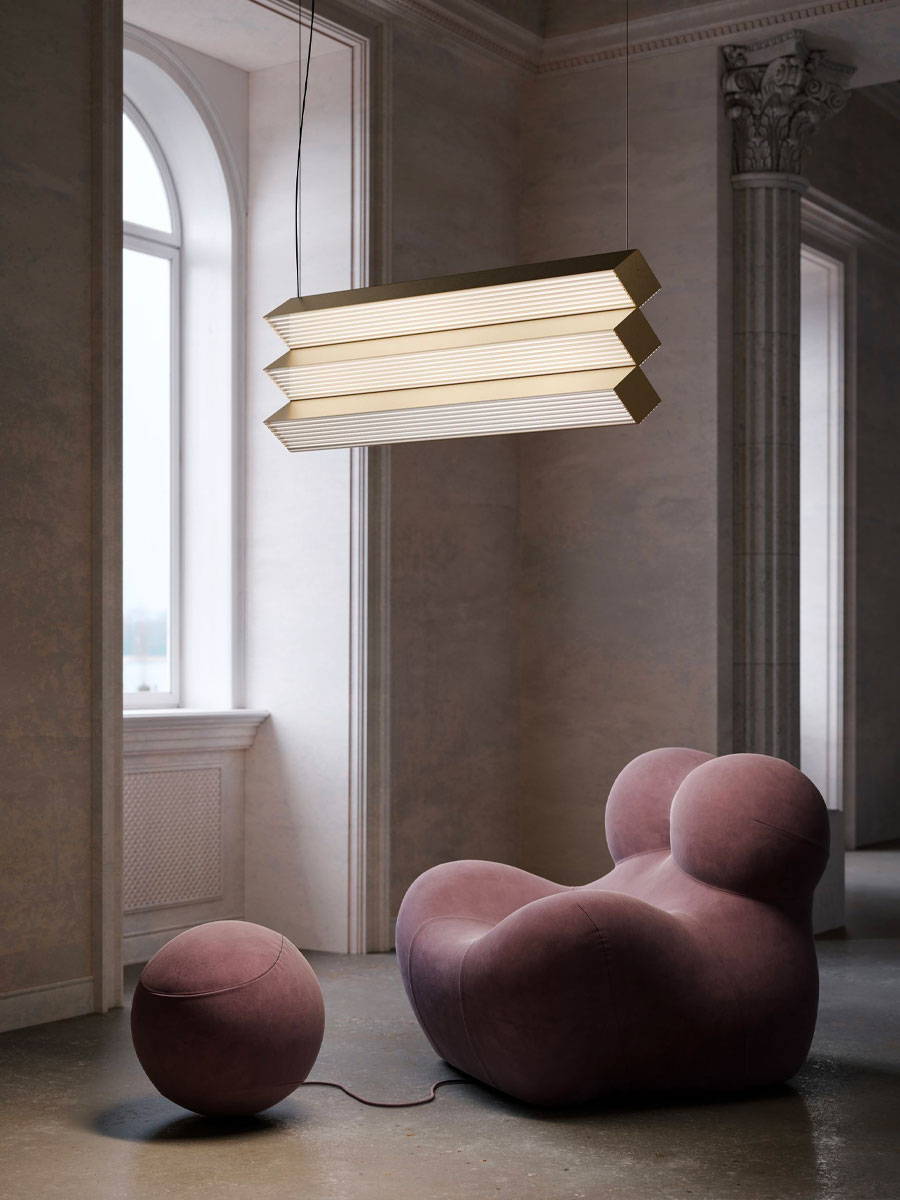 ---
New Product: Cab Tab by Cassina
A new design classic, Mario Bellini's elegant Cab Tab table for Cassina is exquisitely crafted like a tailormade suit. Dressed in supple saddle leather which fits its slim metal base like a glove thanks to a specialist hand-moulding process, the piece was created as a partner to the iconic 1977-designed Cab chair, echoing its signature sophisticated aesthetic. Embellished only with top-stitching which is displayed in the junctures between each segment, the table's upholstery closes with zips which run gracefully along the inside of each leg.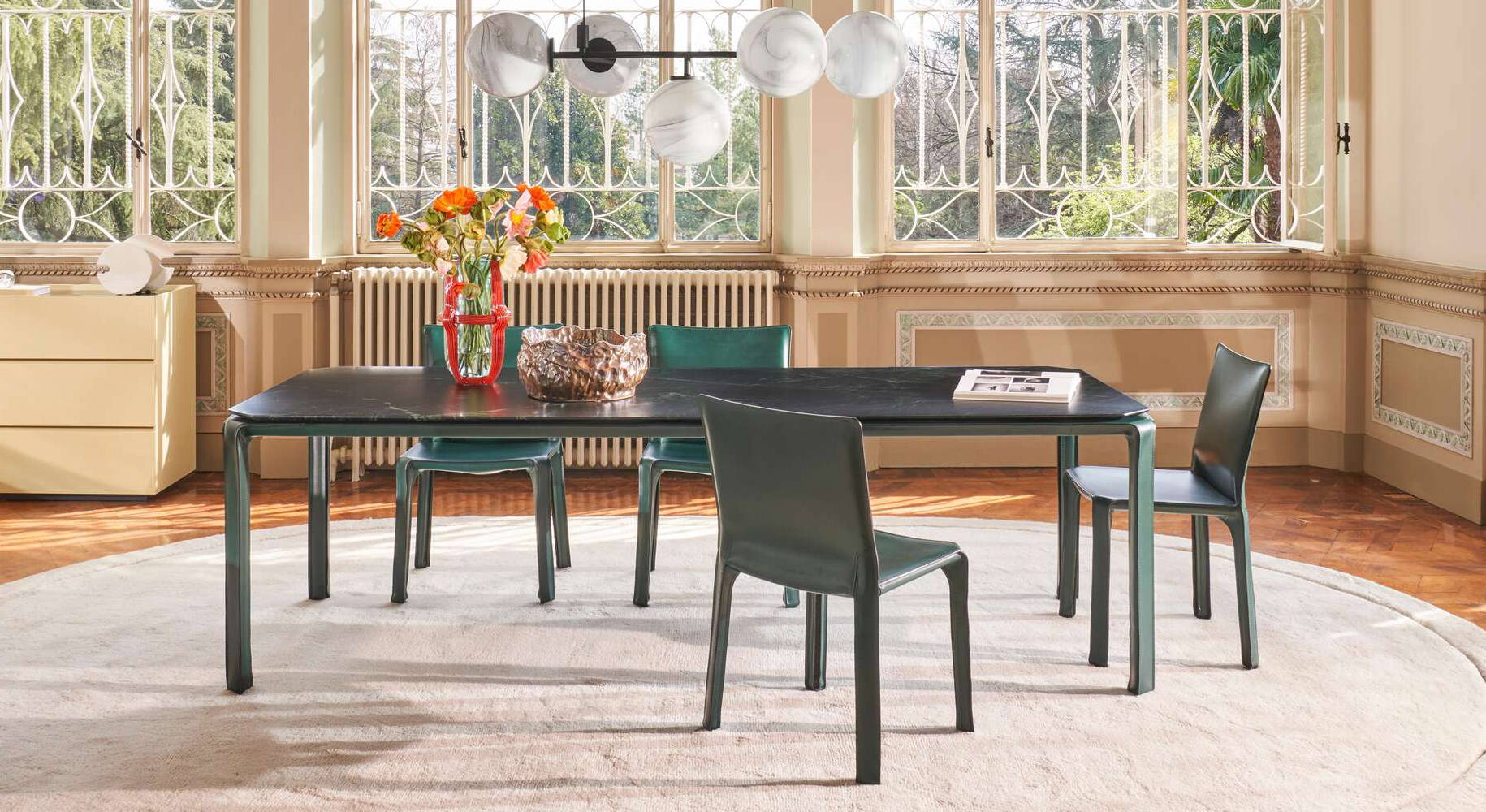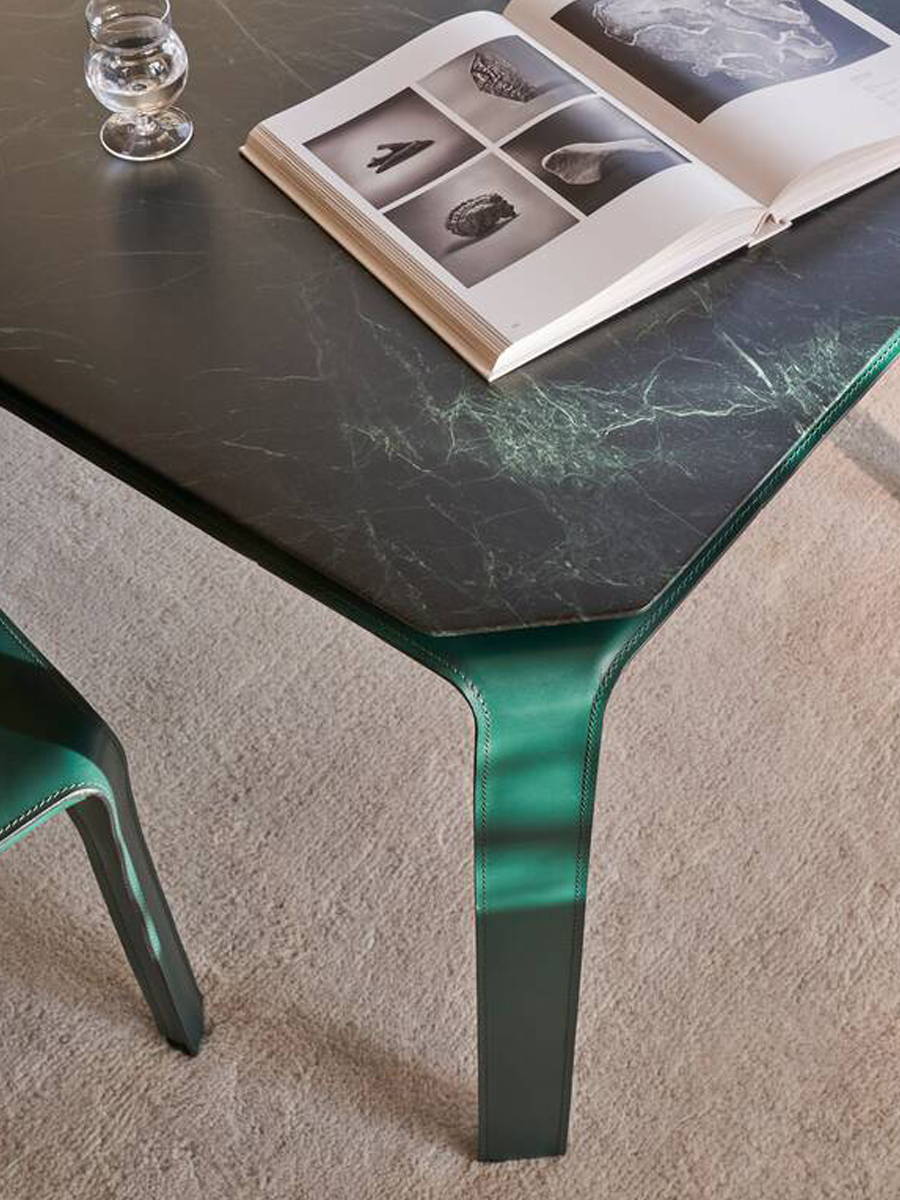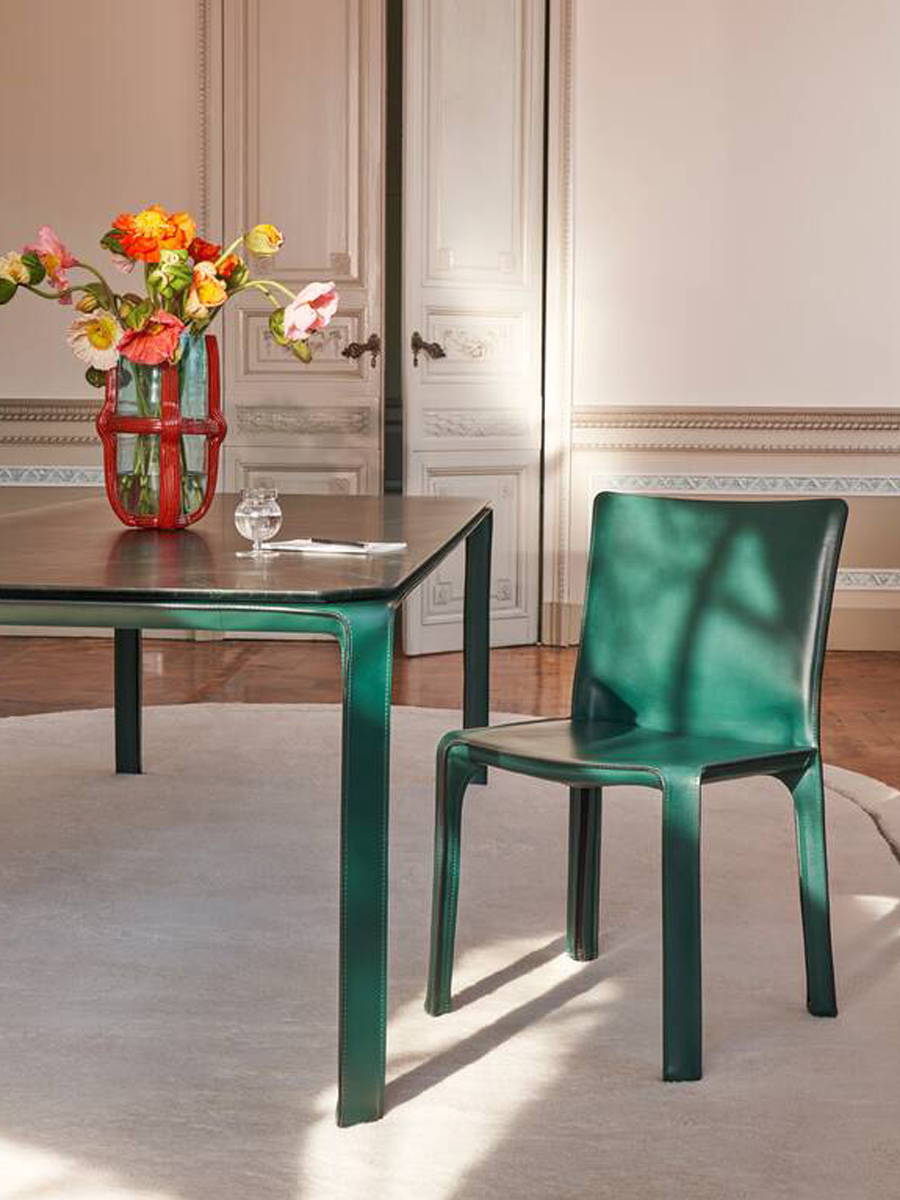 New Collection: Quiet Lines by B&B Italia
Composed of flowing frames and soft surfaces, B&B Italia's Quiet Lines collection is dedicated to rest and the enjoyment of our daily routine. Comprising a vanity, bench, bedside table and bedroom screen, each piece's surface is upholstered in soft leather to promote the idea of tranquillity, the material forming a protective, comforting layer and muffling the sound of objects as they are positioned. Driven by circular design principles, each component has been specifically designed to be easily disassembled for reupholstering or repair to extend its lifespan.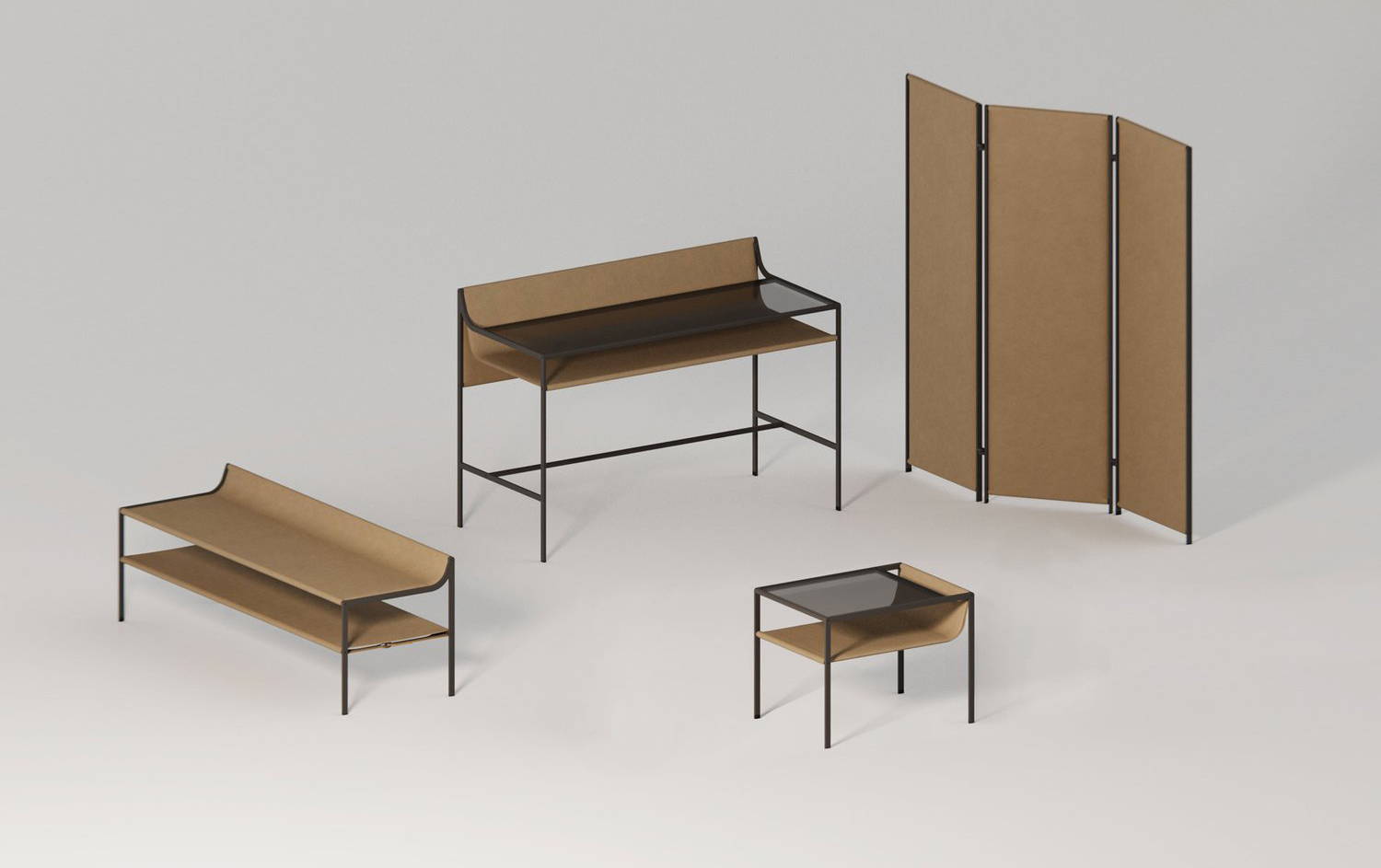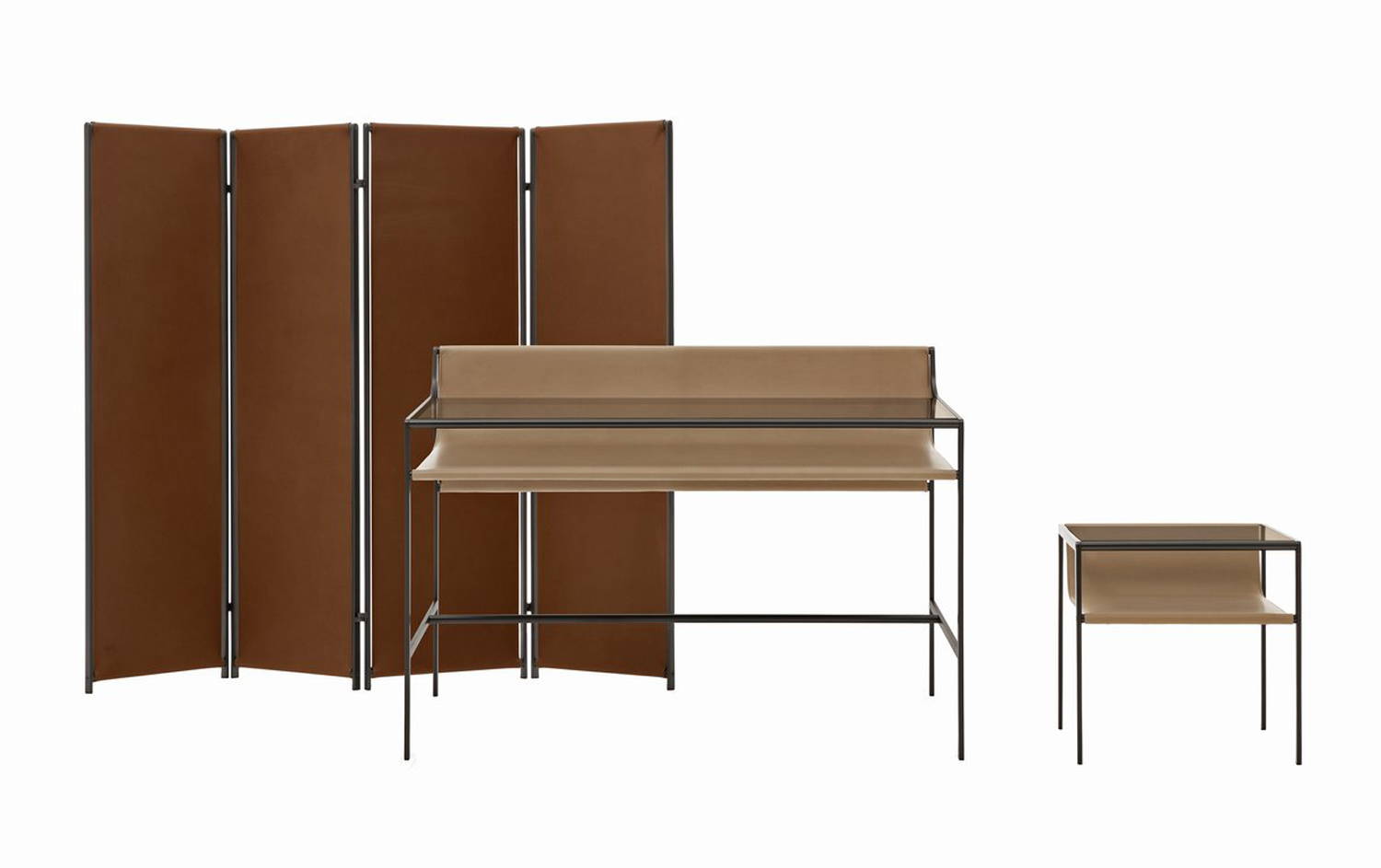 "The inspiration behind the collection comes from the idea of creating a sanctuary in the bedroom, a space where we can retreat from the world and connect with ourselves," its designer Gabriel Tan explains. "The bedroom is more than ever becoming a place for reflection, quietude, and rituals. The collection is designed to facilitate this sense of peace through clean lines, soft curves, and thoughtful details."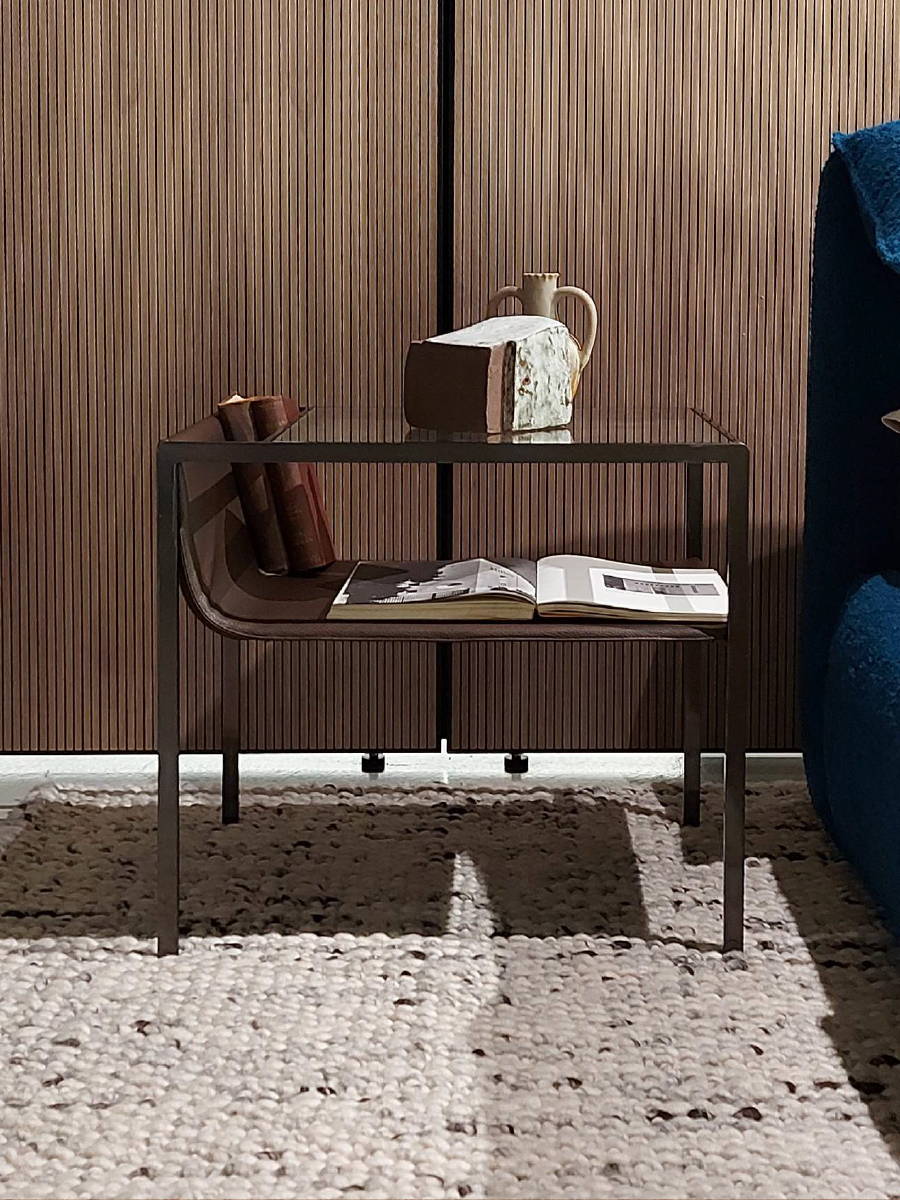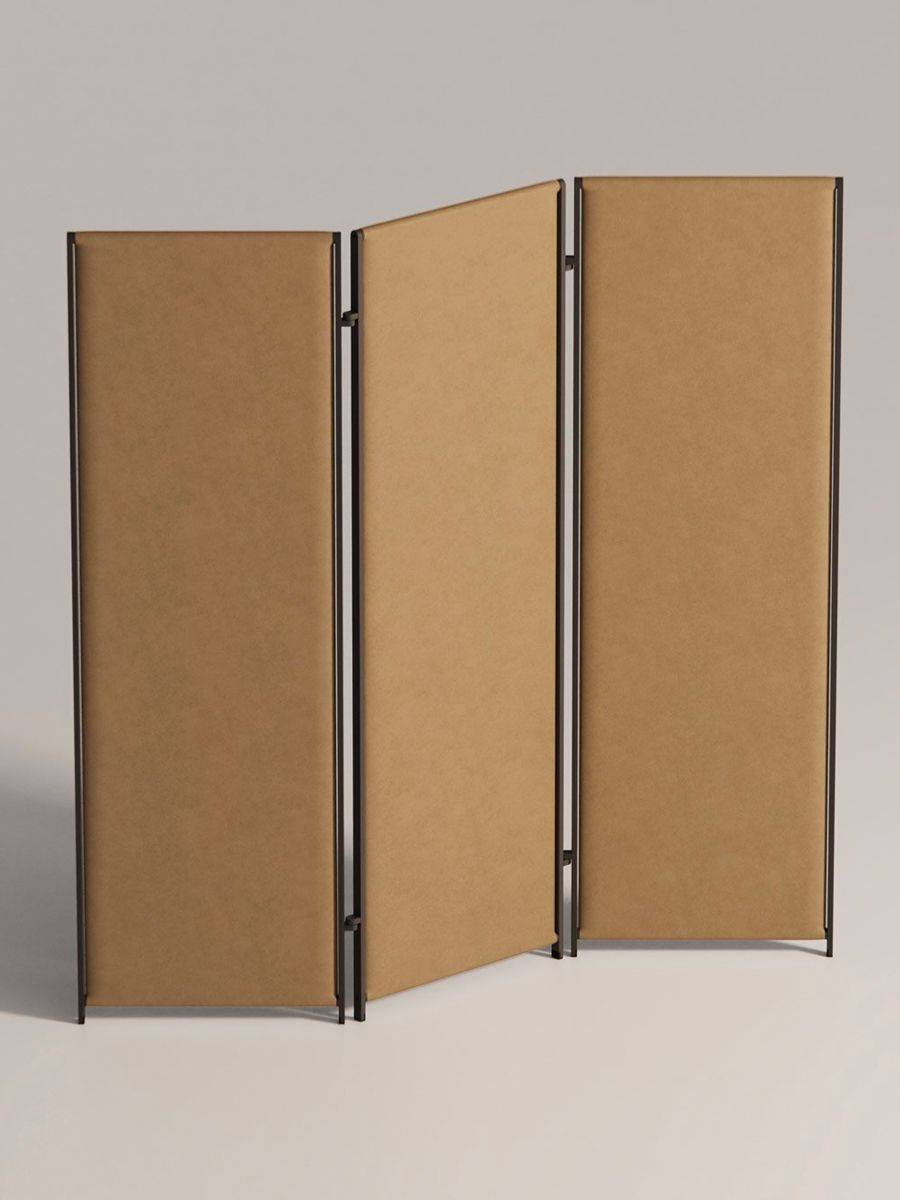 There's no other way to put it – Zanotta's collection this year is just cool. Bright yet sophisticated, it's crowned by the BOL tables by Zaven, a celebration of unexpected graphic volumes and shapes that intersect with each other to form surprising, sculptural, supersized legs. Coat that in smooth high gloss brightness – the olive-green shade of Salone and a satsuma orange, plus a powerful white – and you've got a design ready to define 2023.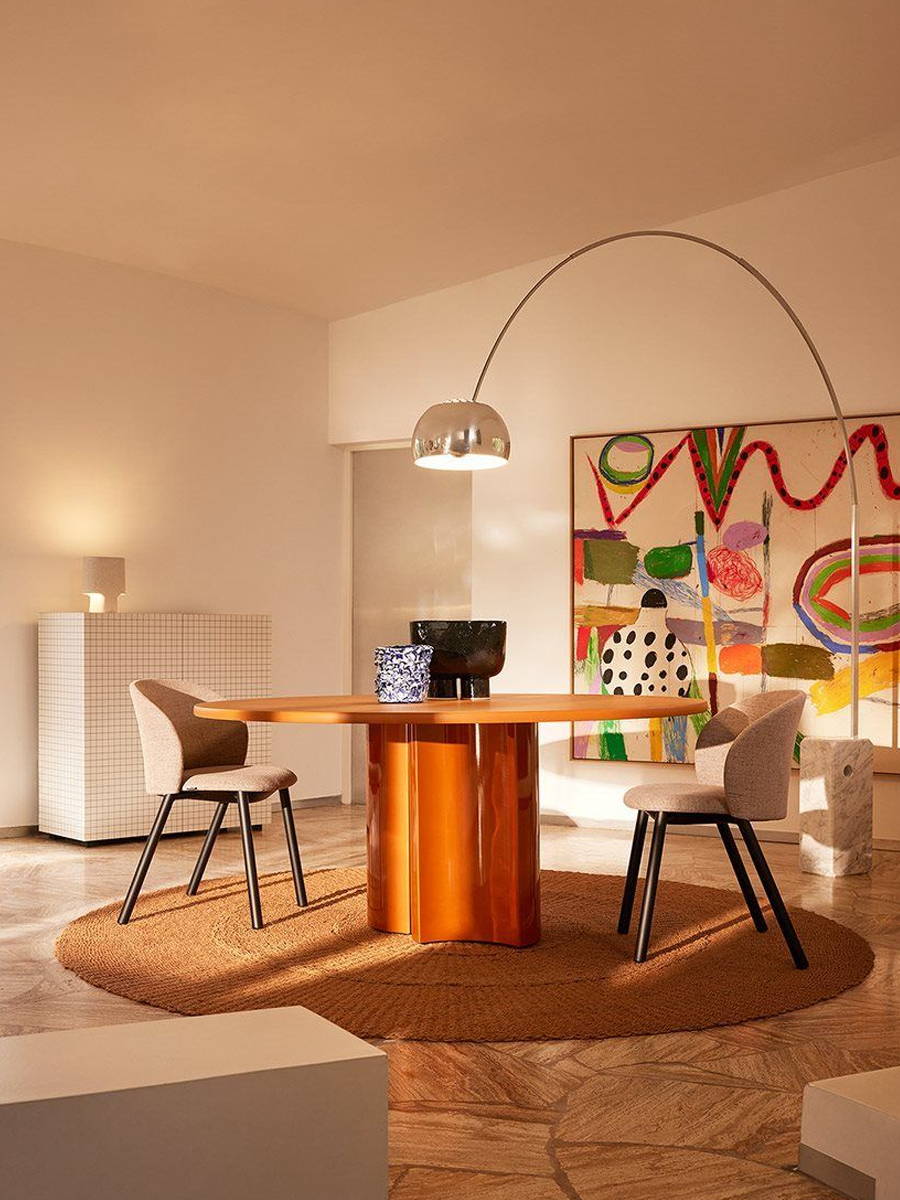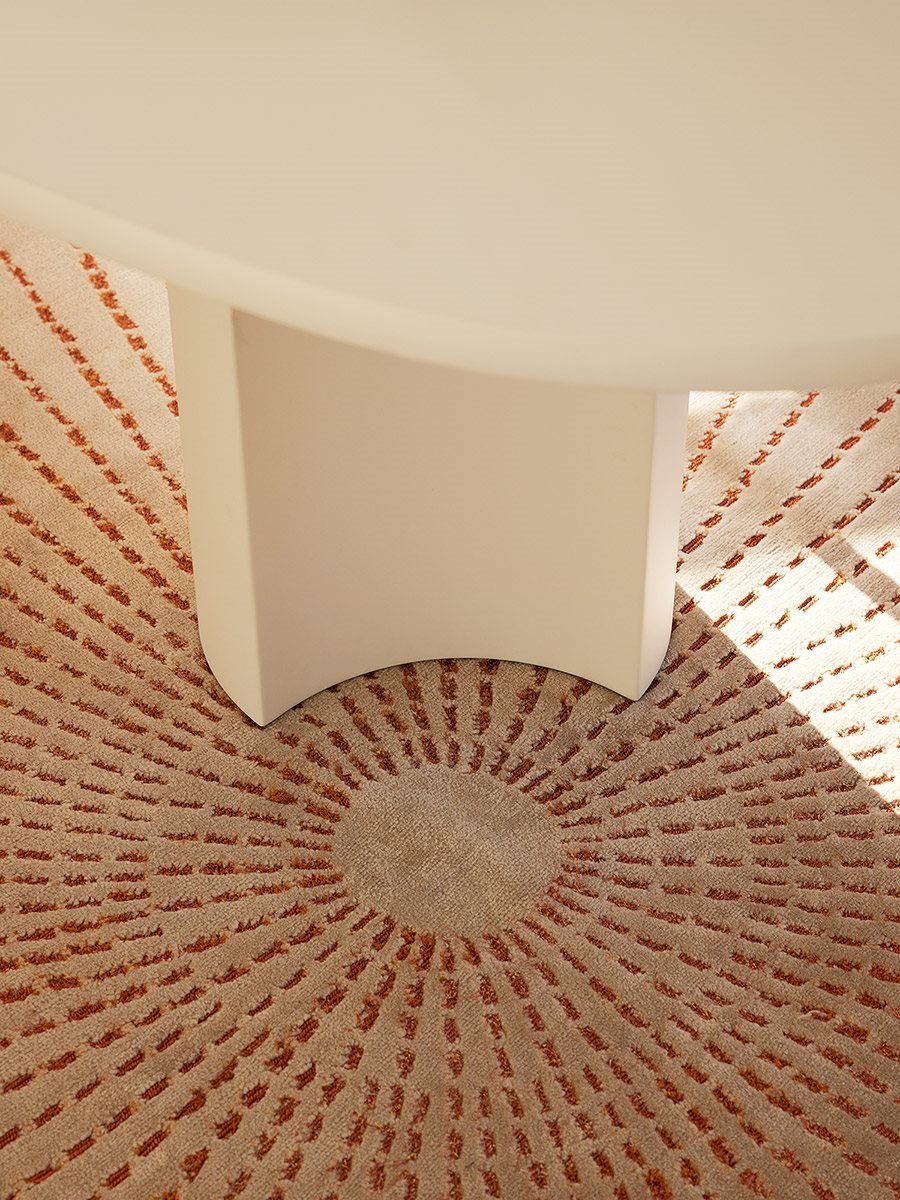 Zanotta's wider collection combines comfort with elegant and experimental twists, all down to the new artistic direction of architects Fabio Calvi and Paolo Brambilla. The Bumper modular sofa collection by Calvi Brambilla inspires a childlike joy, the simplistic pieces each a soft sculpture to sink into. The design sees the sofa base, seat and backrest piled atop each other in chunky, sandwich-like layers, exuding low-slung informality and a time-to-slump vibe.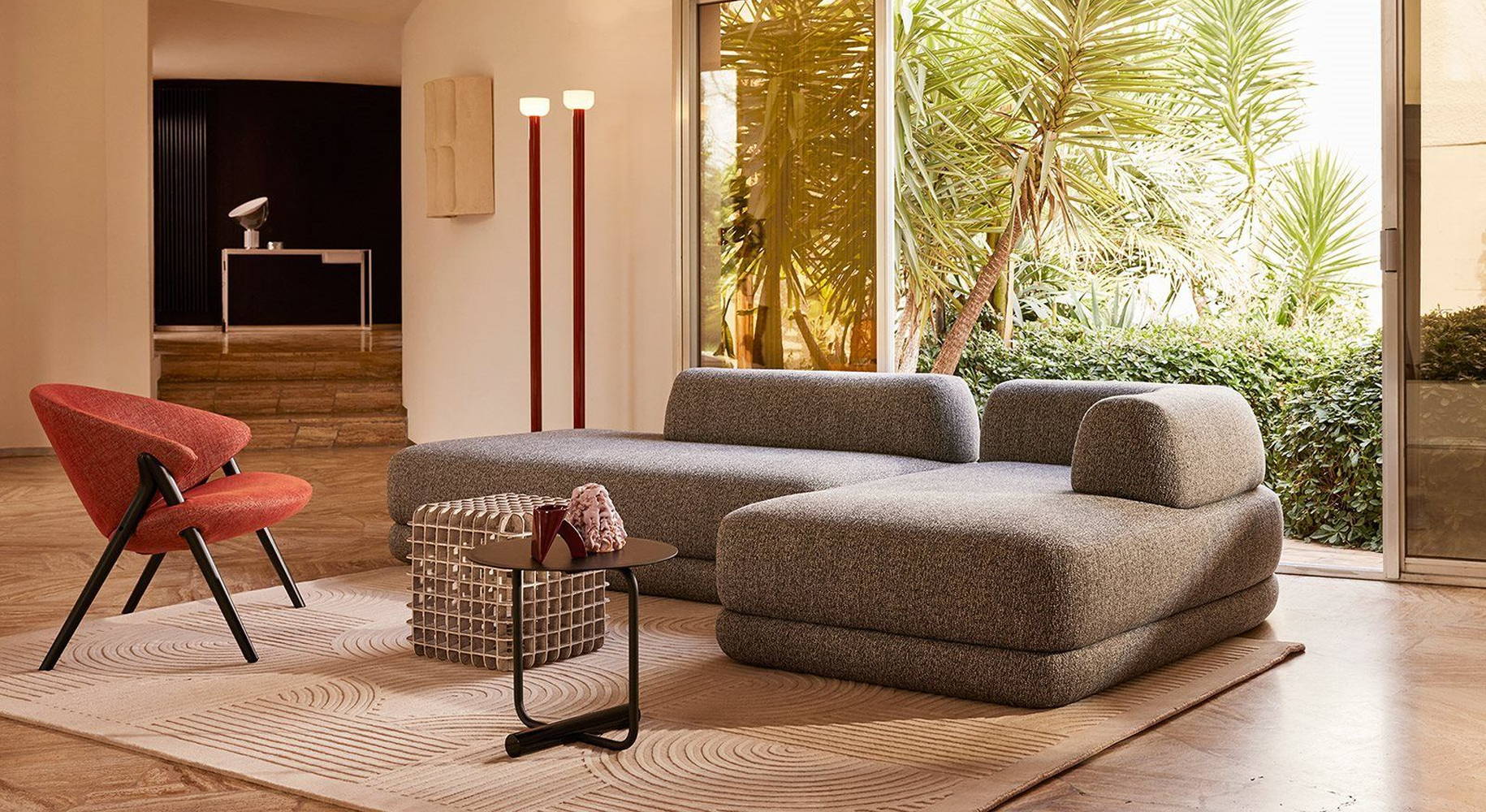 Mix in the Nena Lounge chair by Lanzavecchia+Wai with its dynamic-yet-delicate curves, timeless-yet-bold colour palette and bulky-yet-light form, the eye-grabbing 50th-anniversary edition of the Sciangai 50 clothes stand by De Pas, D'Urbino and Lomazzi with its new rainbow-toned rods, the restyled resurrection of the innovative 1968-designed Galeotta armchair by De Pas, D'Urbino and Lomazzi, which flips outwards to transform into a daybed and the Tweed Marble table by Garcia Cumini with its Striato Olimpico white marble top and leaf-like linear veins, the chic Daisy chair by Mist-o and the new takes on the classic Quaderna design by Superstudio, and it's suddenly so easy to see why Zanotta stole the show.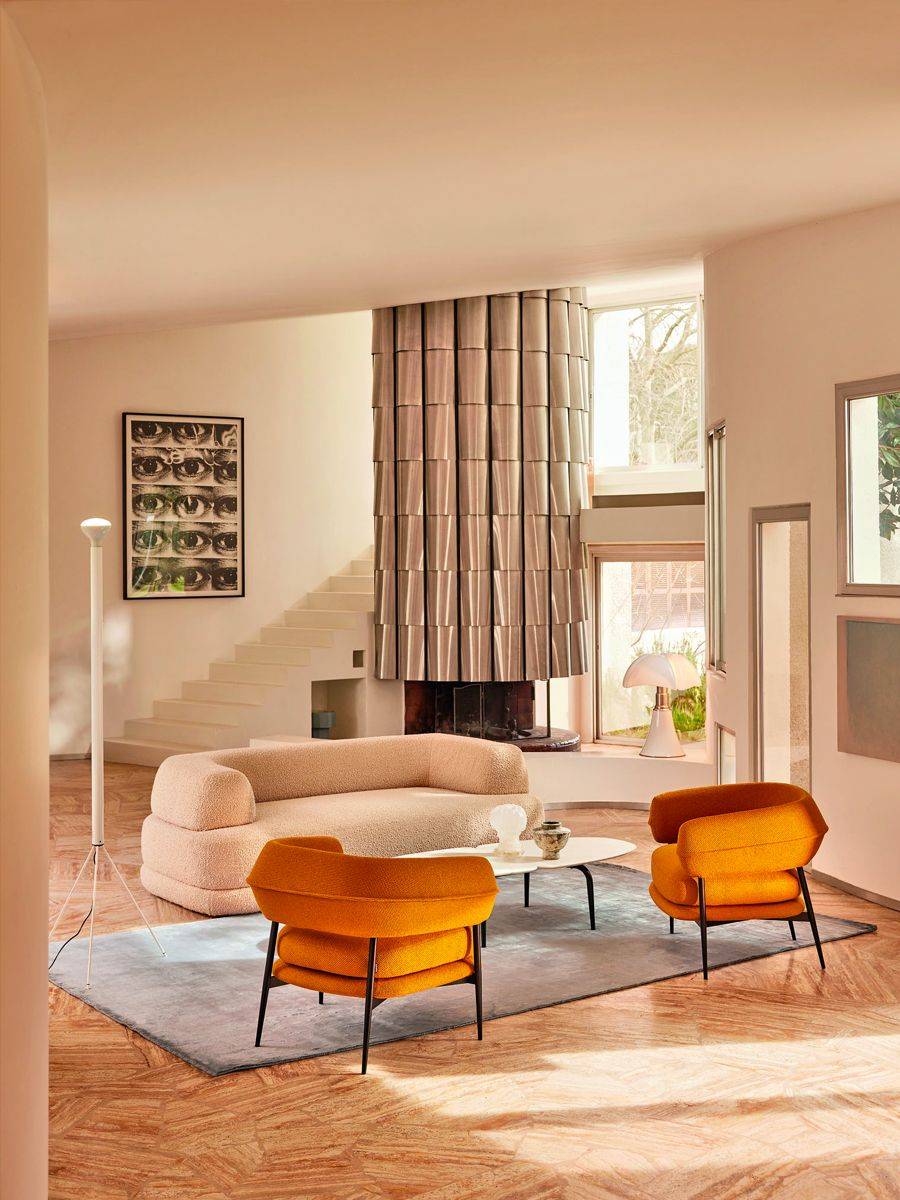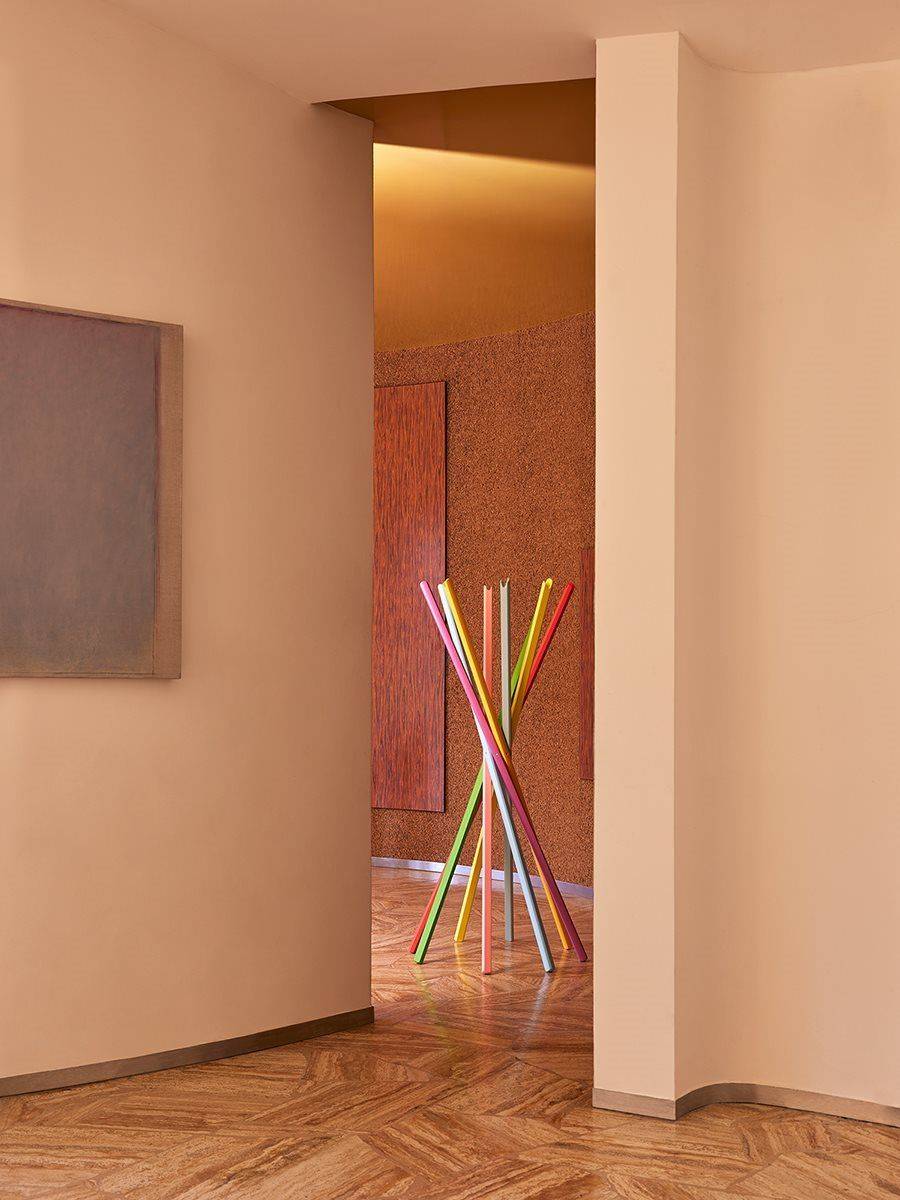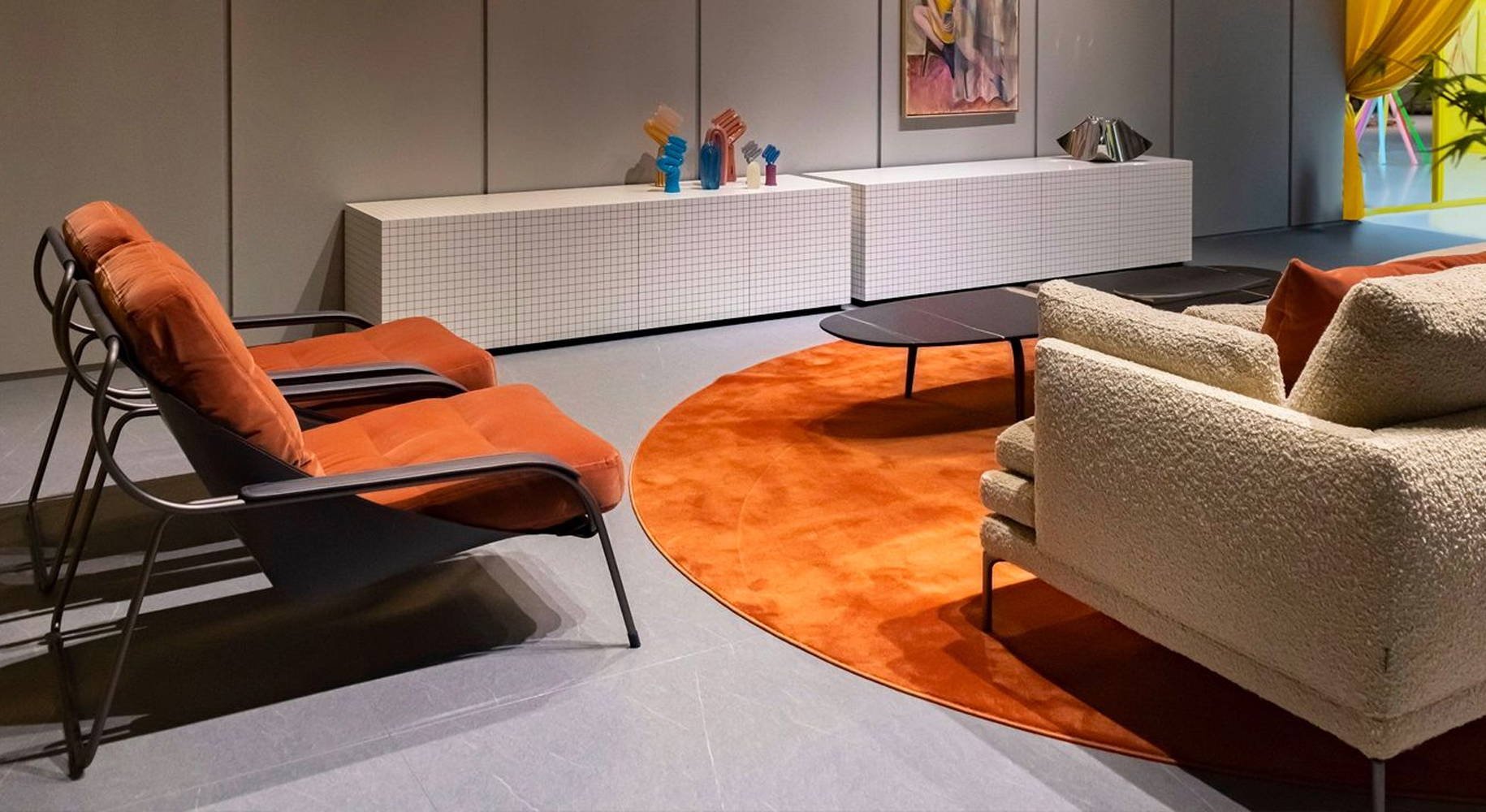 If there was one designer's name echoing up and down the halls of Salone and through the streets of Milan, it was Piero Lissoni. Working with an array of brands from Alpi to Zanotta, Lissoni created enough new designs to fill an entire house, from entire collections to individual pieces of seating, storage, and accessories. Lissoni's work is characterised by a purist aesthetic and dedicated minimalism, the designer is known for a self-developed 'code' which stringently adheres to proportions, rigour, function and rationality.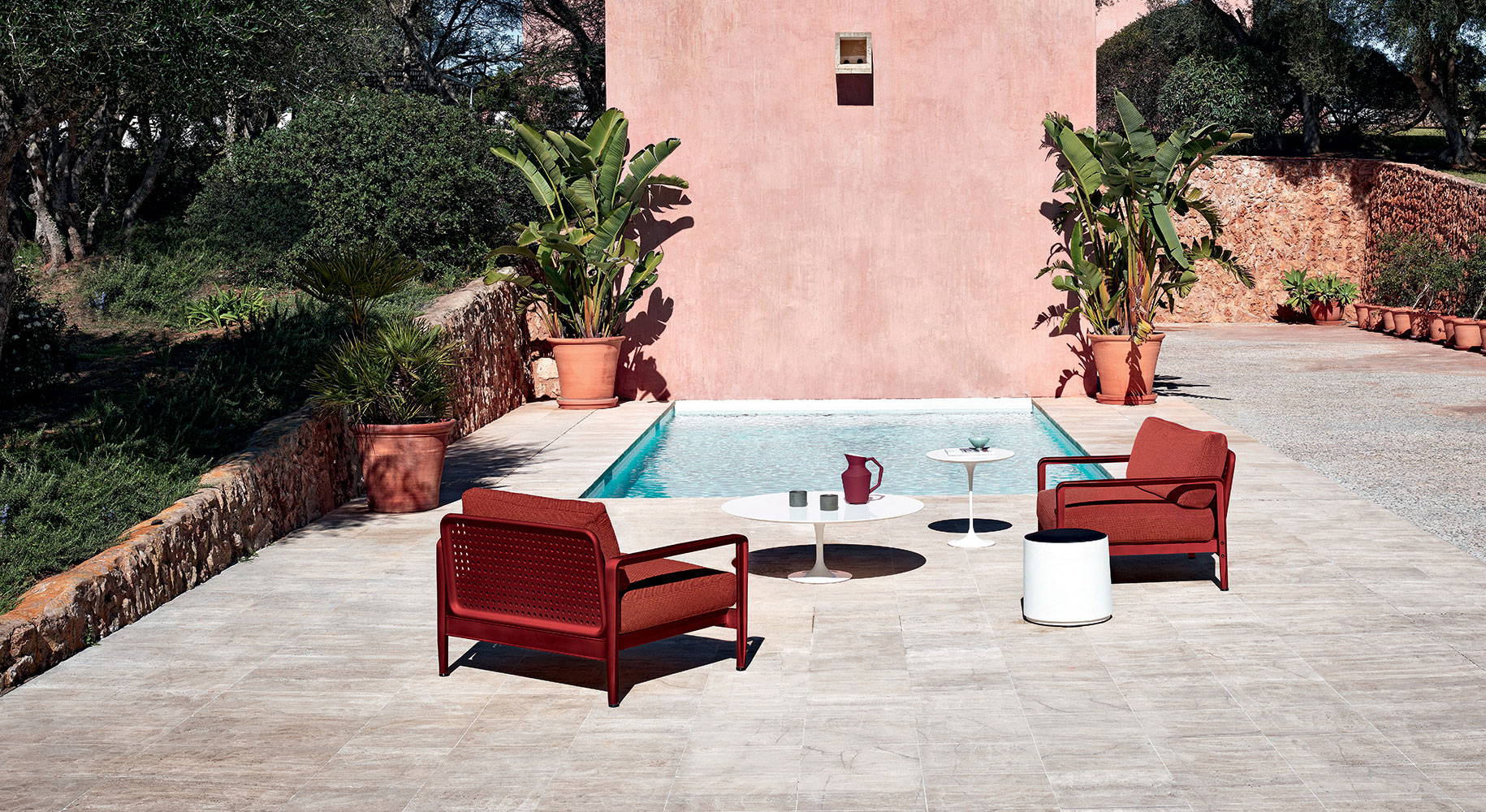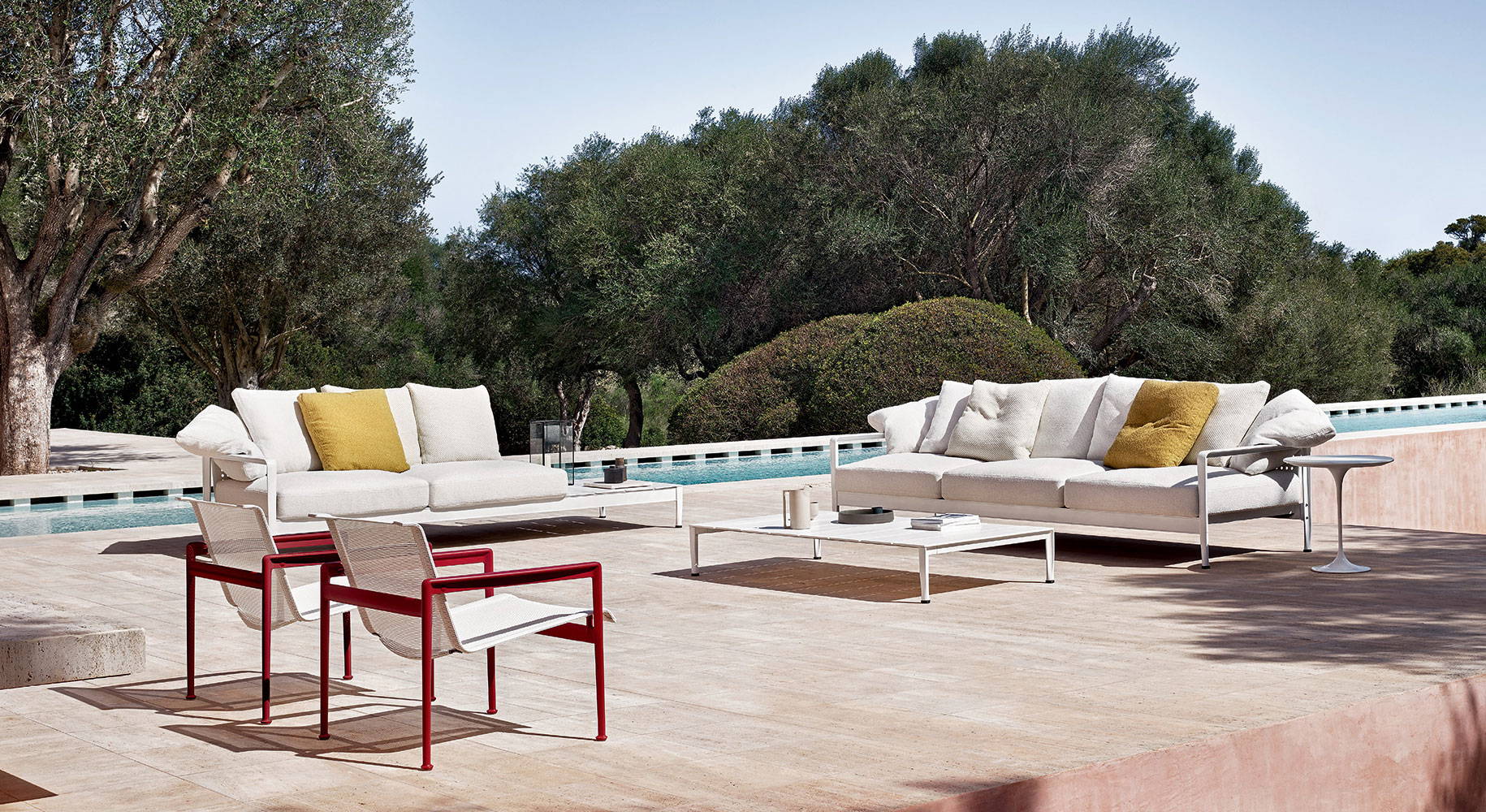 Where wasn't he? Lissoni and Partners created show spaces for brands all over the city as well as releasing a bevvy of beautiful new product designs. Standouts included the Lissoni Outdoor Collection for Knoll, the modernist sofas, armchairs, stools and coffee tables defined by their elegant micro-perforated metal backs and contrasting super-soft upholstery. "The Lissoni Outdoor Collection quietly complements other Knoll outdoor collections," explains Lissoni. "It consists of an aluminium structure, which is why it is a product designed to last or to be transformed into something else at the end of its life."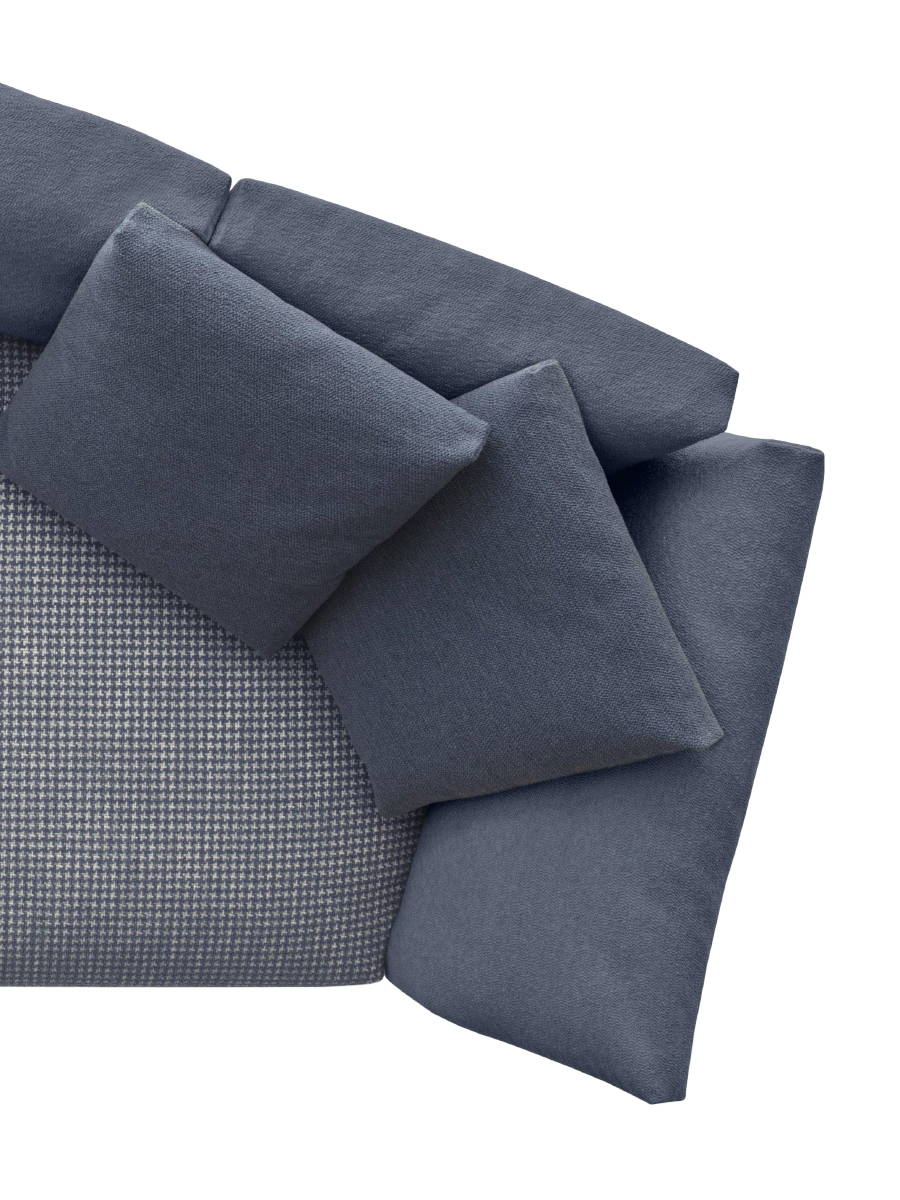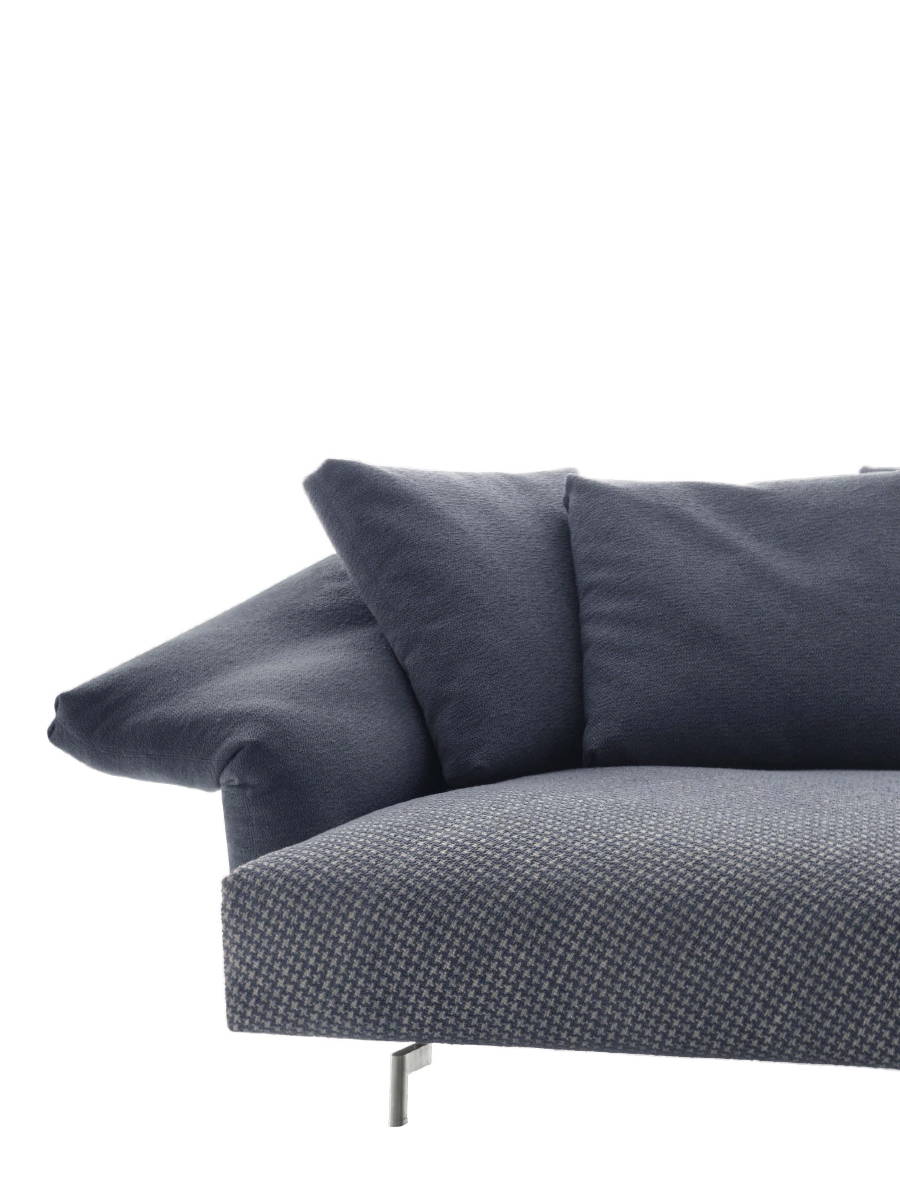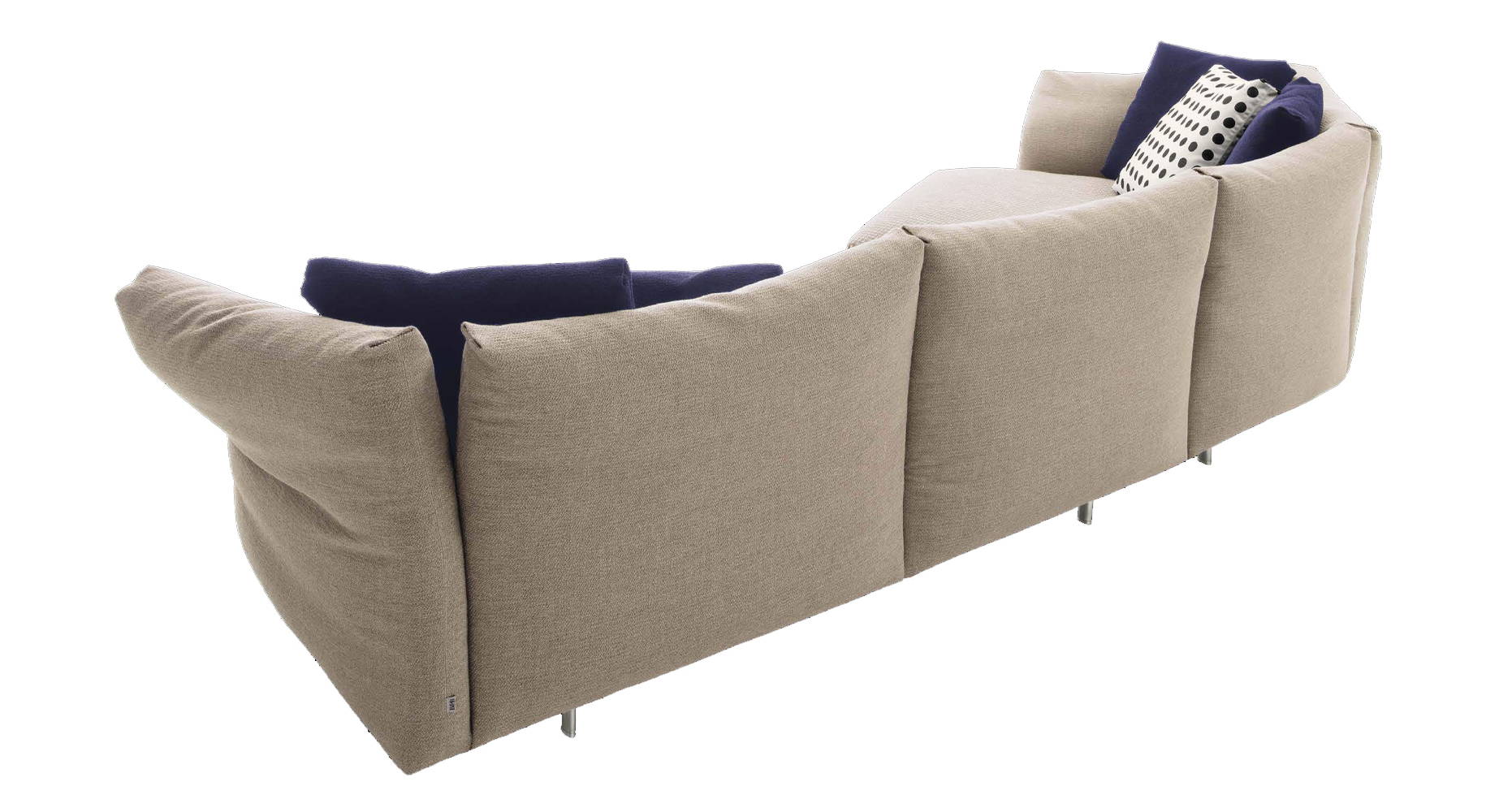 The Dambo Sofa for B&B Italia is composed of irregular geometric modules, oversized with enveloping backrests and plush softness floating on their discrete feet waiting to be built into unique forms. "Dambo is a modular system that suggests a new way of sitting, a system of large islands I imagined amid the ebb and flow of everyday life," explains Lissoni. "It features an asymmetrical armrest, and we have cleaned it of everything not needed and added a few surprises. The beautiful thing is its presence, it can create unexpected places but at the same time be much more classical."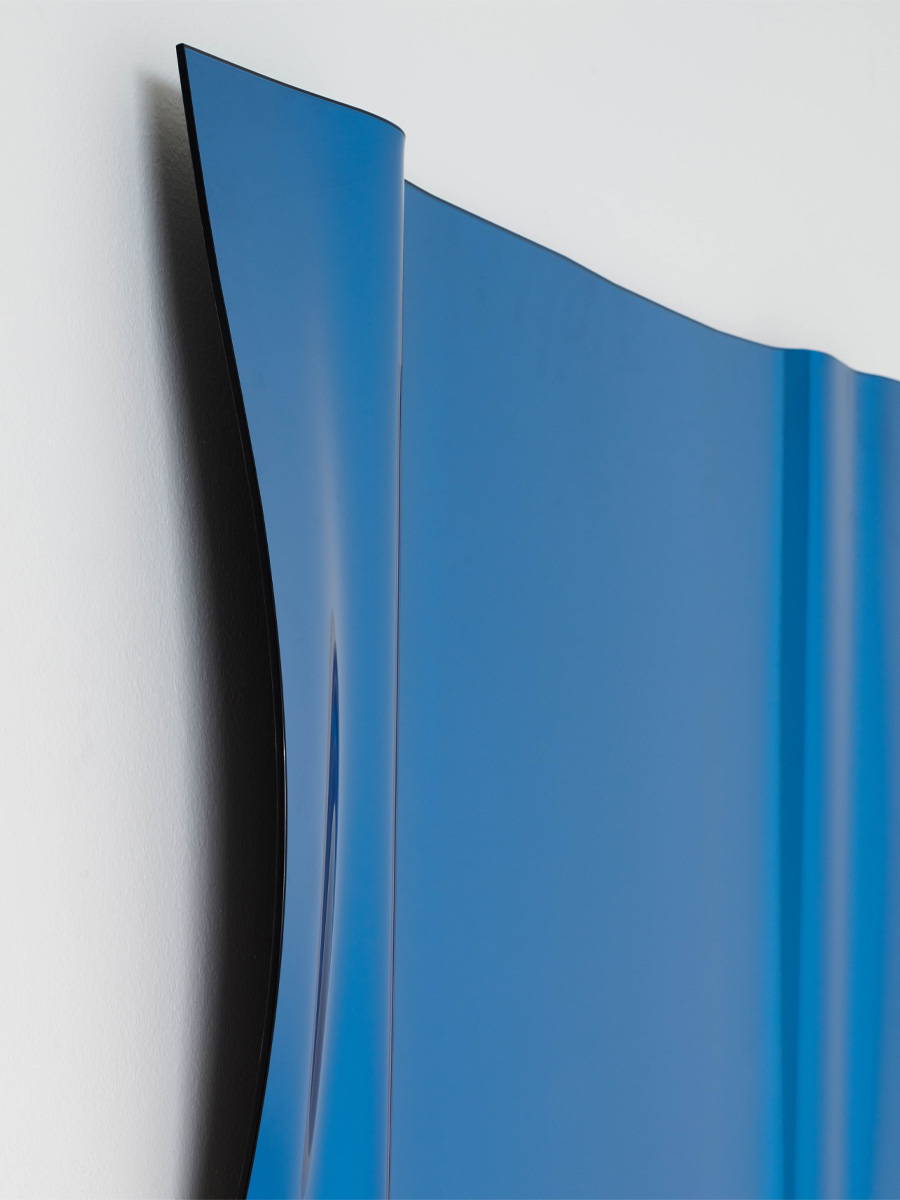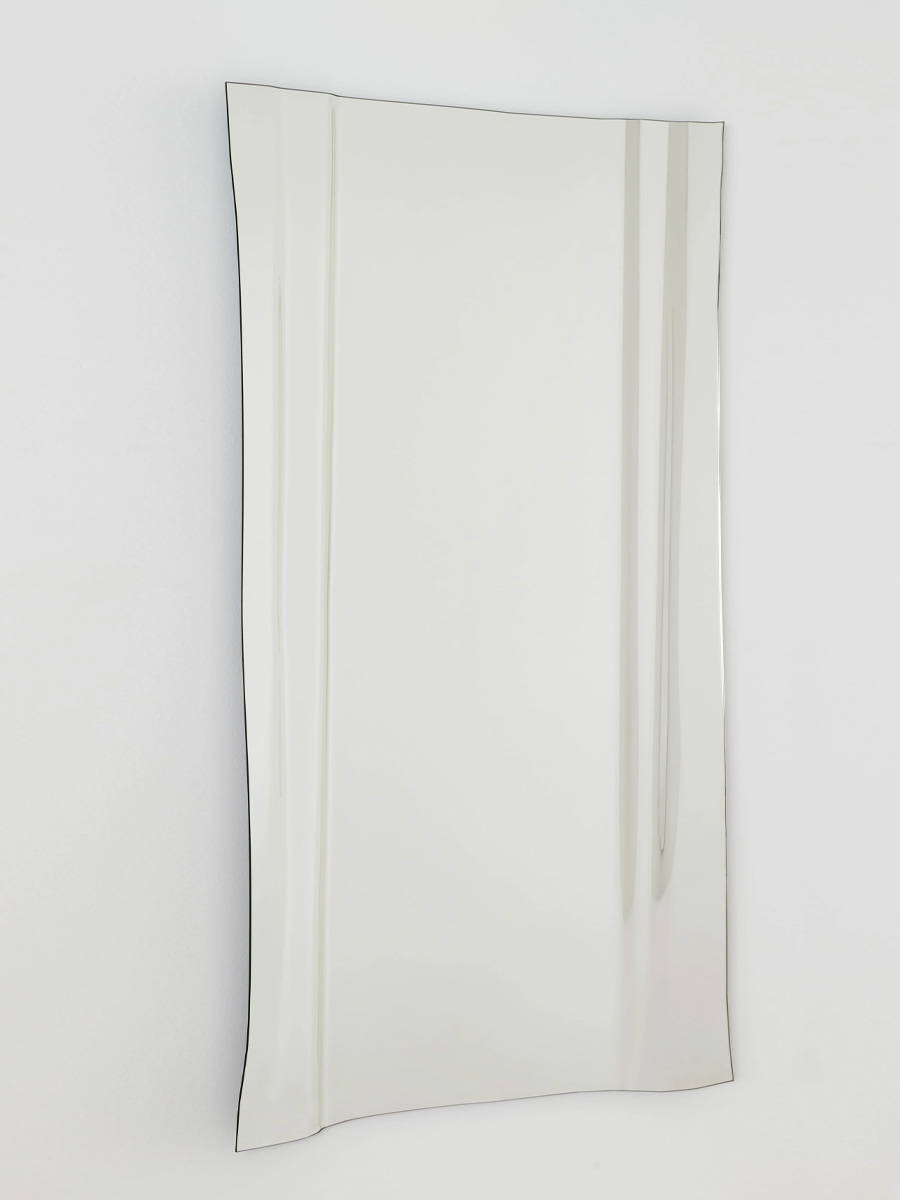 The Thierry XXL for Kartell had a tongue-in-cheek Saarinen table feel, made super contemporary in either vibrant berry shades or chic high-contrast monochrome, with glass tops held daintily aloft by metal legs in elegant stripes. The Maestrale mirror for Glas Italia becomes a fluttering piece of fabric or an anti-gravity liquid drifting in the wind, the definition of elegance and fragility.
The Piero Lissoni of 2023 may have somewhat softened his strict aesthetic code, but it is still infused into every piece. Lines are precise, curves exactly positioned and function clearly defined – but occasionally mingled in there's a bit of relaxed experimentation, like a cheerful, considered twinkle in the eye.