5 Essential Interior Trends For Less
Whether it's a bold new pendant light or a millennial pink colour scheme, trends are what help us to stay in love with our living spaces. Here at Chaplins we only like to champion those we believe have staying power. After all, you want your home to be stylish for the foreseeable future. With our Summer Sale now on, we've compiled a list of five must-have interior trends that will keep your home fresh and current for years to come.
1) Come Home To Zen
This summer, say Konnichiwa to gorgeous Japanese design. Steeped in Zen spiritual practices, this tranquil style champions uncluttered living and smooth, flowing forms. Natural materials such as wood, leather and stone reign supreme with the intention of creating a soothing, minimalist environment.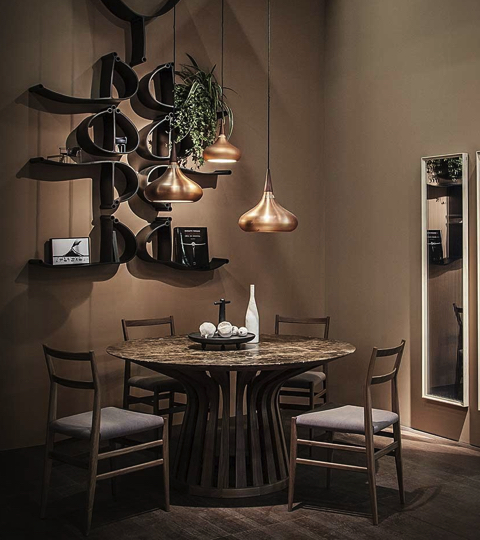 CASSINA created a nook of Japanese-inspired tranquillity with their Baleno shelving and LE BEAU WOOD DINING TABLE at this years Cologne Furniture Fair. While a little more luxurious than the standard Japanese home, it reveals how you can adopt trends and ideas to create your own version of East meets West. Recreate the look by adding Gubi's Semi Metal Copper Pendant Lights and Cassina's 646 Leggera Chair.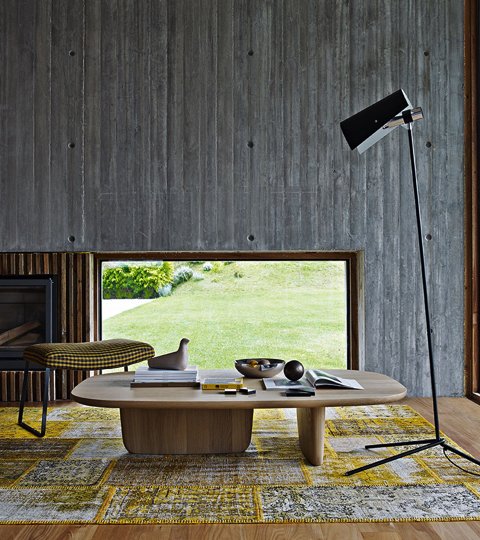 Inspired by the smooth stones used in traditional Japanese gardens, the Tobi-Ishi Coffee Table is an archetypal example of Japanese design. Its vertical bases and large sculptural top establish an arresting focal point, drawing attention to its asymmetric angles. Hewn from precious oak, the designers, Edward & Osgerby, describe it as "the table that became a sculpture".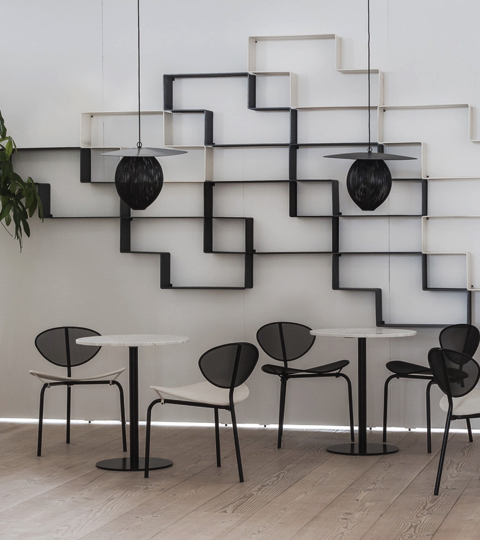 Gubi's Nagasaki Dining Chair is perhaps the best known of their Mathieu Matégot Collection and one of the few classic chairs to have mastered the art of three legs. Its clean symmetry and unessential design are hallmarks of Japanese style and make it the ideal companion for minimal living spaces.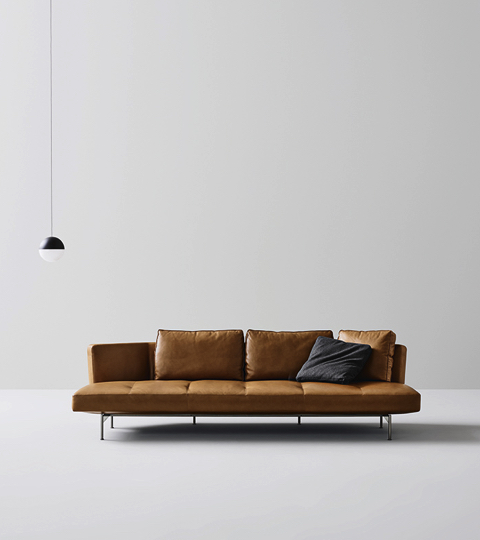 B&B Italia's Saké is a search for lightness. Its pared back form contains none of the bells and whistles of an Edra sofa, just classic craftsmanship and quiet comfort. Suspended on tall dainty feet, its enviable depth and generous cushions form a cocoon of tranquillity, ideal for an afternoon nap or morning meditation.
The buzzword in design ever since 2013, velvet furniture is a trend whose influence shows no sign of waning. Recently, we've seen it incorporated in a host of speak-easy style private clubs that scream delightful debauchery. Its plush, indulgent feel begets everything that is timeless about these much-loved institutions – red wine, cigarette smoke and hedonist abandon. Paired with gold accent details, tubular furnishings and glossy finishes, this trend establishes a sensual, intimate vibe.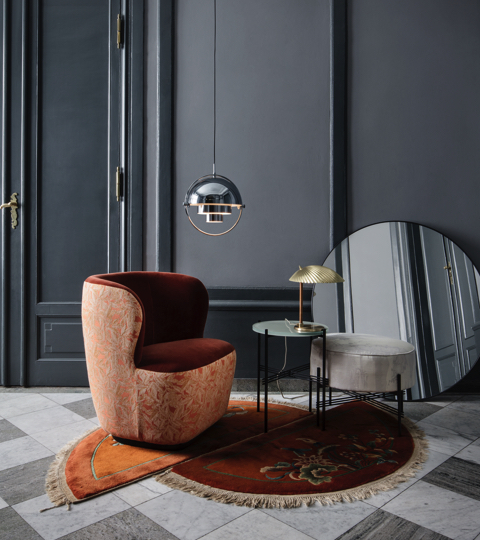 A killer combination of nostalgic Art Deco and Scandinavian simplicity, the Stay Lounge Chair is your invitation to get comfy and lose track of time. Its rounded silhouette recalls the sweeping curves popularized by New York's most famous underground institutions while offering a private nook in which to relax.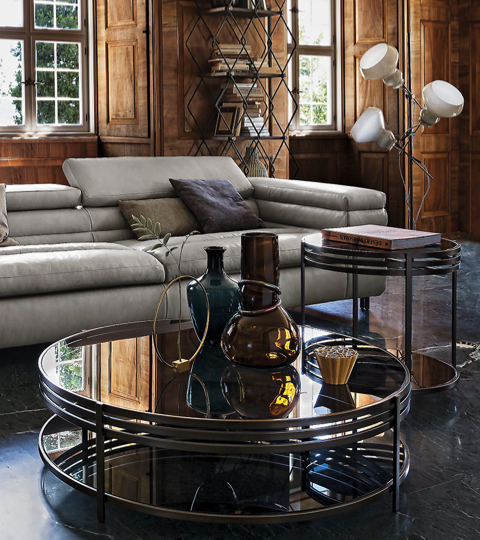 Revered for its sumptuous comfort, the Mayfair Sofa harnesses tubular velvet cushions in a direct reference to the plush loungers of 1920s Manhattan. Meanwhile, the burnished brass edges and smoked table top of the Ula Side Table are a shortcut to getting that smoldering ambiance without having to light up a cigar.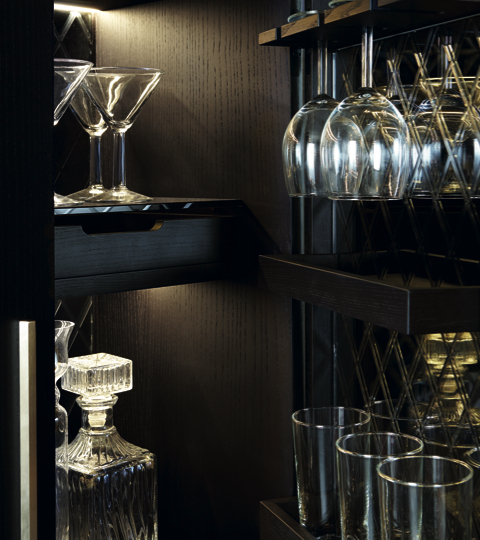 No speak-easy would be complete without a glamorous bar cabinet to keep track of your tipples. Gallotti & Radice's Tama Cabinet offers the ultimate in smart yet stylish storage. The external doors feature stained black ashwood accented by satin gold detailing. Inside, there is a backlit mirror and heaps of inventive shelves and racks for storing precious glasses.
The slender stem of Knoll's Saarinen Side Table rising up to greet a waiting glass of whisky is the final flourish in any speak-easy inspired setting. Glossy laminate finishes were everywhere in the interior pop-up bars at Milan, and it was wonderful to see this design classic in a gritty new context.
3) Customisable Creations
In 2018, homeowners expect their living spaces to be a reflection of who they are and their story so far. In response to this, brands like Flos and Bocci are putting creativity into our customer's hands with their clever online configurators. You can now create your own constellations of light to be shared with our design team who will help you with a quotation as well as any queries you might have about installation.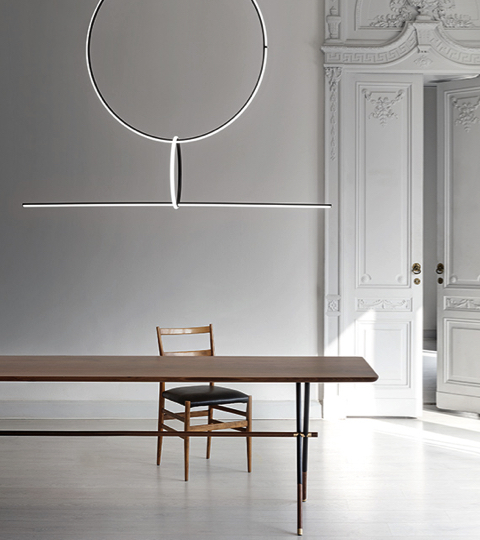 The ethereal appeal of Flos' Arrangements is not hard to understand. Created from a series of geometric shapes, each poetic hoop attaches onto the other to form a stunning glowing chain. Together, the orbs emit a celestial, Cirque du Soleil appeal, that hangs like a precious ornament over tabletops and stairways. Use Flos' configurator to create your own or shop our selection in the Chaplins Summer Sale.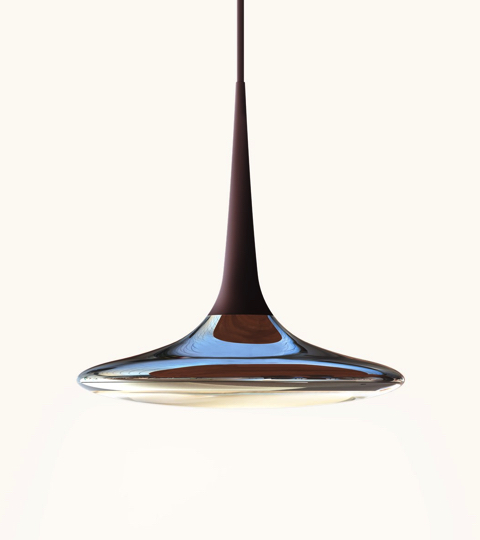 Tobias Grau's evocative lights reveal the delicacy and fluidity of the natural world. Standouts include the Falling Leaf and Oh Collections, each of which is available online in a variety of configurations. However, they can also be customised to your exacting specifications, whether for a private residence or a larger commercial space. Simply pop by the showroom or drop us a line and our team of design experts will be delighted to get you started on your own custom piece.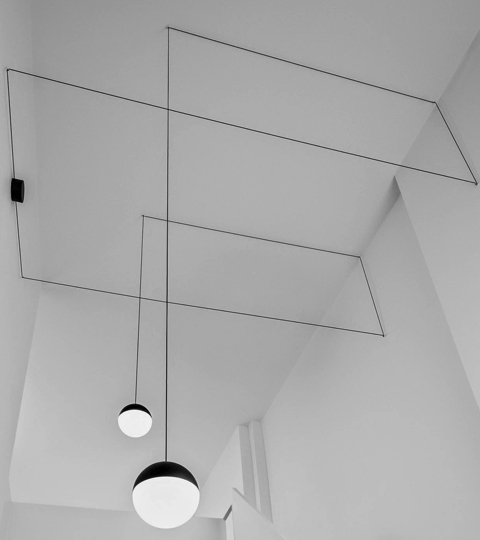 At the other end of the design spectrum are Flos' String Pendant Lights. They were designed by Michael Anastassiades in 2013 as a flexible, architectural lighting solution that could operate independently of pre-fixed sockets. Minimal and poetic, the String Lights offer meters and meters of cable suspension and can be strung across walls or ceilings as desired. Suspended on these striking parallel lines is a spherical or triangular light source — conceptually simple yet bold at the same time. Follow the link here to see a quick video demo.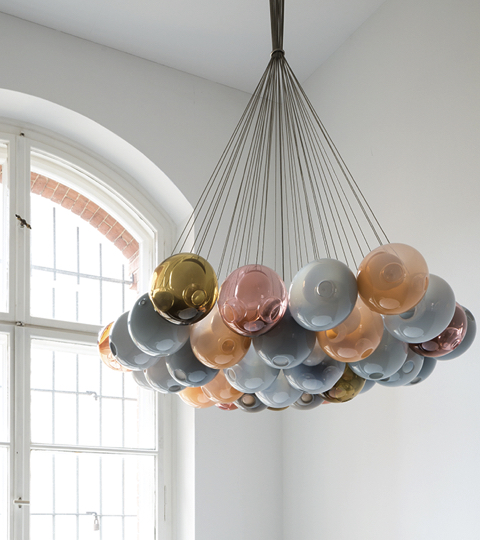 Bocci is a Canadian brand dedicated to the manufacture of extraordinary light sculptures. Each bulb is the result of a complicated glass blowing technique which establishes a unique spherical shape and inner satellite. In the image above, this satellite takes the form of a milky opaque bubble in which a low voltage xenon lamp is housed.  Utterly customisable, these lights are available as a stand-alone alone pendant, chandelier or cluster and can be created using their realistic online configurator. Alternatively, check out our comprehensive selection and start your light story today.
With the outside world looking increasingly gloomy, the desire to indulge in a fit of 80's exuberance is entirely natural. As with any throwback trend, we cherry pick and rework only the very best features — think fizzy intricate patterns and stylish colour blocking — leaving coral bathtubs and kitschy curtains in the past. What follows is a selection of power patterns and geometric goodness, guaranteed to add soul back into your living space.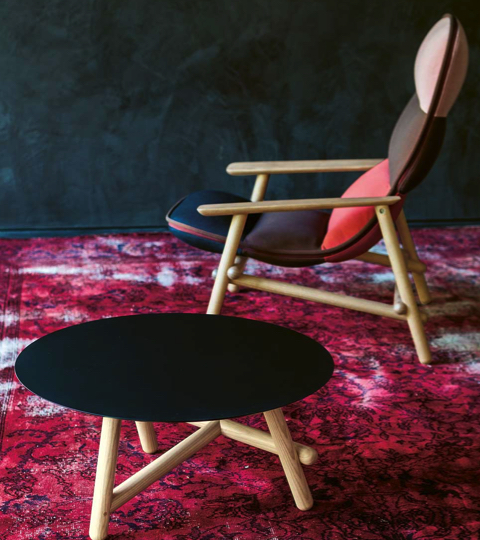 In the 80's colour blocking was all about rebellious colour clashes — vibrant pinks, reds, and greens thrust together in a chromatic visual frenzy. Today, it's more muted, using segmented yet complementary hues to add contrast to your home. Moroso's Lilo Lounge Chair is a perfect example of this new translation, created by superstar designer, Patricia Urquiola. Fancy a closer look? Pop by our Hatch End showroom.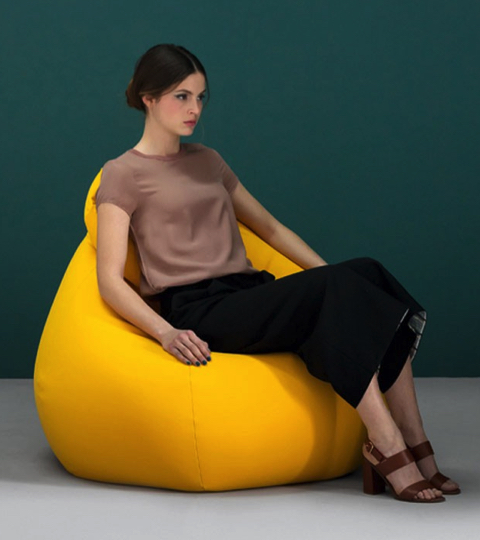 Bean bags were all the rage in the 80s, revered for their relaxed form and innate versatility. Discover the original in store in our brand new Zanotta studio, which features iconic designs such as the Maggiolina Lounge Chair and the new Noli Dining Chair fresh from Milan Design Week.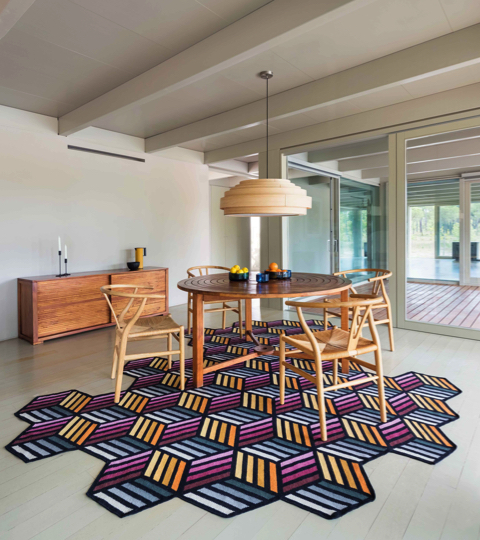 GAN's Parquet Rug forms part of their 2018 collection and celebrates geometric patterns and silhouettes in a striking display of underfoot style. Observe how in this pared-back interior above (hello Wishbone Chairs), it adds a stylish focal point. As a quick-style fix this is an excellent way to get involved with one of they year's most exciting interior trends.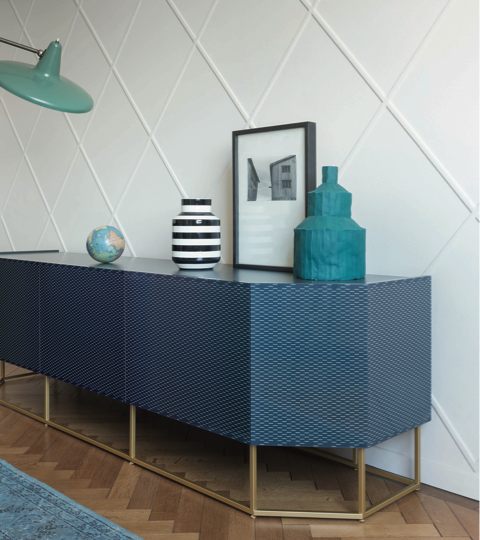 Bonaldo's Shade Sideboard picks up on the more graphic effects of the era and is a subtle way to embrace this trend. Paired with a contrasting brass base, Shade is a sideboard with staying power. Position it in your dining room and load it up with all of your finest china and dinner party wares.
This summer, the style gurus have spoken and tablecloths are out. We understand you might feel nervous when guests come over but with state-of-the-art ceramic, there really is no need.
Ceramic is the younger, more resilient sister of marble. Tried and tested against all of the kitchens most punishing elements (bleach, cuts, heat and, of course, the dreaded red wine) it offers all the allure of marble with none of the maintenance. It's also completely non-absorbent and wonderfully dense, which means stains or knives cannot penetrate its gleaming surface.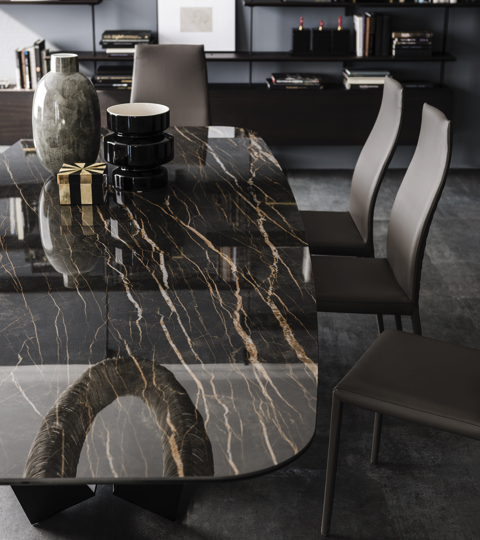 Skorpio is a stunning modern dining table from Cattelan Italia, which pairs a dazzling ceramic top with an intricate, industrial base. Available in a variety of statement finishes, there is no need to buff or polish, simply wipe away any spillages with a damp cloth and watch it beam.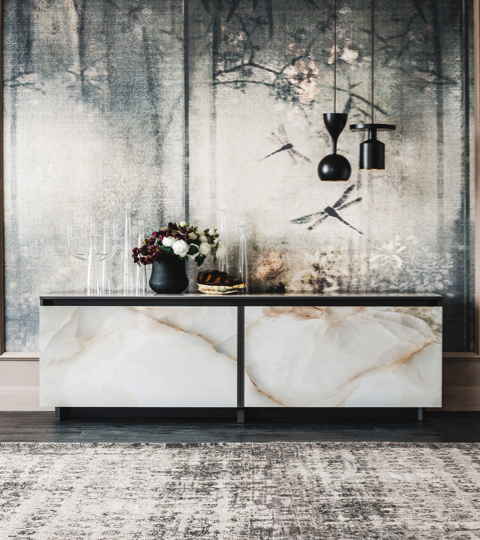 The Europa Sideboard adds a touch of glamour to your everyday storage. Available in nine stunning 'Keramik' finishes, its the perfect way to give your dining room or hallway an elegant Italian feel.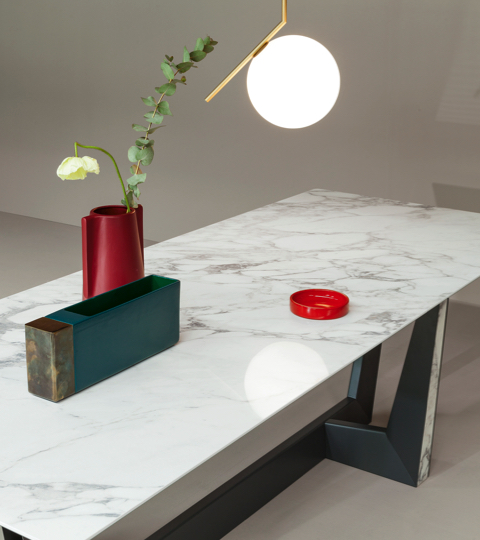 Bonaldo's Art Dining Table is equally equipped for life's unpredictable moments. Cleverly engineered heat resistance means that ice buckets or steaming woks can be placed directly onto the table with confidence, saving you having to faff around with unsightly tablemats or coasters.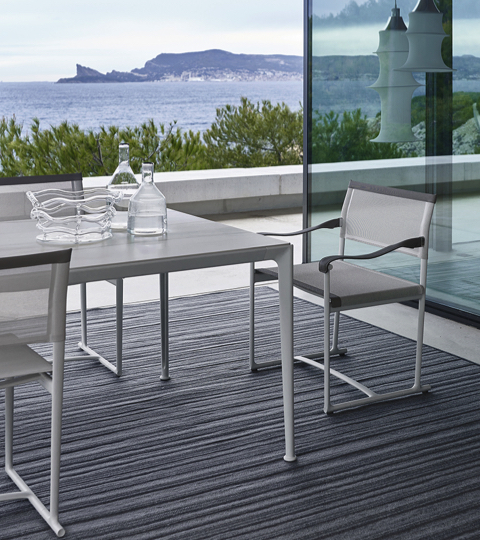 Of course, there's no need to stop at the indoors. B&B Italia's specially treated Mirto Outdoor Dining Table channels all of the elegance of its indoor counterparts and is designed to resist even the most tempestuous of conditions. The wider collection includes an array of loungers, low tables, and director's chairs, created to help you live the outdoors all year long.
SHOP THE LATEST INTERIOR TRENDS FOR LESS