9 Tips for Decorating Kids Bedrooms
A child's bedroom is both a portal and a fortress, a space to dream, relax and shut off from the hum of the adult world. With a boom in design for children, decorating your child's bedroom is no longer the preserve of half-hearted wall stickers or Disney-related merchandise that they will swiftly outgrow. Natural textiles, sophisticated storage and non-traditional palettes mean that it's an opportunity to reimagine a once lacklustre space with colour, creativity and life.
How you decorate your child's living space can also influence their habits hugely. In his much-lauded Before The Flood documentary, Leonardo De Caprio fondly attributes his creative successes and environmental interests to the portrait of 'The Garden of Earthly Delights' that hung over his crib as a child. While we're confident there were also a few other factors at play, creating a stimulating and inspiring bedroom is a wonderful gift for any child. Besides, if you do it right, you won't need to change it every 2 years. Our expert guide to Kids Bedroom Décor will give you your necessary dose of inspiration along with several tips to maximise play and minimize chores.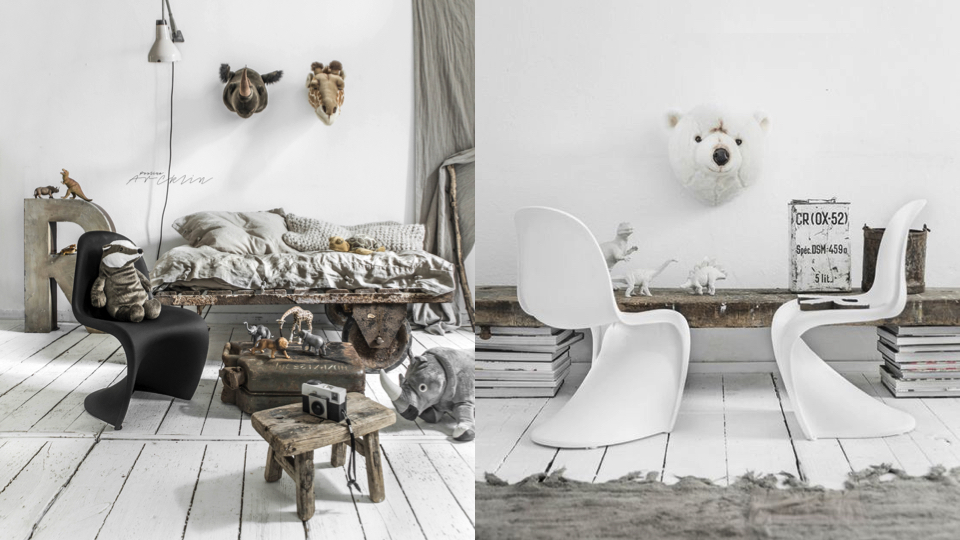 Paulina Arcklin's styling of this gorgeous, gender-neutral children's bedroom reveals the very best of Scandinavian style and how you can extend it to your child's bedroom. An all-white colour scheme provides the perfect canvas for wood furniture and natural textiles, recalling the Swedish preference for Lagom living spaces. Cuddly toy wall mounts provide a charming twist on traditional taxidermy decor while Vitra's Panton Junior Dining Chairs act as a stylish contemporary anchor for some of the more rustic elements. Available in both Junior and Adult sizes, these eye-catching dining chairs are an icon of modern design and a must-have for any budding interior-designer. We recommend completing the look with GAN's Sail Pouf, a gorgeous all-natural beanbag that is perfect for a little after school downtime. (Image Credits)
Storage, storage, storage. In an era of shrinking living spaces, it's become somewhat of a holy grail for modern families, especially those with young children. When shopping for your child's bedroom, opt for a modern bed that offers under-the-bed storage. Bonaldo's Titti Single Bed is a versatile option that can be customized with a large bunker for storage or a second pull-out bed for sleepovers. We also love the wall art in this child's bedroom. To recreate this at home, take a simple image, split it in two and have it printed onto canvas for extra oomph.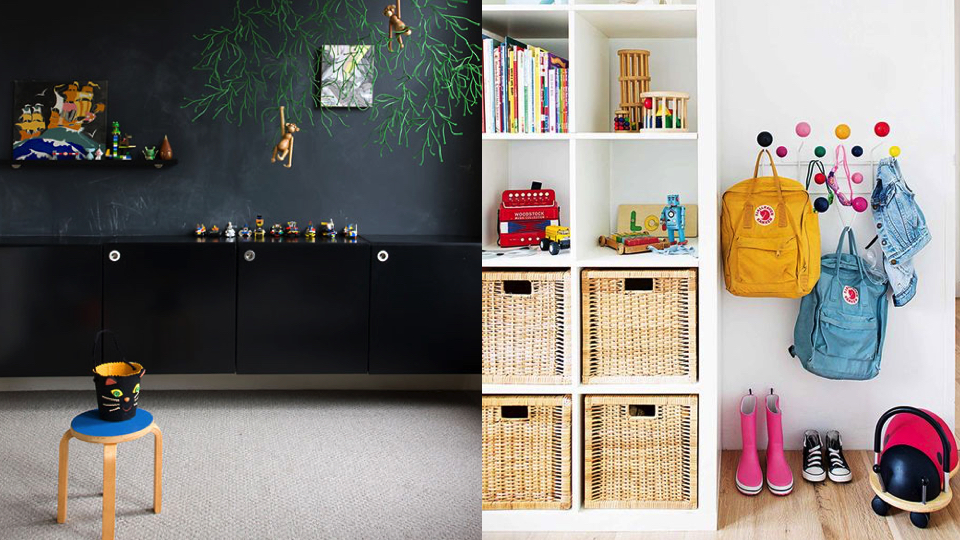 Here, a chic black and green colour palette reveals a stylish children's bedroom that remains age-appropriate thanks to its retro blackboard and innovative storage solutions. The star steal is Vitra's Algue Wall Decoration, a verdant solution to help you free up the clutter in your little one's space. Taking inspiration from the wild vines of the Amazon rainforest, the Bouroullec brothers have created a gorgeous web of faux greenery that can be used to keep jewellery, trinkets and beloved toys off the floor. The weblike structure can also be linked to form light curtains or dense room dividers, ideal for children who are sharing a space but still crave their own privacy. (Image Credit)
On the right is another Vitra classic, the Eames Hang It All Coat Rack. Designed by Charles & Ray Eames in 1953, this cheerful design encourages children to hang all of their possessions up on the wall, thanks to 14 evenly spaced hangers. From backpacks to jackets, this simple organiser is a firm favourite that will suit any décor style. (Image Credit)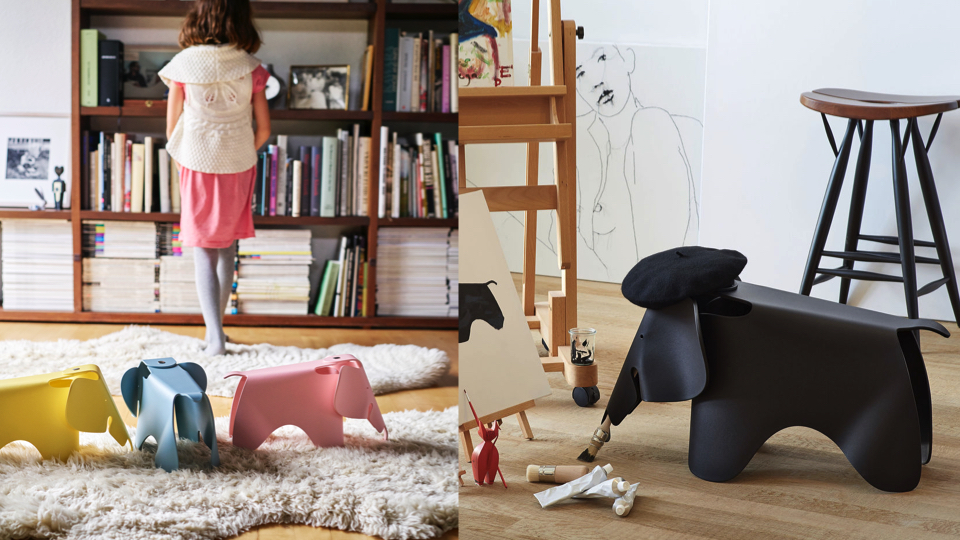 Choosing toys and accessories for a little one's room can sometimes feel like an overwhelming task. With so much available, our top tip is to invest in a multifunctional classic that is easy to clean and designed to last a lifetime.  Among some of our favourite children's accessories are Charles & Ray Eames' Decorative Elephants. Used interchangeably as a tiny seat, a robust toy or a cherished decorative object, these miniature sculptures would prove to be some of most technically challenging work the Eames duo ever produced, thanks to their prominent ears and curved joints. Nevertheless, they persisted, with Vitra issuing a much-loved American Cherry version in 2017. Today, these elephants symbolize the fruits of exploration and persistence, the gentle giant that became a modern-day design fairytale, and are the easiest way to introduce mid-century modern style into your child's bedroom.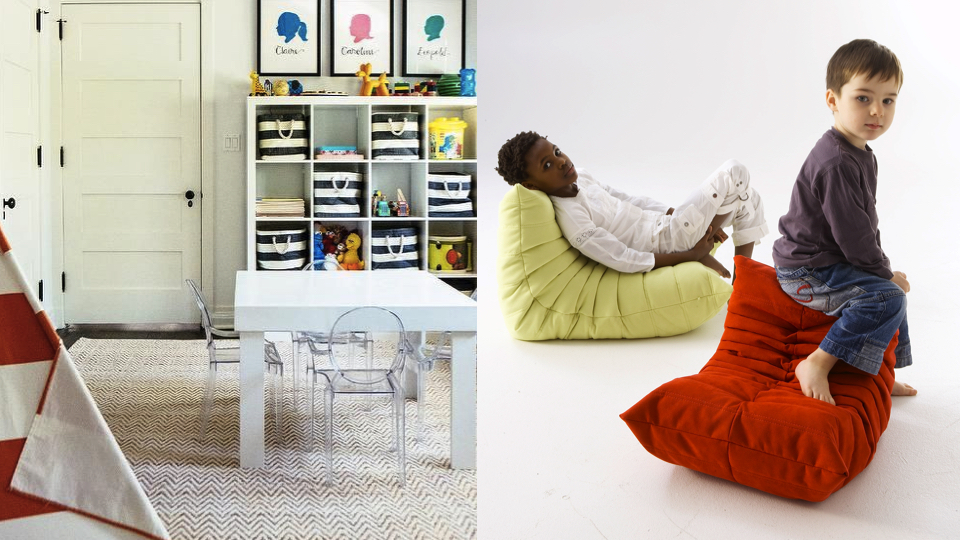 Kartell and Ligne Roset's miniature collections are the results of a desire to instil children's furniture with the same quality and comfort one would expect from an adult's chair or sofa. We dare you not to squeal over the gorgeous Lou Lou Ghost Chair and Mini Togo, manufactured to the same exacting specifications as their adult counterparts.  Available in an incredible array of energizing designs, these miniature icons are a delightful option for the aspiring fashionistas who want to have their own chair with the "big people". (Left Image Credit)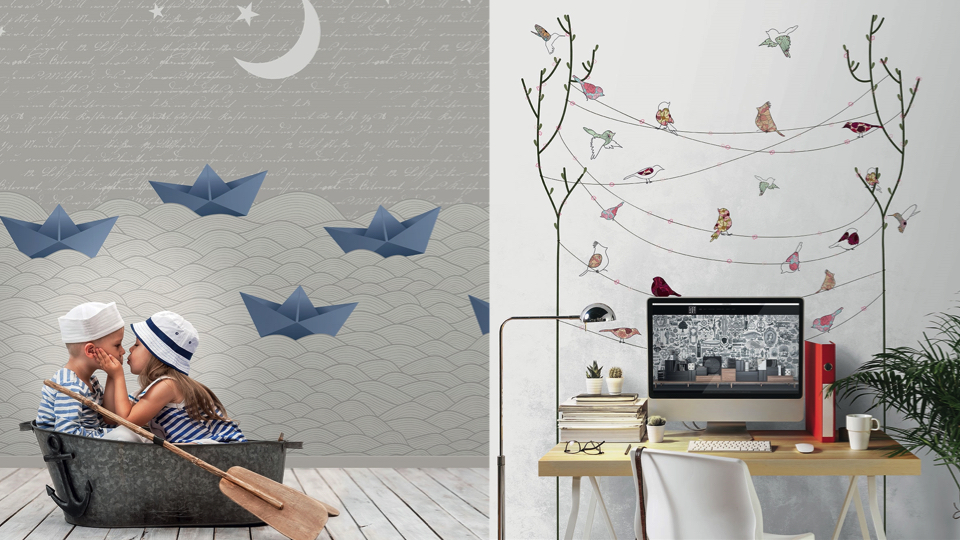 Contemporary wallpaper is a great way to create a room that reflects your child's unique personality. London Art and Mineheart offer a wonderful selection of wallpapers that go above and beyond the usual superhero or princess offerings. While neutral colour schemes provide the most flexibility when decorating, don't be afraid of some of the more adventurous pieces if that's what you immediately gravitate towards. Your child's bedroom is the one room in the house where you can live out your interior fantasies, so be bold and enjoy the process.
Mineheart's Wallpaper collection is available online from just £70, while the entire London Art collection can be ordered via our showroom (020 8421 1779) with prices starting at £90 p/m2.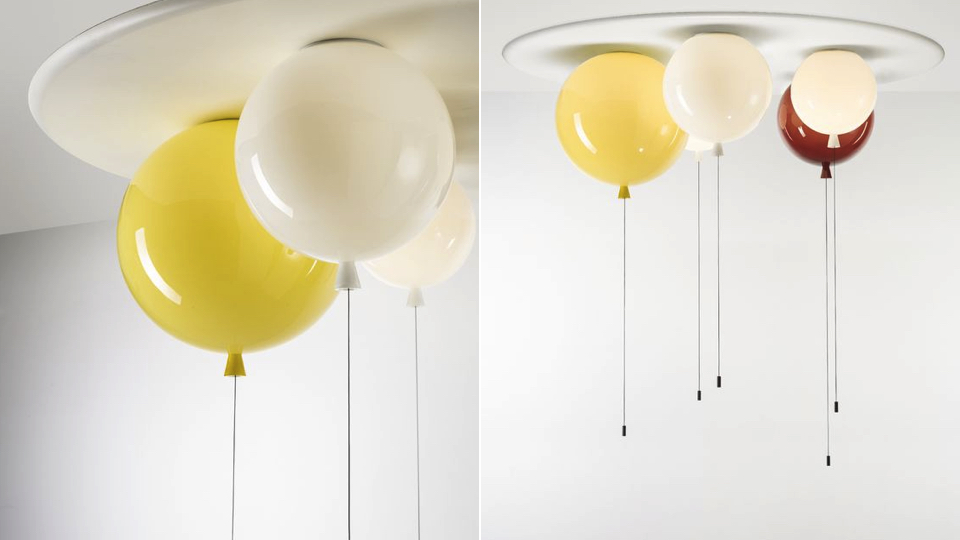 Great lighting is incredibly important in any modern bedroom, and this is especially true for growing children. Brokis' nostalgic Memory Ceiling Light captures the essence of childhood into one wistful design guaranteed to delight children and adults alike. Available in an astonishing array of colours and configurations, each balloon is painstakingly crafted from hand-blown glass and then given a glossy opal finish. Memory's true delight is found in its operation, a hanging string that invites you to turn the lights on and off with a simple tug of its cord.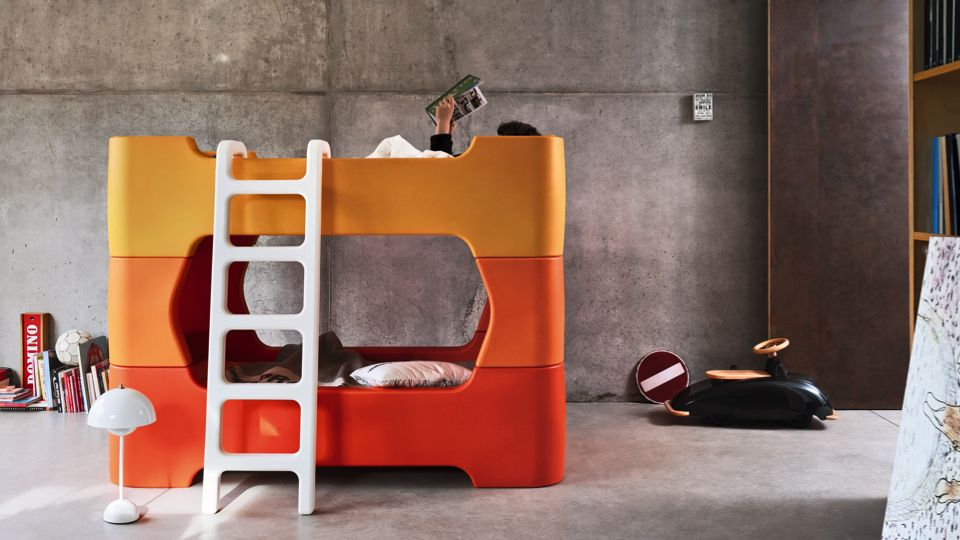 The bunk bed is a right of passage for any young siblings, with the shadowy confines of the bottom bunk often lacking the light and freedom of the coveted top bunk. Placing a cordless table lamp next to the bed can help overcome this while making trips to the toilet that little bit easier for kids who are scared of the dark. Pictured above is Magis' Bunky Bed next to which we recommend placing Flos's Bon Jour Unplugged Lamp. Featuring their intuitive 'Edge Lighting' technology, you can alter the colour temperature according to your children's schedule. Bluer light aids with concentration, while a soft rosy hue will help your little ones drift off to sleep.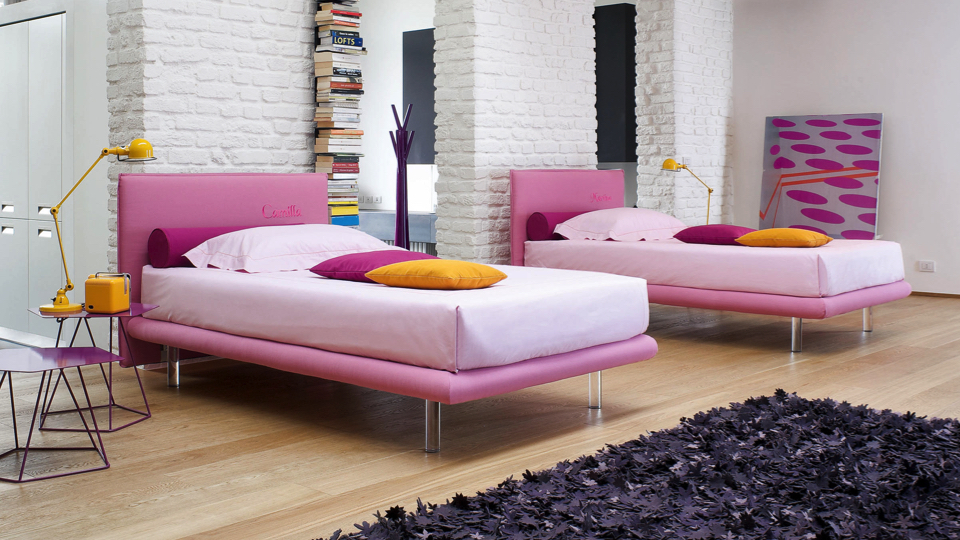 In this twin bedroom, a traditional pink colour scheme is enlivened by mustard yellow and deep purples, adding texture and soul to this girly living space. Note how a designer coat stand makes for a smart alternative to the usual mass grave of clothes strewn across a bedroom chair.
And while carpets can seem appealing during the winter, they're a nightmare to keep clean, (I can personally testify to the evils of red nail varnish on cream carpets). Instead, opt for practical flooring and a colourful statement rug to introduce tactility into the room. For those looking for a modern rug with a little dimension, try a raised 3D carpet like Karim Rashid's Lush Collection or a traditional Hand Knotted Rug from GAN.