Inside The Favourite Haunts Of 3 Italian Eccentrics
Maximalism has fallen out of favour somewhat over the last decade. In part because of the soothing overtures of Scandi design. And also because of the widespread dissemination of publications like The Life Changing Magic of Tidying Up. And while we're as susceptible to a good spring clean as the next aesthete, we can't help but wonder whether the current 70s revival (and general lacklustre nature of life in lockdown) might signal a wider maximalist reboot on the horizon. In search of answers, we took a look around the favourites haunts of 3 Italian eccentrics, each of which makes a strong case for serendipity in the spaces where we work and play.

Carlo Mollino flew in the face of just about every expectation one might have of someone born at tail end of the Victorian era. Today's commentariat would consider him the original multi-hyphenate (a pilot, designer, architect and photographer). Or else, the very last of Italy's great Renaissance men. At Chaplins, he's known as the only designer to ever match the surrealist energy of Dali with the acrobatic grace of Ponti. Also as the bloke with the funky moustache.
However, to really understand his legacy you have to take a trip to his secret apartment in the centre of Turin. Unknown to even the closest of kin, it was here where Mollino engaged in the reclusive activities that would shape him as an artist. While he did also use the space as a stage for louche photoshoots, over the years it became clear that its more ardent purpose was to create a private space in which to surround himself with the very best ideas of the day.
Many of the 20th century greats were represented: including icons like Le Corbusier, Saarinen and Charlotte Perriand. Such auspicious influences would eventually lead Molloni to the creation of designs like the Fenis and Arabesco —the original of which remains the most coveted item to ever be hammered off at Christies. (Here we should remind design lovers who don't have 3 million to spare that the same designs are now being faithfully brought out of archives by quirky Italian design house, Zanotta).
Despite such stratospheric success, historians who have visited the maximalist apartment have been quick to write Mollino off as a hedonist. And yet part of the reason Molloni became such a prolific figure in the first place was because he gave himself the licence to imagine and experiment.
It's an idea we come back to when we think about how to approach the design of our own spaces. In trying to curb all visual excess, today's advocates of tidiness may have got the binary wrong. If Mollino's life was anything to go by, we should look to maximise experimentation and minimize self-consciousness. Starting in the very spaces we call home.
90 miles east, pedestrians in an otherwise industrial neighbourhood of Milan have been struck by a somewhat less subtle apparition. Behind the two-storey high, Wes Anderson-esque facade are the headquarters of Toiletpaper — a graphic magazine founded by artist Maurizio Cattelan and photographer Pierpaolo Ferrari.
Together they have been working on a new capsule collection for LondonArt — a series of brash, provocative wallpapers aptly named Luxury Shit.
The collection is plastered throughout their HQ, writing the magazine's punk ethos into the listed walls. Irreverent and eye-catching, we'd wager that brainstorming sessions haven't been the same since. So while you might not be queuing up to paper expletives across your Zoom backdrop, when it comes to dreaming up stimulating domestic workspaces, it's a reminder that we can afford to be a little bit bolder (and significantly less serious) in our choice of textures and hues.
Another eccentric with a keen sense of colour is Carla Sozzani. In 1991, she quit her job at Italian Vogue to open up a gallery on the outskirts of Milan. She didn't know it at the time, but from the flower of this bold idea the world's very first concept store would grow, known today as 10 Corso Como.
A truly experiential space, one could wander the ground floor and discover Annie Leibovitz and Man Ray before winding upstairs for a browse in the Molteni&C adorned bookshop.
The gatekeeper of many of humanity's very best moments, has Sozzani continued to surprise and delight as the decades wound on, showcasing the likes of Gufram and Charlotte Perriand independently. And so when the time came for Fritz Hansen to choose someone to reinterpret that most prized of collections — the Arne Jacobsen chairs — they knew exactly where to look.
---
"When I set up my first apartment in 1973, I bought bright red Series 7 chairs. And when I later lived in London, I collected Arne Jacobsen's entire Cylinder Line. I have always been fascinated with the beauty of light and the interaction that subtle lights and shadows can create in both mind and heart."
---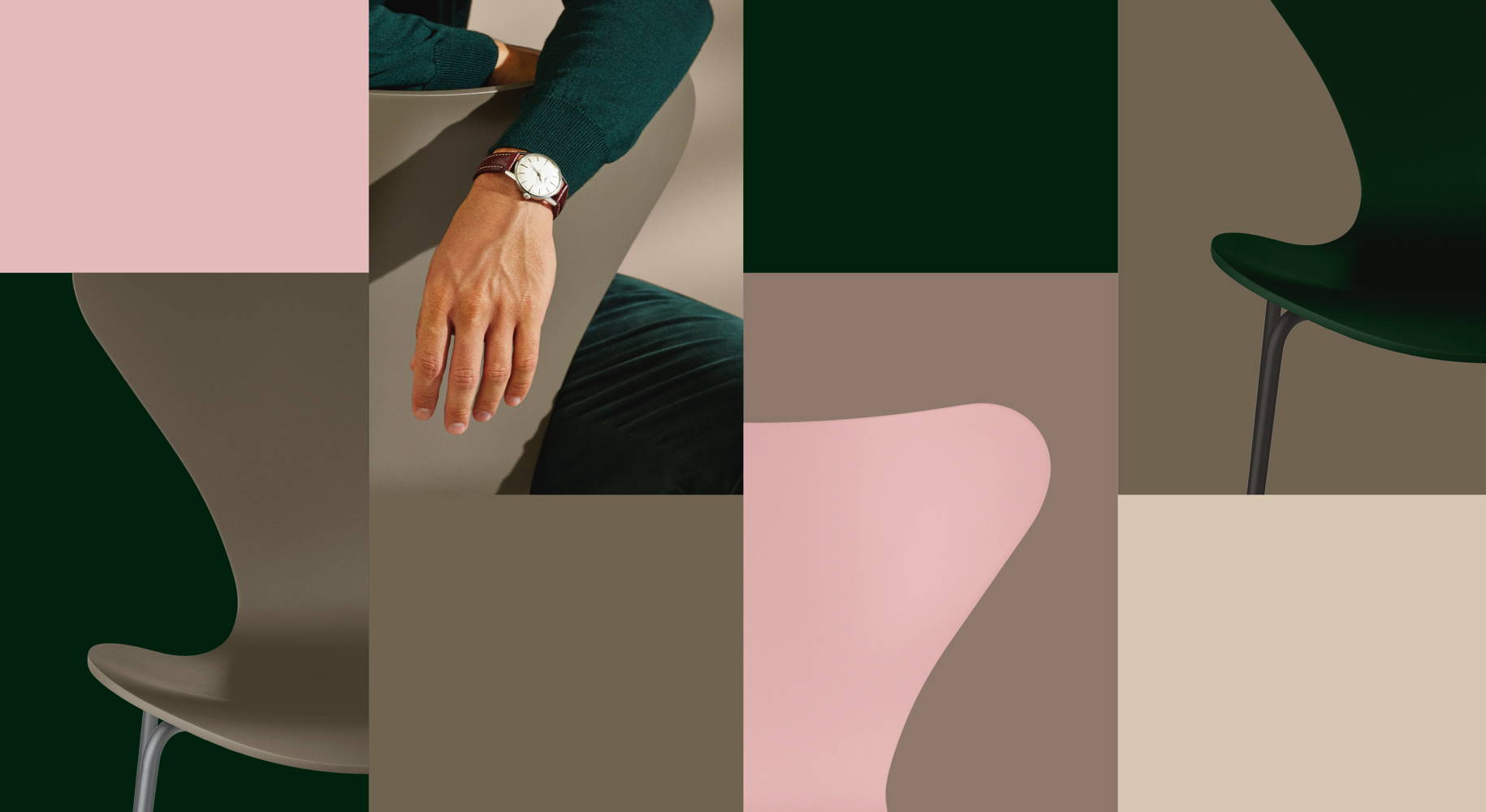 "When I was selected to propose a set of colours for the Series 7, I tried to imagine what Mr. Jacobsen might have thought when he made his first palette in 1955," she explains.
"Departing from that, every object we see relates chromatically through its shadows and light, no matter where it is from, whether birds of the sky, flowers of the earth, or shells of the sea. From the dark green and blue of shifting waves and sky, to the pinks and ochres of small shells and a fading seashore in twilight, the palette came naturally as I explored the essence of daylight and its partner: night, to capture the essence of our shared colour harmonies."
In daring to go beyond neutrals — Sozzani opens up new chromatic possibilities for the way we experience both space and history. An idea that might be just as timeless as any of the old minimalist dictums.