An Ode to Curves - Curved furniture to watch out for in 2023
The interiors world has been enamoured by circular shapes for years, with straight lines and angles gradually edged out in favour of the round. In the home, curves are calming, they imply comfort, softness and safety – no objects threatening to bash shins or cause dents here.
Now roundness has really kicked off; the newest designer pieces showcasing exaggerated, extravagant, expressive curves that go over-the-top with size, scale or configuration. While in more traditional shapes this may be too imposing or impactful for indoors, without angles the new forms are childlike and friendly – often with a dash of the cheeky or whimsical.
These designs also hint at the organic, many of the shapes appearing gently smoothed over time, or obviously sculpted by human hands. While perfect circles, discs and spheres still play a part in the contemporary interior, they're supported by forms that are imperfect, tying in with our ongoing love affair with nature and bringing the outdoor in to create an inherently relaxing mood.
6 Ways to Embrace the Curves
Round and Round
Is it a piece of art, or something practical? The Stami daybed by Milanese designers Studiopepe for Gallotti&Radice is all about curves, its straight lines almost invisible. A tale of two halves, its lower frame – if it can really be called that – is composed of impossibly delicate slices of black stained ash, which seem to loop and grow around the cushions above, flawlessly providing levelled support while making its own visual impression. The upholstered upper section is so sleek it looks naturally formed, the oval and cylindrical leather cushions impossibly smooth like something made in the digital world rather than reality.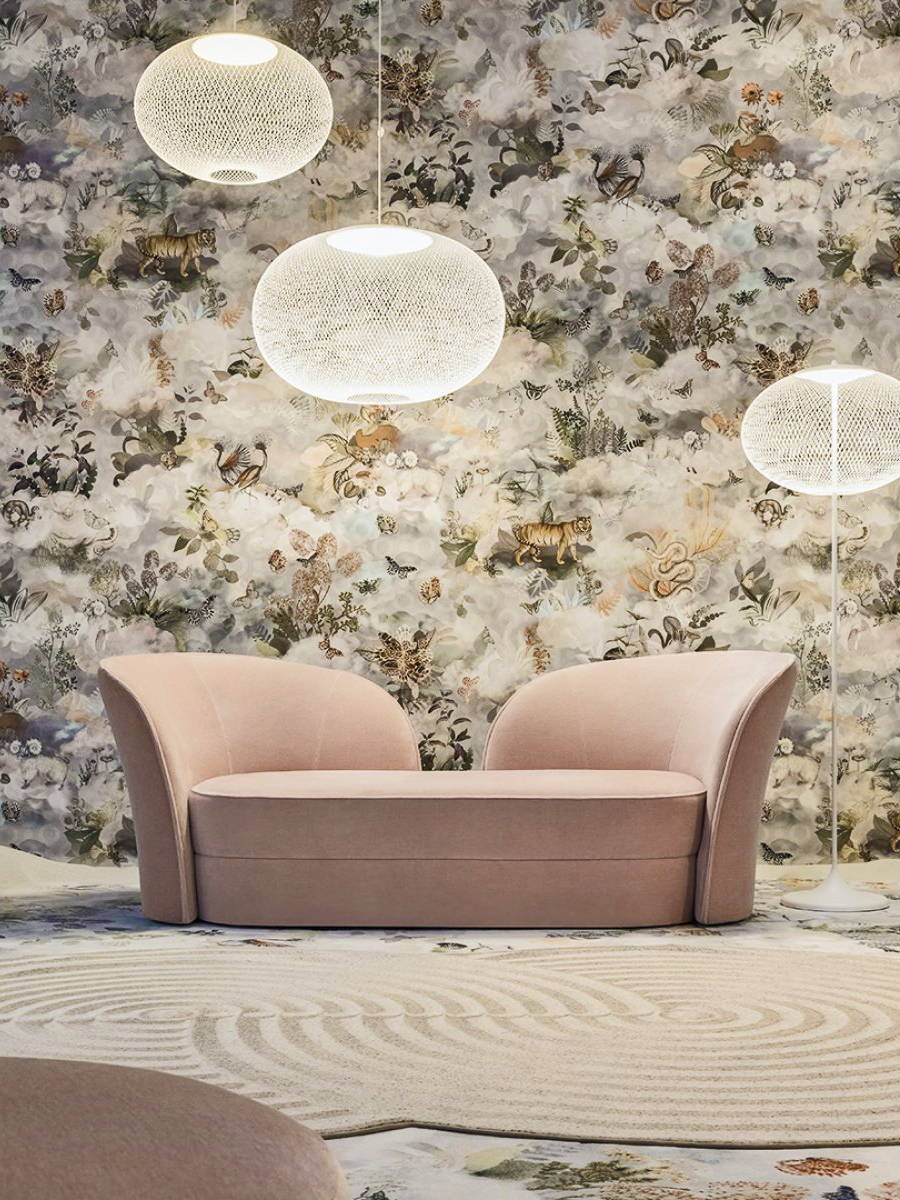 Charismatic Contours
Making an impression with its wing-like double backrest, finding strict linearity on the Aldora Sofa by Cristina Celestino for Moooi is like playing a long game of hide and seek. Its impressive backrest inspired by the arcing lines of Calla Lilies and prompting visions of pretty flying insects, the flowing flamboyant form is both somewhere to get comfortable on as well as an upholstered sculpture, bestowing joy and character on the room with its presence alone.
Contrasting Curves
With a sculptural beauty and opposing areas of heavy and light, thick and thin, and natural and manufactured, the Lato Side Table by Luca Nichetto for &Tradition is elegant, streamlined and balanced. Its smooth rounded base anchors the circular or oval surface up above, its minimalist, ultra-slim stem giving attention to the heavy almost-sphere and the flattened disc. Its lathe-turned marble base invites hands to explore and interact with it, the cool material contrasting the warm, relaxing feeling the table's curves emanate.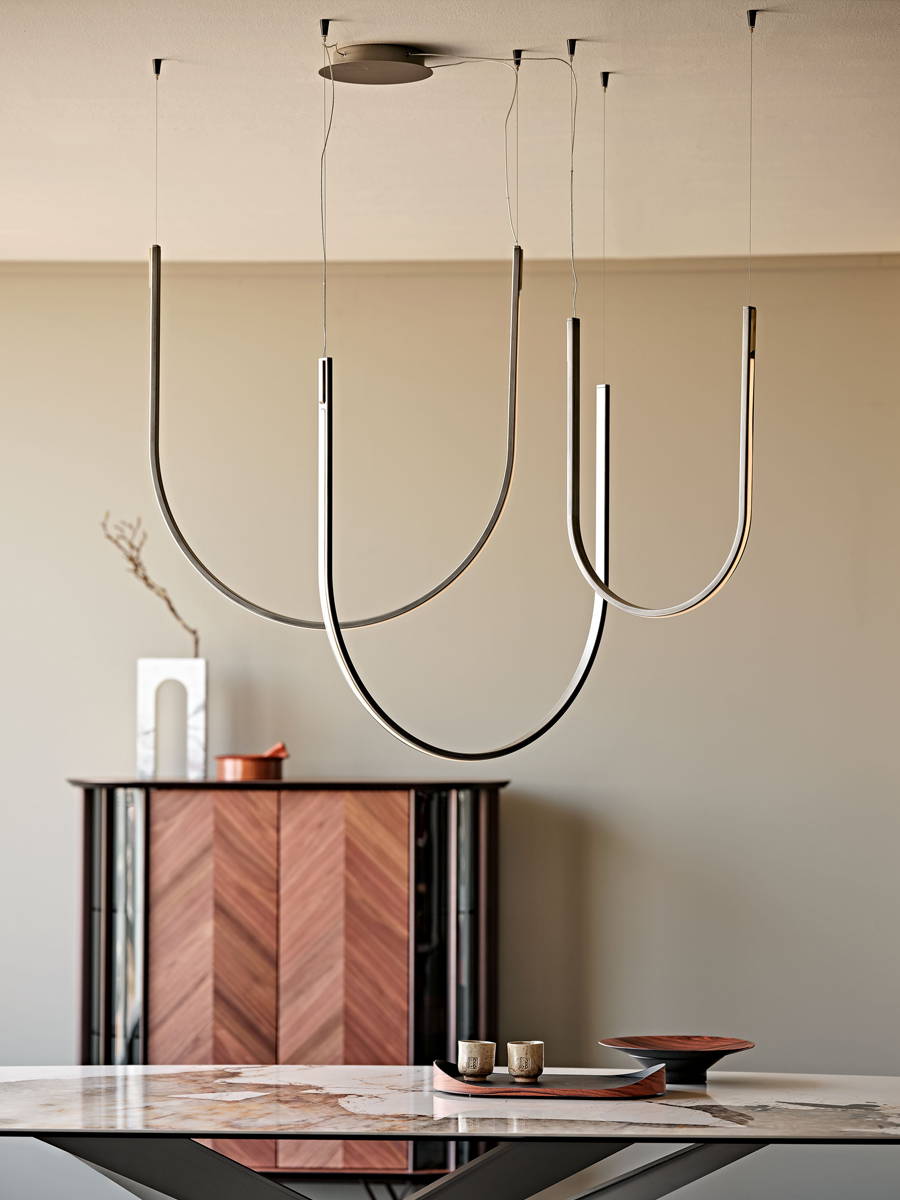 Looping Lines
Distilling the essence of the curve into its simplest form, the Nahun Ceiling Lamp by Studio Kronos for Cattelan Italia is a pure linear arc, a large single swoop of movement illuminated by subtle, softly glowing LEDs. When hung in multiples, the lines intersect to create additional rounded shapes which change when viewed from different angles, creating a simple, creative installation.
Round the Bend
An homage to the age-old art of steam bending, the 210R Pure Materials Dining Chair by Gebrüder Thonet is a design classic, first introduced in 1900 by the Thonet Brothers. Its meandering lines entice the eyes, drawing them along its mesmerising curves which appear to be one long piece of timber. The rounded back, seat and not-quite-straight legs all add to the feel of friendliness that only roundness can create.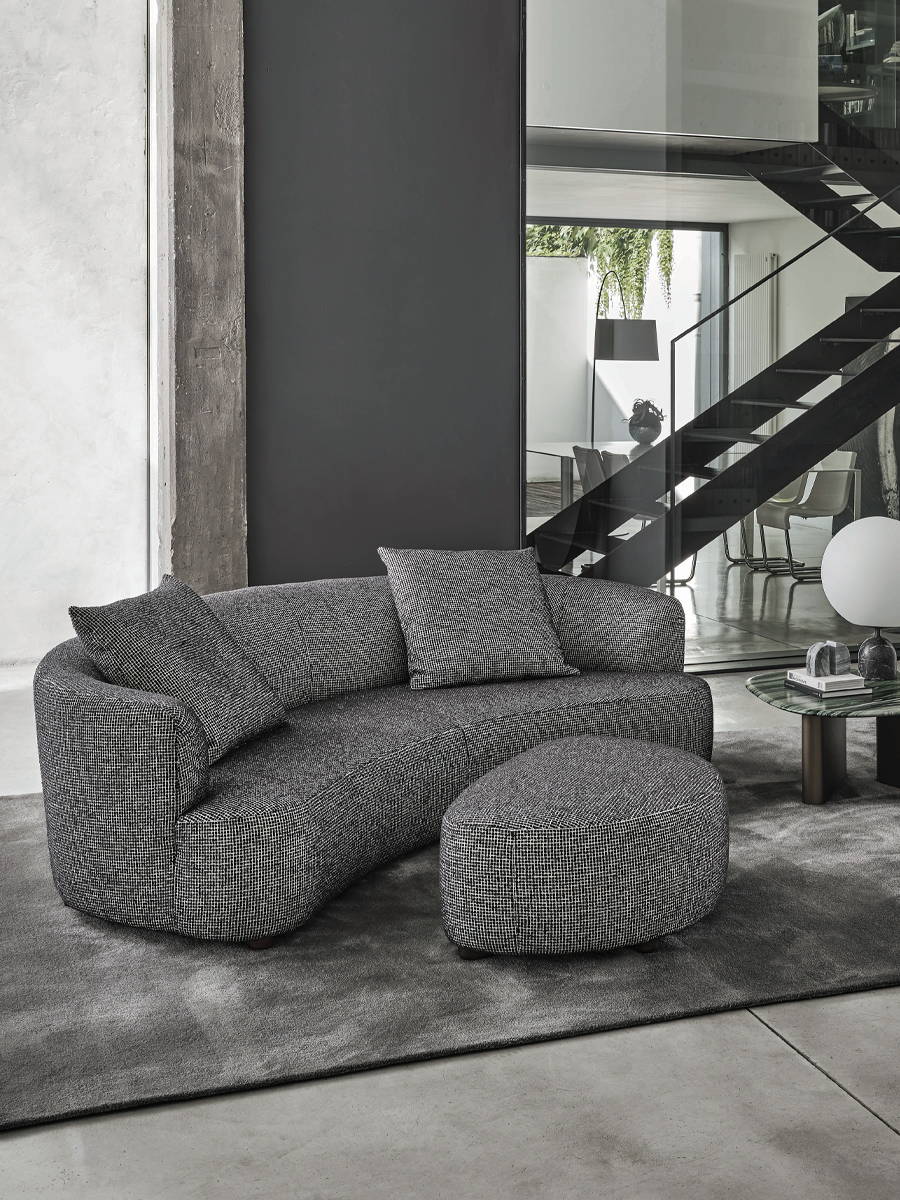 Organic Objects
A dainty take on a classic bean sofa, the Yves by G. & O. Buratti for Porada has a charismatic grown-on-a-stalk-in-the-garden shape, a reminder of the power of the organic, and the impact geometric perfection has on the home. Comprised only of calming curves, its matching pouf neatly nestles into the front of the crescent like an oversized seed.