10 Designs That Make Time Stand Still
There are some furniture designs that seem to belong to both the past and the future, that wouldn't look out of place in the home of your grandparent or grandchild, that give no clue to when they were designed by the way they look – are they a recent Barber and Osgerby triumph, or a classic Gio Ponti number?
Really, it's thanks to the Modernist movement which began its climb to dominance in the early 1900s, properly getting going post World War II when contemporary designers turned their backs on the ornate classical furniture of their forbears, instead looking to tone things down and shake things up. As Le Corbusier put it; 'A great epoch has begun. There exists a new spirit.'
Out went Art Deco, Neoclassical and Victorian styles – no more dark carved woods, gilded carpentry or rich patterns – and in came the shiny and new. Pared back forms, a focus on function over style and a visual lightness, all gloriously mass produced with gleaming new technologies, were finally available and affordable(ish) to all.
Design icons rained down. Furniture took on sculptural, minimal forms as hallowed architects began producing smaller objects to fill their projects, and names such as Eames, Wegner, Castiglioni and Breuer were sanctified in the furniture hall of fame.
Jump forward to present day, and the tubular steel is gleaming just as brightly as it did 70, 80, 90, 100 years ago, and those alluring curves look like they just fell out of the pages of a contemporary design magazine. Traversing the decades is no easy feat, yet several key 20th century pieces of furniture have made the leap with ease, their utter minimalism protecting them from the ravages of time and blending them in so well with the present day, it's hard to tell what new and what's a revered design icon.
We all know the bonafide classics – the Wishbone chairs, the Tulip tables, the Eames loungers – so let's explore those (slightly) more under-the-radar pieces that have made it through the years thanks to their brilliantly time-proof aesthetic.
Designs that get better with age
1. Wassily lounge chair by Marcel Breuer, 1925
Designed by Hungarian modernist architect Marcel Breuer in 1925, it's hard to believe the gleaming shapely form of the Wassily lounge chair, now produced by Knoll, is hovering around its hundredth birthday. A club chair reduced down to only its essential lines, the Wassily was designed when Breuer was an apprentice at the Bauhaus. Inspired the constructivist theories of the De Stjil movement as well as the bent frame of a bicycle handlebar, it was initially fabricated using the techniques of local plumbers. The first chair to ever feature a tubular-steel frame, the design changed the course of furniture design, still looking as progressive and impressive today as it did a century ago.
2. PH Septima pendant light by Poul Henningsen, 1927
Considered one of Danish visionary Poul Henningsen's most refined designs, the PH Septima lamp is made up of seven precise Italian borosilicate glass shades with alternating clear and frosted sections (to evenly diffuse light). Designed between 1927-31 for Louis Poulsen, when the first prototype was presented at the Danish Museum of Decorative Art, the crowd broke into spontaneous applause. The elegant glass crown fell out of production in the 1940s due to a material shortage, when the design was jubilantly resurrected in 2020 it was easy for shoppers to mistake it for a cutting-edge, contemporary chandelier.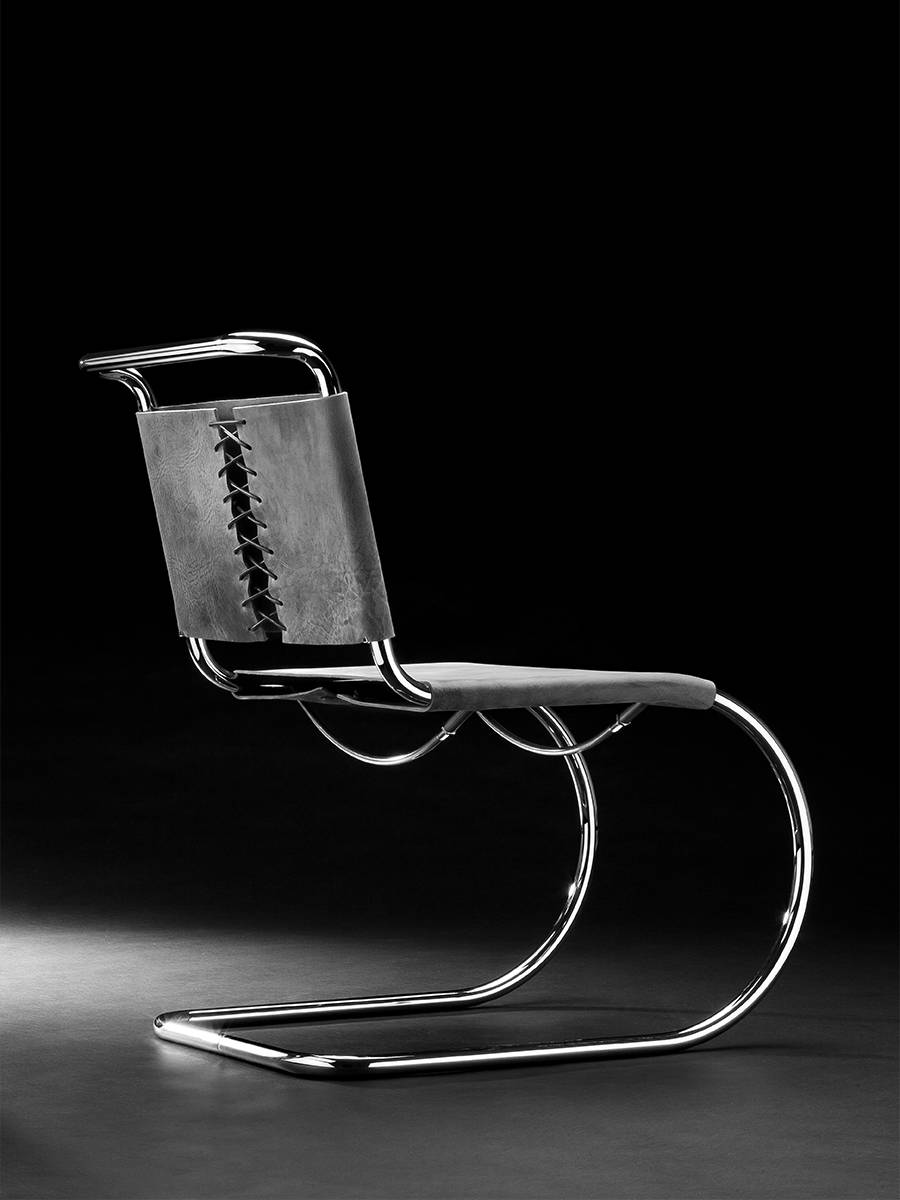 3. S 533 by Ludwig Mies van der Rohe, 1927
With sculptural curves slotting it into modern day sensibilities and the ongoing trend for all things round, the S 533 chair by leading German-American modernist architect Ludwig Mies van der Rohe defies the rules of time. The design was a technological innovation, one of the first cantilever chairs, the seat supported by an L-shape rather than the traditional four vertical legs. Carrying the architect's signature aesthetic of luxurious design combined with functionality, the chair is known for its comfort as well as its beauty, its flexibility meaning the sitter can constantly adjust.
4. La Chaise by Charles & Ray Eames, 1948
Designed as an entry for the International Competition For Low-Cost Furniture competition at the Museum of Modern Art in New York in 1948, the Dali-esque La Chaise by lauded American industrial designers Charles & Ray Eames was inspired by the Floating Figure sculpture by French artist Gaston Lachaise. A conceptual, freeform design which the user could either recline or sit up straight on, the daybed is an icon of organic design, the seat undulating to mould around the human body. Although intended to be released in 1950, it was only put into production in 1991, and you'd be forgiven for presuming that was also when it was designed.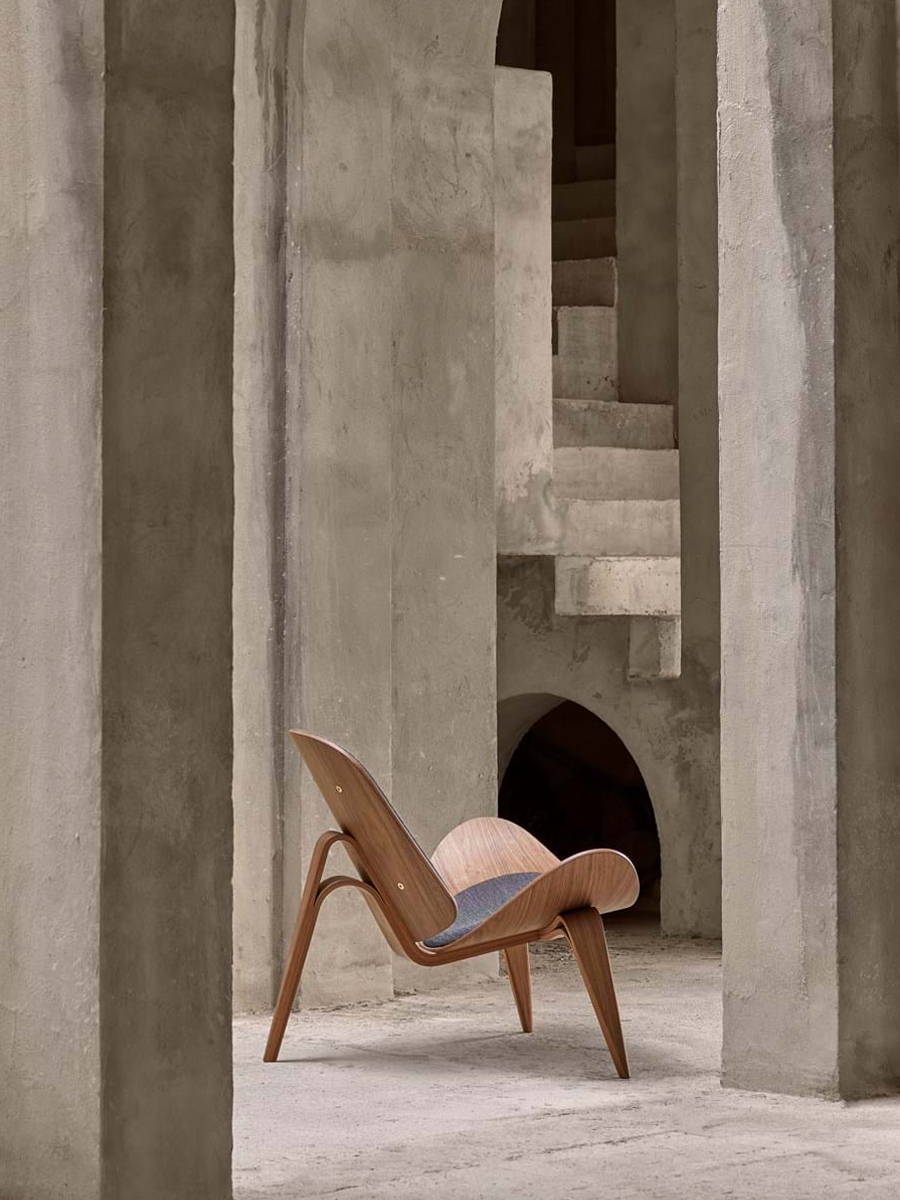 5. CH07 Shell Lounge Chair by Hans J. Wegner, 1963
A new type of shell chair with three legs, no armrests and a deep recline, the CH07 Shell Lounge Chair was created by 'master of chairs' Danish architect Hans J. Wegner in 1963, its organically curving seat gaining it the nickname of 'the smiling chair'. It took a while for its avant-garde looks to catch on – while 60s critics generally warmed to its distinctive avant-garde look, the public were less sure, resulting in a very limited production run. Reintroduced to wide acclaim and admiration in 1998, the chair's exaggerated form and cradling feel caught the interest of a new generation, proving that dates of design are wholly immaterial.
6. Haller storage by Fritz Haller, 1965
Purposefully designed to be time-proof, Haller storage was designed by Swiss architect Fritz Haller for Swiss brand USM and launched in 1965 and has had a place in New York's Museum of Modern Art since 2001. Designed specifically to be expanded and redesigned as time goes by, Haller pieces are made up of just a few precision-engineered components, including a patented ball-joint which connects to gleaming tubular framing supported by powder-coated coloured steel sheets. The adaptable storage pieces are still built with the same fittings as the day they were conceived, their 14 colourways also remaining constant so that models bought today will match and attach to designs from the previous four decades as well as into the future.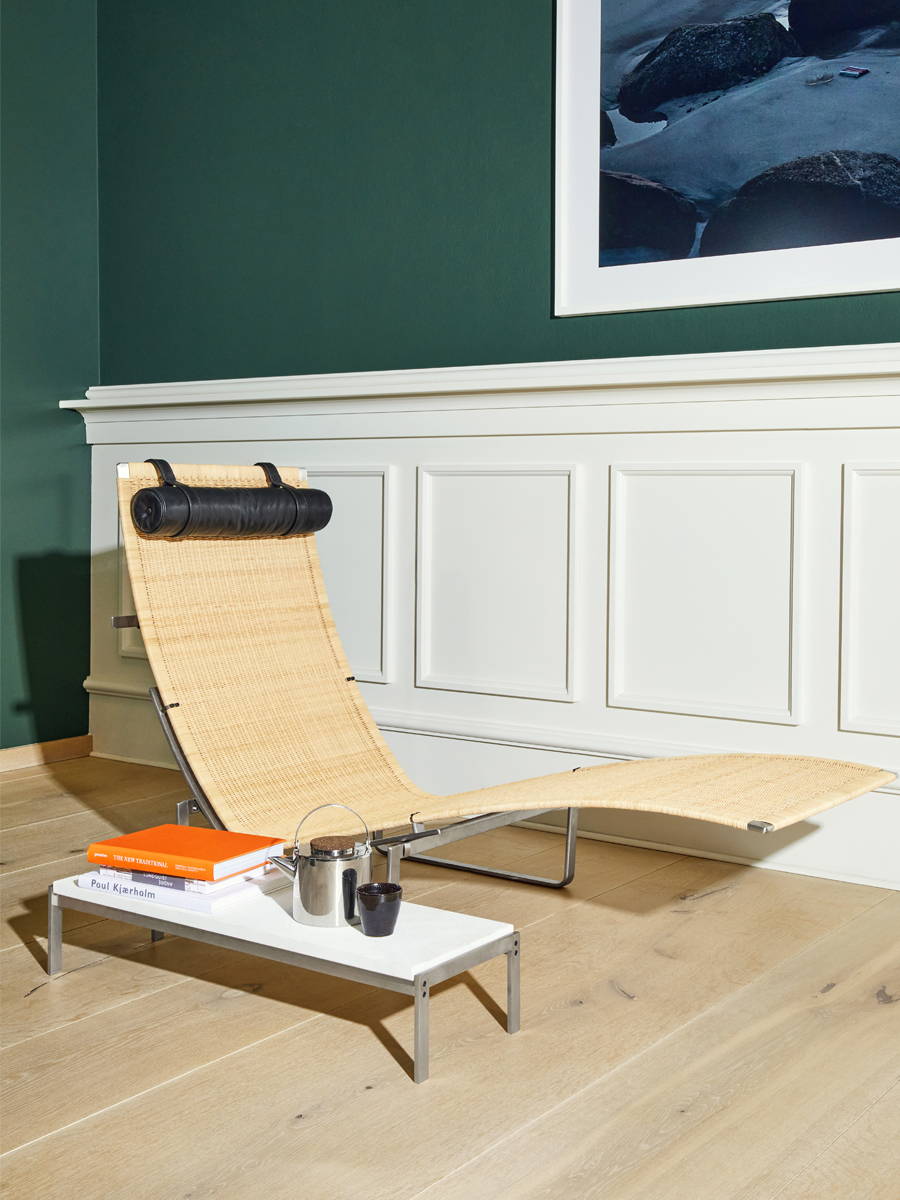 7. PK24 chaise lounge by Poul Kjærholm, 1965
Created by Danish designer Poul Kjærholm in 1965, the PK24 chaise longue chair was inspired by the Rocco aesthetic and the French chaise longue. A curvy, flowing, wave-like wicker form suspended by a slim steel base, the designer considered both components as natural materials. Simple, elegant, and minimalist, the PK24 chaise lounge is an iconic Kjærholm piece, the seat also referred to it as the Hammock Chair to highlight its function of suspending the body between two points, it's pared back form and adulation of the natural and organic easily sliding into into today's design zeitgeist and the contemporary home.
8. Snoopy lamp by Achille and Pier Giacomo Castiglioni, 1967
A 1960s child in more ways than one, the Snoopy lamp by Italian architect and designer brothers Achille and Pier Giacomo Castiglioni was created in 1967, taking its shape from the loveable illustrative dog from the cartoon strip Peanuts which was at its peak at the time. Playfully ironic as well as deeply considered and refined, the lamp's base is crafted from luxurious Italian white Carrara marble topped with a beagle-shaped enamelled metal lampshade, creating a personality-filled silhouette all about of nostalgia and carefree memories. Updated in 2003 with a dimmer switch and a touch sensor, it's as well-groomed as any modern-day lighting design.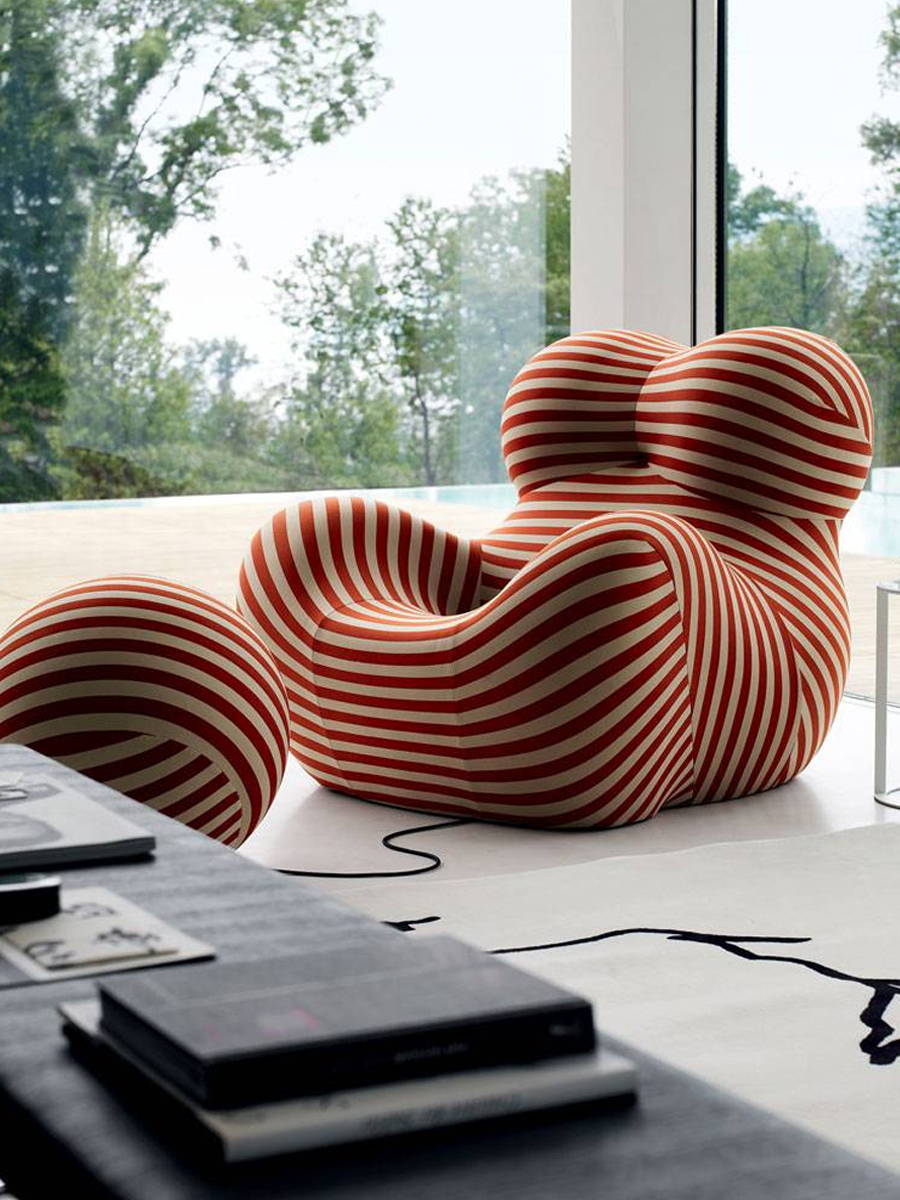 9. Series Up lounge chair by Gaetano Pesce, 1969
It's often said that art is for oneself, design is for others. Combine the two and you have a potent form of expression capable of changing the way we live and relate. The raucous arrival of the Series Up lounge chair in 1969 was one such moment. Designed by Gaetano Pesce, it shook up the static concept of the armchair, imbuing it with life and a deeper political meaning. The buxom female chair with the ball-n-chain ottoman put Pesce on the map, while cementing B&B Italia's reputation as an avant-garde design house. As striking now as it was then, the current version does not disappoint. Available in a range of finishes including the original beige and orange striped fabric, Series Up still conjures up all of the drama of its original design (although it no longer inflates upon delivery— our Chaplins delivery team will install it for you).
10. Soriana lounge chair by Afra and Tobia Scarpa, 1969
Created by postmodern Italian architects and designers Afra and Tobia Scarpa in 1969, the Soriana lounge chair is a true style icon, changing the face of upholstered furniture and winning the illustrious Compasso d'Oro prize in 1970. An experiment with the freeform possibilities offered by polyurethane foam which allowed for the design of unconventional forms, its sensual shape is supported by the grip of a metal structure that wraps it, akin to a dress secured by a large metal belt forming soft folds around the body. Brought bang up to date by Cassina in 2021, it's based around sustainability, filled with organically-based BioFoam and 100% recycled PET, available in a selection of new colour combinations as well as a limited-edition version in premium Japanese denim.