10 of the Best Beds for National Bed Month
For busy professionals, there is nothing more tempting (or elusive) than the thought of 8 hours undisturbed sleep. And yet despite our best efforts, few of us meet the prescribed targets for slumber, the recommended 8 hours a shimmering mirage in some distant pre-adult land.
And while we could wax lyrical about the need to get to bed earlier, we'd rather do something practical to help. With National Bed Month well underway, Chaplins will be offering 15% off our luxury mattresses as well as a host of handy tips to help you get the sleep you deserve. First up is a carefully curated selection of 10 of our most stylish beds, guaranteed to coax you back under the sheets.
Charles Bed by B&B Italia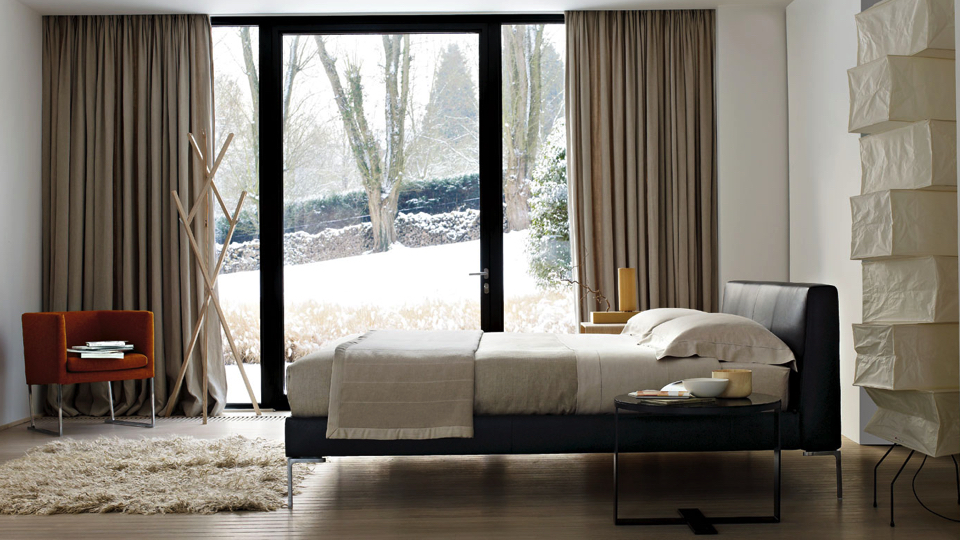 Minimal yet unmistakably Italian, the Charles Bed is the ideal platform for those looking to prioritize their rest. Its stylish silhouette is elegant yet unimposing, welcoming lazy Sundays spent reading the paper in bed and a Game of Thrones binge the next. Clean, architectural lines negate the need for a dramatic headboard, instead, B&B Italia trust in comfort and classism to keep you coming back for more.
Makura Bed by Porro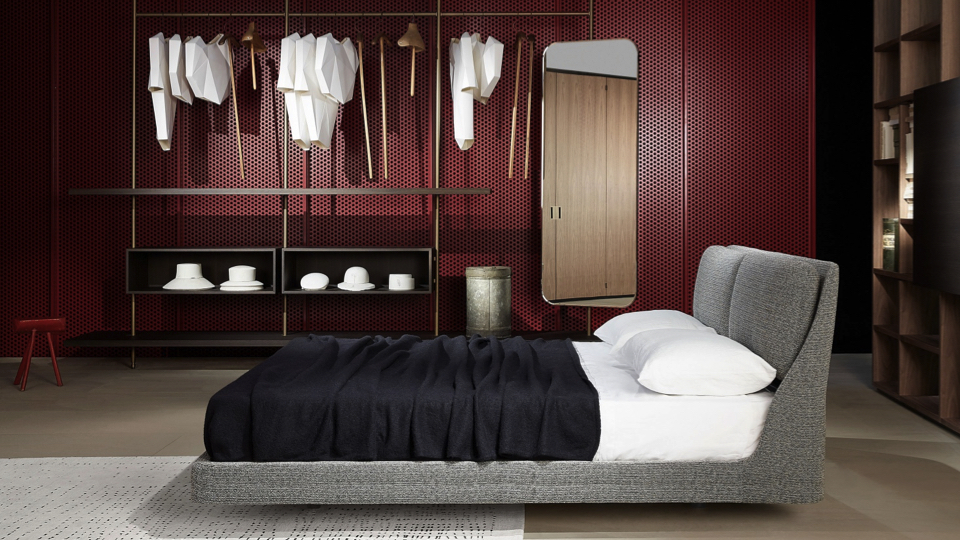 There's no denying that low-slung beds are having a moment. Gifting a somewhat edgier, less-put-together look to modern bedrooms, they're a great option for those who want to maximize the height of their rooms. Makura feeds into this vogue, existing somewhere between the squat-till-you-drop platform bed and the more standard height. Its cosy appeal is indebted to the thick, luxurious upholstery and sinuous wrapping headboard, ideal for adding warmth or texture to the masculine bedroom above.
Ribbon Bed by Molteni & C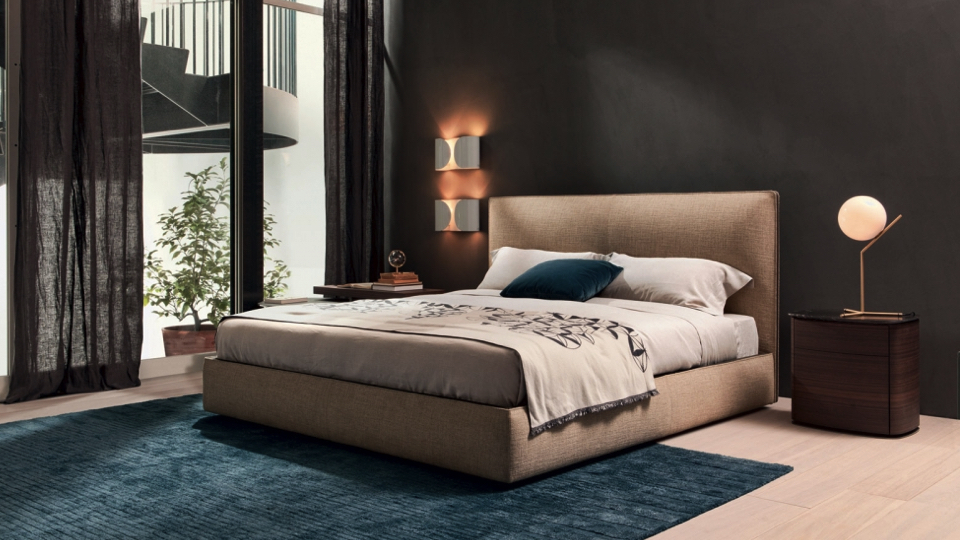 Visually as well as physically soft, the tactility and comfort of this modern bed is immediately apparent to all who encounter it. Marking Vincent Van Duysen's first design with Molteni & C, the Ribbon Bed revels in details, the delicate ribbon perimeter serving to outline the softly padded headboard. This year, give insomnia the slip by investing in a luxurious Italian bed.
Edward Bed by Cattelan Italia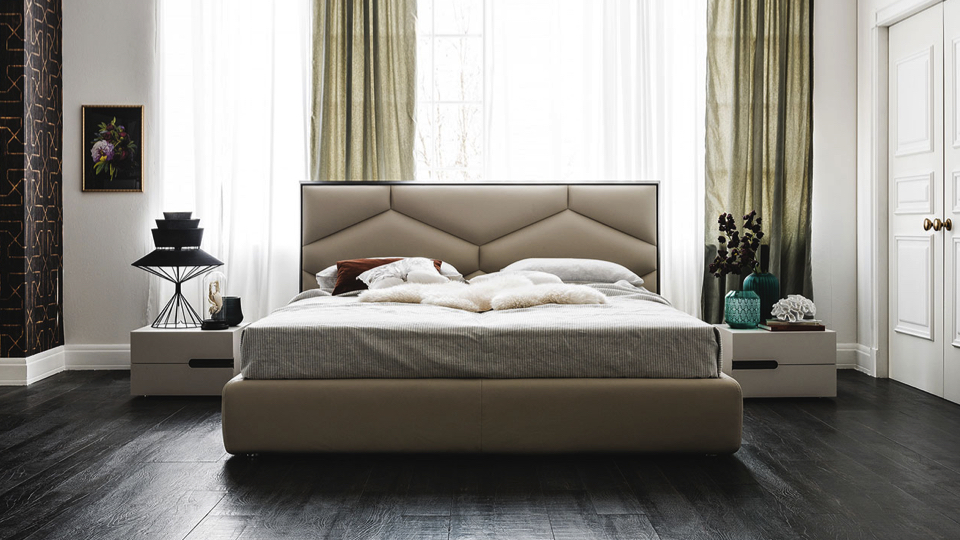 Cattelan Italia's Edward Bed opts for extravagant Italian opulence with a modern twist. A beautiful geometric headboard gifts dimension and style, enriched by a warm Canaletta walnut frame. Warmth, comfort and luxurious touches help to create a lust-worthy modern bedroom, one that makes a retiring early the highlight of the night.
Febo Bed by Maxalto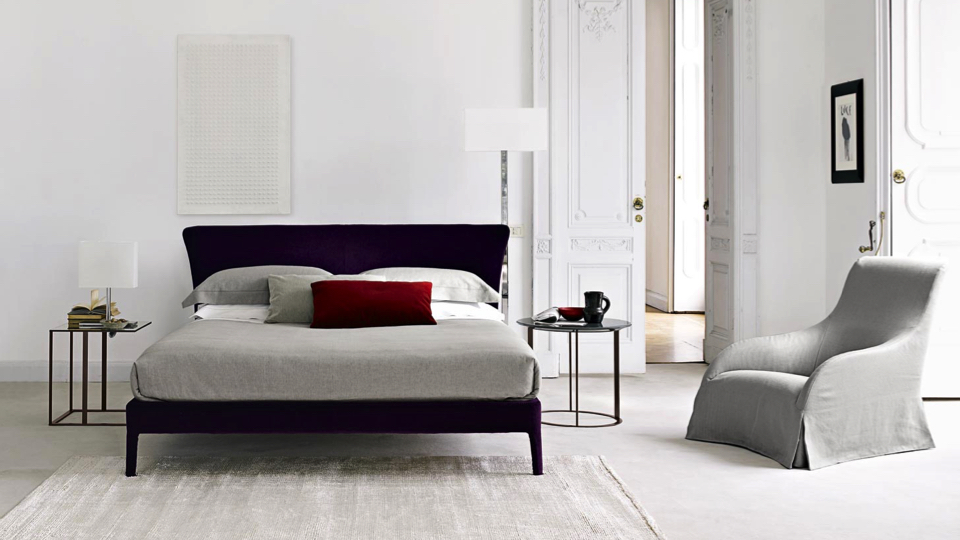 Febo is the undisputed jewel of Maxalto's bedroom range, a delightful bed that adds elegance and style to suites of all sizes. Available in a wide range of sizes and finishes, we recommend opting for of-the-moment velvet to add a touch of luxe to your evening routine.
Ziggy by Porada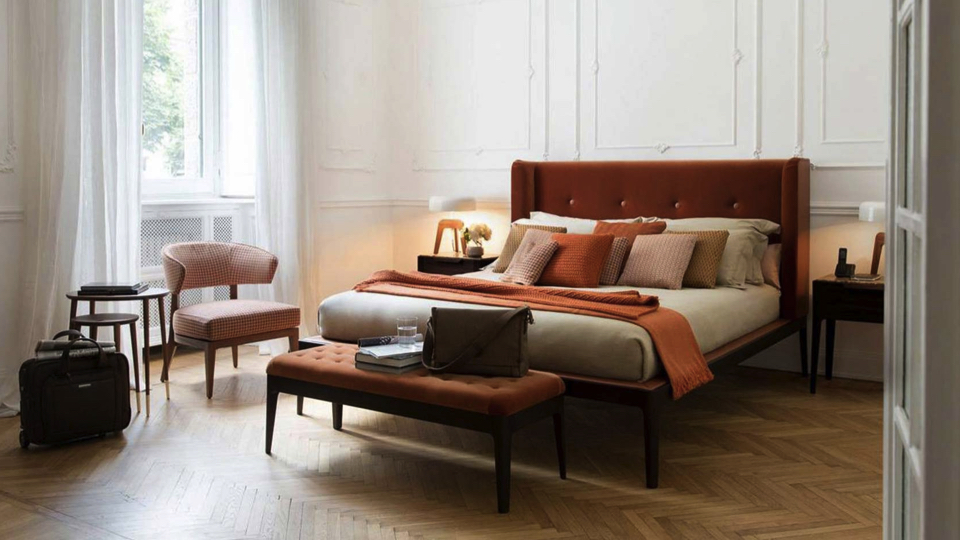 Classic proportions and Italian craftsmanship combine to establish Porada's Ziggy Bed as a stylish staple in modern homes. The rich velvet upholstery and traditional winged headboard create a soothing, restful bed, ideal for stately master bedrooms and stylish suites alike.
Metis Bed by Hulsta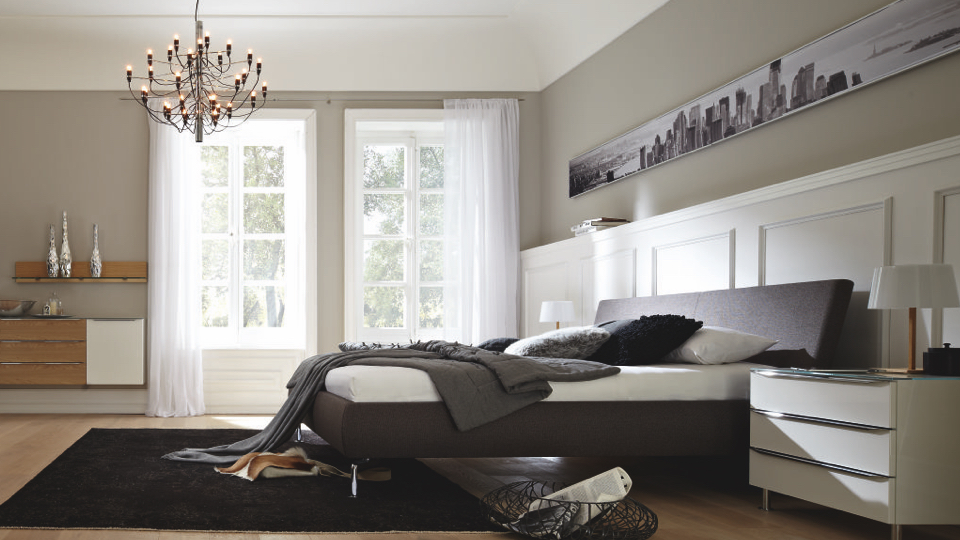 Laidback and lovely, the Metis Bed by Hülsta is gently inclined to ensure perfect posture while reading or watching television in bed. Available in an astonishing array of wood, fabric or leather finishes, Metis forms part of a larger sleeping system from this accomplished German manufacturer, all of which work together to ensure a regenerative night's sleep.
Desdemone by Ligne Roset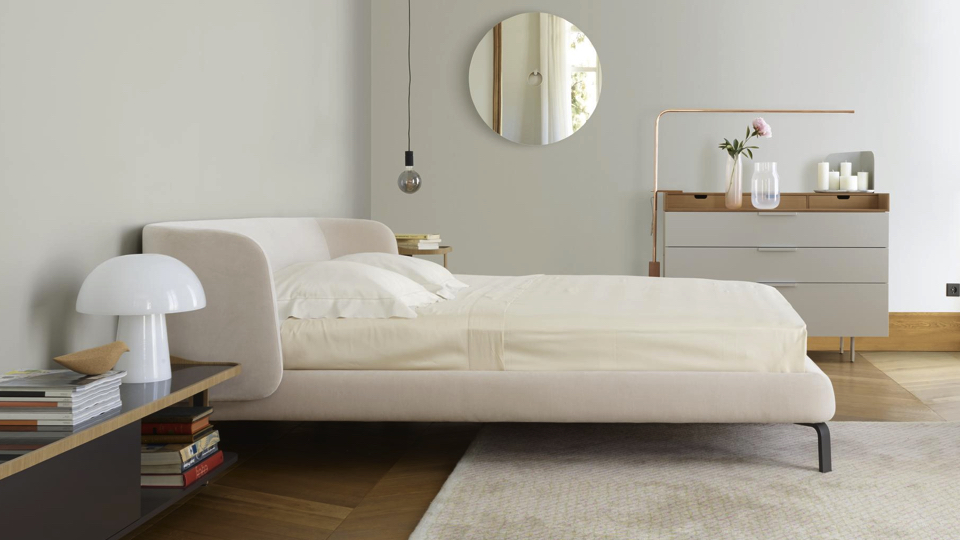 In the age of Hygge and Lagom, the idea of creating a homely cocoon in which to shelter is one we're all familiar with. Ligne Roset take this one step further with their enveloping Desdemone Bed. Designed by Nasrallah & Horner, its light curving shell goes beyond the normal parameters of a headboard, wrapping itself around the beds corners to provide a wonderfully sheltered sleeping cocoon. Ideal for providing extra support when reading or writing, the unusual headboard also blocks out stray beams of light, helping you to sleep better for longer. Visually light and wonderfully soft, this designer bed offers protection and serenity, the ideal refuge for a perfect night's sleep.
Cuff Bed by Bonaldo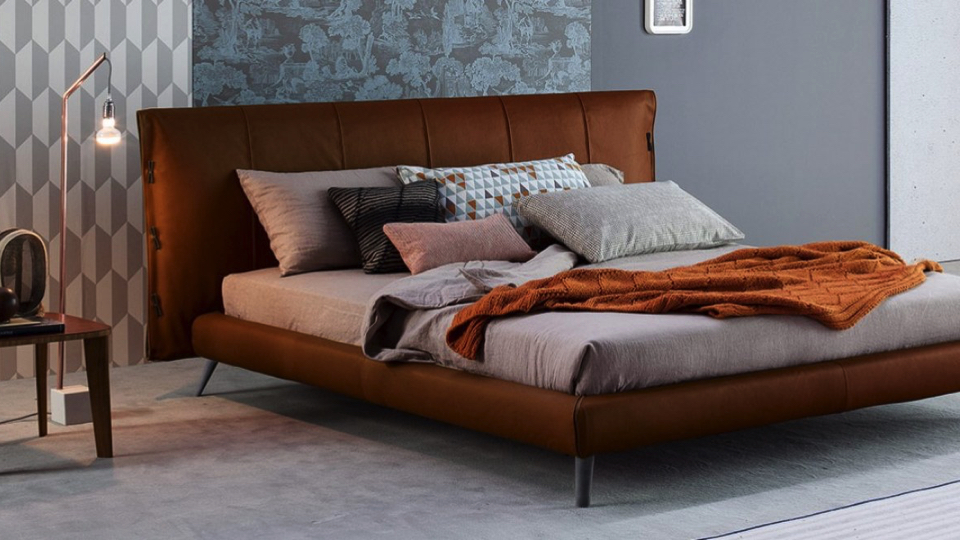 It's incredibly important that your bedroom feels homely as opposed to clinical. Minimalism is great, but a spare and soulless bedroom is not. Adorning your space with pleasing little details will lend your bedroom decor a personal touch. The chic tailoring on BONALDO's CUFF BED helps create this effect, making use of delightful Capri Leather frog fastenings to create a striking headboard. And it doesn't stop there, as well as offering supreme comfort, the CUFF BED includes unique storage solutions, via an optional lifting mechanism.
Hotelroyal Bed by Zanotta
Zanotta's Hotelroyal is a delightful bed for design lovers who crave retro influences. Designed by Terri Pecora in 2017, its slim profile takes inspiration from the slight proportions of the headboards in Gio Ponti's Hotel Royal, a beacon of contemporary design during the 50s and 60s. Extra slim legs add to the feeling of lightness while the contrasting sewn edges herald the bygone glamour of the mid-century. Themes of weightlessness echo throughout the design, emphasising the ease of which one can slip off into serenity. Available with or without a nightstand, the slender proportions of the Hotelroyal mean it is an excellent option for smaller bedrooms.
THIS MARCH GET 15% OF LUXURY MATTRESSES