The Most Exquisite Homes of 2021
There's something fascinating about exploring other people's homes. Not just to see how other aesthetes live, but to be reminded that you can never judge a book by its cover, a home by its porch, a couple by their choice of armchairs.
We've made our way around many a stately home this year, but these five residences are the ones that have stuck with us. Not just for their style or verve but for the unabashed way in which they allow their owners to celebrate life at home. So without further ado, we'd like to invite you along for some armchair escapism, around the world and into 5 of our favourite homes from 2021.
Interior designer, Carly Madhvani, had almost given up hope of extending their North London home when she submitted the appeal for a thoughtful basement extension for the fourth and final time. The answer came back a couple of weeks later. It was a firm and insistent no. And yet fortune favours the brave — an idea that Madhvani would come back to when just weeks after the initial rebuttal the flat above hers came on the market for sale.
With double the space to play with, Carly set about on a masterful restoration. "Our top priority was to work with the original features," she explains "something that ended up dominating most of the design decisions."
With the bones of her period patchwork in place, Madhvani set about stitching it together with a selection of enviable furnishings, opting for a high-low mix of icons to confer glamour to the stately Victorian property.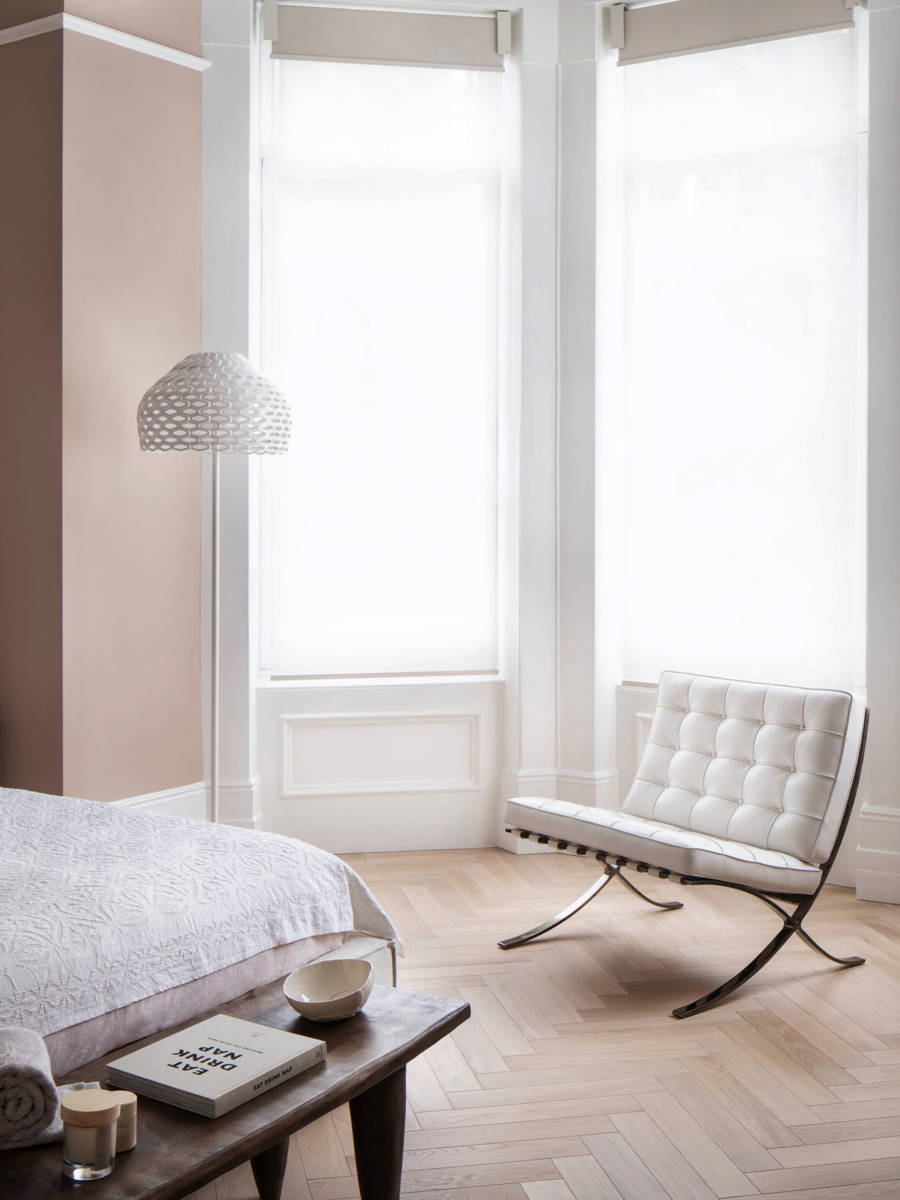 ---
The selection of furniture and interior collections started from a 20-year passion for iconic designs.
---
The magic continues in the whimsically-appointed dining room. The Gucci wallpaper, GRASSHOPPER dining table and playful PERCH Floor Lamp make for charismatic dining companions, enlivening even the most humdrum of meals with a sense of serendipity.
This line between elegance and play is finely trod throughout. Rich walnuts and fluffy bouclé are grounded by exposed brickwork, while high-backed lounge chairs are met with wall mirrors propped nonchalantly against the wall. Taken together, it's a home that works hard for your affection, winning you over with the many details that require a curious, second look.
The Future of Home in Shenzhen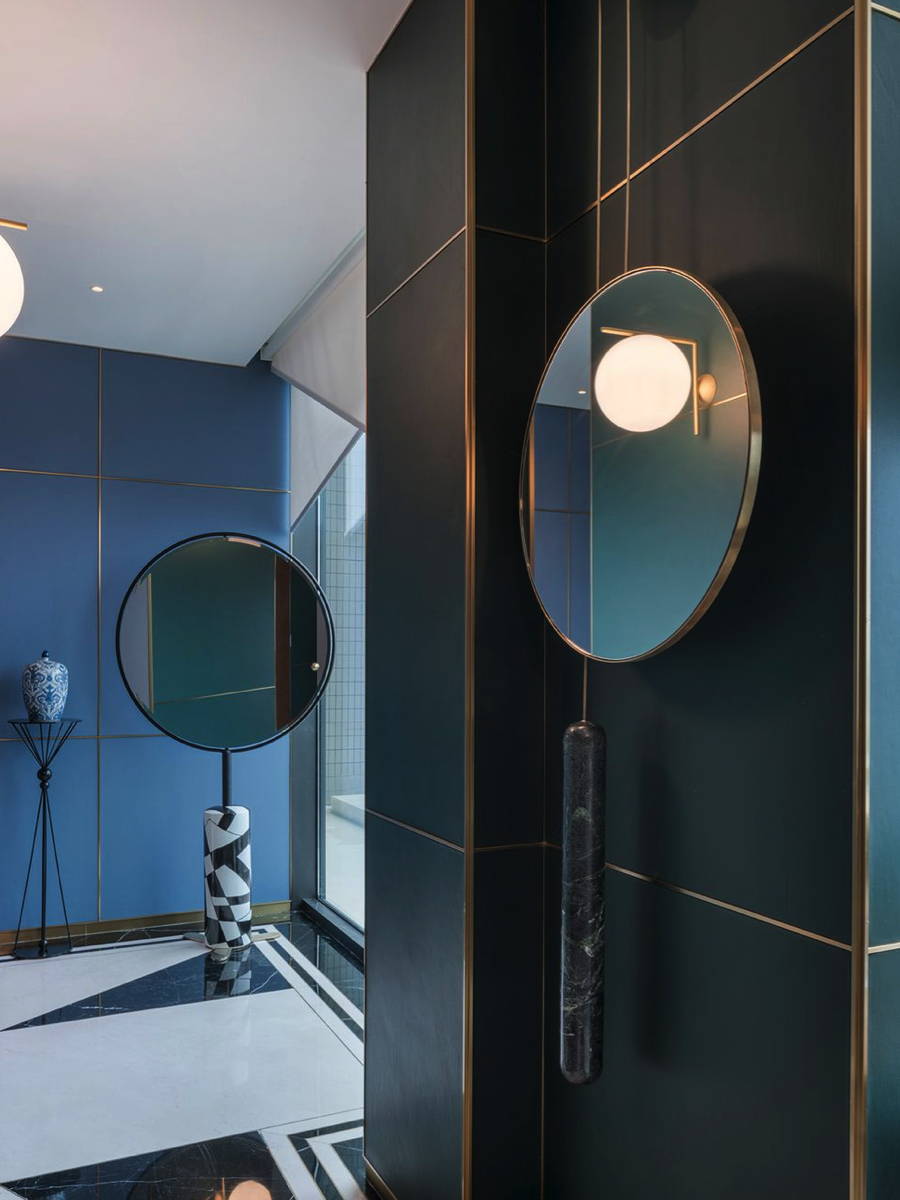 Known amongst as economists as China's Silicon Valley, Shenzhen is where many of the world's most savvy technologists call home. It's also where some of the most exciting experiments in interior design are taking place, due in no small part to one Thomas Dariel. As the grandson of a great French architect, he knew he wanted to cleave his own legacy, deciding to move to Shanghai at the age of 24 so he could cut his teeth in the burgeoning Asian market.
The homes he has penned at the eponymous Dariel Studio speak for themselves: lavish, Alice in Wonderland like playgrounds that explore the real and imagined, the ancient and the yet-to-come.
In this particularly compelling pad, CHESTER sofas sit side by side with glinting PARACHILNA lights; highly sensory, reflective styles that draw the eye and soothe the soul. We imagine that it must be easy to feel creative here, what with the oversized hand mirrors and dramatic patterns designed to open up new perspectives and portents.
Indeed together with his clients, Dariel manages to create something that even the most advanced of virtual realities has yet to perfect: a space that is both restful and stimulating, energetic yet cosy.
Moments of Clarity In Mallorca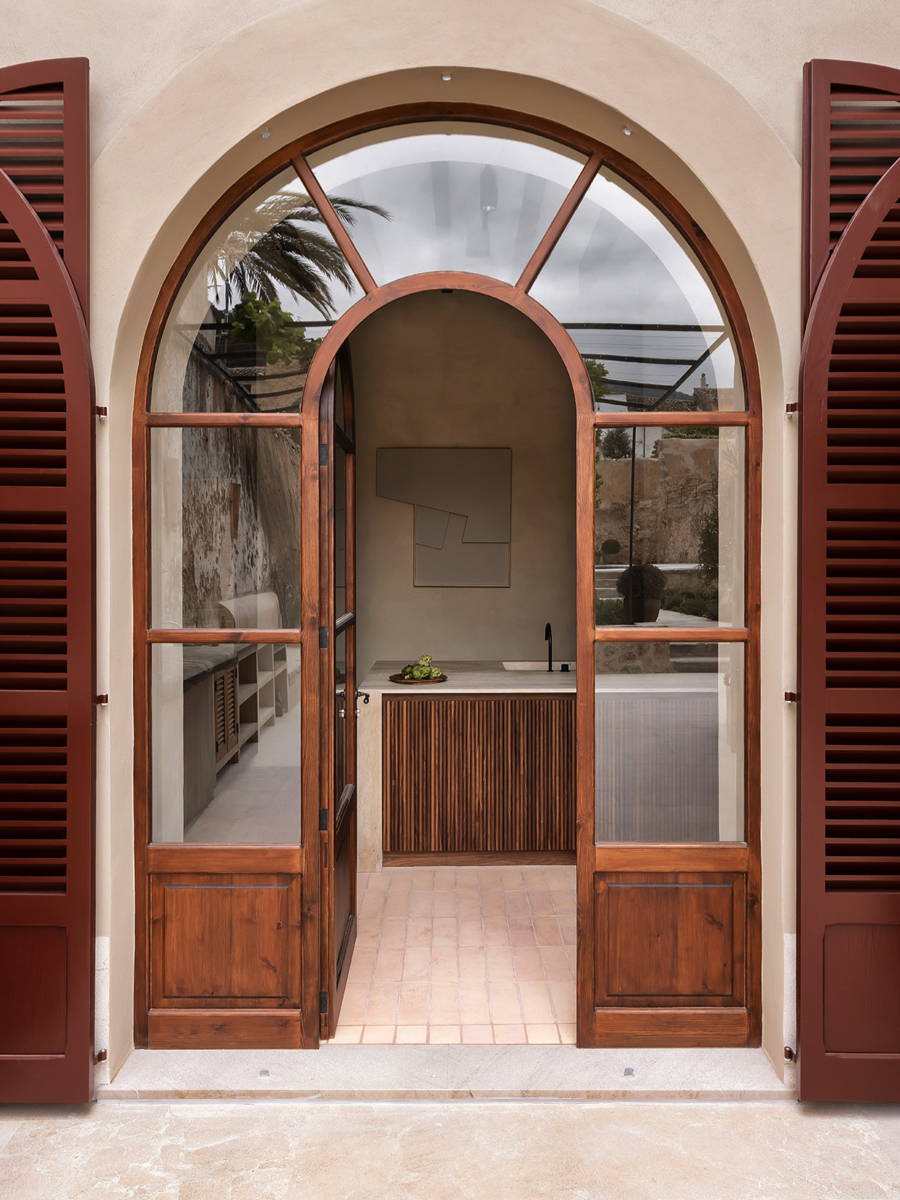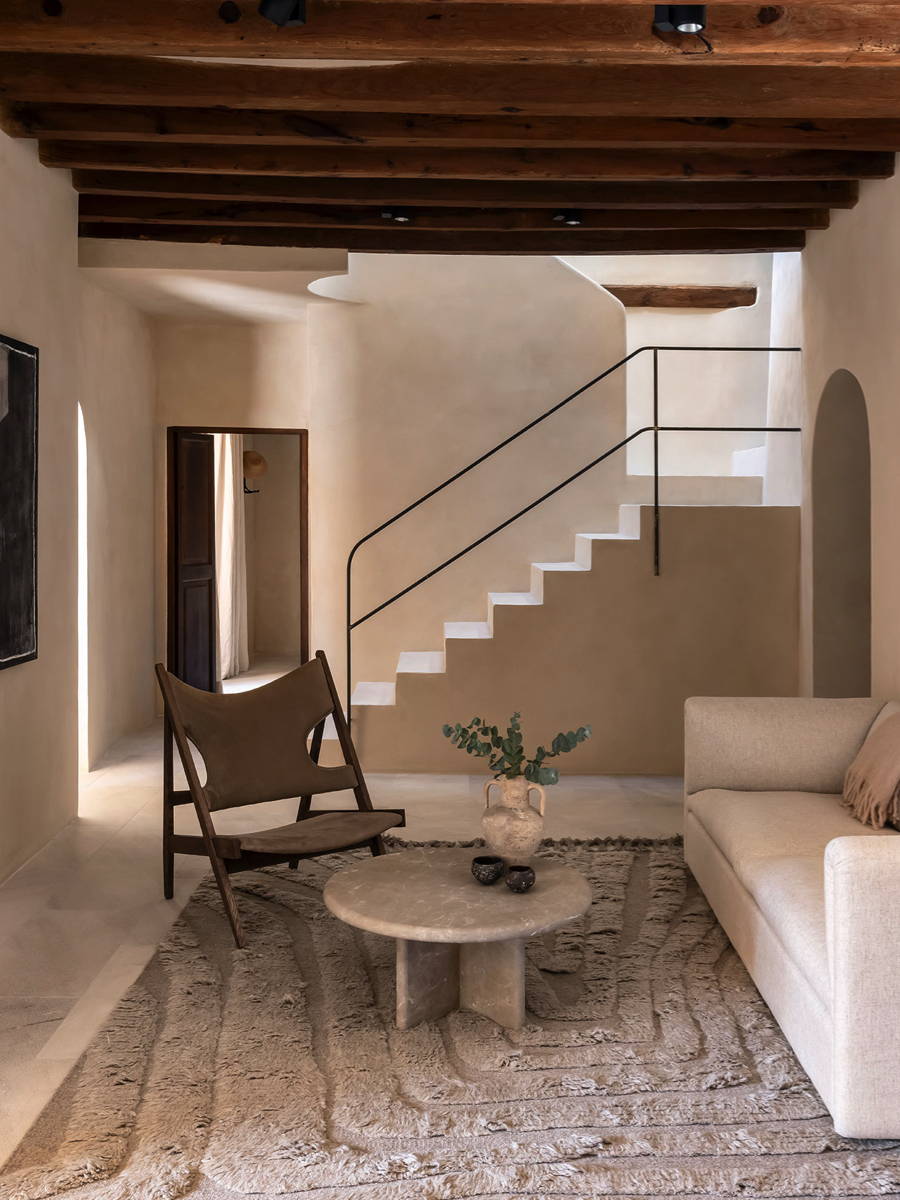 Photography by Piet-Albert Goethals
From the dizzying world of Shenzhen to the earthy delights of Mallorca is where we find this next monastic gem – a real visual palette cleanser, if you will. Today, the century-old villa acts as a residential sanctuary for architect and designer Josephine and Christoffer Du Reitz, both of whom were looking for a place to disconnect and recharge each summer.
While it was in a sorry state when they found it, today its rough and ready soul encourages slow living over three floors, with elegant living rooms hewn like subterranean caves from the building's thick stone walls.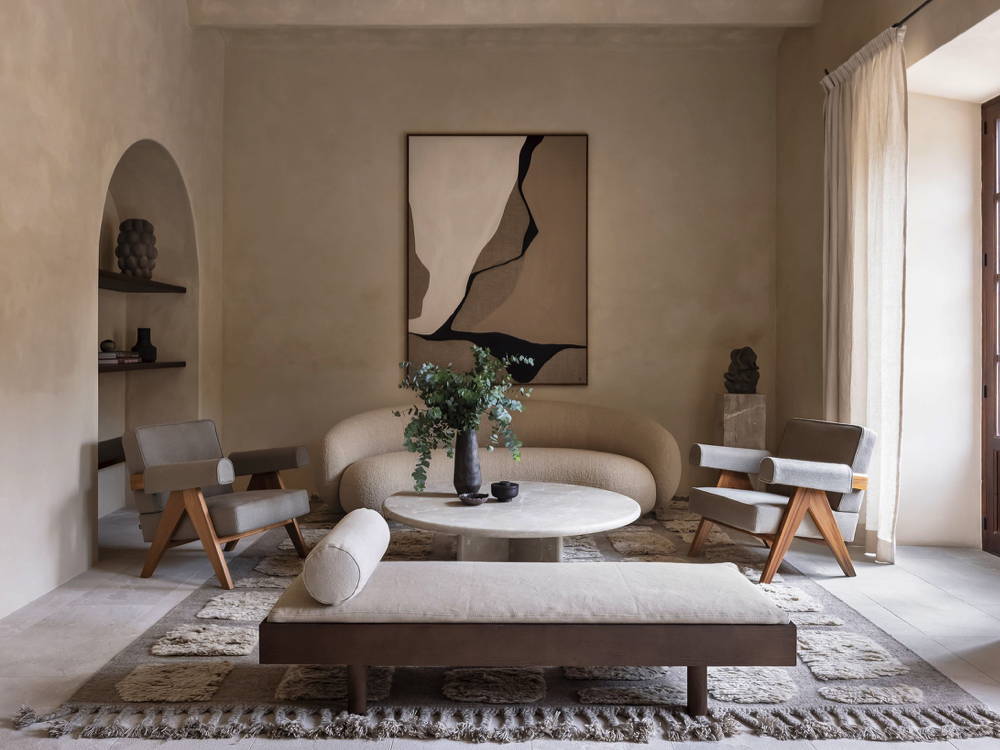 Capitol Complex Armchairs
For all the minimalist overtures, it is a deeply warm and inviting space, largely due to the curvy wood accents and sun-baked, tonal palette. Texture also plays a part in ensuring its soft cosy feel, with each of the rooms benefiting from rich, three-dimensional rugs.
Further inspection reveals that there's even a wine-cellar, where the couple brew racks of delicious house wine. It's a hobby that feels rather fitting for this ancient house. Once a dilapidated villa, now a space in which people can become self-sufficient in all the things that make life sweet.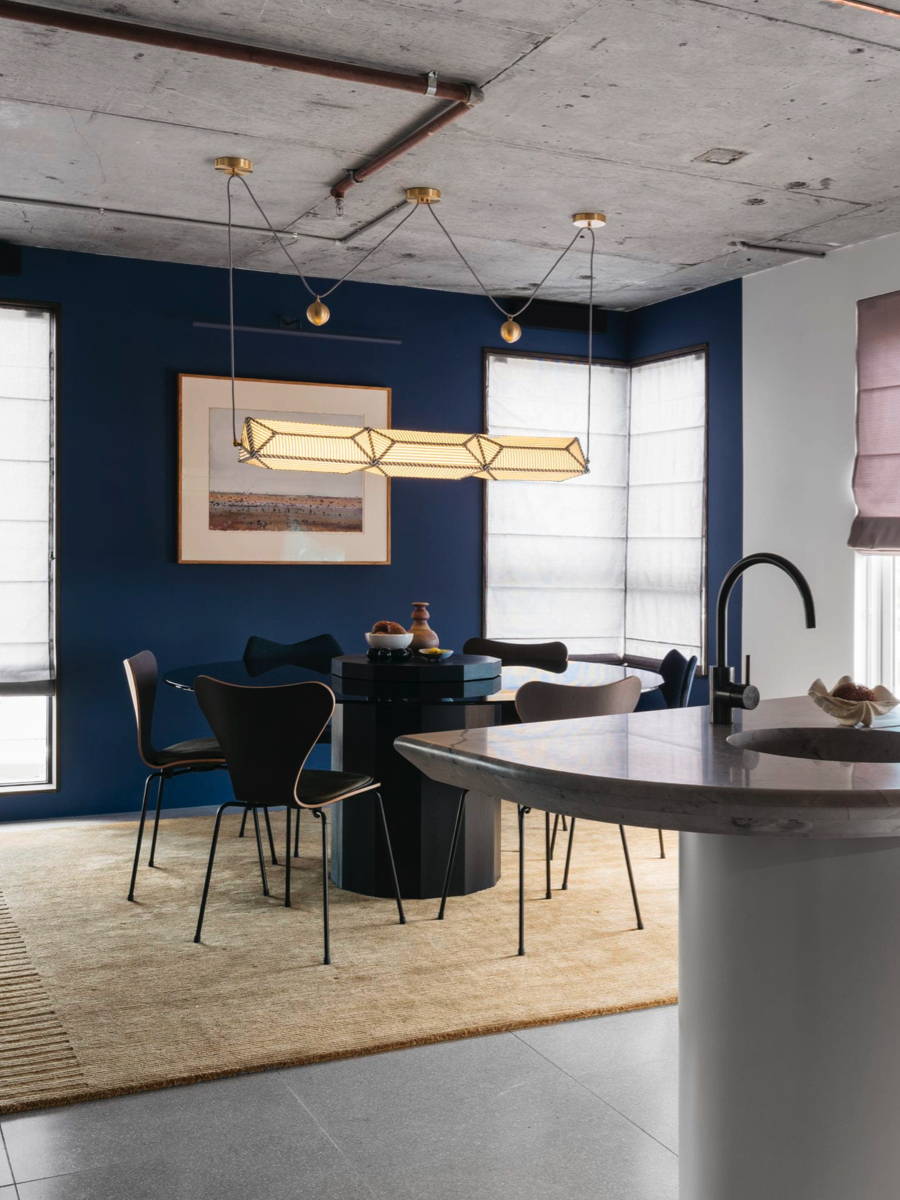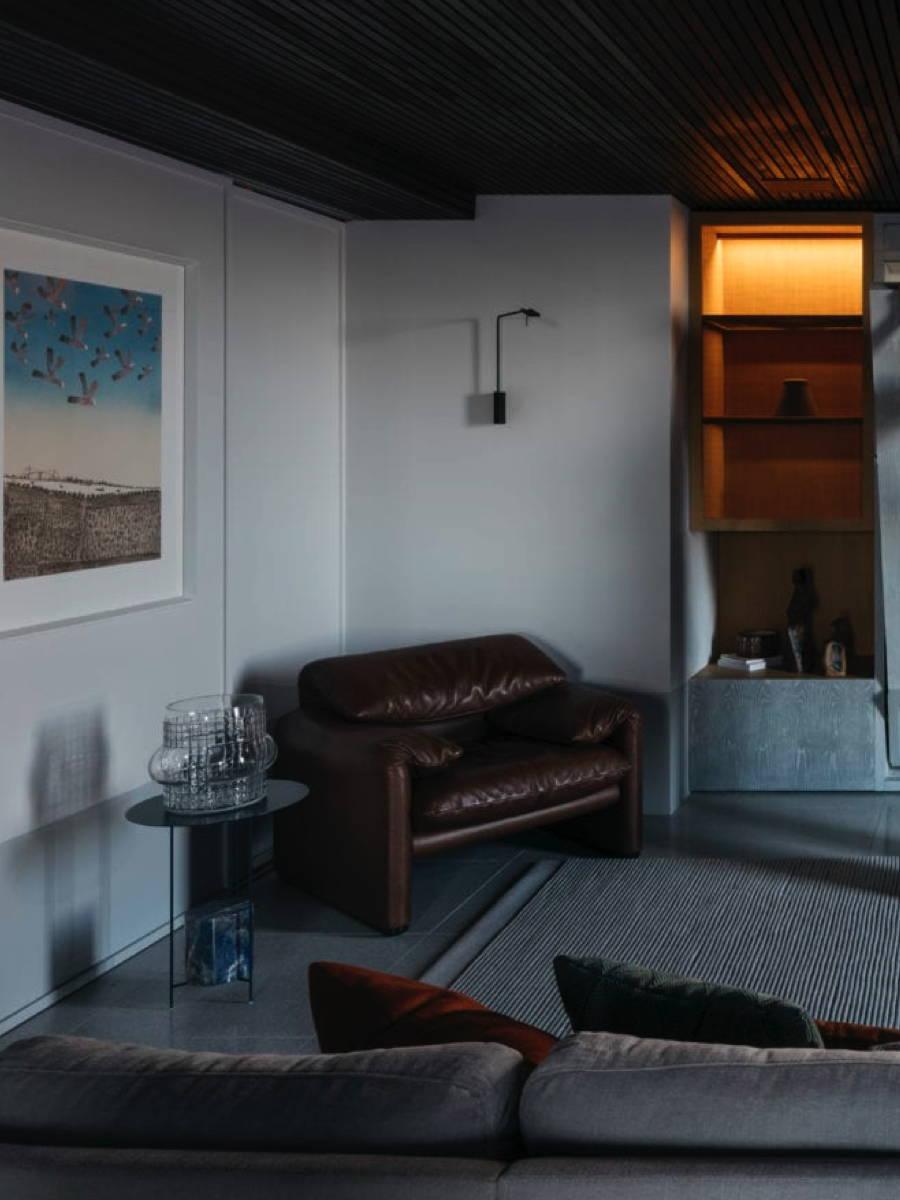 Is a man-cave still necessary in a modern, co-parenting age? Honestly, we're not so sure. But if it must exist then we'd like it to look something like this: a dark, atmospheric penthouse in Sydney's up-and-coming Bardwell Park district.
Measuring just 80m2, there's much more to this space than meets the eye. The owner was looking for a place that could transform from a light-filled nest into an intimate space for soirées, with many guests able to stay the night. Design studio Amber Road consequently embarked on an ambitious fitted furniture plan, complete with a pull-down bed in the lounge, and a Japanese style sliding door that divide and conquers the living room.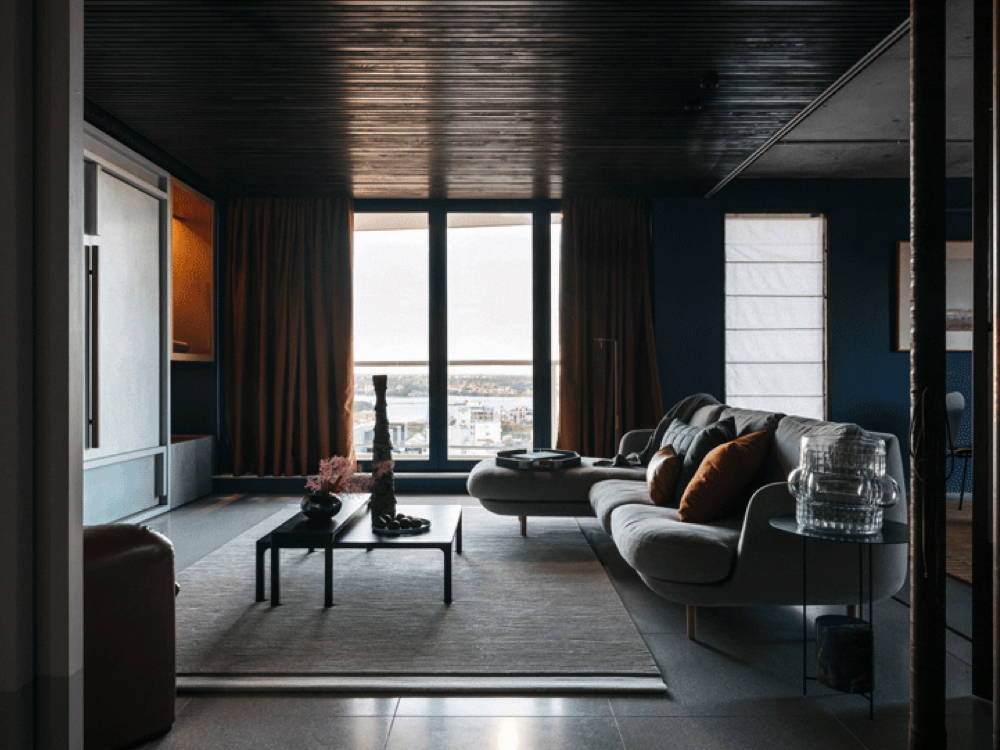 Lune Sofa | All photography by Felix Forest
Despite a rather austere concrete shell, there's no shortage of warmth, with oversized furnishings like the MARALUNGA Armchair and LUNE Sofa working to cushion the blow from some of the apartment's more industrial overtures. Sculptural without ever feeling sparse, it's a delicious reminder of what a well-thought out Batchelor pad can be. As well as proof that even when space is at a premium, you can still make room for little moments of luxury.
Life By The River in Lyon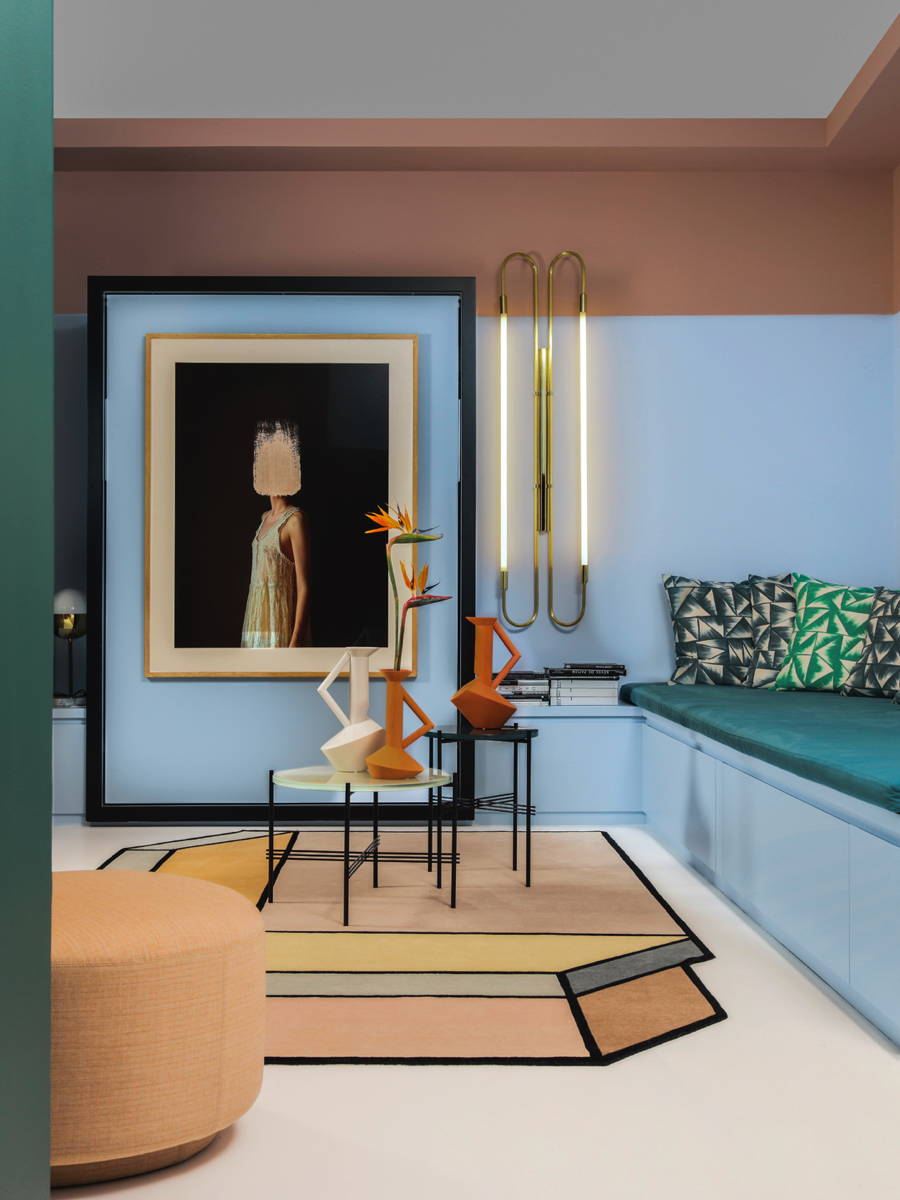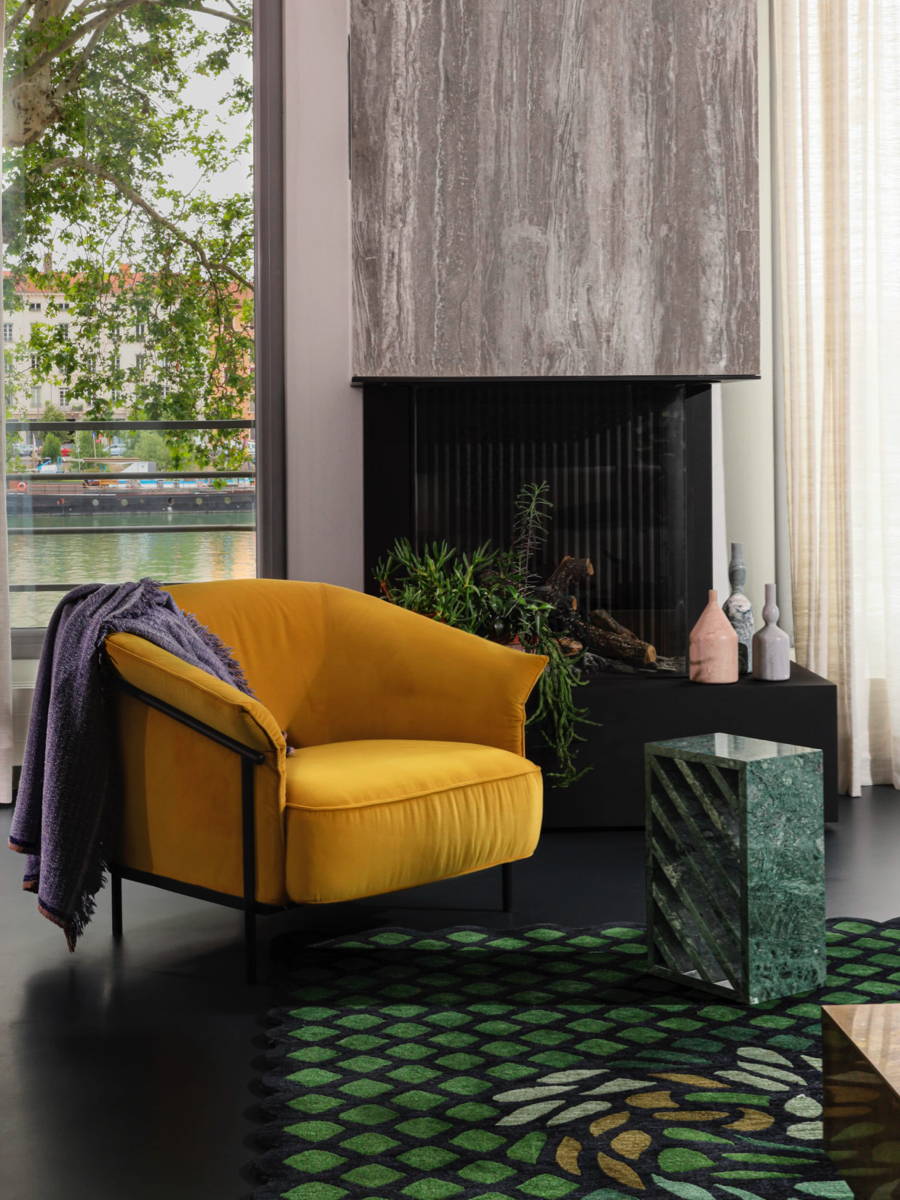 Our first impression of the Maison Sur La Saône is that it's the kind of house Ingrid Fetell Lee would have loved. Famed for her use of colour, curves and creativity, the designer-cum-joy-specialist is known for penning homes that can lift the spirit of any aesthete.
So while joy can sometimes feel in short supply these days, it's not the case for this lovely French home in the Fourvière Hills. Designed by Claude Cartier, it features a cacophony of designer styles, each of which lends the home its upbeat character.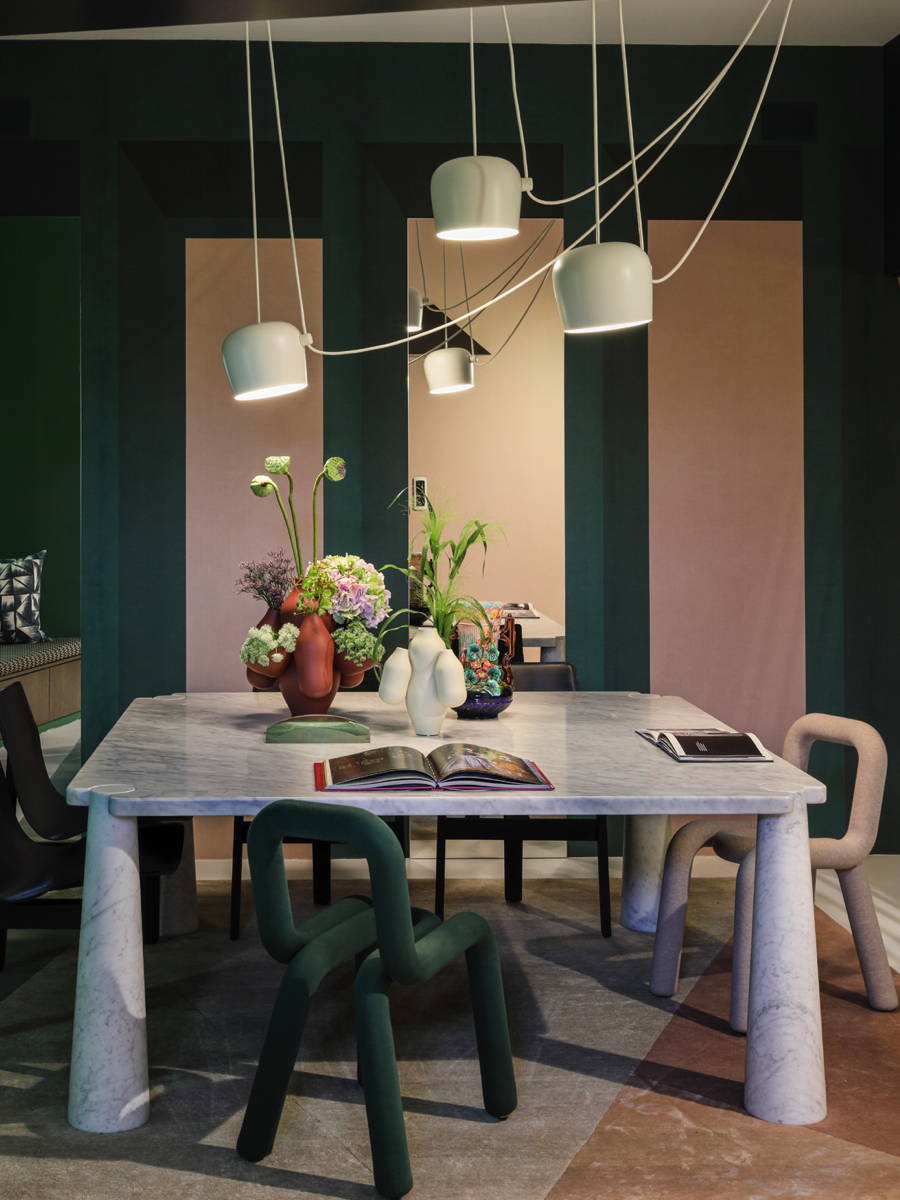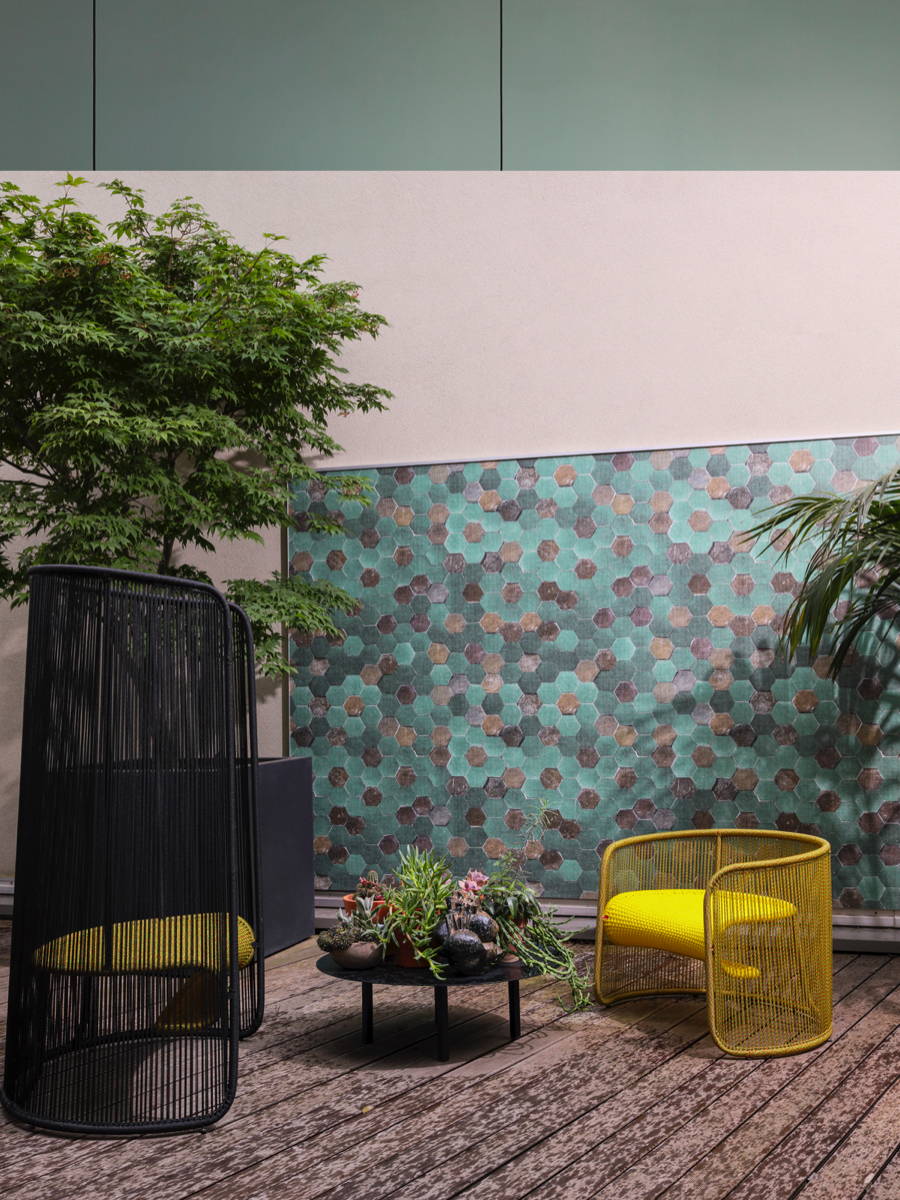 Moroso Outdoor Collection
There is the AGAPECASA dining table — a miracle of marble — that vies for attention with the vine-like AIM Pendants. While in the courtyard, MOROSO lounge chairs and a mermaid-esque mural work to create a delicious trompe-l'œil. Taken together, the home gives a new meaning to the idea of bringing the outdoors in, with a palette of soft greens, blush pinks and zesty yellows working to reflect the nuances of life on the River Saône.
Feeling inspired? You can shop the looks from all of these splendid schemes, below. You can also get in touch with us on FACEBOOK, INSTAGRAM and TWITTER to let us know your favourite homes from 2021. In the meantime, from all of us here at Chaplins, we'd like to wish you a very Merry end to the year and a blissful start to 2022.