Brave New World: SS22 Interior Design Trend Report
They say that you can't keep a good man down. Nor, it seems, can you keep a trend from flourishing. For in spite of all the global skulduggery, the mood amongst designers is shifting — away from the safe shores of minimalism and in search of something more spirited. Among the cornucopia of mood-boosting styles are floor lamps that look like marbles. And the classics as you've never seen them. For the era of bold, brazen living is back. And it couldn't have come sooner.
Unlocking the power of play
Take a quick look at the media landscape and you'll notice a flourishing new genre all about failure. There is Elizabeth Day's How To Fail podcast. And the new book On Failure by the School of Life. But no matter which medium you favour the message is always the same. It's ok to err and make mistakes. Because, well, it might just set you on a new, more interesting course.
The poster boy for such thinking is scientist Andre Geim whose playful "Friday Night Experiments" lead to the discovery of graphene and a rather unexpected Nobel Prize.
It's with similar abandon that designers have begun concocting bold new forms for everyday things. A floor lamp that looks like a snow globe. Or else a sofa shaped like an iceberg.
---
I see around me a professional disease of taking everything too seriously. One of my secret's is to joke all the time.

---
The best part about these designs is that they tend to go where other styles can't. The VL Studio Floor Lamp, for example, fits perfectly well on a bookcase. While the Albero Bookcase by Poltrona Frau can also serve as a bonfide room divider.
It comes back to a maxim that many a startup has used to try and help canalise breakthroughs: What would this object look like if it was easy? Free from any idea of form or function that has tethered it in the past?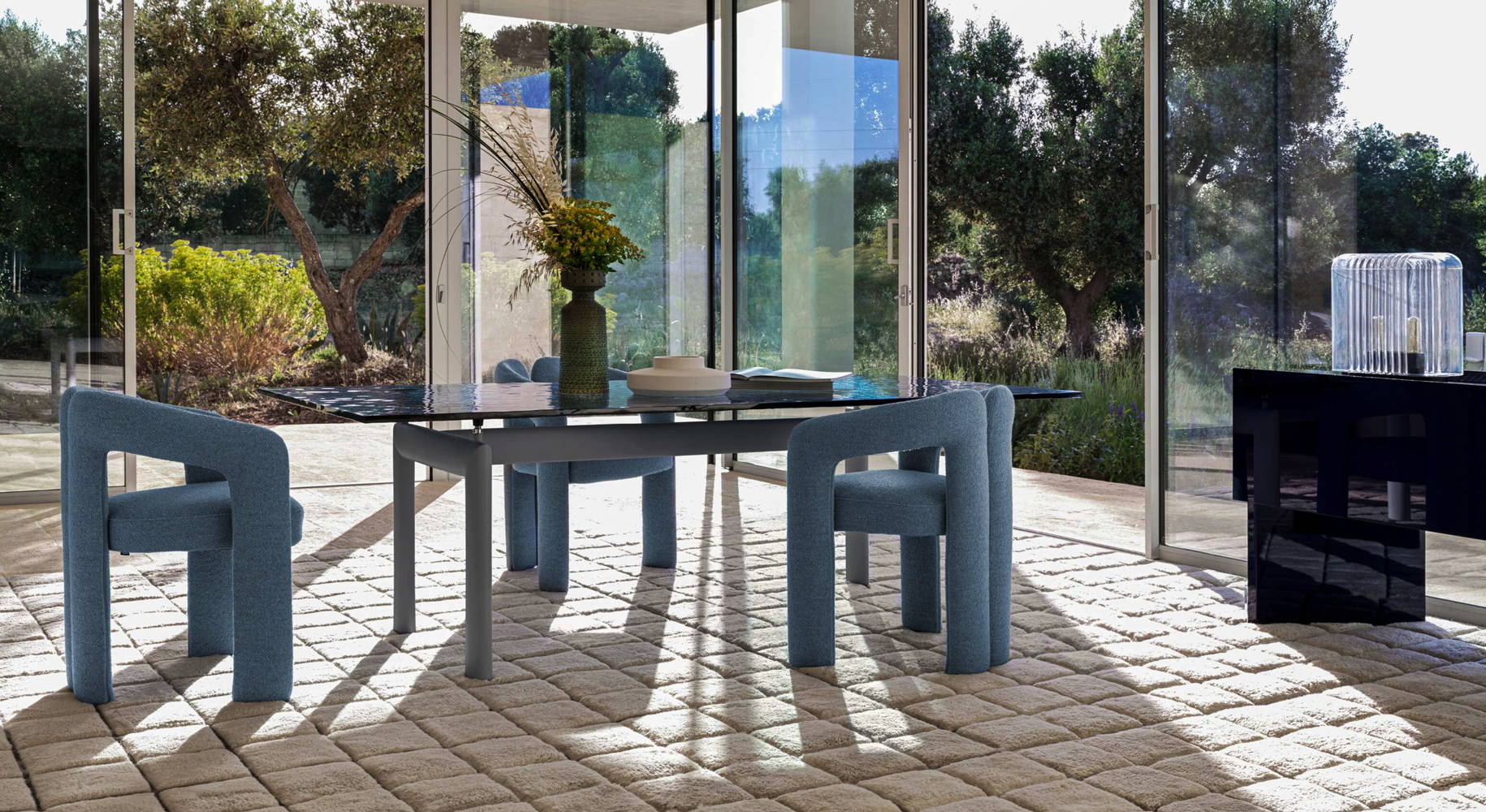 This season, not even the classics could escape this whimsical impulse with serendipitous new finishes being unveiled on everything from Le Corbusier's LC6 Table to Flos' 265 Wall Light. The desire seems to be less about reinvention and more an investigation into how we can make these works as fresh as possible — including updating any lacquers so that they tread more lightly on the Earth.
It's a theme that's been widely explored at Danish design house Fritz Hansen as they prepare to celebrate their 150th anniversary with a roster of new-look styles. Among our favourites are the Fri and Ro Lounge Chairs — complete with speckled new bouclé upholstery that celebrates the kaleidoscopic colours found in nature.
Heritage brands step out out
For some brands, the edict of a brave new world meant swapping the sanctuary of the lounge for the lushness of nature. Unshackled from their usual context, they promise to help us live the garden with new comfort and flair, with options to sit among the clouds at Gubi, or discover a Secret Garden with Poltrona Frau.
Many of the pieces have also been specifically designed to be used indoors, too — symbolising the final erosion of any boundaries between indoor or out. The best so far include the Bohemian '72 Lounge collection, as well as the perenially popular Panton Dining Chair.
The last story is one we've been tracking ever since 2017. Call it what you will, curves are everywhere. And they're not just restricted to soft furnishings, either.
Amid the cornucopia of sinuous styles are loop-the-loop dining chairs. Sweeping desks. And even the odd circular bookcase.
Part of the impetus for this sumptuous styling is almost certainly traceable to all the undulating shapes being explored in the Metaverse. For whether it's fashion, furniture or a Charlotte Taylor render, hard edges are out — and our homes all the more hypnotic for it.
Shop our SS22 trend report